A website audit is not about SEO only. It helps to check the performance and health of your website. An audit improves the user experience as it highlights technical and SEO issues of a website.
With businesses and organizations opting for online marketing, websites have become a source of traffic, lead generation, and conversion.
Therefore, you need to audit your site to keep up with algorithm changes to increase website visibility. So, as an SEO marketer, auditing your website helps you fix various issues and increase search engine ranking.
So, what is in for you from this article? We will show you how to carry out a website audit, free tools to use, and explain the benefits of auditing a site in 2021. Are you ready?
Let's get started!
What does it mean by A Website Audit?
In simple terms, a website audit checks the performance and state of your website. It helps you find and fix issues within your website. Further, it helps to achieve various objectives like SEO goals.
There are online tools (both premium and free) that a marketer can use for a website audit.
An example is the Sitechecker site audit tool with a free trial period.
With such a tool, you can run a Site Audit for all errors, Integration of Google Analytics and Google Webmaster Tool, Chrome-extension, with which you can audit the page in the Browser, etc.
Don't get confused between an SEO audit and a website audit. The two are slightly different. SEO audit evaluates your website to discover issues that may affect ranking on search engines.
SEO audit is about maintenance, while website audit checks the health and performance of your site. Tools to helps you with SEO audit are Google Analytics, Screaming Frog, Google Search Console, and Google Structured Data Testing Tool.
Working with a digital marketing agency or an SEO professional can help you fix issues highlighted by the tools. With a website audit, you can improve your ranking on SERPs and Google as well.
Benefits Of A Website Audit
A website audit is essential to the growth of your online brand. It helps identify issues and improve the performance of your website. As a marketer, you want Google to crawl and index your site.
Other benefits of website audit and SEO are:
1. Improve user experience
A website and SEO audit helps you to improve the overall experience your user has with your website. It means that your website should be faster to load, easy to navigate, and mobile-friendly.
Do you want your customers to continue scrolling your site or bounce off without checking other pages? Improving the user experience will attract more people to your site, and thereby increasing conversion.
2. Search Engine Optimization (SEO)
SEO is not for search engines only. It involves website and content optimization for the users as well. Hence, it's about optimizing your website for both SERPs and users. SEO has three major categories, that is, on-page, off-page, and technical.
Working on these categories will not only improve your ranking but also attract traffic. A website audit will help you fix an issue or identify a missed opportunity within SEO.
3. Website Audit Increase Conversion
As a marketer, one of your goals is to generate leads and increase conversions. A website audit will help you identify any missing opportunities that can affect conversion to your site.
For instance, how easy is it for your users to fill out forms? How easy is it for a client to shop online? A website audit will help you identify possibilities that will maximize your conversion rate.
4. Evaluate the quality of content
It is not an easy task to identify issues with your content without performing an audit. It helps you identify the quality of your content and identify issues like duplicate content.
If, for instance, if you create content around different topics, it will help you discover the type of content your audience engages with. An audit will help you find out if they like video content or articles.
Quality content means that the user finds it valuable. Also, search engines can crawl and understand what it is about and leverage it on a search engine results page (SERP).
Content is also an SEO ranking factor.
5. Website Audit Increase Visibility on SERPs
Google algorithm keeps on changing. Even the most popular websites need to keep up with the changes. So how do you keep up and stay up-to-date?
Having an SEO strategy goes a long way in increasing your site's visibility. It will help you discover relevant keywords to rank for as well.
Actionable Tips On How To Carry Out An Effective SEO Website Audit in 2021
What impression do you want your site visitors to have about your brand? Every website needs a regular audit to find and fix issues. By regular audit, it means more than once a year.
A website audit can be time-consuming. Therefore, you need to use website audit tools to help you save time and identify opportunities that increase conversion.
So, here is how to go about website audit:
1. Increase page speed and load time
Most users will leave a page if it takes more than three seconds to load. To test the speed of your website, you can use Google's PageSpeed insight.
The tool analyzes the performance of your website. It reports on the performance of your site when using mobile and desktop devices. Other tools to try when testing the website speed are GTMetrix and Pingdom.
With a website audit tool, you can fix issues like, for instance, unnecessary HTML and CSS files, duplicate pages, and large images. A slow website will affect customer retention, online conversion, traffic, and increase bounce rate.
Site speed is a ranking factor, and it has an impact on the user experience.
2. Enhance website security
Website security is crucial as it can turn away new visitors. With the increase in cybersecurity issues, your audience wants to engage with a website that they feel is secure for them.
For instance, if you are a non-profit organization and want people to offer donations, subscribe to membership platforms, or join a group, your website needs to be secure.
Now, this is where you need a Secure Socket Layer (SSL) certificate. If you do not have one already, you can purchase it from your host provider. A secure website has a padlock favicon on the top left corner of the URL bar.
Otherwise, a website with a 'not secure' alert will be hard to attract traffic and conversion. When working with a web design agency, you are sure to have a website with an SSL certificate.
An HTTP website is different from an HTTPS website.
3. Run a Mobile-friendly test
According to Oberlo, mobile traffic accounts for 52.6% of global traffic. With the growth in technology and most people relying on mobile phones, there's a need for creating mobile-friendly websites.
To run a mobile-friendly test, use Google's mobile-friendly tool. It is free and easy to use. Just paste the URL of your site and click on 'run test.'
A responsive website design works for your users and Google as well. It is a ranking factor when it comes to SEO.
4. Make sure Google is indexing your website.
As part of the website audit, you need to be sure that Google is indexing your website. How will you know?
Open a new tab in your browser and write this short line of code: site:yourwebsiteurl.com. If, for instance, your website is abc.com, this is what you'll write. Site:https//abc.com or site:abc.com.
If Google is not crawling your page, then will be no results to display. To fix this issue, you have to enable crawling. Use Google's free tool to allow crawling.
Here is how to go about it. Open Google Search console – enter the URL of your website, click on settings, then crawl stats.
One of the reasons you want Google to crawl your site is to feature rich snippets in a search result page. Google uses structured data to understand the content of your site. As a result, your content may be eligible for rich snippets.
5. Enhance the user experience (UX)
Use experience is essential when it comes to ranking a website on SERPs and Google. How do you improve the user experience? To help you enhance the user experience of your website, focus on achieving on-page SEO.
On-page SEO focuses on the factors that affect your website directly. To start with, does your website maintain the theme colors. Do not add too many colors to a website. It may end up being unattractive.
Also, maintain the size of the font. Also, make use of different heading throughout your website. Use heading one, heading two, and heading three to display content.
Next, try to use as many visuals. Human beings are visual. Therefore, consider using images and videos to accompany the text. There are so many ways of improving UX, including CTAs, and buttons.
6. Track the performance of your pages with Google Analytics
Google Analytics is a free website tool that checks the overall performance of your website. It keeps track of all the activities within your web pages.
It highlights the bounce rate, page visitors, statistics, and the number of pages you have on your website. Google Analytics is easy to use.
To use Google Analytics, you only need to add a tracking code to your website. It will track various user activities, and the marketer can access the information from a central point.
7. Is your website optimized for search engines?
Search engine optimization increases the visibility of your website. SEO is broad, and it can be on-page or off-page. As mentioned earlier, on-page SEO affects your website directly.
Hiring a website design agency will help you meet the SEO guidelines. If you are using a WordPress website, a free tool to use is the Yoast plugin.
It highlights missing SEO requirements and guides you through on-page optimization. Check out the results below from the Yoast plugin.
If, for instance, you are optimizing the blog section, check keyword distribution and usage. Other factors to check are title tags, meta descriptions, URLs, among other factors.
With the off-page, these are factors that are done outside the website. Backlinks play a role in off-page SEO. You can use Majestic SEO to analyze the quality of backlinks to your website.
The most commonly used tool, although premium, is the Ahrefs tool. It highlights the sites referring to your sites, the number of backlinks, and domain rating.
With the website audit tools, you can also determine which links are from spammy pages. These pages can hurt your SEO since they either come from fake websites or do not relate to your page.
For instance, let's say you publish content about digital marketing and SEO, then you notice backlinks about real estate, law, or car hire. By auditing your site, you can remove the links and remain with those that are relevant to your niche.
8. Optimize website images
Having large images can slow your website, which can lead to poor ranking. For a WordPress website, you can use plugins to compress the images before publishing them.
Images help in engaging the users and attract them to continue scrolling your pages. Therefore, when using such web images, make sure that they are of high quality. Compressing images improves the speed of your site.
9. Create more internal links
Interlinking your content improves your SEO. You can link the most valuable content and pages so that it becomes easy for users to view other parts of your website.
It also helps to reduce the bounce rate. For instance, if you're driving traffic to a specific landing page, having links with related content can compel users to click.
Effective link-building strategies can attract users to view other pages or content and boosts ranking on Google. For instance, you can add a 'related articles' section with clickable links to direct users to other content within the website.
10. Spy on a competitor
A website audit tool can help you spy on your competitor and identify their marketing moves. Checking what your competitor is doing helps you to strategize and come up with better ideas.
For instance, if you notice that your competitor is using a specific keyword which you are not ranking for, you can also use it as a primary or secondary keyword.
Also, it helps you come up with other keywords that you were not using before. You can also check up other sites ranking for the keywords and how they are using each.
As a marketer, it will help you create a unique strategy that will work for your audience and increase website visibility.
11. Consider doing a content audit.
Have you come across the famous quote by Bill Gates, 'content is King?' One of SEO's ranking factors is content. To start with, it should be of high quality and also resonate with your users.
Ask yourself, does this content resolve my audience's problems? Will they get any value from the blog section? Such questions will help you create and publish content that your audience can relate to.
Make sure you include call-to-actions, links, and visuals before publishing the content. Avoid duplicating content from other sources. It can hurt your SEO and ranking. Using the right keywords, Google can leverage to display it based on a user's query.
12. Keep check of the technical aspect of your website.
To resolve the technical issues after a successful website audit, you may consider getting assistance from the website developer or a web design agency in Nashville.
Resolving technical issues helps to improve SEO and increase user experience. Conducting a technical audit helps to keep up with changes and enhance the overall website performance.
Elements involved in a technical audit are:
13. Check broken links
Linking your content is essential as it helps users to view other pages within your site. Internal or external broken links mean that a specific page or blog has been removed or deleted.
Most of the broken links are from external links. Fixing this issue helps users to check more information and view other resources. Google's search console can help you resolve the broken links issue.
As soon as you realize that you have a broken link, make sure you fix it before your ranking starts to decline. It also means that your website is not optimized for user experience, thereby affecting your site's visibility on search engines.
14. Create an XML Sitemap for your website
A sitemap tells Google which pages on your website are essential. You can create the sitemaps manually or use third-party tools like the Yoast plugin.
An XML sitemap allows Google to crawl your site and figure out the structure of the website. It is essential for search engine optimization as it makes it easy for Google to find your site's pages.
A sitemap has a date to display the last modified day. In case of any changes, the dates also change, which alerts Google of the modification. One of the free tools to use when setting up sitemaps is screaming Frog.
15. Create robot.txt file.
A robot.txt file tells the search engine robots which pages can and cannot be crawled. It manages web crawlers into your site.
For large websites, you need to tell Google which are the valuable pages to crawl. A search engine checks the robot.txt file to see which pages they should crawl.
Therefore, if you do not have a robot.txt file, you need to consider creating one. It helps with SEO as well. Web crawlers will crawl your site, index your page and serve your content to the users.
If the robot.txt file has special instructions, search engines may end up not indexing the page.
16. Check duplicate content
Duplicate content is a threat to your SEO. It means that you have similar content within your site. So, how do you identify such content?
A website audit will highlight the duplicate content. One of the major drawbacks of having duplicate content is that it creates competition within your page. It also tells Google that your website lacks unique content.
Duplicate content can lead to search engines not ranking such content, leading to the fluctuation in site metrics. Now, this is where canonical tags apply. They tell Google which is the primary and most important content. Check the image below from Yoast on how to increase content readability.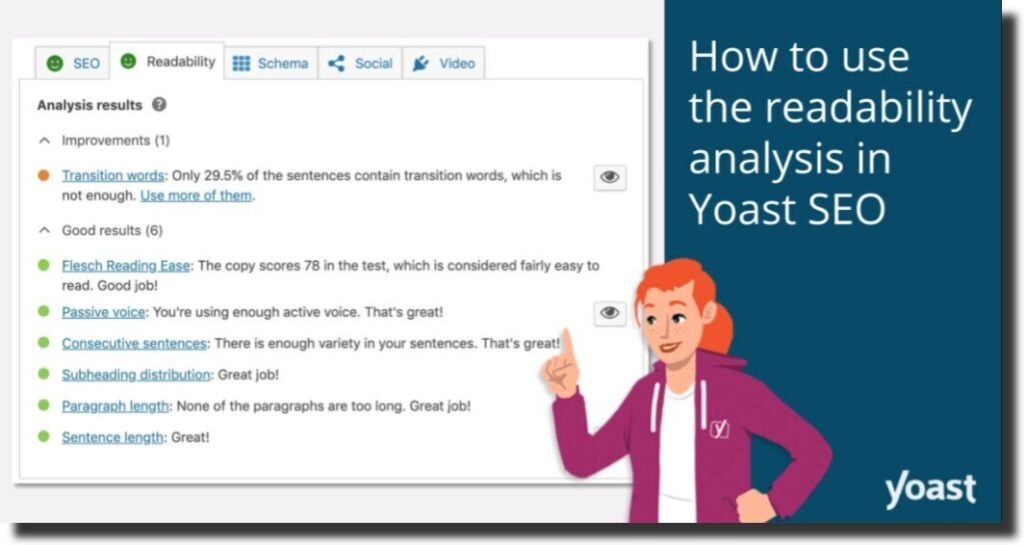 Website content should be unique, easy to read, optimized for SEO, and specific to your business.
17. Is your website easy to navigate?
As part of the technical evaluation on your website, it should be easy to navigate. Interlinking your pages makes it easy for users to scroll from one page to another.
Website architecture is an important SEO factor. It helps search engines like Google to crawl and index your site. It also improves the user experience as website users can navigate from one page to another.
So how do you know that your website is easy to navigate?
It has a consistent URL structure.
Includes internal links to help with navigation.
It has a simple navigation menu which improves the user experience.
A site structure groups content, making it easy to access in simple clicks.
Each of the web pages displays breadcrumbs. A breadcrumb helps users track their navigation on a website.
How To Report A Website Audit
After a successful audit, you need to create a detailed report of your findings. A website audit report lists the various issues as highlighted by the auditing software.
Every website is different. As a marketer, creating a report helps you analyze your website and fix issues that negatively impact website ranking.
To create an audit report, you need to highlight issues such as site speed, meta descriptions, headings, duplication, sitemaps, and broken links.
Before you redesign your website, make sure you carry out a website audit. Remember, the purpose of an audit is to analyze factors that can affect website visibility and ranking on search engines.
Why Is It Important To Carry Out A Website Audit?
When was the last time you did a website audit? It identifies opportunities that can improve your website performance. For instance, you can be getting traffic and conversion to your site.
With a website audit, you can maximize conversion and traffic by resolving issues that limit you from realizing the maximum potential.
So, why should you consider carrying out a website audit?
It helps you identify issues that are SEO-related. That is on-page, off-page, and technical SEO.
A website audit helps identify and delete duplicate content and pages. From the pages that Google is indexing, you can remove pages that you feel have less impact on your site.
Generate a list of issues to fix and maximize the full potential of your website. In addition, you can create custom reports that describe a problem and how to resolve it.
To check the various errors and come up with a plan on how to fix them. Examples of errors to encounter are 404, broken links, speed, and robot.txt errors.
A website audit helps to identify technical issues that can affect website ranking and user experience.
Consideration When Choosing A Website Audit Tool
A website audit is not as easy, especially for someone who is not tech-savvy. It may be challenging and overwhelming trying to fix each of the problems.
Working with a digital marketing agency makes it easy for you. A website audit can be time-consuming if you are to do it manually.
An audit tool highlights all the issues that are affecting your website. So, which are the factors to consider when choosing a website audit tool:
Cost: website audit tools are either free or premium. Depending on your budget, it's upon you to decide which of the tools works for you. An example of a premium website audit software is the Ahrefs tool.
A website audit tool should be in a position to analyze the technical issues of a website. That is duplicate content, robots.txt file, sitemap error messages, and website architecture.
An audit tool should help you improve the user experience of a website. It should audit both smaller and big websites without having limits on the number of pages.
When choosing a website audit tool, consider the search engine optimization aspect. It should check for keyword optimization, site speed, usability, and mobile responsiveness.
Here is a summary of free tools to use when auditing a website:
| | |
| --- | --- |
| Website audit | Free tools |
| SEO | Yoast, SEMRush (free for 100 web pages), Screaming Frog, Google Search Console, GTmetrix, Seobility |
| Page-speed | PageSpeed Insights |
| Mobile responsive | Google's mobile-friendly test |
| Analytics | Google Analytics |
| Rich snippets | Rich results test tool |
Final Thoughts,
A regular website audit helps you optimize your site for SEO and keep up with changing algorithms. As a marketer, you want to deal with website issues as they arise.
Also, an audit helps increase the visibility and ranking of a website on Google and other search engines. Using an audit tool makes it easy to identify issues and opportunities that you can quickly fail to recognize.
Therefore, if you have not been conducting a website audit, there you have it. With this guide, you can start fixing web issues and maximizing conversion.