WordPress, the most popular Content Management System, has over fifty-six thousand plugins to choose from. The plugins are both premium and free. With the best free WordPress plugins, it becomes easier to budget for a website.
If you're a WordPress web designer or a blogger, you must be a frequent user of plugins. You can hire a web design agency for WordPress maintenance services or use up-to-date plugins.
WordPress developers use plugins to enhance website appearance, add different features and to customize a website. It's very easy to build a complete website using the best free WordPress plugins only.
There are must-have plugins for web developers but in this post, I will look at plugins that beginners can use too.
Are you looking for the best free WordPress plugins to use on your website? Then, here is a list of 32 best free WordPress plugins for complete website development. The categories I will look into are:
Form builder plugins
Image optimization plugins
Multilingual plugins
Subscription plugins
Membership plugins
Let's get started.
Best Free Form Builder WordPress Plugins
Designing a form shouldn't be stressful and time-consuming. With plugins, it's very easy to come up with an attractive and well-customized form. Further, there are various, best free WordPress plugins to use, when designing forms.
Some of the best free form builder WordPress plugins to use are:
1. Contact Form 7
Contact Form 7 is among the most popular and best free WordPress plugins. It has over 5 million active installations. The plugin is simple to use and customize. This plugin comes with a ready-to-use form. You can choose to edit the form or use it as is.
However, Contact Form 7 has no direct customer support. In case of any issues, you have to check WordPress forums for a solution. Also, it may be hard for beginners to make changes while using the plugin. The user has to make the changes directly from the source code.
2. WPForms
WPForms has over three million active installations with a 5-star rating. The plugin seems to be the best free WordPress plugins when designing forms. This is evident from the reviews, rating and the number of active installations.
It has a drag & drop feature that makes it beginner-friendly and easy to use. With this plugin, a user is free to design a form from scratch or use the in-built templates.
WPForms integrates with payment gateways like Stripe and PayPal. However, there is a major drawback when using this plugin. To have the full features of the form builder, you will have to upgrade to a premium version.
An example of the drag & drop feature.
3. Ninja Forms
Like WPForms, Ninja forms plugin has a drag & drop feature, which saves time when designing a form. The plugin is user-friendly, meaning that it's easy to use even for beginners. Examples of forms you can design with Ninja forms are signup, contact, registration, login and feedback forms.
Ninja forms are also GDPR compliant, meaning that it doesn't collect and store personal information. The plugin is mobile responsive. With the form builder, a user is free to customize email notifications and the form templates.
It's worth noting that customer support is always ready to assist users to resolve arising issues. This is very different from WPForms and Contact Form 7. Similar to WPForms, to access the advanced features of the plugin, a user has to upgrade to the premium plan.
4. Caldera Forms
Caldera Forms by Caldera Labs is a form builder plugin, suitable for both beginners and web developers. It allows you to design forms with multiple columns and additional pages. Further, you can filter user responses to generate relevant information from your visitors and site users.
With Caldera Forms, anti-spam, email notifications and database entry tracker are enabled once you activate the plugin. The form builder has no limit to the number of fields, forms, or submissions to do. In addition, there is no restriction on the number of autoresponders to use with the plugin.
Similar to other plugins, it lacks direct customer support. You have to look for a solution from the WordPress support forums.
5. Everest Forms
Everest Forms by WPEverest is easy to use and a beginner-friendly form builder plugin. It allows you to create different forms, using the pre-built templates and layouts. The plugin is mobile responsive. This means that it's easy to use and access from mobile phones and tablets.
The plugin supports different languages. Everest Forms integrates with the WPML multilingual plugin. Like the WPForms, the plugin has premium features. Examples are geolocation, survey, polls and quizzes, PayPal Standard and Style customizer.
For full customization, you have to upgrade the plugin to a paid version.
6. Forminator
Forminator by WPMU DEV is a free form builder plugin, with a drag & drop feature for designing forms. If you're looking to nurture and convert your customers, then, Forminator has got your back.
The plugin integrates with payment gateways, email marketing plugins and other third-party software. Examples are Hubspot, Mailchimp, Trello, Slack and Zapier. Payment gateways to use with the plugin are PayPal and Stripe.
7. HappyForms
With HappyForms, a user will design mobile-responsive forms and increase interactions with website visitors. The plugin allows you to create different forms and customize them using in-built styles.
HappyForms has different features to use. First, you do not have to worry about the message and email delivery. You're sent a confirmation message or email to confirm successful delivery.
Creating forms is fast and easy, using the drag & drop feature. HappyForms has no restriction on the number of forms to create. The user is free to duplicate and use the forms in different pages, posts and widget areas.
Unlike Contact Form 7, HappyForms has ready customer support, to help users resolve their problems.
8. Visual Form Builder
Similar to a majority of the form builder plugins, Visual Form Builder has a drag & drop feature, which allows users to design forms faster and with ease. Manage form entries from a WordPress dashboard and store them in a WordPress database.
Depending on the number of fields a user wants in a form, the plugin allows multiple field layout. You can arrange the fields in different columns. Like HappyForms, Visual Form Builder allows users to embed different forms on a page and post.
However, the plugin has a limitation. Advanced features are available in the premium version only.
Best Free Image Optimization Plugins WordPress
Images play a very big role in websites and blogs. However, large images will also slow down your website. Images help readers understand the website and blog. There are the best free WordPress plugins to help with optimization.
Check out the list of the best free image optimization plugins for WordPress.
9. ShortPixel Image Optimizer
ShortPixel is an easy to use the plugin with over 200,000 active installations. It will resize images as you upload them and the existing images on your website. After the images compression, the plugin stores them in a different folder. ShortPixel does not optimize images only but also pdf documents.
With the free package, you can compress 100 image credits per month. ShortPixel plugin has both lossy and lossless image compression for JPG, PNG, GIF and WebP file types. For photographers, the plugin has a glossy JPEG compression.
With lossy compression, it deletes some data and it's not noticeable while lossless compression does not delete data. But, both will result in a smaller file.
10. Imagify
To start with, the Imagify plugin is compatible with Woocommerce and NextGen gallery. This plugin has a back-up option where it stores your original images before optimization. The plugin converts WebP images for free.
Imagify has three levels of compression. These are normal, aggressive and ultra. Let's have a look at the three levels.
Normal, this means that the image is not yet transformed.
Aggressive, this is a lossy compression, where the image has already been compressed. There is a slight loss in quality which is not so noticeable.
Ultra, it's the strongest compression level in Imagify.
Imagify has a bulk optimizer, to optimize all your images at once. With every image transformed, it comes with a WebP image. This option is accessible from the setting page.
However, the plugin has a limit to the size and number of images to optimize in a month. The size is 25MB, which is approximately 250 images per month.
11. Compress JPG & PNG Images
Compress JPG & PNG by TinyPNG will optimize PNG and JPG images, improving website speed. This plugin is multisite and works well with the Woocommerce plugin. When using the plugin in multiple sites, you do not have to change the API key.
Compress JPG & PNG allows you to select and deselect thumbnail before optimization. The plugin has no limit to the size of images to optimize.
However, in a WordPress installation, it has an optimization limit to about 100 images per month. This is very limiting for websites with more images.
12. EWWW Image Optimizer
EWWW Image Optimizer plugin provides a back-up of your original images for 30 days only. It also stores the already optimized images in a database to prevent them from being optimized again. You can access the images from the bulk images page.
The plugin is compatible with WPML, a multilingual plugin. EWWW image optimizer ensures the security of your images. It has SSL encryption media.
When using the plugin, you don't have to create an account. However, if you want to have access to the API key, only then will you create the account. When it comes to customer support, users with the API key have the first priority.
13. Smush
Smush is an image optimization plugin with over one million active installations. Based on the reviews online and active installation, it's the best free WordPress plugins to use for image optimization.
It improves the speed and quality of a website and allows you to set the image resolution. Smush uses a lossless type of compression.
Smush will optimize images for lazy loads and speed. Another feature with this plugin is the incorrect image detection. It will identify the image slowing down a website and optimize it. In addition to this, it will optimize 50 images in one click.
If you're using this plugin and want a WebP image file type, you will have to upgrade to a premium plan.
14. reSmush.it
reSmush.it is an image optimization plugin with a 4.5-star rating. It allows optimization of images based on reSmush.it.API. This means that the images have to optimize using the API, which accepts JPG, PNG and GIF file types.
Before it begins optimizing, reSmush.it creates a copy of the images. Optimization is done on the copies and therefore, you can always have your original images back. reSmush.it has a limitation on the size of the images. You can only optimize images with a size of 5MB.
15. Optimole
Optimole is an all-in-one optimization plugin. It applies both lossy and lossless compression algorithms. The plugin is mobile responsive. It will display images on different screen types.
It will also add user-defined watermarks. All you need is to add the watermark and identify the position you want it added. The plugin will handle the rest of the work.
When it comes to the free plan, Optimole limits the number of image optimization to 5 thousand in a month. This is different from the premium version which optimizes more than 25 thousand images in a month.
16. Optimus
Optimus is an image optimization plugin that supports WordPress multisite use. It also supports Woocommerce, which is one of the best free WordPress plugins for eCommerce. The plugin optimizes images while uploading. Optimus has the bulk optimization feature, which optimizes multiple images at once.
The Optimus plugin is a bit different from other optimization plugins. Image optimization is not done from the plugin. It takes place in the Optimus server. The images are then sent back after optimization.
One of the benefits of using Optimus is that it stores personal information and author details. This option can also be deactivated. After optimization, the plugin stores the resized images in the media gallery. This increases page speed on blogs and websites.
The free version of this plugin has limitations. It allows image sizes of up to 100KB. Premium versions of this plugin are Optimus HQ and Optimus HQ PRO.
Best Free Multilingual Plugins WordPress
WordPress does not have any in-built features to translate a site into multiple languages. But, you don't have to do the manual translation of your website.
There are best free WordPress plugins that help with website translation. For this reason, there's no need to purchase a plugin if you're working on a tight budget.
Some of the best free multilingual WordPress plugins to use include:
17. Polylang
With Polylang, you can create a bilingual or multilingual WordPress website. First, you design your website before using the plugin. Create your posts, post tags, pages and categories before translating them.
But, translation is not automatic. While using the plugin, make sure to use as many languages as you can. Polylang has a language switcher, which you can add to your website as a widget or a navigation menu.
An illustration of how to use Polylang.
18. WP Multilang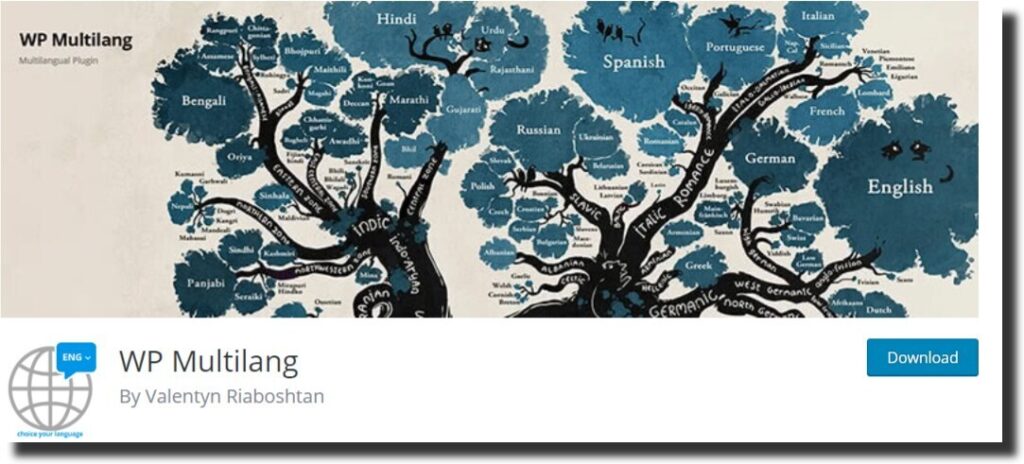 WP Multilang is compatible with different plugins such as Woocommerce, Contact Form 7, Yoast, WPBakery page builder and Mailchimp, to name but a few. A major advantage of using this plugin is that it works well with other plugins.
Also, the plugin doesn't have a limitation on the number of languages to use. When setting up the languages, add the most common languages in the region. For instance, if you're translating a page or post in English, add the various types of English that apply.
19. Lingotek
Lingotek is a multilingual plugin that simplifies the process of creating and maintaining a multilingual site. The company has teamed up with Polylang, to simplify the process of creating a multilingual site. For this reason, you don't create to create a different site for every language.
The benefit of using this plugin is that it's faster to translate a language. All you need is to choose a language from the list provided. Also, you are able to monitor the translation in real-time. The translation process is automatic.
20. Translate WordPress with GTranslate
This plugin translates your WordPress website using Google translate automatic services. Translate WordPress with GTranslate plugin is easy to install and use. Some of the features of this plugin are Google analytics integration, Multilanguage, Woocommerce shop translation, multilingual interface and lazy loading.
To increase traffic and sales, you need to upgrade your package from free to premium. The premium version is SEO compatible. Some of the features include Multilingual SEO, Search Engine friendly and Metadata translation. For further details on the premium and paid features, check the plugins section from the WordPress website.
A major benefit of using this plugin is that it has 103 different languages and your website will be visible to most internet users.
21. WPGlobus
WPGlobus has different plugins to help you translate your website and blog into multiple languages. The plugin does not translate the content, but the user does it. This includes your posts, pages, categories and tags.
The plugin also has multilingual SEO features. Some of the SEO plugins are Yoast SEO and All in one SEO. WPGlobus does not have a premium plan. It only has premium and free Add-ons.
WPGlobus is compatible with other WordPress plugins like the Mailchimp for WordPress, Pop-ups, Advanced Custom Field and WPBakery Page Builder.
Best Free Subscribe Plugins WordPress
If you own a website or you're a developer, you must have used the subscribe plugin in most, if not all your websites. Clients and users will subscribe to different items. These could be blogs, newsletters, and emails.
The role of the subscribe section is to grow and convert your clients into repeat customers. There are the best free WordPress plugins that help with the design of subscription tools.
Here is a list of the best free subscribe WordPress plugins.
22. Mailpoet
Mailpoet is a free plugin for small website owners with less than 1,000 subscribers. The plugin will create emails and newsletters. With the Mailpoet plugin, you can choose to design your newsletters from scratch or use the available plugins.
Mailpoet is mobile responsive, thus, it works well with all devices. The benefits of using this plugin are beautiful and responsive templates, GDPR compliant and ease-of-use with WordPress newsletters. Mailpoet features differ from the free to premium packages.
Free package features are Woocommerce optimizer, automated emails, email subscribers and subscriber list management. Extra features for the premium package are, customization of the mail logo, track links and view of subscribers who have opened emails.
23. Mailchimp for WordPress
Mailchimp is a very popular plugin and also considered one of the best free WordPress plugins. It has over one million active installations. The plugin helps build beautiful newsletters, opt-in forms, and makes it easy for users to subscribe to emails and newsletters.
Besides creating your account faster and with ease, another benefit of using Mailchimp is the full control you have over your forms. You design forms based on your needs and goals.
Mailchimp integrates with other plugins like Woocommerce and membership plugins. The plugin is user-friendly, mobile responsive and has both free and premium packages. It's upon the user to choose the most convenient plan for you.
24. Subscribe Forms
Subscription forms need to be attractive and eye-catching. The reason for having these forms and newsletters is to attract users and readers to subscribe to your business.
With subscribe form plugins, you're able to customize your subscription forms. The plugin is easy to use and you can design different forms with this plugin. You have a variety of fonts to choose from, save and track your leads from WordPress, embed the form in the widget area and create unlimited forms.
With 12 pre-defined contact forms, you can choose one that works for you and customize it according to your business. You do not have to build anything from scratch. It also integrates well with other plugins and content management systems like Hubspot CRM.
25. SendinBlue
SendinBlue is an all-in-one email marketing plugin. All-in-one means that it can perform different functions and roles. It can create subscription forms, newsletters, contact lists, transactional emails, statistics and marketing automation.
For subscription forms, you're free to integrate them with your pages, sidebars, or posts on your blog or website. Also, you can use the subscription forms as a widget.
Some of the features of subscription forms in SendinBlue are, URL redirection, customization of error message or confirmation message and double-opt-in subscription forms.
26. Pop-up Builder
Pop-up builder is a WordPress plugin that allows you to design different pop-ups to attract customers to your website and blog. There are different pop-ups you can build using this plugin. For this section, I will look into subscription pop-ups.
To start with, the plugin allows you to customize your forms. To create an attractive form, you need to use the colors, fonts, themes and effects from the plugin. The live preview feature helps you to view and track changes.
In addition to this, you're free to set how to display the popups.
27. Newsletter
Newsletter is a plugin that subscribers use to subscribe to a blog. It's also an email marketing tool. It has a drag and drop builder which is very effective when designing newsletters.
It has no limitation on the number of subscribers. Further, you can customize the subscription widget, form, or page in this plugin. Newsletter plugin has a subscription spam-check using Akismet, Captcha, domain, or IP blacklists.
However, Newsletter's support varies depending on the plan you're using. If you're using a premium version with an active license, you'll have one-on-one support. Other forms of support are in WordPress and Newsletter forums.
Best Free WordPress Membership Plugins
Are you considering using a membership plugin on your website? Which are some of the features you look for in a membership plugin? Which are the best free WordPress plugins have you come across?
This post is about the best free WordPress plugins. If you're starting or working on a tight budget, you can start with these best free WordPress membership plugins.
With WordPress, you can build a complete site without spending too much. Let's look into these plugins.
28. Paid Membership Pro
Paid Membership Pro is member management and membership subscription plugin with over 90,000 active subscriptions. The plugin is simple to use and customize.
You can restrict access to your content, create unlimited membership levels and manage your membership date. Also, you're free to set different pricing levels. For instance, one-time payments, discount codes, custom trials, prorated payments and variable pricings and donations.
Paid Membership Pro plugin integrates with different payment gateways. Some of them are like Stripe, PayPal, 2Checkout and Braintree. All these options are available from the plugin.
29. Simple Membership
Simple Membership is a user-friendly plugin, which allows you to protect posts and pages from non-members. In case a non-member user tries to access your pages or posts, he/she will have to sign up first.
When it comes to payments, the plugin registers all the payment information. To view this information, use the admin dashboard. You can also add a member login widget using login form shortcode.
The plugin also allows translation into different languages. An example of how Simple Membership integrates with PayPal.
30. S2 Member
S2Member plugin will protect almost everything on your website. From posts, pages, downloadable files, streaming videos/audio, tags, etc. The plugin is free but also has a paid version. For the free version, it integrates with PayPal.
To further understand how the plugin works, you need to check the documentation for information.
31. WP-Members Membership Plugin
With the WP-Members membership plugin, you can restrict premium content and create custom registration fields. The plugin is easy to use and set-up. Wp-Members is suitable for websites selling premium content.
One of the benefits of this plugin is that it will send a notification every time a user creates an account. Also, it will hold the new registrations for the admin to approve. WP-Members Membership plugin allows for customization.
32. WordPress Membership Plugin-Restrict Content
Restrict Content is a membership plugin that allows you to control who can view your content and who cannot. With this plugin, you can restrict almost everything on your website. This ranges from API, images, posts, pages and RSS Feed.
Restrict content allows you to, collect emails, approve new registrations, separate public and private content, and protect sensitive data. The plugin works well with third-party plugins too.
There is no restriction on where to place the login form for existing users. This works the same for new members' forms. These forms can be placed on any page on your website. In case a member does not meet all your required qualifications, you can compose a message to display to them.
Below is a table showing other best free WordPress plugins
| | |
| --- | --- |
| Category | Best free WordPress plugins |
| Security | Sucuri, WordFence, SecuPress Free, All in One WP Security & Firewall |
| Social Media | Kiwi, Sassy Social share, MashShare |
| Emails Marketing | Mailchimp, Newsletter, Hubspot CRM, WP Email Capture |
| Back-up | UpdraftPlus, BackWPup, BackUpWordPress |
| Page Builder | Page Builder by SiteOrigin, Elementor |
| Spam Management | Akismet, Antispam Bee, Jetpack, Stop Spammers |
Final Verdict
With the best free WordPress plugins in mind, are you ready to design a fully functional website? When it comes to free plugins, always make sure you use the ones that work best for you.
Before deciding on a plugin, check the active installations, reviews, ratings, design and support, to name but a few. These details are available from the WordPress website.
From this list, it's not easy to conclude on the best free WordPress plugins. Your website or blog will guide you into choosing the best plugin. First, analyze the needs and goals you want to achieve.
Which is your best free WordPress plugin and why?