The internet is an endless source of inspiration when it comes to interior design. From stunning spaces to inventive ideas, there is no shortage of creative content online. But with so much to choose from, it can be overwhelming to sift through it all.
That's why we've compiled a list of the top interior design inspiration websites that are worth bookmarking. These websites feature a wealth of ideas, tips, and resources for everything from decor to finding the perfect interior designer. So, if you're looking for inspiration and guidance for your interior business website, look no further than our handpicked selection of the best interior design websites.
What Makes a Good Interior Website?
Professional Design: Your website should have a modern, professional web design that reflects your brand's personality and values. Use plenty of white space, and make sure visual content is balanced with minimal text.
Niche Specialization: If you specialize in a particular area, such as residential interior design or commercial office design, make sure to highlight it on your website. This helps visitors quickly understand what services you offer.
Responsive Design: Your website should be optimized for mobile devices, as people spend a significant amount of time browsing the internet on their phones. Make sure your website is mobile-responsive and loads quickly on all devices.
Intuitive Navigation: Your website should have an intuitive, user-friendly interface that is easy to navigate. Visitors should be able to find what they're looking for quickly and easily, without getting lost or frustrated.
High-Quality Visual Content: As an interior design website, high-quality visual content is crucial. Make sure to showcase your portfolio with high-resolution images that show off your design skills.
Testimonials and Reviews: Including customer testimonials and reviews can help establish trust and credibility with potential clients. It can also provide social proof and encourage visitors to make a purchase.
Contact Information: Make sure to include clear contact information, including phone numbers, email addresses, and physical addresses. This makes it easy for visitors to get in touch and ask questions.
How to Establish the Credibility of Your Website
If you're running an interior design website, it's important to establish credibility and trust with potential customers. Here are some basic website-related signs that can help establish the legitimacy of your site:
| | |
| --- | --- |
| Privacy Policy | Your website should have a clear and comprehensive privacy policy that explains how customer data is collected, used, and protected. This information should be easily accessible on your website, usually at the bottom of the homepage. |
| Reliable Hosting | Ensure that your website is hosted on a reliable and trustworthy server. Some of the top-rated hosting providers include Bluehost, DreamHost, SiteGround, and HostGator. |
| Professional Content | Ensure that your website content is clear, concise, and free of grammatical errors. Your site should be designed to appeal to both potential customers and professional designers. |
| Professional Design | Invest in a professional website design that is visually appealing and easy to navigate. Consider hiring a professional designer to create a customized website that is optimized for SEO and local search. |
| Secure Web Address | Make sure your website's URL starts with "HTTPS" to guarantee encryption and protection of sensitive customer data. This will help prevent hackers from gaining access to sensitive information like login details and contact information. |
15 Best Interior Design Websites of 2023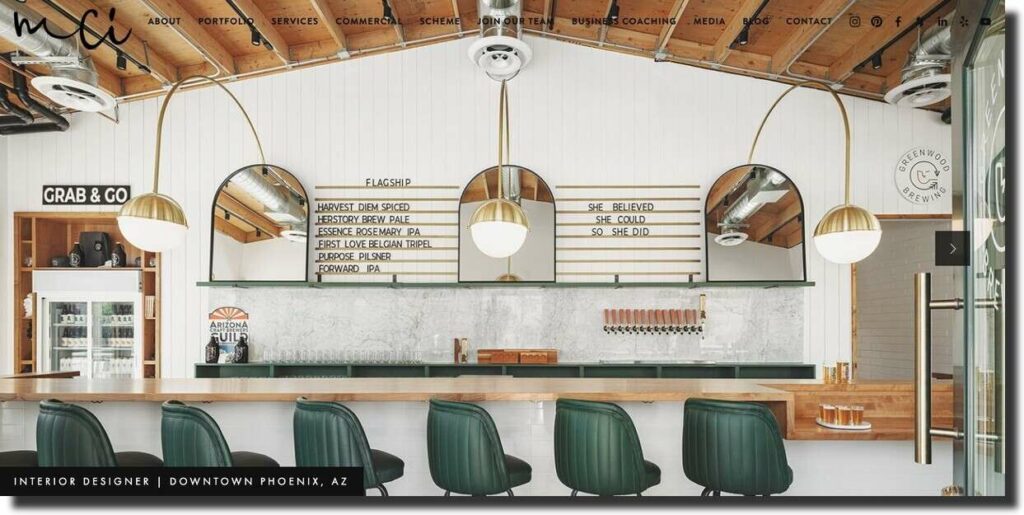 One of the standout features of the website is the portfolio section, which offers a comprehensive look at Mackenzie's design projects. The site includes a blog that features articles on design trends, tips, and inspiration.
In addition to the blog section, the company offers business coaching courses for individuals looking to start their own interior design business. These courses focus on providing guidance and support to help budding entrepreneurs establish and grow their businesses in the field of interior design.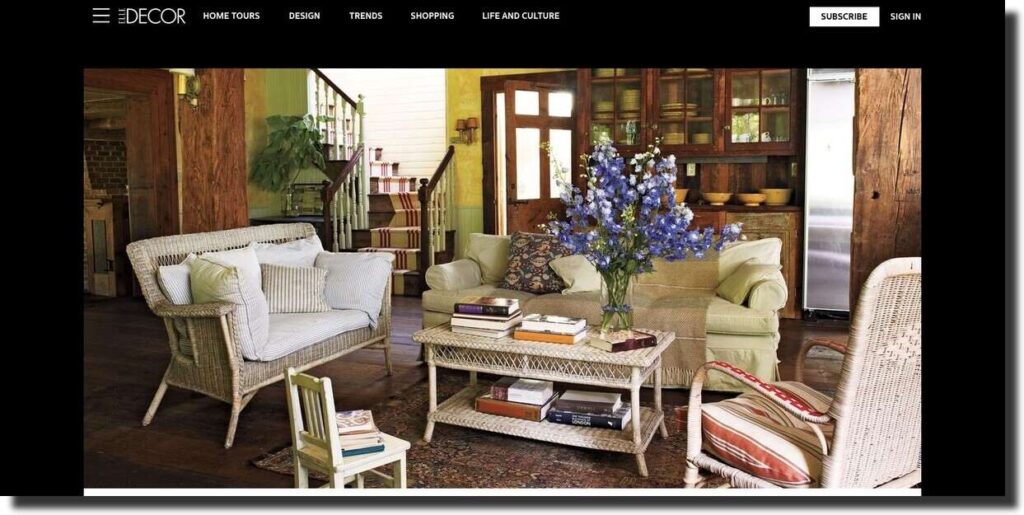 ELLE Decor is a popular among interior design websites that offers readers a variety of design inspiration, home décor ideas, and helpful tips for decorating and renovating their homes.
One of the standout features of ELLE Decor is its visually stunning photography, which showcases beautifully designed homes and spaces. The website also includes a section on shopping, with links to products and resources for readers to bring their design ideas to life.
ELLE Decor's content is organized into categories such as Decorating, Design, Renovation, and Lifestyle, making it easy for readers to find information on the specific topics that interest them.
What sets this website apart from interior design websites is its focus on the founder and creative director, with a dedicated section and a large photograph of her seated casually with a beaming smile, instead of a typical professional headshot.
This approach adds a personal touch to the website, allowing potential clients to gain a deeper understanding of the person behind the brand and fostering a sense of connection. It's not just about showcasing the studio's work; it's also about building trust and rapport with clients by providing insight into who they'll be collaborating with throughout the project.
One of the standout features of Amy Lau Design is its attention to detail. Each project is presented with exquisite photography, and every design element is meticulously crafted to create a cohesive and harmonious space.
Upon arriving at the website, visitors are greeted with a homepage that highlights the latest news and featured projects from Amy Lau Design. The navigation bar provides easy access to the different areas of the site, including interiors, collections, galleries, news and books.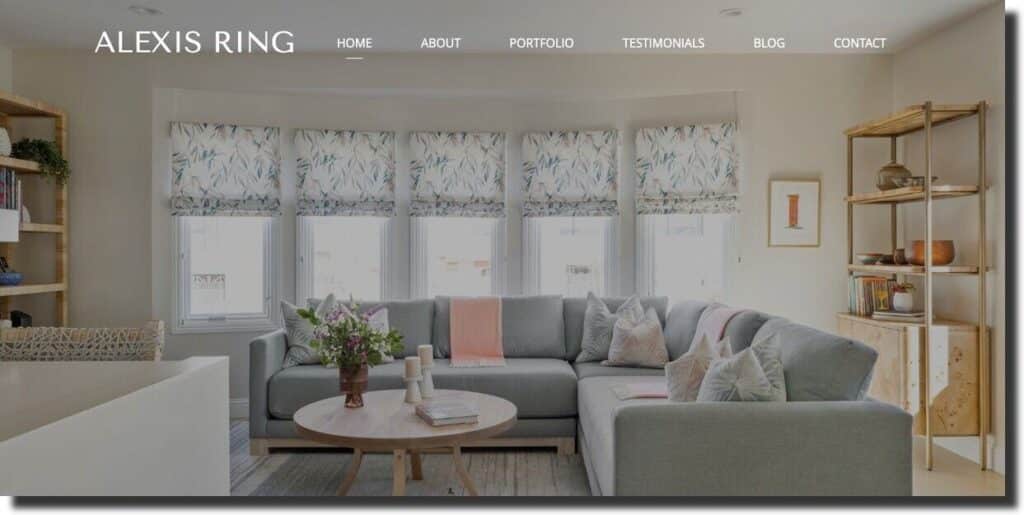 This interior design website stands out with its creative approach to photo editing, utilizing uncomplicated transitions and typography. The showcased projects are easily accessible and efficiently arranged. The color scheme is consistently applied, resulting in a pristine and inspiring space. Moreover, the website features high-quality photographs that add to its appeal.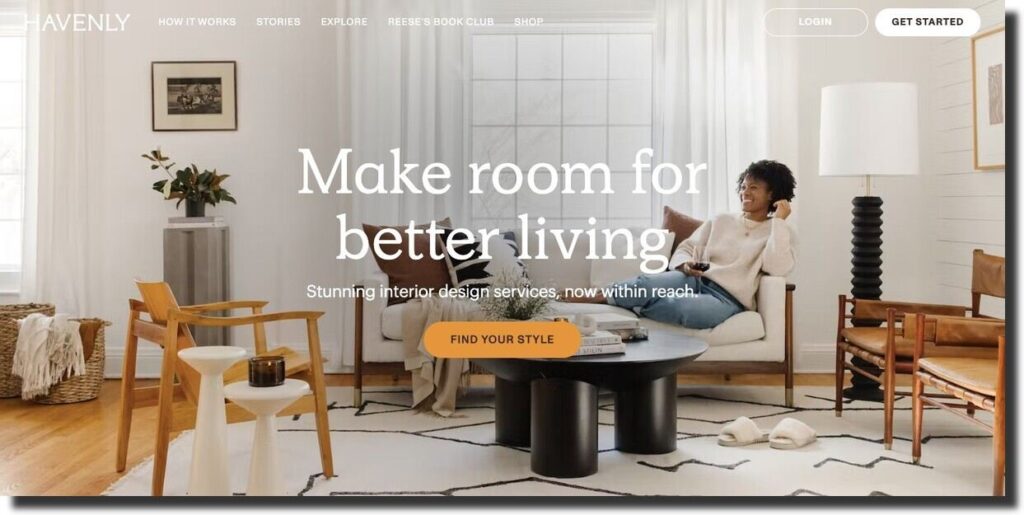 This website stands out among other interior design websites due to its use of illustrations to illustrate their process, as well as a style quiz. Its bright colors, delicate fonts, and feminine appearance create a unique and inviting atmosphere. Additionally, featuring testimonials from satisfied clients and promoting its presence on popular social media platforms adds to the site's appeal.
Laura U Design Collective is a website that exudes elegance and sophistication through its simple yet stylish design. The homepage features a professional layout that immediately catches the eye of any visitor. The use of a video on the homepage adds an interesting touch, providing a dynamic and interactive experience for users.
Avery Cox Design's website is a stunning example of contemporary design that highlights the studio's exceptional talent and attention to detail. The homepage greets visitors with an elegant and minimalistic layout, showcasing some of the studio's impressive residential and commercial projects. The use of high-quality images and a engaging color scheme creates a sophisticated and timeless atmosphere.
The website's overall design is cohesive and well-crafted, with thoughtful typography and layout choices that create a seamless and engaging user experience.
Elite Design Studio's website design reflects their description of their style as exclusive, elegant, tasteful, and timeless. The homepage welcomes visitors with a stunning animation of the word "Elite" and an endless scrolling display of high-end home design project photos, showcasing expansive living spaces and cutting-edge interior decoration. 
A concise menu in the top right-hand corner enables effortless navigation to different pages such as their about page, projects, contact information, and press mentions. 
Design Milk features both emerging talent and established experts, providing readers with access to innovative design while also giving up-and-coming creatives a platform to showcase their skills.
Design Milk also provides readers with a wealth of information and inspiration related to interior design websites. The website features articles, and other content that covers a wide range of topics, from cutting-edge materials and technologies to tips for creating a more sustainable home.
The Ciatti Design website exudes an aura of sophistication and refinement with its tastefully curated colors, fonts, and images. The seamless integration of these elements creates a visually stunning platform that sets it apart from other run-of-the-mill interior design websites.
Browsing through the website is a seamless and enjoyable experience, with intuitive navigation and well-organized content.
When it comes to interior design, visual elements are crucial in conveying the style, mood, and overall aesthetic of a design. Jacobs Interiors is a prime example of this, as they have filled their homepage with luxurious interior design websites images that are sure to captivate and inspire visitors.
By including a process page on their website, Jacobs Interiors demonstrate their professionalism, expertise, and attention to detail. This can help potential clients feel more confident in their decision to hire them, as they can see exactly what to expect throughout the design process.
The homepage of the site is designed with great care and attention to detail, incorporating a variety of elements that work together seamlessly. The choice of fonts, colors, icons, and animations is not only visually appealing but also effectively communicates the brand's personality and aesthetic. 
Additionally, the website's contact page is thoughtfully organized, providing visitors with easy access to the team members and their contact information.
The website boasts an impressive array of digital solutions that make for a unique and engaging user experience.
Responsive design, which ensures that the site looks and works well on any device, from desktops to smartphones; interactive menus and navigation, which make it easy for users to find the content they're looking for; and social media integration, which allows users to easily share content on their preferred social networks.
Celene Interiors' website is a testament to the idea that functionality and ease-of-use need not come at the expense of style and creativity. It is a perfect website for anyone looking to explore and express their creativity in the field of interior design websites. The interface is clean, uncluttered, and easy to navigate, making it effortless for users to find what they are looking for.
Conclusion
In conclusion, the world of interior design is at your fingertips with the vast array of websites available online. Whether you are looking for inspiration, advice, or a platform to purchase your dream decor items, there is a website out there for you. From well-established industry leaders to up-and-coming startups, interior design websites have its own unique offerings and can help you bring your design visions to life.
However, if you want to take your interior design services online, it's important to consider the benefits of hiring a professional design company that can provide you with a custom website that meets your specific needs and showcases your unique style and services. So, if you're looking for a partner to help you design an interior website that will help you reach your business goals, contact UPQODE today.