One of the main reasons why you launch a website for your business is because you'd like to increase your sales. So, naturally, you'd like to get eCommerce website designs that enable you to fulfill this wish of yours.
But before you go off searching for some website templates, you need to understand a few basics. You must make sure that whatever template you choose or whatever design you commission, it must do justice to your business and to your brand.
A website for your business is an extension of your brand. Even if it's an online business, it's an extension of your brand. Therefore, you need to be thoughtful about your choice in order to tick all the right boxes.
Before we go into more details about how you could really leverage your web design to yield you increased sales, let's just take a look at some of the most interesting website design examples that we've found online:
Popular eCommerce Website Designs
Bliss is a skin-care brand and as you can see from their homepage, they've made sure that their products take the center stage.
Its eCommerce Website Designs are colorful, vibrant, and give off a chirpy vibe.
You can get a result like this either by hiring a professional company or by hiring a third-party seller who designs eCommerce website templates. Keep looking until you're happy with your choice.
Dress Up is a U.S.-based fashion retailer for women. They've used bold headings and wonderful product images to display on their homepage, along with the necessary information.
Whether it's the new arrivals, sale offers, or any other promotions – they've got it all covered. Moreover, in order to assist potential customers even better, they also have a 'Chat with us' option.
Hebe is also a fashion store, specializing in New Zealand for "ethical fashion and accessories".
Its eCommerce Website Designs have kept the outline of the website fairly minimal while focusing on the pictures and the products themselves. The pictures are stunning, to say the least, and the typography is quite remarkable as well.
All of it gives the website an interesting look that will capture your attention instantly as it is one of the best website design ideas for eCommerce.
Ambsn, pronounced as 'Ambition', is a swimwear brand that is based in Southern California which focuses on "color, design, and fit". It was founded by brothers Dylan and Dustin Odbert.
Dylan also serves as the Creative Director for the brand and says that their designs are influenced by art, cinema, music, and childhood memories.
Their eCommerce website designs encompass these aforementioned influences quite accurately. It's colorful and represents a vivid design.
Bohemian Traders is a fashion brand from 2014 and is located on the Central Coast of New South Wales, Australia.
They describe their clothes as "classic European cuts, for the modern bohemian", by blending classic fashion styles with bohemian detailing, they've developed their brand in an interesting manner.
Their website perfectly enables the brand's mantra to channel through. The colors are warm, the pictures are slick and the various sections have been wonderfully distinguished.
Dick Moby is an eyewear company, based in Amsterdam, Netherlands. They make sustainable eyewear and they "love this planet" – therefore, they use biodegradable and recycled materials for their products.
Their eCommerce website designs specialize in making products that don't harm our planet's ecosystem. Their products aren't just sustainable, but also very stylish. Whether it's their sunglasses, or eyeglasses collection – they provide you with some great options.
Their web design features interesting colors and patterns which really engage a visitor.
Ryder is an Australian apparel brand for women by women. It is the brainchild of sisters Penny and Georgie Brown. Their brand's ethos is inspired by nature.
Their eCommerce website designs focus on making products that can "stand the test of time", and provide good value for people's money by giving them clothes that they can just throw into a backpack and use whenever, and however, they like.
As mentioned above, the brand is inspired by nature. Whether it's the beach, desert, forest, or bush – these clothes are designed to take you to cross country.
Their web design ensures the perfect representation of their brand's mantra as their clothes are presented surrounding nature. The color combinations are also quite subtle – immersing themselves within their surroundings. It's quite pleasing to the eyes.
You may not find many online stores resembling Ryder and it is this creativity that helps them stand out.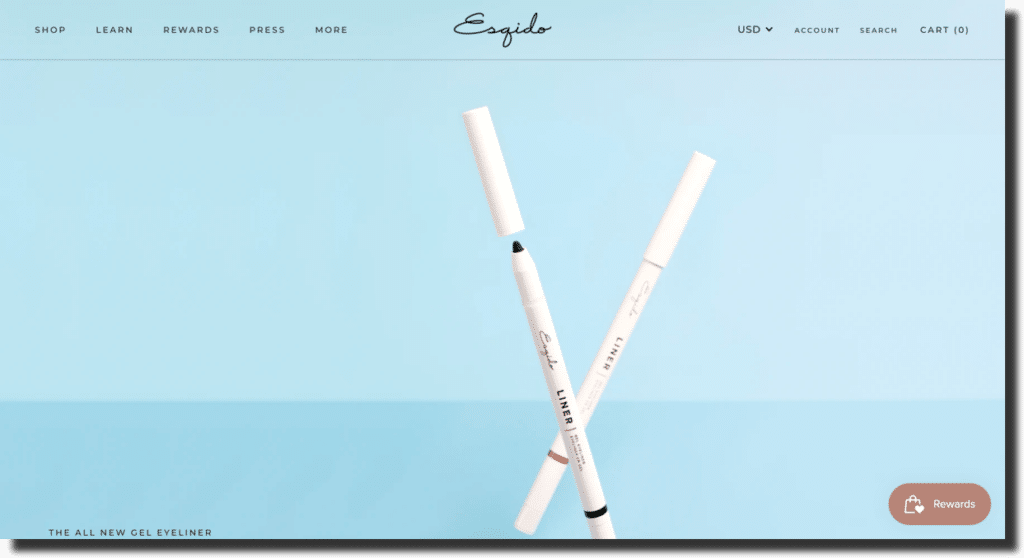 ESQIDO is a Canadian mink and false eyelashes brand that is the go-to option for many of the world's celebrities and fashion artists.
Their eCommerce website designs are absolutely stunning. The products take the center stage and the pictures used are fantastic. They present their products in a way that makes them look instantly charming. The pictures of the products also feature their attributes.
Moreover, the web design is quite sleek and minimal. They have limited sections in the menu bar as well but the most fascinating web page on the website, according to me, is that of their 'Apply & Care' section.
The 'Apply & Care' section shows a step-by-step process of applying their eyelashes and they also have a video tutorial for it, along with it.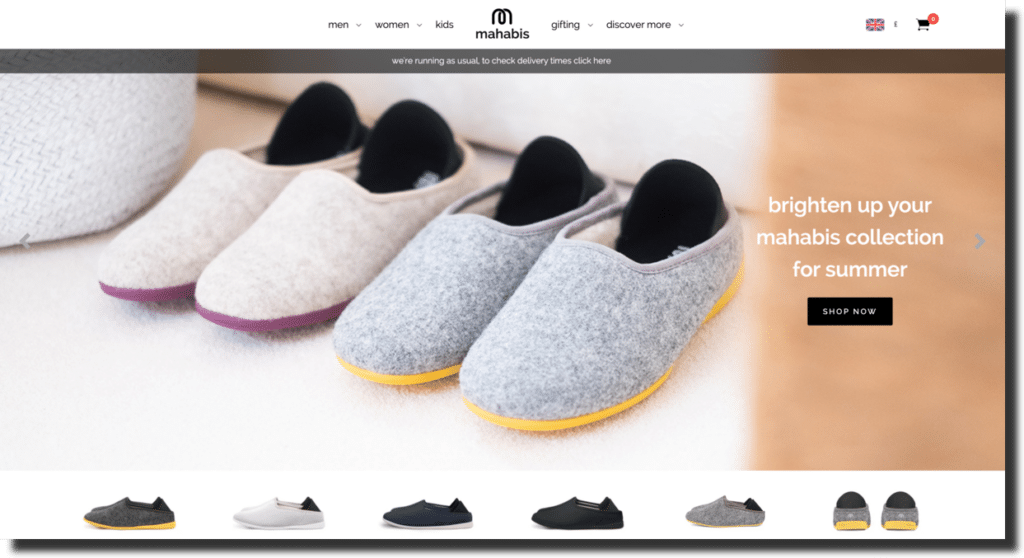 Mahabis is a footwear company based in London, United Kingdom. The people behind the brand believe that footwear is interesting because it "carry us through life". They wanted to use slippers, the world's most comfortable shoes, to turn them into something that is a little more functioning as well, without compromising on comfort.
The first thing that one notices when they hop onto Mahabis's Commerce website designs is how professional it looks. Their shoes are broken down into various parts, lining up each of the parts that eventually makes the shoes, giving you a clearer idea of what you're paying for, through an animated scroll.
It's a wonderful-looking website that is absolutely pleasing to the eyes.
The Horse is a curated collection of leather lifestyle goods, based in Sydney, Australia, and owned by husband and wife Scott and Amy Hawkes. It was started by them in 2009, more than a decade ago.
Their leather goods collections include bags, backpacks, crossbody bags, wallets, handbags, and monogram leather. But they are not limited to just that. They also have a wide variety of watches that you could select for Him and Her.
The watch collection includes watches for men and women, watch bands, rose gold watches, and black watches.
The first thing from their eCommerce website designs that catches your attention on their homepage is a little video showcasing their products, shot in a way to give it a vintage, classic feel.
It's a wonderful-looking website that gives you a warm, summer feeling.
Poketo is a lifestyle brand launched in 2003 by Husband and Wife Ted Vadakan and Angie Myung. Initially a small startup, it has grown into a marvelous creative hub and online destination that derives its name from the mispronunciation of the word 'Pocket' by Angie's grandmother.
They have four retail locations in Los Angeles, U.S.A. and they are home to many art exhibitions, workshops and other events that showcase the creativity of their local communities.
They have even worked with brands like Nike, MTV, Disney, Target, and Nordstrom, etc.
Their product category page includes stationery, living items, accessories, apparel, and items for kids.
The first thing that catches your attention when you see their eCommerce website designs is the colorful, vibrant assortment of their products' slideshow which speaks to their creativity and attractiveness.
Moreover, the many other categories within the product category page, are presented in a similar fashion.
Grovemade is a wooden accessories business that was started in 2009 by Ken Tomita, its CEO & Co-Founder, in Portland, Oregon.
Their categories include: Desk (monitor & laptop stands, desk shelves, desk pads, keyboard & mouse, headphone stands, etc.), Tools (pens, knives, notebooks, wireless chargers, etc.) and Office (catch-all, wall shelves, planters & pen cups, coasters, etc.)
Their website is very sleek. The focus is on selective, individual products that are wonderfully shot and feature many of their other products in them as well.
Moreover, they also have an interesting video of how these products are made, which is quite an interesting addition. A wonderful collage of the team behind these products can also be seen, which gives off a very collaborative feel. Perfect for their niche.
All in all, the website seems to provide a nice shopping experience.
Muroexe is a footwear and clothing brand based out of Madrid, Spain. They claim to "dress a generation of urban professionals, creatives, and innovators that need functional yet modern products for their everyday lives".
They are a small business with a team of 20 people yet their business has been doing fantastic since its launch in 2013. So far, they've sold more than 250k pairs of shoes to customers in 51 countries and their on-ground presence is spread across more than 300 shops worldwide.
When you visit their website, it directly shows you the sections for 'Men' and 'Women' which take you directly to products made for each. Then they have their products listed all the way through with great pictures and they all have a white, empty background to highlight their products even more.
Lastly, they also have some attractive updates along with customer reviews, as you scroll down.
A lovely eCommerce design, overall.
Sierra Designs is an outdoor-gear company that was founded in 1965 by Bob Swanson and George Marks. They make outdoor gear for all your activities to let you have an uninterrupted adventure.
Their product page categories include Gear (tents, sleeping bags, backpacks, etc.), Apparel for both Men & Women (jackets, vests, tops, bottoms, dresses, and accessories, etc.).
This company has been around for more than 50 years, which goes on to say that they definitely must know what they're doing. The same goes for their website. They've translated the feel of their brand quite visibly.
Great pictures of their products in the habitats where they are designed to thrive, amongst your friends or family, and pictures of the products where they shine through.
Helbak is an everyday-use ceramic articles company run by Malene Helbak, a Danish ceramist. She combines the simplicity of Scandinavian design with gorgeous colors to make products that stand out.
Her designs are beautiful and produce products that could serve multiple purposes. As she says on her website, "why only ever use a cup for drinking coffee or tea? Why not use it for flowers or pencils?"
The design of the website is clean and clutter-free. You won't see an abundance of information that's useless. Instead, you'll see the products on the website straight away. Whether it's the butter boxes, cups, vases, pitchers, jars, or bowls.
Muted, bright colors are used to exude the designs of the products and the currency option is also quite helpful. Along with the currency option, right on the top, you also see your shopping cart which would comprise of all the products you choose to buy.
It is elegant.
Molly Jagger is a brand that specializes in outdoor recreational products. It is based in the Ozark Mountains and adopts its name from the original 'Mollyjoggers Fishing & Hunting Club', circa 1890.
The list of products they sell includes: Scrimshaw Knife Kit, Bear & Son Knife + Scrimshaw Kit, CCC Legacy Bandana, Woodland Jones Cap, Timer Jones Cap, Fingerling Fish Knife, CCC Oxford Pennant, Storm Matches, Ice Box, Hook & Knife Sharpening Stone, Ozarks 1900 Bandana, Smallmouth Bass 1900, Canvas Field Bag, Red Stag Knife, Riverside Chair, Hounds Matches 2-Pack, Bear Bottle Opener, Safety Matches, Playing Cards, Sportsmans All-weather Journals, etc.
All of these aforementioned products can be seen right on the homepage of their website, giving you a perfect view of their specialized items. The great thing about this website is the vintage look it provides while maintaining modernity. It's a perfect balance. It definitely feels like a store that is owning its legacy.
The site provides a unique, detailed account of the store's legacy and keeps the green color prevalent throughout, a nod to their outdoor business and nature. Colors play a big part in branding and they've definitely learned how to use it to their advantage here.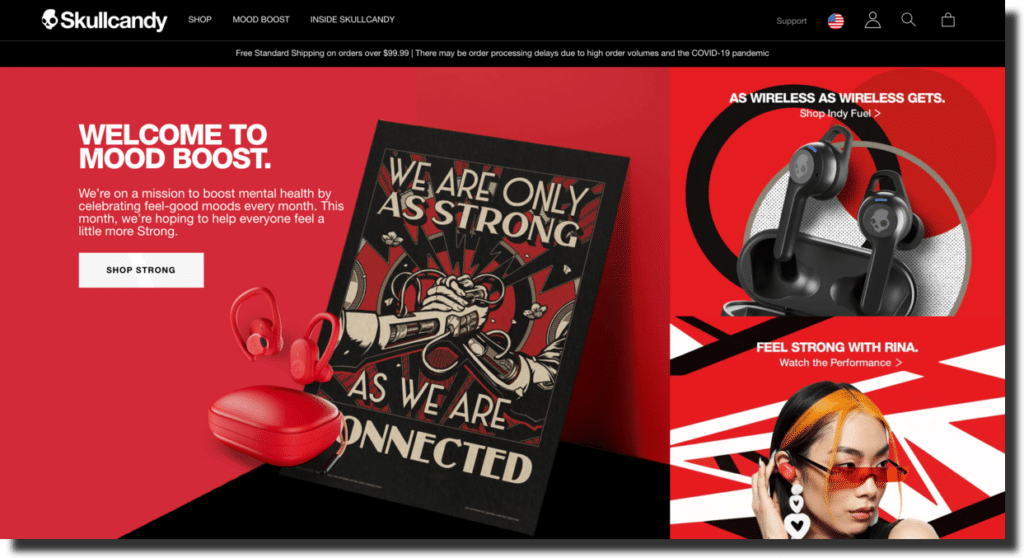 Skullcandy is an audio company that specializes in headphones, earphones, hands-free devices, audio backpacks, MP3 players, and other related products. Launched in 2003 and headquartered in Park City, Utah, it was born on a chairlift.
The company's founder, Rick Alden, was on a chairlift in Park City, Utah, when he came across the problem of not being able to take a call while he was listening to music. Thus, launching Skullcandy.
The company's products are mainly targeted towards outdoor action sports enthusiasts while catering to the other segments as well.
When you go to their website, your eyes are thrust upon by the remarkable combination of black and red colors that instantly grab your attention. The website uses colors extremely well and showcases its products with a neat panache.
The website looks thoroughly well-made and professional. Perhaps, a custom eCommerce website design is at play here. Whether it's the fonts used, the visuals incorporated, the colors used, or the way that their products are placed – it all just fits perfectly well together.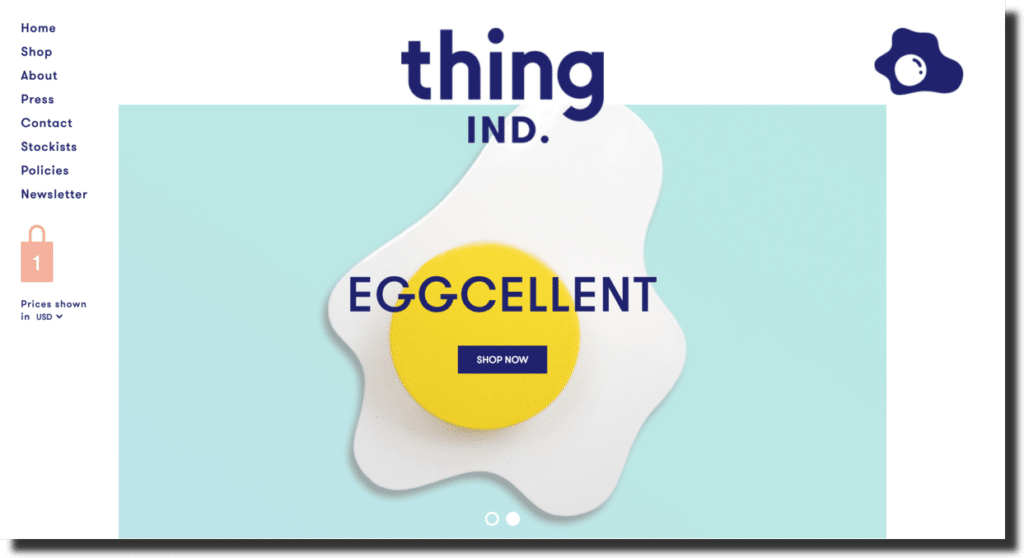 Thing Ind. Or Thing Industries is a design studio, based in New York. It was founded by Bridie Picot in 2013 and the brand is known for making "optimistic and adventurous objects for home".
The business came into being when the founder started designing things herself, for her upstate cabin. This gave her an idea that perhaps many others would enjoy the products that she'd made as well.
The products are quite interesting and are segmented towards a particular niche. Some of the products that are visible on the website include Sacrificial Chair, Boob Hook, Banana Pillow, Birdhouse Bookshelf, Beast Rug, Upside Down Shelf, Cheeseboard Animals, Ham Leg, Brick Blanket, Egg hook, etc.
These are products that you might not find even be able to find on Amazon, I bet.
Since the studio is so heavily design-oriented, the site's visuals have also been paid keen attention to. Whether it's the stop-motion animated pictures, choice of colors for the products' pictures, or the overall colors – it all looks stunning.
Since the site runs a white space, the products pop out even more and it just really works.
The checkout process is equally wonderful with many payment options like PayPal, Amazon Pay, and credit card.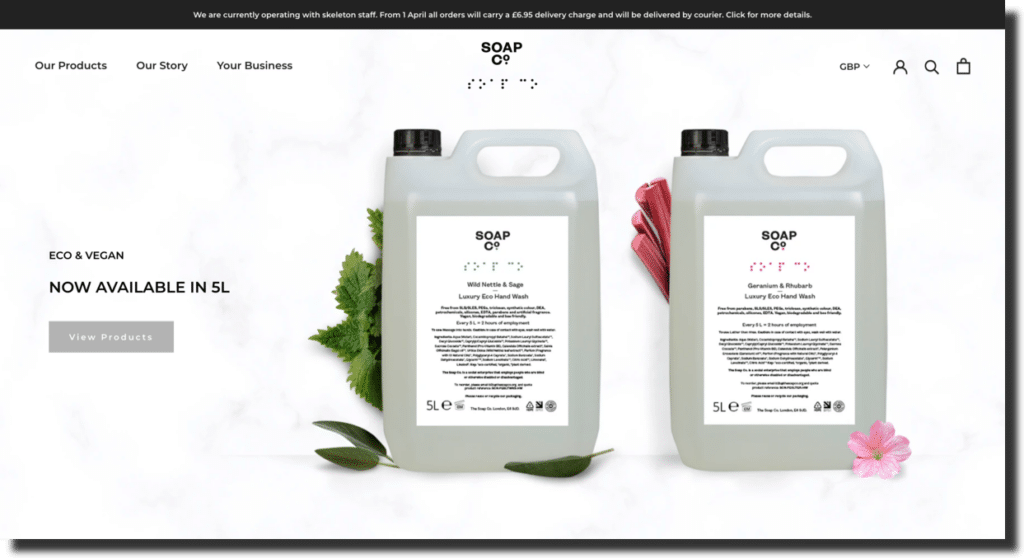 Soap Co. is an East London-based skincare company that uses botanical extracts to make their products along with pure essential oils and rich with nourishing vitamins. Moreover, their products are paraben-free which is extremely useful in nurturing the skin.
With the growing environmental crisis surrounding us, it is also quite useful to know that the products they make are produced in a manner that reduces their impact on the environment.
Their products are made with as many locally sourced materials and ingredients as possible. Old milk bottles and aluminum bottles are used to package these products.
Their website is simple, immaculate, and well-suited for a business such as theirs. The website gives off a vibe that stays true to its brand and the mantra behind it.
Their checkout page also looks easy enough with payment options like a credit card, PayPal, Apple Pay, Google Pay, etc.
RSVP is a leather goods company based in Paris, France. It was launched in 2015 and is quite unique in the way that they introduce their brand. The 'About Us' section of their website perfectly describes their unique outlook: "We don't do fashion shows and we use eggplants as supermodels".
They make products for both, Men and Women. Their product ranges include Briefcases, clutches, box bags, twin clutches, maxis, cardholders, identity card holders, folding card holders, envelope cardholders, and belts, etc. Moreover, there are made in limited edition.
Their website gives a very chic, French vibe. The pictures of the products look straight out of a Vogue magazine issue. The white space helps pop up their products very well as they are also in bright colors – red, orange, green, blue, etc., along with the usual black and brown.
Ratio is a coffee machine company based out of Portland, Oregon. It was launched in 2012 by its founder, Mark Hellweg. In a world where coffee is consumed by so many millions of people, the choices and methods have evolved.
But have those choices enabled the consumers to get the most out of their coffees? Just like they mention it on their website: "In the age of super premium espresso machines, why hasn't the automatic coffee maker evolved?"
For the longest time, as they mention, coffee connoisseurs have either had to choose between a complex brewing method or a highly simplistic one that gives you convenience over quality.
That's where Ratio comes in. Their products are designed to combine beauty, simplicity, and quality in your coffee-making experience.
This keen observation and eye for detail is exactly what you'll find on their website as well.
It's simple, tasteful, and tidy. The products are few. Therefore, they are at the forefront and their design elements, coupled with the white background, help elevate the products even more. Black and White colors are rampant on the website. Black font over a white background, to be precise, and it works magnificently.
The checkout page also enables the same website elements.
Frank Body is an Australian skincare company that was started by five friends in a coffee shop, just a few years ago. Their discussion about the state of the skincare industry and the influx of different chemicals in skincare products helped them come up with products that were natural.
They use coffee for their products as caffeine is believed to help you get a healthy, clearer skin, along with helping you maintain its PH balance. Whether it's acne, breakouts, or stretchmarks – Frank Body products have helped more than 6 million women in their pursuit for healthier skin.
The products are also mostly vegan.
The website has a white background throughout and their products and brand have a muted pink color scheme that helps them pop up. They also feature magazine and other editorial mentions along with customer reviews.
Rest is a design studio based out of San Francisco that claims to be "dedicated to the art of invisible technology'. Their products are designed with the vision of making high-quality products that are not only elegant but also beautiful.
Their product manufacturing consists of Premium-grade walnut, sustainable soft cork inlays, heavily weighted foundations, CNC machined for precision, and no-slip rubber feet. Moreover, their products have an integrated magnetic system that allows you to add, remove, or reorder your items on them with ease.
Some of the products that they sell include Phone Bed, Apple Watch Dock, Organizer Bed, etc.
The website layout is extremely simple. They don't have many products. Therefore, they use the space quite attractively by putting in information about their products and providing some other useful information regarding shipping and their social media handles.
The Letter J is a business started by Joanne, a graphic designer, from Singapore. They sell typographical products that include: Prints, Originals, Greeting Cards, Workshop Kits, Digital Downloads, and bespoke designs that you can order from them directly.
These are all hand-drawn, even though Joanne is a graphic designer. The fascination with calligraphy, for Joanne, started in 2013 when she was in New York, on a holiday. The lessons that she took there inspired her to start drawing with her hands and that's how it all started for her.
So far, her clients include: Burberrys, Johnson & Johnsons, New Balance, Swatch, Bynd Artisan, DBS Bank, Lululemon, OCBC Bank, Schroders Private Banking, Sunday Folks, etc.
The website is very well designed, a given fact, considering Joanne is a graphic designer herself. The products are displayed above muted, bright colors and the products are right at the forefront.
Moreover, a Pinterest 'Save' option can also be seen on top of some of the pictures, allowing you integration. The fonts used are very chic, too.
100% Pure is a cosmetic company that is based around products that provide healthy skin care, color cosmetics plus bath and body products. It was founded by Susie and James Wang, along with Ric Kostick.
The fantastic thing about the company is that their name is derived from their policy of coming up with products that are cruelty-free, natural, devoid of any artificial colors & fragrances, and synthetic chemical preservatives, etc.
Their website is designed with a mixture of different design elements to give off a professional vibe. The packaging of their products shines through the photographs used and an interesting animation effect is layered on top of their 'Sale' slide, highlighting it.
Moreover, they have dozens of products and multiple categories that you can choose from – all perfectly curated. They also have a blog dedicated to common skincare-related questions that you could learn more from.
This works well for SEO as well which could help you with your digital marketing.
The mobile device layout of the website is very engaging as well.
All Birds is a shoe company founded by Tim Brown. It came into being because of his curiosity with why companies didn't look towards merino wool when it comes to shoe manufacturing material. Well versed in the qualities of merino wool himself, Tim thought about using it as a sustainable alternative for the synthetic equivalents of shoe manufacturing.
This is what led him towards teaming up with Joey Zwillinger, an engineer and renewables expert. Together they've created the "most comfortable shoes in the world'.
The shoes are awfully simple in appearance yet they provide comfort like none other. They've been lauded by publications like Time, InStyle, Business Insider, Wall Street Journal, CNN, and many others.
Their eCommerce website designs look premium and feature an interesting animation of carbon footprint to signify how their shoes do not contribute towards it. The products are listed in a straightforward manner while giving you all the relevant information without wearing you out.
The user experience is solid.
Black Butterfly is an online fashion retailer for Women & Kids' clothing. Established in 2009, it is a family-run store with "core values of integrity, customer satisfaction, innovation, and personalized service,"
An interesting thing about this brand is how they've maintained an image of practical, affordable, and timeless fashion trends through their products. They pride themselves in being a company that cares.
Their eCommerce website designs ooz a warm, family-run store vibe. The clothes are all very well presented and the multiple categories are very useful for navigation and to find any specific products with ease.
It looks equally lovely on mobile devices as well.
Green Glass is a glassware company, founded in 1992. They consider themselves to be pioneers in the upcycled glassware and home décor industry. For decades now, they've served their customers faithfully by making products that are not only unique but also customizable.
Their glassware is made from "repurposed and reclaimed bottles, using responsible, minimal waste processes,". They are environment conscious and pride themselves in making products that don't contribute to the further decay of the environment.
Their eCommerce website designs are quite simple and don't really possess much pizzazz, compared to some of the other websites that we've covered here, but that is also something that works very well for a business such as this.
Di Bruno is a specialty food retailer and importer in the South Philadelphia Italian Market. They started off with a modest shop in 1939 and have grown to become a powerhouse in their niche. With more than 350 employees and five retail locations, they've also incorporated services like catering.
Their eCommerce website designs are definitely delightful. You're greeted with a very tasty image of vibrant foods and their choice of images is also spot-on. Their menu option has interesting categories that also have extensive sub-categories, giving you more and more choices.
A 'Bestsellers' section and 'Try something new' section also give you an interesting insight into what the store has to offer.
SISU is a brand of Akervall Technologies Inc (ATI), one of the fastest-growing companies in the U.S. – as named by Inc. 5000. The aim of SISU Guard was to create mouthguards that are strong and comfortable. They did so by employing disruptive technologies at the core of these products.
SISU has revolutionized the mouthguard industry with their innovative ways by focusing on the athlete and developing unique features that will allow them to elevate their performance, instead of hindering it.
SISU Guard has to be one of the best sports websites that you'll come across. Considering the fact that they are catering to a particular niche of the market, they've handled it pretty well.
They've even introduced face shields and other PPE products, in light of the current pandemic.
The website is smooth and has the categories of the products right in front of your eyes, on the homepage, making it easier for you to navigate between them.
"We are on a mission to provide every woman and girl the opportunity to choose timeless fashions that stay true to her sense of modesty." That's how Dainty Jewell's describes their brand and from the look of their website, they are staying true to it.
They design dresses for girls of all ages – whether they're adults or children. According to them, a woman's true beauty shines through beautiful dresses. Therefore, they make affordable and modest dresses that will do just that.
Their eCommerce website designs are highly impressive as they do a perfect job of translating their brand's vision into it. They offer a timeless, elegant vibe in their dresses and it exudes femininity, through and through.
The assortment of dresses on display is utterly remarkable as well. A combination of the white and muted shades of pink adorn their virtual store and make it tremendously appealing for visitors.
The website features a responsive design, too.
Boxhill was founded by Elizabeth Przygoda-Montgomery, a landscape designer, author, and creative stylist. She has more than 15 years of professional experience in her field and is highly accomplished.
Elizabeth started Boxhill in order to help make people understand the beauty of an outdoor setting. She wanted to help people realize their vision of an ideal outdoor area by providing them with the right set of products that will truly help it shine through.
In order to help bring that vision to life, she helps provide people with high-quality furnishings, smart design, and a curated style that is immaculate.
Whether it's outdoor furniture, planters & garden, outdoor lighting, fire pits & tables – Boxhill has them all and is capable enough to help you turn your outdoor area into a perfect area for you to relax and entertain.
The website is flawless. A white background runs through it from top to bottom and helps elevate the impact of the products' pictures. It is so slick. The professional-looking vibes that the website exudes make you want to keep scrolling.
It is modern, minimalistic, and absolutely lovely to browse through.
You could also achieve a similar result either with the help of eCommerce platforms like Shopify, Magento, WordPress, WooCommerce, or BigCommerce.
Northernism is a store founded by Marlies Neugebauer, and located in Amsterdam. It's quite a unique store because it possesses a plethora of items and products that are not always related to each other.
Their eCommerce website designs have an incredibly wide variety of product categories – accessories, beauty, clothing, ceramics, home, and library, etc.
That is because the founder was passionate about collecting things, products that were new, old, handmade. She then wanted to work with various craftsmen and designers to turn these products into better pieces that would align with her vision and the taste of the designers.
These items have been collected from shops, artists, craftspeople, publishing houses, and family-run businesses, amongst many others.
The website is extremely artistic as well. It has an imaginative vibe that stretches through all of its web pages. An interesting thing with regards to the pictures of their products is how they've placed images and texts on a grid – considering not many eCommerce sites do this.
Bon Bon Bon is an artisan chocolate brand founded by Alexandra Clark, in Detroit, Michigan. Alexandra was born into a chocolate-crazy family and decided, at the ripe age of 19, to pursue this obsession as a career.
After getting into a taxi accident, she got $32,000 and she used this money to open up her shop in the back room of a Diner.
Bon Bon Bon has received nationwide acclaim and has been lauded by Bon Appetit, Food & Wine Magazine and Tasting Table, Martha Stewart, and Forbes Magazine.
They use internationally trained artisan configures to create their tasty chocolate products.
Their eCommerce website designs just scream fun. It's one of the most impressive websites you can come across. The colors from their beautiful chocolate products are inviting and they look so delicious. An animated layer-by-layer view of their chocolate products greets you on their homepage's slideshow and makes you want to keep scrolling.
The menu is minimal yet impactful. The subtle shade of pink over a white background is impressive. They've even got merchandise!
The website is colorful, laden with fantastic patterns and designs, and even their 'Add to cart' page is just so creative.
This is a website that seems to have been designed by an extraordinary web designer, I'm sure.
Simply Chocolate is a chocolate brand based out of Copenhagen, Denmark. It was launched in 2011. They use the traditional methods with sprinkles of modern ways to create chocolate that is perfectly fitting for a vibrating city like Copenhagen.
Unlike many other chocolate brands, they are not just focused on taste but also on their chocolate's impact on your body. Therefore, they don't use lacquer, artificial colorings, or additives in their chocolate.
Their eCommerce website designs are truly outstanding and chances are, you may not have seen many like it.
Their website has got one of the best homepages on any website. They've got all their multi-color packaged chocolate products on their homepage individually and as you keep scrolling down, each of them takes the center stage and the color of the page changes to match the color of the packing of that product.
The ingredients of those individual chocolate products also float below the products, giving you an even clearer understanding of what's in them.
As I said, truly outstanding!
Ways to Drive the Most Ecommerce Sales
These are some of the best eCommerce website design strategies and models that you could incorporate into your website to help you achieve your sales goals:
1. Homepage
Your homepage is the most important factor in keeping potential customers captivated and turning their interest into a sale. It is the first thing that they see and, in some cases, it's also the last thing that they see. The first impression is the last impression.
Therefore, it is imperative that you put as much focus as possible on your homepage. The way it looks, the vibe it gives off, the colors, etc. Your brand needs to be perfectly represented through your homepage's design. It shouldn't feel like the brand, the products, and the homepage (or the website as a whole), have conflicting messages.
The first thing that you need to do is understand what your brand is all about. Then you need to pay attention to the elements that you want to incorporate in your website. Which designs or patterns match your brand's vibe? What colors represent your brand the best? What kind of a look are you going for – vintage, classy, or modern?
It might be tempting to put all your products and list them right there, on the homepage but trust me, it's not the best course of action, at all.
Why you might ask? Well, it's simple, really. According to Entrepreneur, it is far more effective to opt for fewer products on your homepage with better, more elaborate product descriptions. It makes sense, too.
You could just use your 'New Arrivals' or 'Bestsellers' lists on your homepage to showcase your most important products and it would be way more effective than just bombarding the potential customers with so many products that they probably won't even be interested in.
Add a direct call-to-action option beneath those products and take a backseat to enjoy the products sell themselves, practically.
2. Photos & Videos
The internet has become a visual medium, over the years. Instead of reading about something, people are much more likely to watch a video of it. This is true of the eCommerce business as well.
When people visit your website and look at the products available, they don't have any way of knowing how the product smells, tastes, or feels. The only thing they can do is look at it. Therefore, the more attractive your videos and pictures are (of your products and otherwise), the more likely it is that people will click on it and, perhaps, buy.
The smartest eCommerce sites and stores know this too well. They spend a lot of time and effort getting the right pictures taken for all of their products. They follow themes, collections, patterns, colors, designs, etc. to give it all a new spin, every time.
Good product photography is essential in all types of eCommerce website designs.
This is absolutely effective as it can have a sensory effect that is strong enough to pique your curiosity and keep you engaged enough to purchase an item.
Videos are also instrumental in doing the same. According to Mashable, if you insert a video on your top landing pages, it can help you gain an increase of 86% in conversion rates. Considering how our brain processes visual information, which is 60,000 times faster than text, it is far more effective.
In fact, it wouldn't be wrong to say that product images and videos are some of the most important features of eCommerce website design that demand to be done justice to.
3. Email Addresses
Email marketing is one of the highest ROI methods for a business. It allows the business a window into the mind of its customers and gives them the ability to promote their products by sending them insights, information, and updates directly.
Thousands of businesses use this method worldwide because of how effective yet cheap it is, compared to its other marketing counterparts.
Why makes it so popular? Well, quite a few reasons, actually. Let's start off with the aforementioned point – it's cheap. If you want to pursue a proper marketing campaign for a new collection of products, you will probably have to spend thousands of dollars, at least.
With email marketing, you don't have any print costs, postage costs, fees for advertising space (billboards, magazines, tv, etc.)
Moreover, you already have an engaged audience that likes your products. You don't have to do too much for them to trust your brand.
You don't even need a huge team to come up with an email marketing campaign. There are so many email marketing platforms these days that can help you with it.
But, none of this matters unless you have the email addresses to send these emails to, right? Right! So how do you do it? It's simple.
People will willingly provide you with their emails as long as you provide them with something of value in return. Whether it's vouchers, discounts, digital downloads, or merchandise, etc.
You could use smartphone-only offers as well, either through an app or through the mobile version of your site.
As long as you provide them with enough value, they will sign up.
4. Testimonials, Reviews, and Features
Credibility is the most important thing that any eCommerce site needs to generate in order to establish itself. If you're a new eCommerce store and are just starting out to build your brand and your customers, you need to focus on this factor with as much attention as possible.
In order to reach far and wide, you need to make sure you let people know that you're a legit business and that you provide a perfect online shopping experience. On the internet, it is far more difficult to do that because anybody can start a website and put up products for sale and a lot of people have had very sour experiences with scammers who've robbed them of their money.
You could integrate your website with all your social media profiles, across all social media platforms – Instagram, Facebook, Twitter, etc. and let those plugins provide you with constantly updated reviews that your customers leave you there. Sure, that won't always be a great promotion tool because there might be some bad reviews as well.
What you can do to avoid those bad comments, perhaps, is by fetching those comments from your social media platforms and posting them to your website manually, in an aesthetic manner.
These are great for search engine optimization (SEO) on search engines like Google or Bing, etc. as well for your digital marketing.
Another thing that absolutely works is presenting your press features. Again, most of the websites that we've covered in this article have used their features in known magazines like Forbes, Time, and Vanity Fair, etc. to give them strong credibility.
5. Addressing Questions & Queries
In a normal brick-and-mortar store, you'd have your salespeople or other store employees available, on-ground, to assist customers in case they wanted to ask something. That usually works really well because that helps the customers resolve their queries immediately and allows them to get the clarity that they need in order to make a certain purchase. It is instant and effective.
On the web, however, the absence of that assistance usually robs many eCommerce websites of potential purchases. Customers have questions and queries that perhaps they can't find the answers to on your website and that forces them to exit instantly.
One thing that you could do to resolve that is by having a 'Frequently Asked Questions (FAQ)' section on your website. This section you could update often, in order to address any questions that your customers have commonly asked.
One more effective method would be to have a pop-up virtual assistant available on the website to help your customers. You could do that either with a store employee or by hiring a freelancer, which is incredibly easy to do.
Whether you design the website yourself or with the help of an eCommerce website design company, these are some of the things that you could do to help your website generate more sales, along with the appropriate website designs.
Your #1 priority should be to provide a wonderful eCommerce experience.