In the digital age, photography has become an immensely popular and accessible form of creative expression. Whether you're a seasoned professional or an enthusiastic amateur, finding inspiration is essential to fuel your passion and hone your skills.
The best photography portfolio websites serve as invaluable resources to spark your creativity, broaden your horizons, and connect with like-minded individuals. Join us as we unveil the best photography portfolio websites that will inspire, educate, and elevate your photography to new heights.
Best Photography Portfolio Websites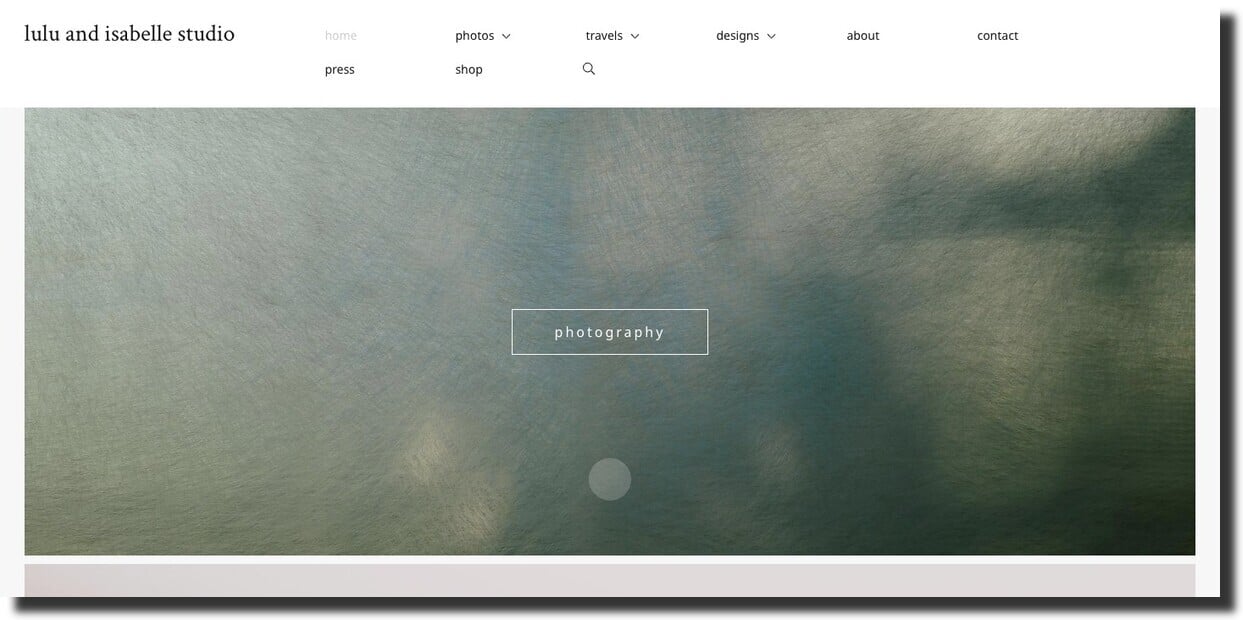 The website showcases its diverse range of photography in a captivating full-width banner, effectively inviting visitors to embark on a visual journey. With a sophisticated color palette and an array of striking images, it immediately piques the viewer's curiosity, leaving them eager to delve deeper into its captivating content.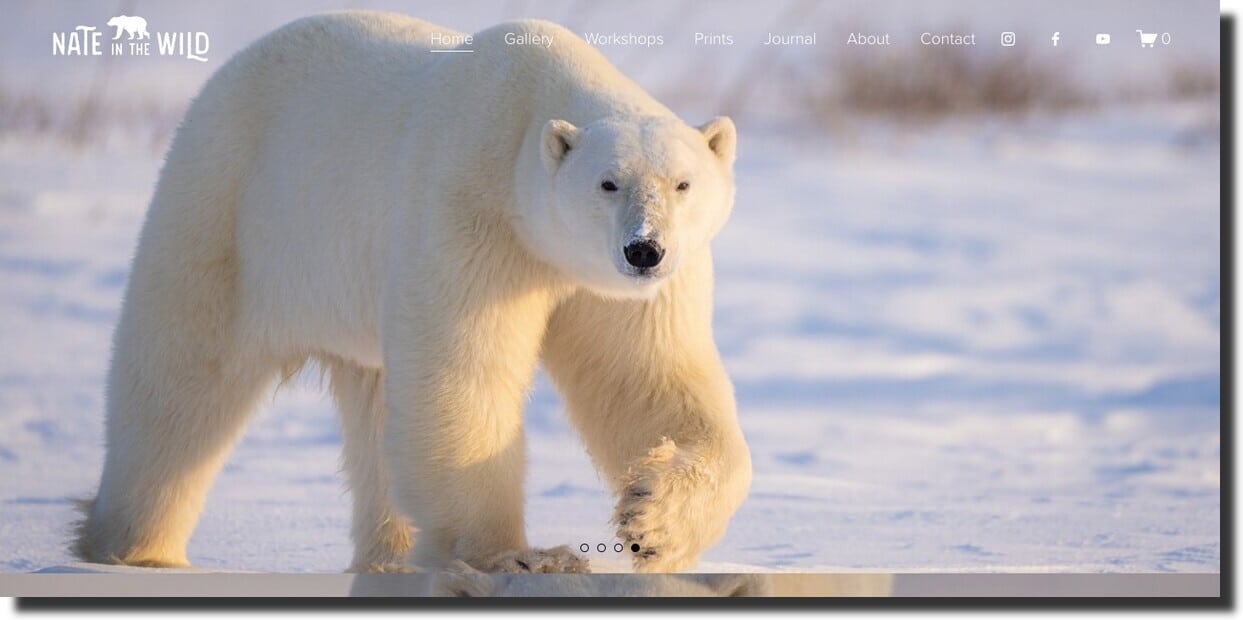 Within the realm of top-tier photography websites, this platform stands out with its awe-inspiring full-width imagery, thoughtfully accompanied by user-friendly navigation arrows to explore its extensive portfolio. The arresting visuals, paired with prominent typography, not only seize the viewers' gaze but also create an immersive experience that draws them further into the captivating world of photography on display.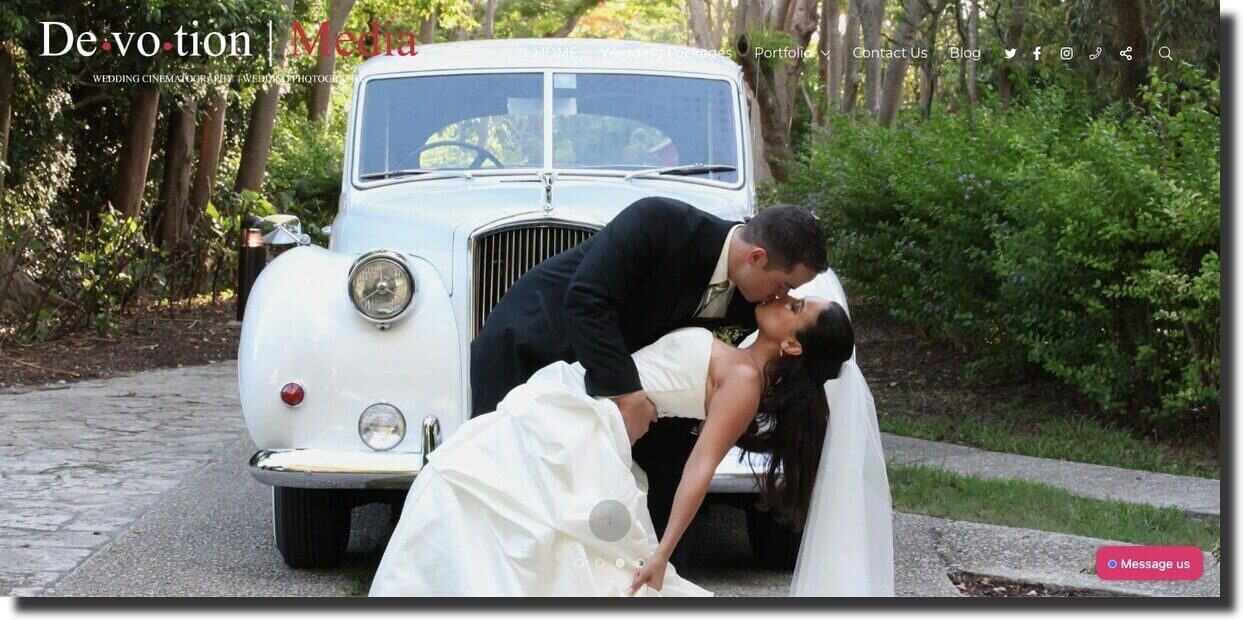 Devotion Media specializes in wedding photography and wedding films. On its homepage, you'll find a deliberate use of concise text, opting instead for striking full-width banners. The curated images, elegantly presented in a spacious dynamic-view format, transport visitors into an experience akin to perusing a cherished wedding album, ensuring an emotional connection to the captured moments.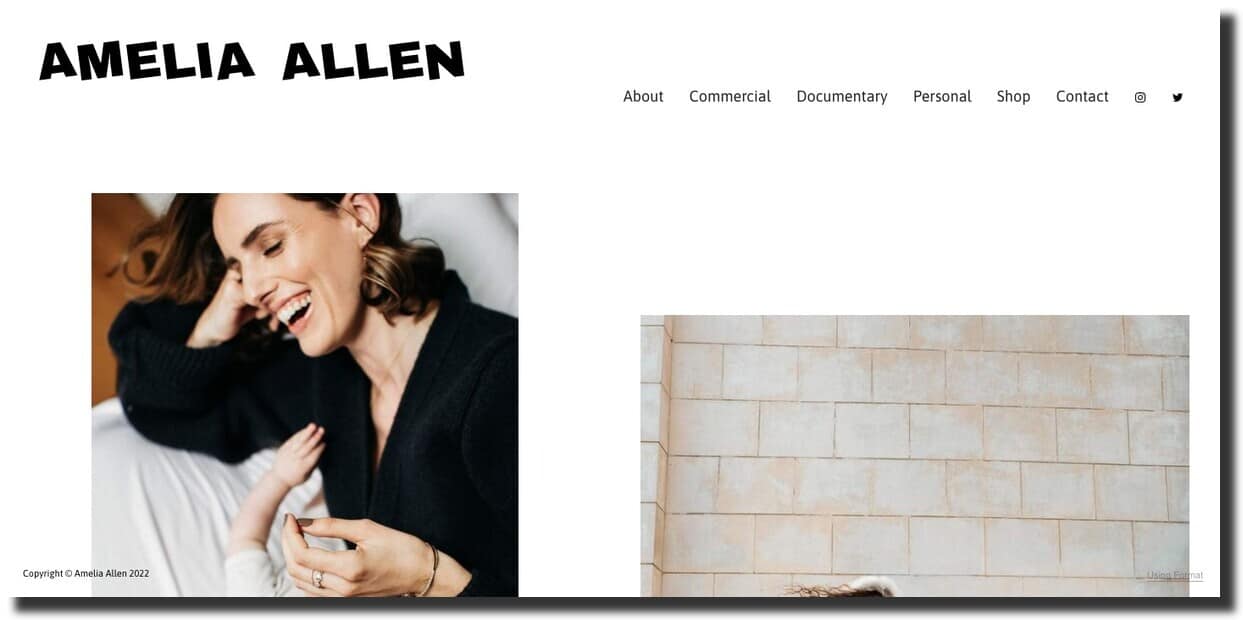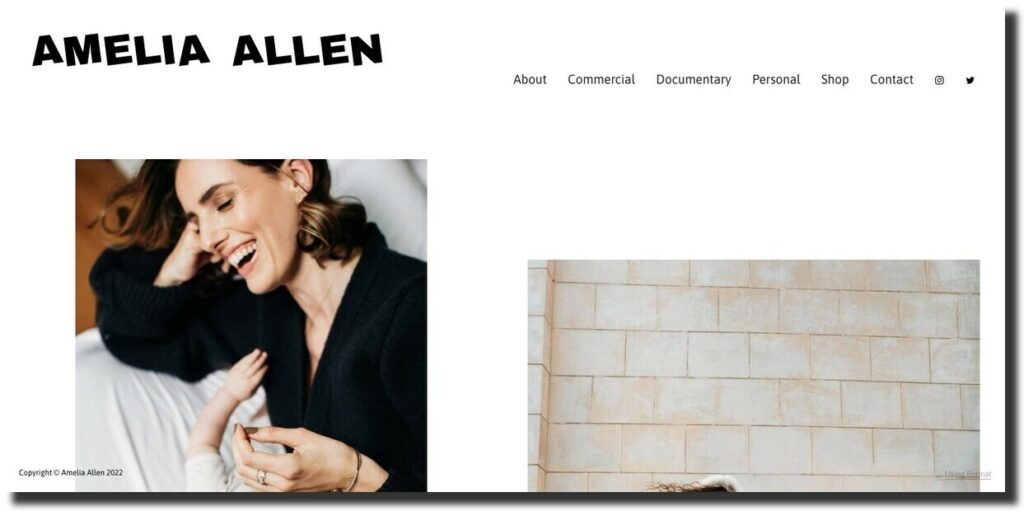 What sets the site apart is its unique presentation style, opting for horizontal layouts over the conventional grid structure. This distinctive choice ensures that the focus remains squarely on the images, allowing website visitors to gain a deeper insight into the photographer's artistic style and creative approach. As one explores the work, it becomes increasingly apparent that Amelia's photography subtly reflects and mirrors the nuances of arts and culture.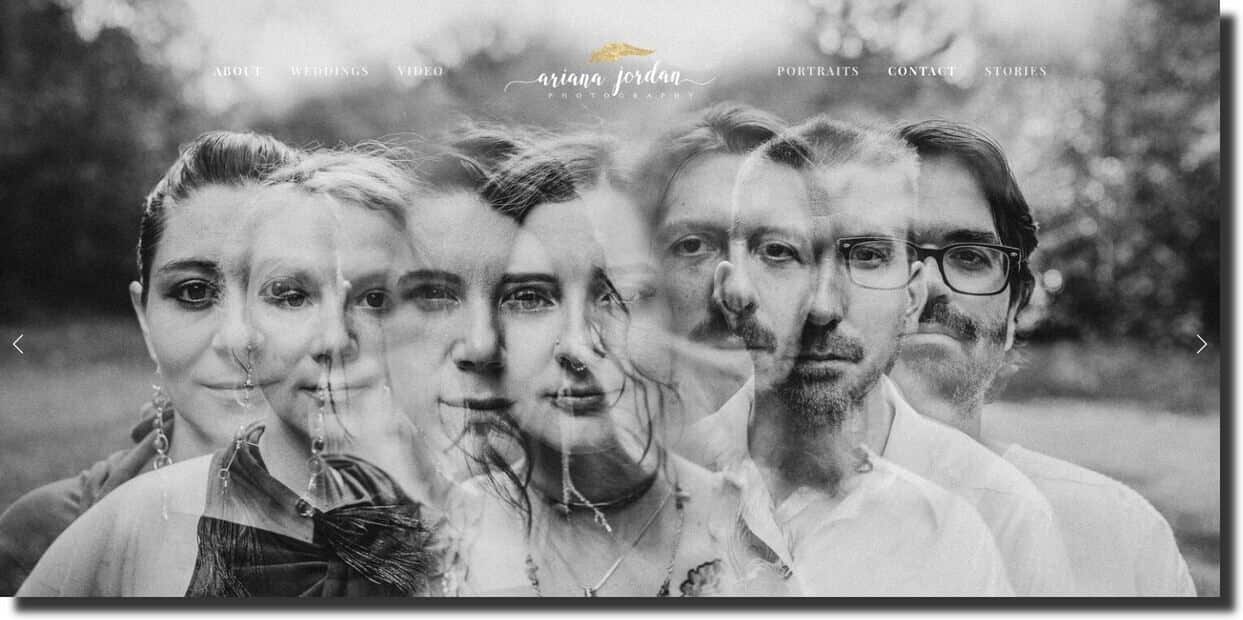 The website boasts a beautifully crafted design, housing a portfolio replete with opulent, evocative, and atmospheric photographs. As you explore the author's online presence, you are enveloped by a world of vibrant colors, heartfelt emotions, and captivating narratives, each image a testament to her ability to convey powerful stories through her lens.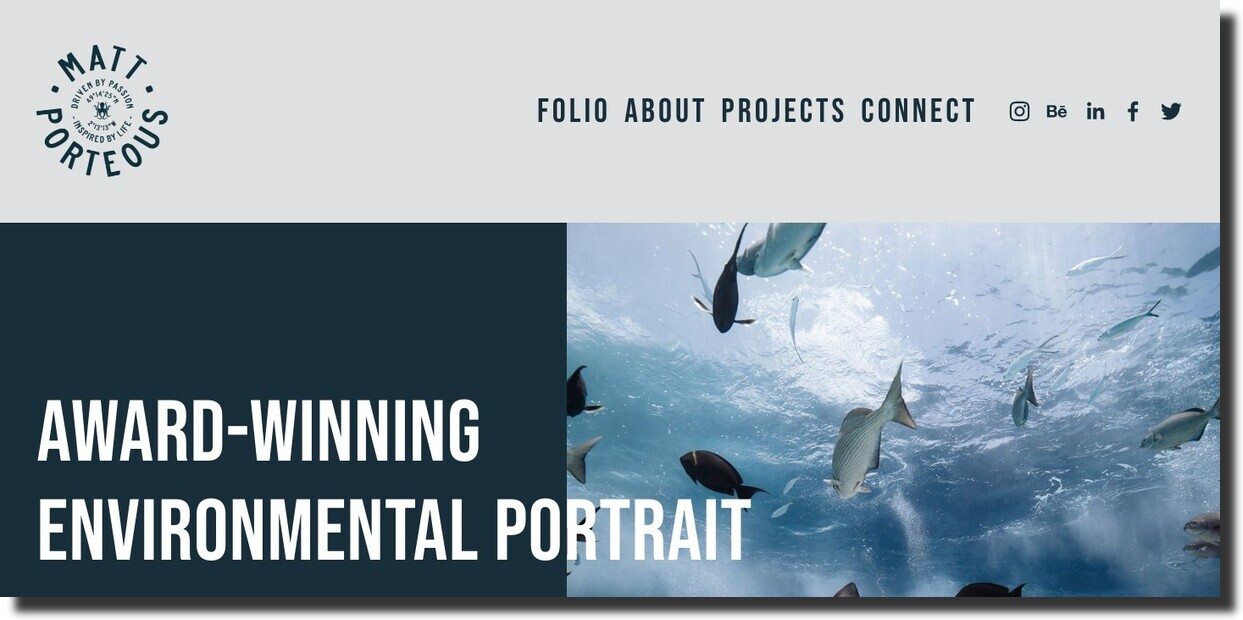 Upon arriving at the homepage, you're greeted by a visually arresting grid layout, adorned with a plethora of captivating photographs. The grid's mosaic of images not only captures the eye but also provides a tantalizing glimpse into the artist's multifaceted portfolio.
Here, every collection of photos is accompanied by its own unique history. As you explore these project pages, you're invited on a narrative journey, gaining insight into the inspiration, purpose, and creative journey behind each series of photographs.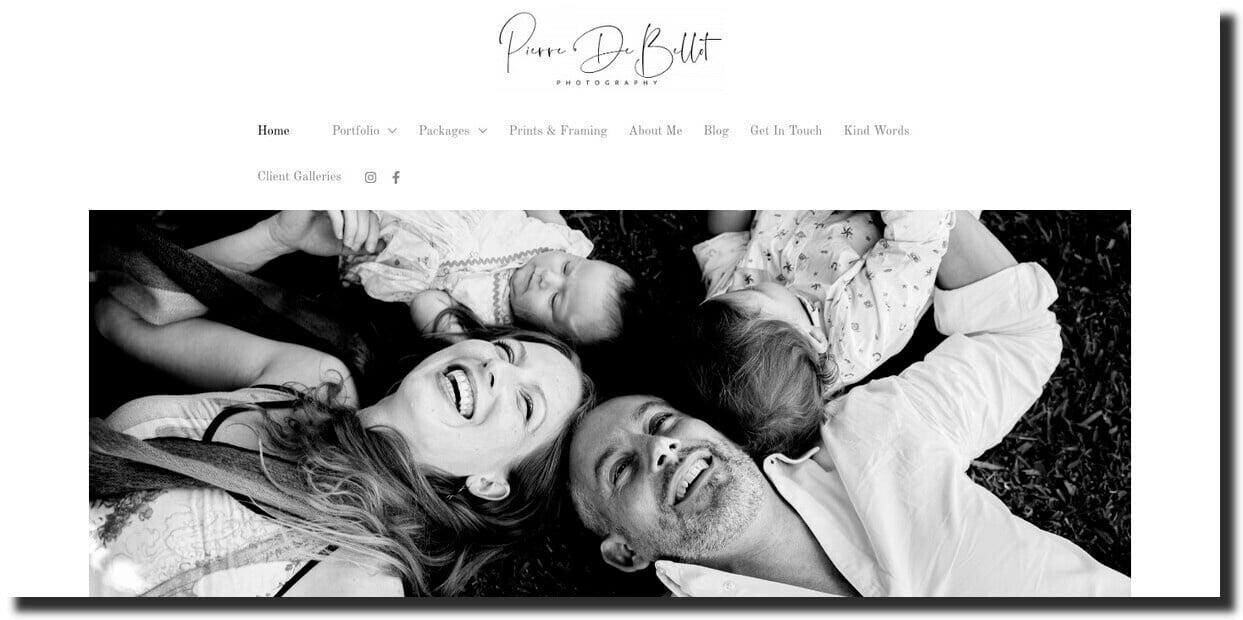 The homepage of the website showcases a prominent slideshow featuring his finest photographs, followed by a neatly organized grid of images. Each of these galleries is conveniently linked to his blog.
The website also offers distinct sections detailing available packages and printing choices. To facilitate collaboration with clients in selecting their preferred photos, Pierre utilizes Client Galleries, providing a streamlined platform for this purpose.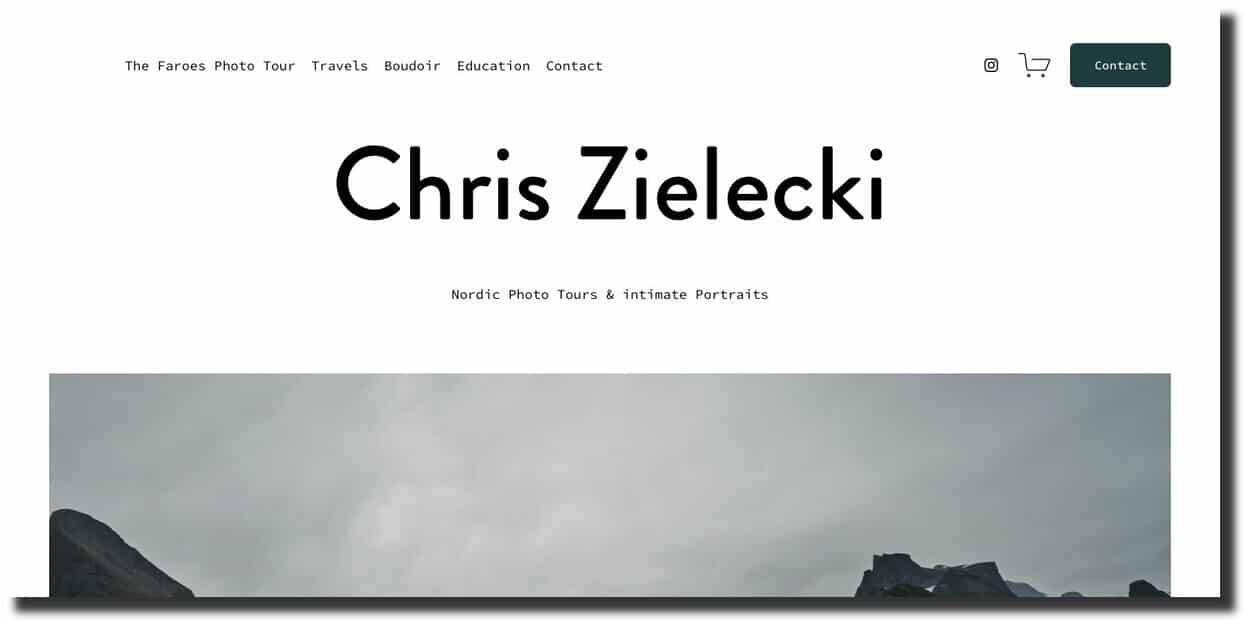 Several of the photographs exude a moodiness that vividly captures the raw essence of nature.
The website is thoughtfully designed to evoke the sensation of flipping through the creator's travel journals. Upon clicking the cover image, a plethora of additional photos from those particular adventures is unveiled.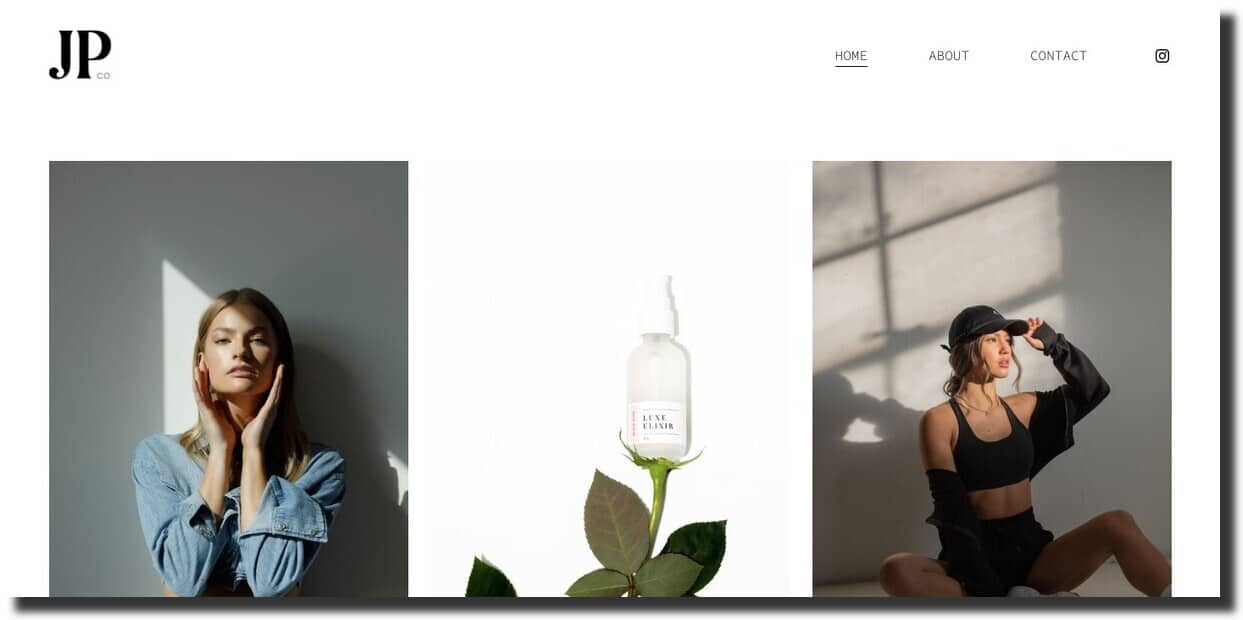 Griffith Imaging specializes in lifestyle, commercial, product, and real estate photography.
Their photography website resembles a vibrant magazine, characterized by a fresh, colorful, and pristine design. Navigating between sections is effortless, and each image maintains a consistent style throughout. This captivating layout ensures a visually engaging and user-friendly experience for visitors.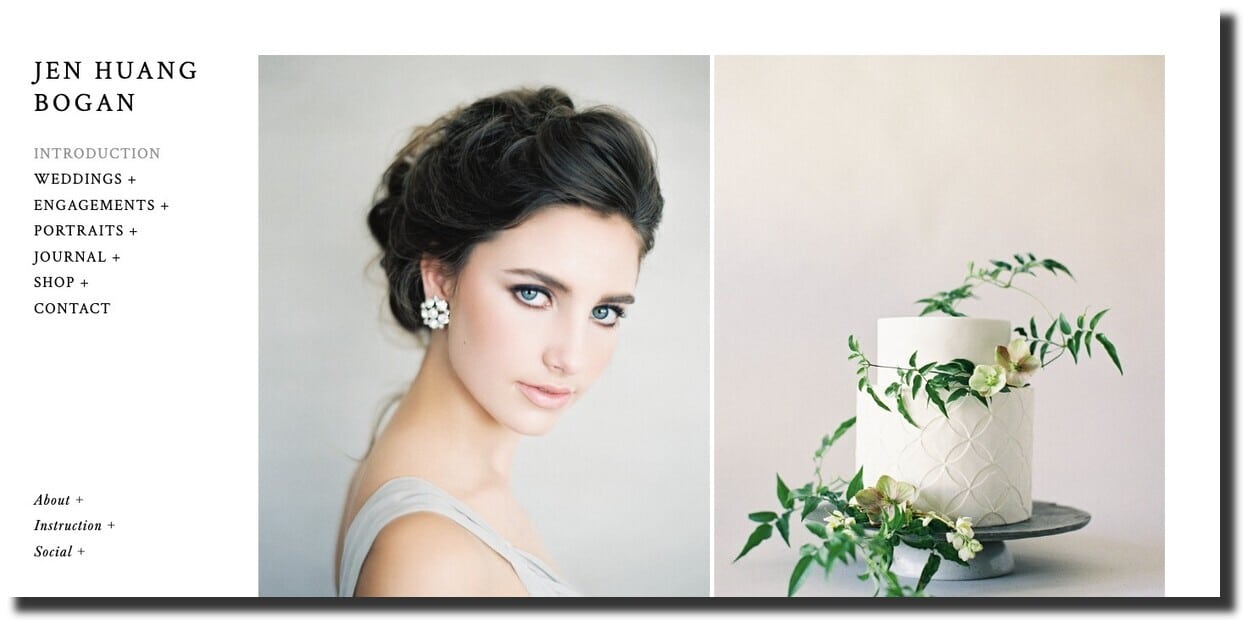 The website we're featuring boasts a minimalist design and a pristine layout. As you scroll down the homepage, you'll encounter a series of striking, full-sized photographs that capture your attention. What sets this site apart is its navigation menu, thoughtfully positioned in the left sidebar, which remains conveniently fixed in place as you explore the content. This feature enhances the overall user experience by ensuring easy and efficient navigation throughout the site.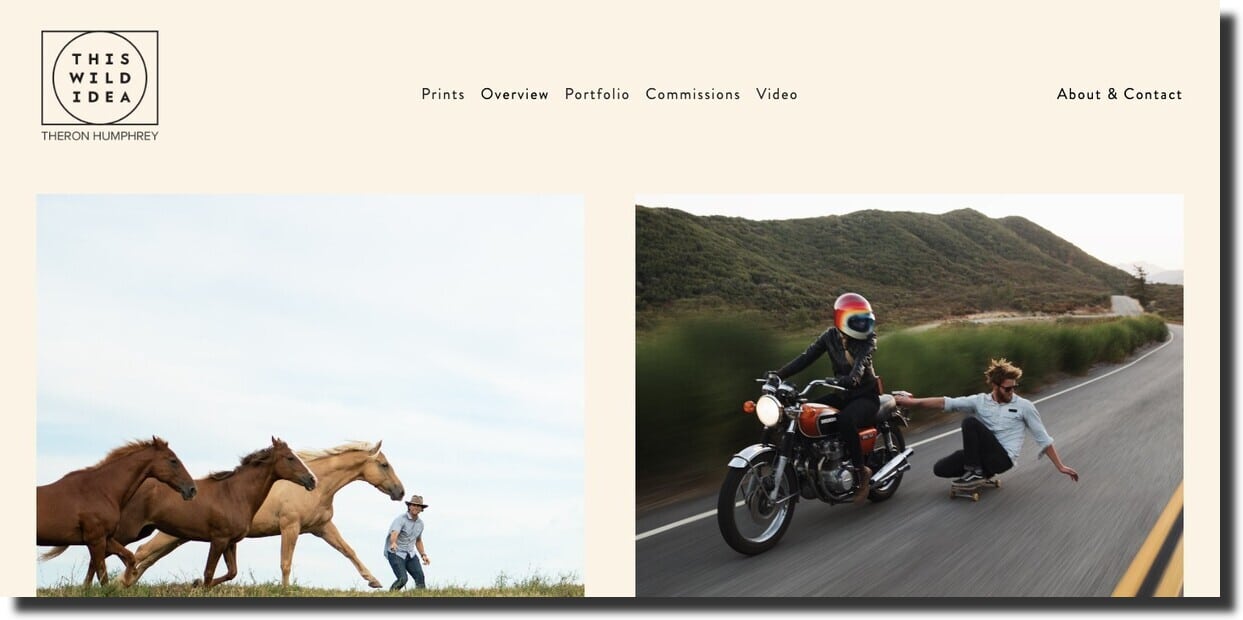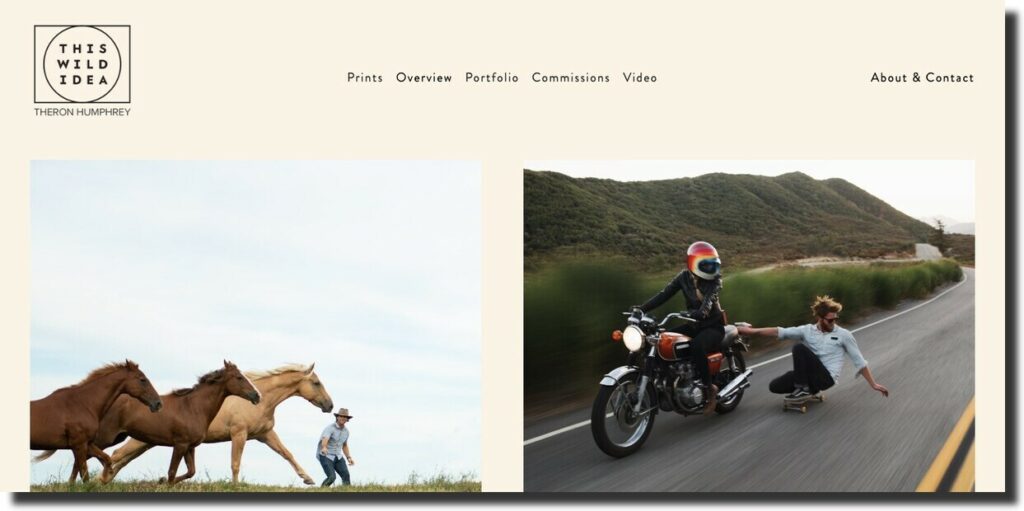 The photography website adopts a straightforward homepage design, featuring two columns of captivating photographs. The header navigation menu is thoughtfully organized, offering quick access to key sections such as the portfolio and the shop for purchasing prints.
Notably, the "about/contact" link is strategically positioned on the right side, creating a visual separation from the main navigation menu. This placement ensures that visitors can easily find essential information about the photographer and contact details while browsing the site.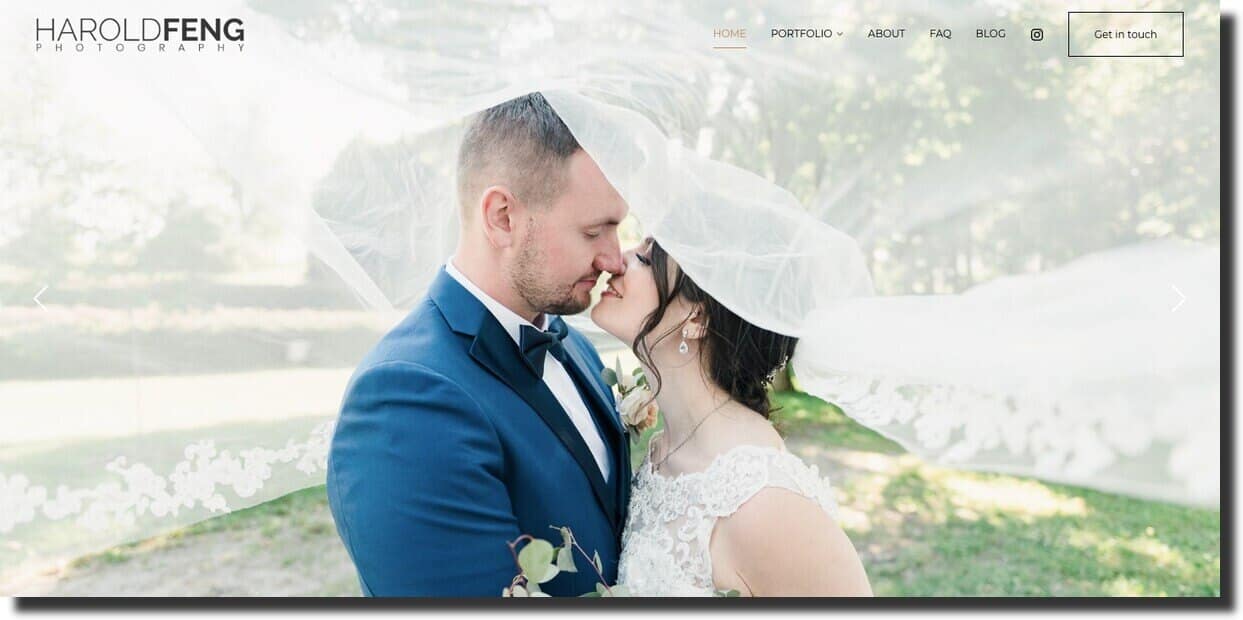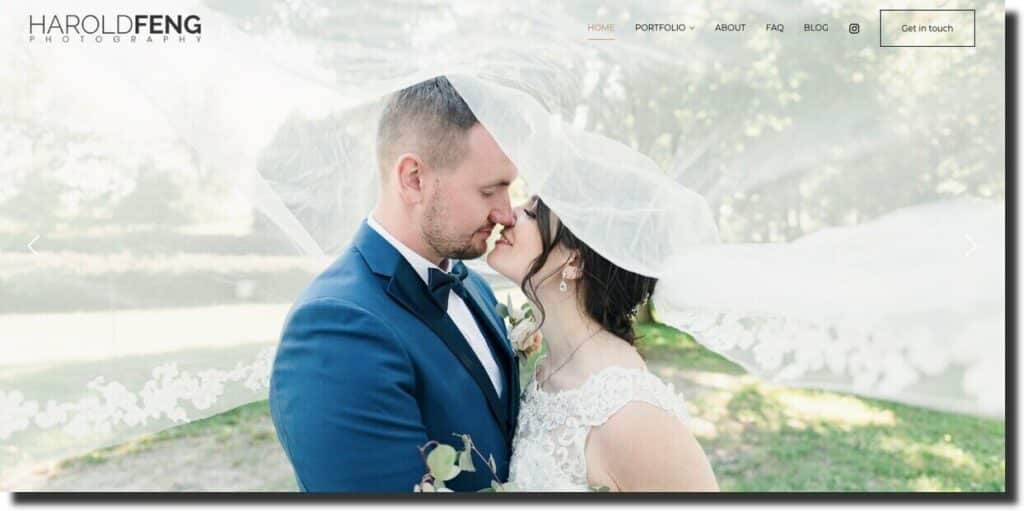 The website begins with a visually engaging splash page offering visitors three distinct choices: event photos, travel photos, and wedding photos. 
By selecting any of these options, you are seamlessly directed to a dedicated portfolio page, each highlighting a unique aspect of creator photography expertise (the travel portfolio is presented above for reference). Additionally, the website incorporates a dynamic blog section, enriching the visitor's experience with insightful content and updates.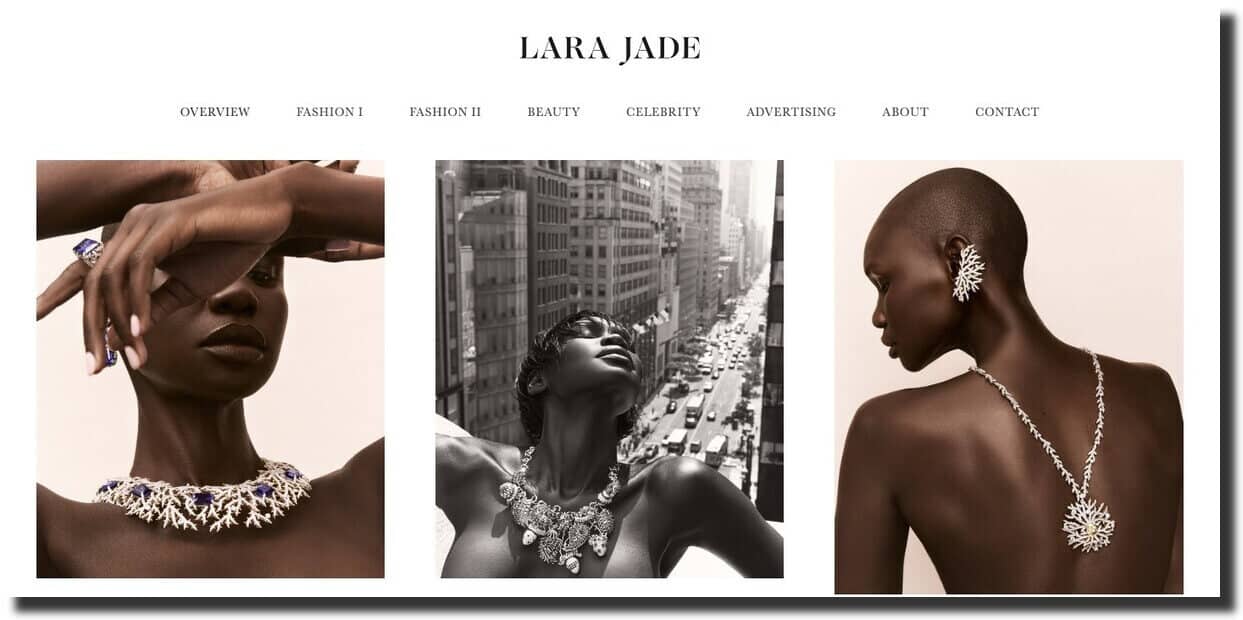 Lara Jade, the portrait photographer extraordinaire, has designed her website with a refreshing aesthetic—employing a clean, white background, a familiar choice among photography websites. As you land on her homepage, you'll immediately notice a curated grid display, showcasing a carefully selected assortment of her captivating portraits.
In addition to this, Lara's navigation menu goes a step further by offering easy access to several category-specific galleries. This thoughtful organization allows visitors to delve deeper into her work, exploring the nuances and diversity within her portfolio with just a click.
Frequently Asked Questions
1. What Is a Photography Portfolio Website?
A photography portfolio website is a dedicated online platform or website where a photographer showcases their best and most representative work. It serves as a digital gallery or portfolio that allows photographers to display their photography skills, style, and expertise to potential clients, collaborators, and a broader audience.
Photography portfolio websites typically contain a curated selection of high-quality images that highlight the photographer's talents and showcase their range of work. These websites are essential for photographers looking to promote their services, attract clients, and establish their online presence in the competitive world of photography.
2. How Can I Create a Professional Photography Portfolio Website?
Creating a professional photography websites can be approached in several ways.
If you're tech-savvy and have some web design skills, you can choose to build it yourself. There are various website builders and content management systems available that make the process user-friendly. 
If you're looking for a unique and customized design that perfectly matches your style and needs, you can opt to hire a professional web design agency. These agencies have the expertise to create a tailor-made website for you. 
Another option is to use premade website templates specifically designed for photographers. These templates offer a balance between customization and ease of use, allowing you to showcase your work effectively while benefiting from a professionally designed framework.
Ultimately, the choice depends on your technical proficiency and the level of uniqueness and personalization you desire for your photography website.
3. What Elements Should Be Incorporated into My Photography Portfolio?
Your photography portfolio website should consist of your carefully curated selection of top-quality work. This can encompass images you hold in high regard, photographs that have garnered recognition in media outlets, magazines, newspapers, or online platforms, or those that have secured victories in photography contests.
Additionally, there are also important pages such as an About page, a Blog page, and a Contact Us page. 
Conclusion
Your online photography portfolio frequently serves as the initial introduction to your work for potential clients, emphasizing the importance of crafting a memorable and polished website for showcasing your content.
Moreover, it's essential to recognize that many potential clients use your portfolio to gauge your legitimacy and draw inspiration from your past work. If your online presence is lacking or fails to inspire, it may deter potential clients from choosing to work with you.