In today's digital age, actor websites have become an essential tool for performers to showcase their talent, connect with industry professionals, and build their online presence. A well-designed and strategically crafted actor website can serve as a virtual portfolio, providing a platform to highlight an actor's skills, experiences, and unique brand.
Whether you're an aspiring actor looking to create your first website or a seasoned performer seeking to revamp your online presence, this article will serve as a valuable resource. By analyzing the top actor websites of 2023, we will uncover the elements that contribute to their success and provide guidance on how you can apply these principles to your own website. Get ready to be inspired by the dynamic and visually stunning actor websites that have raised the bar in the digital realm.
Common Elements of Successful Actor Websites
As we explore the best actor websites of 2023, certain common elements emerge that contribute to their success in capturing the attention of industry professionals and engaging audiences. Understanding these elements can provide valuable insights for actors looking to create or enhance their own websites.
Here are some key factors to consider:
Striking Visual Design:
Successful actor websites feature visually appealing designs that instantly captivate visitors. They often incorporate high-quality, professional photography or video elements that showcase the actor's talent and personality. Clean and modern aesthetics, complemented by thoughtful color schemes and typography choices, create an impactful first impression.
Intuitive Navigation:
User experience is paramount in actor websites. Easy and intuitive navigation is crucial for visitors to explore different sections and find relevant information quickly. Clear menu structures, logical categorization of content, and strategically placed call-to-action buttons ensure a seamless browsing experience.
Well-Organized Content:
Actors need to present their portfolio, including their resume, headshots, showreels, and past work, in a well-organized manner. Successful websites categorize content into easily accessible sections, allowing visitors to navigate smoothly between different projects, productions, or genres. Utilizing grids, sliders, or interactive elements can enhance the presentation of content.
Multimedia Integration:
Incorporating multimedia elements, such as videos, showreels, and voice samples, brings an actor's performances to life on their website. Integration of multimedia showcases the actor's range, versatility, and professionalism. These elements should be strategically placed, easily accessible, and optimized for quick loading times.
Mobile Responsiveness:
With the increasing use of mobile devices, actor websites must be mobile-friendly and responsive. Optimizing the design and functionality for various screen sizes ensures that visitors can access and enjoy the website seamlessly on smartphones and tablets, providing a consistent experience across all devices.
Social Media Integration and Engagement:
Successful actor websites often integrate social media platforms to foster engagement and expand their reach. Links to social media profiles, sharing options for content, and embedding social media feeds are common practices. By incorporating social media widgets or plugins, actors can encourage visitors to follow their journey and build a dedicated fan base.
Best Actor Website Examples
Florence Kasumba highlights all the essential aspects that website visitors may want, such as a detailed CV and an impressive grid of photos in her gallery. This site is a clear example to follow when building your own.Kasumba uses popups on her site to add extra motion. After staying stagnant on the home page, a popup of her recent work appears, such as her Vogue cover, with the option to head to the publication and read more.
Issa Rae presents a distinctive perspective with her actor website by establishing her own subscription-based media production company, Hoorae, to streamline her diverse film, television, and digital content enterprises. This innovative approach allows her to offer widespread access to a wealth of resources and exclusive perks to her audience. Alongside access to her content, visitors can enjoy special features like a private Q&A series, behind-the-scenes content, and discounted or pre-sale tickets. Through her personalized version of an actor website, Rae has cultivated a distinct network of dedicated fans and admirers.
Girard's website embodies a highly focused and concise approach. The information is thoughtfully organized into segmented sections, allowing the audience to swiftly locate the relevant resources they seek. The overall design and aesthetic of the website harmonize with  straightforward style. The utilization of a simple and dark color palette, coupled with carefully chosen fonts, further reinforces the website's tone, creating a cohesive and engaging user experience.
This website stands out as a distinctive platform curated by a group of devoted Benedict Cumberbatch fans, rather than being directly managed by Cumberbatch himself. Offering a wide array of features, including an extensive photo archive and a comprehensive collection of links to recent news publications concerning Cumberbatch's career, this site serves as a valuable source of inspiration for actors seeking to emphasize specific aspects on their own websites. By exploring this unique website, actors can gather ideas and insights to effectively showcase their own talents and accomplishments.
Eileen Grubba's website exudes a vibrant charm through its bold colors and sleek design. The simplicity of the website allows key elements to stand out, enabling visitors to easily navigate and access the most essential information. Alongside the streamlined content, a straightforward contact form is provided, ensuring a seamless and convenient way for readers to engage with Grubba. The website's emphasis on clean aesthetics and user-friendly functionality creates a visually striking and engaging experience for visitors, leaving a lasting impression.
A user-friendly navigation menu guides visitors effortlessly through every vital detail. Furthermore, the inclusion of a convenient chat feature facilitates swift and convenient communication, allowing users to obtain additional information with ease.
Together, the seamless design, compelling imagery, intuitive navigation, and interactive chat feature harmonize to create an immersive and engaging experience. This actor website design sets a remarkable example of how to effectively capture attention and provide a seamless user journey for visitors.
Utilizing striking and captivating images, this website employs a visually powerful approach to entice readers and pique their curiosity. Furthermore, the website features a sleek and uncomplicated navigation menu. Not only does this menu seamlessly direct users to additional information within the site, but it also serves as a gateway to external sites that are closely associated with the actor. This strategic integration of external links fosters a cohesive digital presence, allowing visitors to explore a comprehensive network of resources and gain a broader understanding of the actor's work and affiliations.
With its visually captivating imagery and streamlined navigation, this website successfully captivates readers and seamlessly guides them towards a deeper exploration of the actor's portfolio, both within the site and across external platforms.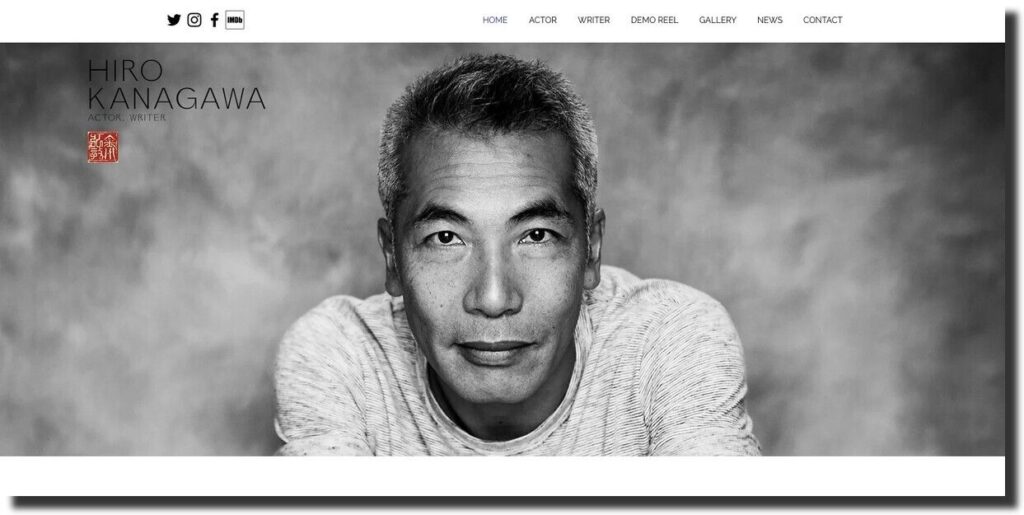 Hiro has paid meticulous attention to small yet significant details. For instance, he provides a downloadable PDF version of his CV, ensuring easy access to his professional background. The inclusion of links to relevant articles about Hiro and his past performances further adds to the comprehensive nature of the website.
With a content-packed layout, attention to detail, and user-friendly elements, Hiro Kanagawa's one-page website exemplifies a professional and engaging online presence, providing visitors with a seamless and immersive experience.
By employing an exceptional and vibrant color palette alongside whimsical graphics and handwritten fonts, these websites establish an unforgettable and distinctive identity that sets them apart. In Emily's case, her website showcases a well-organized menu, enabling visitors to effortlessly explore her portfolio, resume, and blog sections.
The combination of visually appealing aesthetics, user-friendly navigation, and an artistic touch creates an engaging and memorable experience for visitors to Emily's website, leaving a lasting impression. These elements contribute to the overall impact and effectiveness of the website in highlighting her talents and captivating her audience.
This actor website example boasts a sleek and minimalist design that exudes a sense of cleanliness and simplicity. The content is thoughtfully organized in a visually pleasing grid layout, ensuring easy accessibility and a streamlined browsing experience. Despite its minimalistic approach, the website maintains a captivating allure through the strategic use of vibrant colors and lively images, injecting a sense of vibrancy and visual interest.
The combination of clean aesthetics and dynamic visual elements creates a harmonious balance that captivates visitors and prevents any semblance of dullness or monotony.
Incorporating cool web elements, such as subtle parallax scrolling, adds depth and intrigue to the website as visitors delve into Ivan's work, resume, and multimedia content. This dynamic feature enhances the overall user experience, making the exploration of the website engaging and visually stimulating.
Moreover, Ivan's actor website seamlessly integrates his social media presence, providing a convenient platform for fans to connect and engage with him beyond the website. By incorporating social media links or widgets, you can foster a strong online community and maintain an active and interactive relationship with his audience.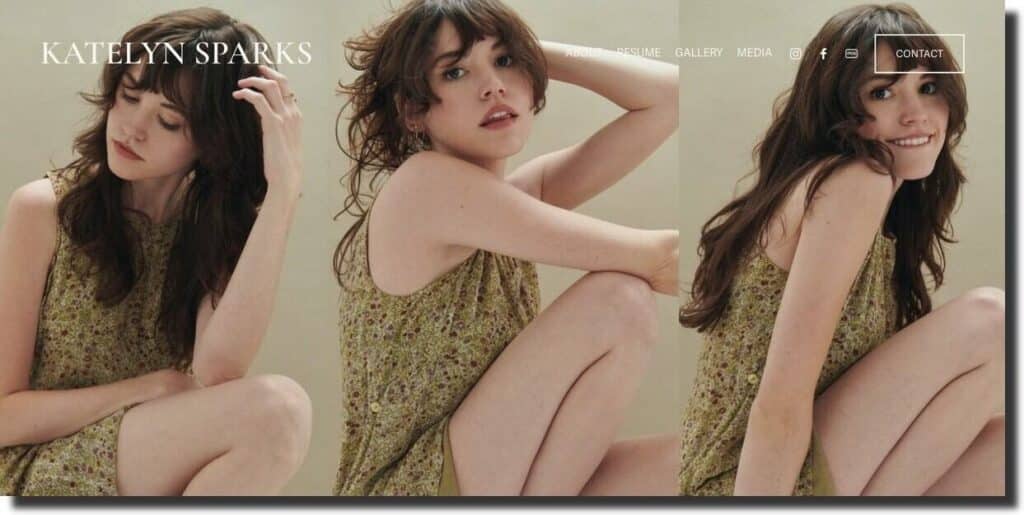 Katelyn Sparks' website serves as a superb model for crafting a contemporary and captivating online presence. The deliberate and bold utilization of color and imagery immediately captures the visitor's gaze, while the thoughtfully structured menu simplifies the exploration of her portfolio, news updates, and contact details.
An exemplary feature to observe is the meticulous organization throughout the website. The arrangement of images is tastefully done, creating an aesthetically pleasing layout. The emphasis placed on showcasing past work allows visitors to gain a comprehensive understanding of Katelyn's talents and experience. Additionally, the copywriting strikes a balance by being concise yet informative, ensuring that visitors obtain the necessary information without feeling overwhelmed or disengaged.
Jasmine's website stands out for its impeccable organization and user-friendly navigation. A clear and concise menu directs visitors seamlessly to explore her work, resume, and a straightforward contact form, ensuring easy access to essential information.
By showcasing her current projects and past experiences, the website provides visitors with a comprehensive understanding of Jasmine's artistic journey, enabling them to fully immerse themselves in her world and appreciate her body of work.
Sylvester Stallone's website emanates a timeless and sophisticated appeal, exemplifying a seamless and meticulously arranged online platform. This site showcases a clean and elegant design, featuring a white background with black text for a classic aesthetic.
The unadorned menu, positioned along the top of the page, offers a clear and easily accessible overview of the available content, ensuring a user-friendly browsing experience. With its refined style, meticulous organization, and visually impactful design, Sylvester Stallone's website radiates a sense of professionalism and showcases his iconic presence. It serves as a prime example of a well-executed online platform, presenting visitors with a seamless interface to explore the world of this esteemed actor.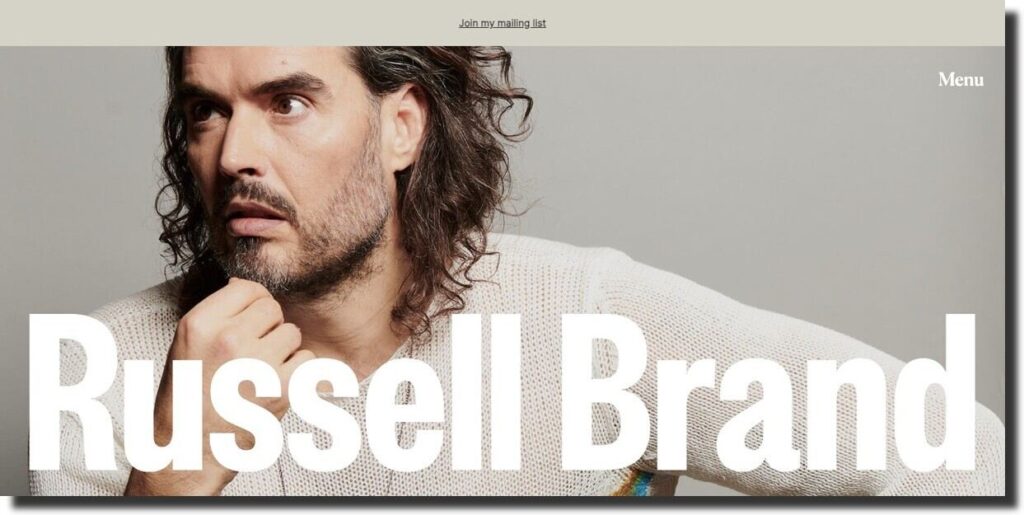 The homepage of the website is thoughtfully structured with a grid layout, showcasing an array of engaging content such as blog articles, podcasts, videos, and more. This arrangement allows visitors to easily navigate through the diverse range of multimedia offerings, ensuring a comprehensive and immersive experience.
With its captivating design, engaging content, and seamless social media integration, Russell Brand's website serves as a prime example of how to create an immersive and interactive online presence. By employing a dynamic visual style and leveraging the power of social media, the website successfully captivates and connects with visitors, fostering a strong and engaged community.
Conclusion:
In today's digital age, actor websites play a vital role in showcasing talent, connecting with industry professionals, and building an online presence. Analyzing the top actor websites of 2023 reveals key elements for success, including striking visual design, intuitive navigation, well-organized content, multimedia integration, mobile responsiveness, and social media integration.
Creating a great actor website can be challenging, making it beneficial to hire a professional design agency specializing in website design and development. These experts can ensure visually appealing, user-friendly websites that optimize an actor's online presence.