In the digital age, establishing a strong online presence is essential for professionals across various industries. Whether you're a freelancer, an entrepreneur, or a job seeker, a well-crafted personal websites can serve as a powerful tool to showcase your skills, highlight your achievements, and make a lasting impression on potential clients or employers. However, designing and developing an exceptional personal website can be a daunting task, especially if you lack inspiration or aren't sure where to begin.
To help you kickstart your online journey or give your existing website a facelift, we've curated a comprehensive list of the best personal websites out there. These websites have successfully mastered the art of combining creativity, functionality, and personal branding to create an impactful online presence. From sleek and minimalist designs to immersive storytelling experiences, each website on this list offers a unique approach that will inspire you to elevate your own digital footprint.
Reasons Why You Need A Personal Website
Creating a personal websites can offer numerous benefits and opportunities. Here are some compelling reasons why you might consider creating your own personal website:
Establish an Online Presence:
A personal website serves as a central hub where you can showcase your skills, experiences, and accomplishments. It allows you to present yourself professionally and authentically to potential employers, clients, or collaborators. Having an online presence also enhances your visibility and credibility in the digital realm.
Showcasing Portfolio or Work:
Whether you're an artist, writer, designer, or any professional with a creative output, a personal website provides a dedicated space to display your portfolio or past work. It allows you to curate and present your best projects, attracting potential clients, employers, or collaborators who are interested in your specific field.
Enhance Professional Branding:
Your personal website is an opportunity to shape and control your professional brand. You can customize the design, layout, and content to reflect your unique personality, style, and expertise. By presenting yourself consistently and professionally across all online channels, you can differentiate yourself from others in your field.
Networking and Collaboration:
Personal websites can facilitate networking and collaboration opportunities. It becomes a platform where like-minded individuals can find and connect with you. You can share your contact information, social media profiles, and even integrate features like a blog or discussion forum to engage with your audience and foster meaningful connections.
Personal Development and Learning:
Maintaining a personal websites allows you to continually learn and develop new skills. You can explore web design, content creation, and digital marketing strategies to optimize your site's performance and user experience. It provides an avenue for personal growth and can be a rewarding creative outlet.
Blogging and Thought Leadership:
If you enjoy writing or sharing your knowledge, a personal websites can serve as a blog platform where you can express your ideas, insights, and expertise. Blogging regularly can help establish you as a thought leader in your industry and attract a dedicated following of readers interested in your niche.
Job Search and Career Advancement:
In today's digital landscape, having personal websites can be a valuable asset during a job search or career advancement. It allows potential employers to learn more about you beyond your resume and provides a platform to showcase your skills, achievements, and professional growth. It can set you apart from other candidates and demonstrate your commitment to your field.
Top Personal Websites
Leo Edwards Photography is a shining example of how a personal websites can captivate visitors from the moment they arrive. The website's unique design, with a large image dominating the right side and a sticky sidebar/header menu on the left, immediately sets it apart from the crowd.
What makes Leo Edwards Photography truly special is its commitment to a clean and uncluttered layout. By forgoing traditional header and footer elements, the website puts the focus squarely on the stunning visual content. As a visitor, you'll be instantly drawn into a world of breathtaking imagery that tells stories in a single frame.
When it comes to minimalist personal websites, Peter McKinnon's online presence stands out as a testament to the power of simplicity. Like Lin-Manuel Miranda, Peter employs an image of himself above the fold, immediately establishing a personal connection with visitors.
However, the site takes minimalism to the next level by curating a homepage that is a captivating collage of images. This unique approach creates a visually stunning experience that engages visitors from the moment they land on the site. The clever use of a parallax effect adds depth and dimension to the images, enhancing the overall viewing experience and leaving a lasting impression.
One of the key elements that contribute to the minimalist design is the clean footer. This website strips away any unnecessary distractions and focuses solely on social icons, allowing visitors to easily connect with him on various platforms without cluttering the overall layout.
Prepare to be amazed by Johnson's incredible resume that transcends traditional expectations. This extraordinary document goes beyond mere words and transforms into an immersive experience that must be seen to be believed.
From the moment you lay eyes on Johnson's resume, you're immediately struck by the beautiful images of planets that adorn the page. These carefully selected visuals not only serve as a stunning aesthetic complement but also reflect Johnson's profound background in planetary science. Each image serves as a captivating gateway into the celestial wonders of our universe, inviting the reader to embark on a cosmic journey.
What sets this resume apart is the ingenious use of animations that bring the entire document to life. Rather than presenting a static piece of paper, this resume seamlessly combines motion and interactivity to create an experience that engages the reader on a deeper level. The carefully crafted animations serve to highlight key accomplishments, showcase skills, and provide an interactive exploration of Johnson's expertise.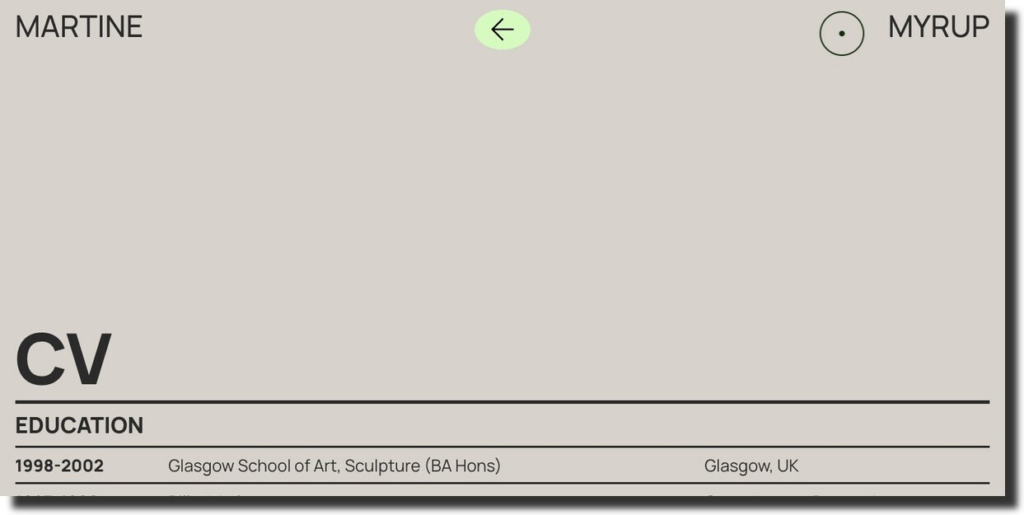 Myrup's website offers more than just impressive visuals. Acknowledging the importance of providing extensive details to both prospective employers and art enthusiasts, the site features an HTML curriculum vitae that presents her educational background, exhibitions, accolades, and published works. This considerate addition enables individuals with interest to delve further into her artistic trajectory and obtain a well-rounded comprehension of her achievements.
Christopher Lee's portfolio is a captivating blend of liveliness and vibrancy that perfectly complements his profession as an illustrator and toy designer. Upon exploring his easily navigable website, it becomes evident that the dynamic and colorful homepage is an ideal representation of his artistic style.
Under the brand name "The Beast Is Back," Lee's web portfolio showcases an array of striking designs, featuring well-known brands like Target and Mario. Additionally, he provides convenient links for visitors to purchase his work, seamlessly integrating commerce with his artistic showcase.
Embracing a gallery-style presentation, Lee's portfolio bursts with pops of color that infuse it with a sense of joy and individuality. This intentional use of vibrant hues not only enhances the overall visual appeal but also ensures that his portfolio leaves a lasting impression on visitors, making it more memorable.
The website Fifty Coffees serves as a captivating chronicle of the author's journey through a series of coffee meetings in pursuit of her next career opportunity. What sets this website apart is its adept utilization of photography and visuals to enhance the storytelling experience and bring the lengthy narratives to life.
A notable highlight of Fifty Coffees is the inclusion of numbered takeaways at the end of each post. This thoughtful approach ensures easy comprehension for readers, allowing them to extract key insights and lessons from the author's meetings in a structured and organized manner.
Furthermore, the website's integration of high-quality photography as a complement to the stories adds an extra layer of richness to the overall presentation. Like a delectable icing on a cake, the visual elements elevate the storytelling, immersing the audience in the author's experiences and creating a more engaging and memorable reading experience.
Upon entering the website, visitors are immediately greeted with captivating images of Sean gracefully riding the waves, accompanied by a video showcasing the exhilarating highlights of his past 12 months in the sport. These impactful visuals not only showcase his skills but also immerse visitors in the vibrant world of surfboarding.
For those eager to delve deeper into Sean's journey, seamless navigation is provided through a clear and user-friendly header menu. This menu effortlessly leads visitors to various sections dedicated to his biography, additional media featuring him in action, tour dates, and a captivating blog where he passionately shares his thoughts and insights.
The captivating allure of Tobias's global travels and awe-inspiring freestyle football skills is beautifully showcased on his website, where a dark theme and background serve as the ideal canvas for his extraordinary journey.
Given the visual nature of his vocation, it comes as no surprise that Tobias's website predominantly revolves around striking images, allowing his talents to speak for themselves. With minimal accompanying text, the focus remains on the captivating visuals, immersing visitors in the world of freestyle football.
As guests explore Tobias's website, they are warmly encouraged to connect with him and delve deeper into his captivating journey. Contact information is readily available, inviting visitors to reach out directly or connect with Tobias through his various social media profiles, ensuring a seamless and engaging connection.
Salt in Our Hair is more than just a travel blog—it is an immersive digital experience with exceptional user design. As you enter the website, you are immediately greeted by the bloggers themselves, Nick and Hannah, who warmly introduce themselves on the welcome screen. This personal touch creates an instant connection between the readers and the creators behind the captivating content.
What sets Salt in Our Hair apart is its user-friendly interface that empowers visitors to explore the world according to their interests. The well-organized menu at the top of the page offers two enticing options. Firstly, users can choose to delve into specific destinations, allowing them to embark on virtual journeys to breathtaking locations. Secondly, for those with specific interests or travel-related queries, the menu provides easy access to a wide range of topics, ensuring that every reader can find the information they seek.
This blog employs a clean white backdrop that allows captivating food photography to take center stage. The incorporation of distinctive branding elements ensures that it leaves a lasting impression on visitors, while a concise mini-bio adds a personal touch and further enhances the individuality of the website. With this thoughtful combination of design choices, it creates a visually appealing and engaging platform that captivates both culinary enthusiasts and casual readers alike.
Conclusion
In conclusion, the power of personal branding and establishing a strong online presence cannot be overstated in today's digital age. Personal websites serves as a virtual gateway, allowing others to explore your unique identity, skills, and achievements.
From minimalist designs that exude elegance and sophistication to vibrant and creative platforms that push boundaries, these best personal websites showcase the limitless possibilities for self-expression. Each website tells a story, capturing the essence of its creator and inviting visitors into a world of discovery. What sets these websites apart is not just their visual appeal but also their attention to detail, usability, and content. They seamlessly combine captivating visuals with informative and engaging content, leaving a lasting impression on anyone who stumbles upon them.
With the right blend of creativity, authenticity, and strategic thinking, personal websites have the potential to inspire, captivate, and leave a lasting impression on your audience. Embrace the boundless possibilities, take the leap, and allow your personal website to serve as a captivating window into your remarkable world, with the added support and expertise of a reputable web design agency.