Starting an online business is a great way to begin your entrepreneurial journey, but it can be difficult to know where to begin. If you want to start an online store, you need tools that will help you market your product and grow your business.
Shopify exchange is one of the best platforms for potential e-commerce business owners and web designers.
You don't need to build your online store from scratch with Shopify, as they build the website for you according to your needs. You can easily make money with Shopify and grow your clientele.
If you are curious about Shopify Exchange, follow our guide to learn more about its features and benefits.
What Is Shopify Exchange?
Exchange by Shopify is a marketplace that allows you to buy a Shopify store. If you already own an online store, you can also sell that store. Currently, there are more than 10,000 stores for sale on this platform.
With this platform, you can also put your Shopify business for sale. You don't have to worry about your site going to waste.
These stores are available in multiple options, from new starter-type stores to full-fledged businesses with an established customer base. You can choose the store that best fits your business's needs.
You can find stores on Shopify Exchange for as little as $50 for start-ups and millions of dollars for large enterprises. These stores are available for various e-commerce categories such as fashion, furniture, food, makeup, etc. Due to the large range of stores, the prices also vary accordingly.
Along with the store listing, Shopify also includes data such as sessions, revenue, and sales. This information comes directly through Shopify, which means there is no interference from the seller. This is highly beneficial for buyers as it lets you know the information is accurate.
In short, the Shopify exchange is a great marketplace for all business owners. You can put your Shopify store for sale and buy a new site for your business.
Features Of a Shopify Exchange Store
Stores on Shopify Exchange include the following features:
Business Story: This is a short description of the store written by the seller. Here you will find information regarding the store's history, a reason for selling, and how you should run the store.
Performance: Information about sales, revenue, profit, profit margin, and traffic.
Expenses: recurring fees for the Shopify plan, domain, and other costs.
Sale Items: a list of everything that is included in the sale. These items are:
Physical inventory
Logo and other branding items
Domain
Product photos
Post-sale support
Subscribers
Emails and more
Seller's Advice: Some thoughts and tips by the seller. These are important to consider when buying the store.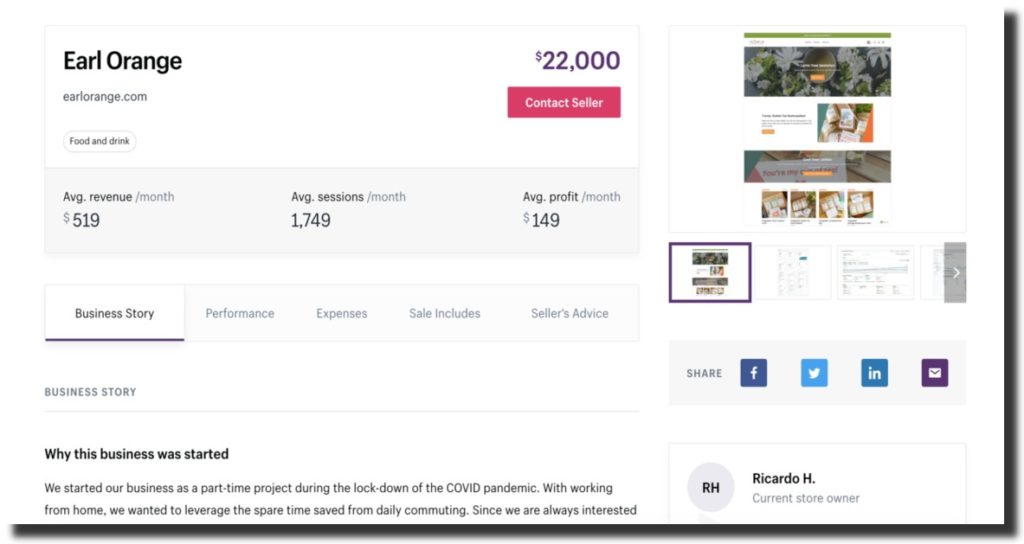 Why Should You Run an Online Business?
B2C e-commerce is seeing massive growth over the years, and it is becoming one of the best ways for business owners to market their products.
If you are not familiar with B2C commerce, this is a method of selling products and services directly between a business and consumers. Online companies are at the forefront of B2C commerce.
With continuous technological advancements and accessibility of the internet, business owners are increasingly shifting their companies online to cater to a global audience. This global audience drives high traffic to your business and increases your sales.
It's never been easier to make money with Shopify. The e-commerce market size has grown from $1.3 trillion in 2014 to $4.1 trillion in 2020.
If you want to take advantage of this number then make your next e-commerce site with Shopify. Shopify is one of the best e-commerce platforms on the market and its Exchange marketplace provides even more benefits to business owners.
Why Choose Shopify Exchange?
With the Shopify Marketplace, you don't need to go through the hassle of buying an actual brick-and-mortar store for your business.
Traditional stores require a lot of paperwork and large cash payments, and you have to deal with complicated legal issues. With this platform, you can easily find Shopify businesses for sale.
Shopify Exchange lets you bypass all the complex details of a traditional store by giving you several established business sites. These sites are easy to use and secure and are a great option if you are a new entrepreneur.
With Shopify Exchange, you don't need to spend too much time and money building your store concept, design, and product.
Some Things to Consider Before Buying Your Shopify Store
Before you buy your desired Shopify site, there are some questions you need to ask yourself.
What are my goals with this website?
How much time and effort am I willing to spend to buy and maintain this site?
When it comes to your business goals, think about what you would like to achieve with your e-commerce site. You must have clearly defined goals about what you plan to do. These goals should align with your skills and the resources you have available.
Let's say you want to start a baking business. You can look through the Shopify Exchange marketplace and find a food business that fits your product's niche. However, you need to be skilled in that niche to run the business successfully.
Apart from goals, you need to have a budget for your e-commerce site. Shopify offers many websites that suit different budgets. Having your budget organized will help you choose a site that fits your financial capabilities.
Some Things to Consider Before Selling Your Shopify Store
Apart from buying stores, Shopify Exchange is also a great place to put your Shopify store for sale. If you plan to sell Shopify store, here are some questions you should consider.
What will I gain from selling?
Is there an alternative to selling?
One of the biggest questions to consider when selling your store is what you will gain from the sale. Having an idea of why you are selling your store will help you market it better to other potential buyers.
Once you give up ownership of your site, it is hard to get it back. So, if you are on the fence, think about other ways to improve your business. If you are still on the fence about selling your store, think about why you should fix your business instead of selling.
How Does Shopify Exchange Work?
Shopify Exchange marketplace is designed in a way to make buying and selling websites easy. Sellers listing their stores provide basic business information such as traffic rate and revenue figures.
To minimize fraud and any other form of malpractice, Shopify authorizes all provided data in listings. Shopify works directly with sellers to ensure that you are not receiving a faulty website.
Shopify ensures complete transparency and provides detailed sales information so buyers can properly assess business performance data.
If a store wants to feature on Shopify Marketplace, it has to adhere to the following criteria:
The website's seller must be the real account owner;
You cannot sell a business during the trial period;
The Shopify account must use a paid plain excluding Shopify Plus;
Accounts that use Shopify payments should be in good standing;
The seller's account should not be actively financed through Shopify Capital.
If a store meets all these criteria, it will be added to the Shopify Exchange marketplace. Potential buyers search through the listing with the help of filters according to the buyer's e-commerce website needs.
Shopify marketplace also uses an escrow account to protect all your payments. The account processes your payments safely, and Shopify itself regulates it.
Buyer User Requirements
You need to fulfill certain requirements before you purchase a store on Shopify Exchange. The marketplace is designed to facilitate an easy and secure purchasing experience; therefore, buyers need to meet these criteria. The requirements are as follows:
Buyers should be at least 18 years old;
Also, buyers should not use the marketplace to promote their products or services;
Buyers cannot participate in an auction format on Shopify Exchange;
Exchange does not help buyers find business partners;
Buyers should always consult the Exchange store for any ownership changes;
The online store templates on Shopify should always be unique;
Businesses listed on Exchange are not entitled to any commission;
Always confirm your identity to your customers when requested;
Never ask or accept any payment outside Shopify Exchange's payment channels;
Your business listing should be unique, and it should not contain information copied from any other listing;
Never include or ask for a personal email address, phone number, or any other type of contact information in your listing. All buyers and sellers should communicate through Exchange;
There is a list of countries that can not use Exchange due to the unavailability of escrow support. To check the full list of countries, visit Shopify Exchange's user requirement section.
What are the Pros and Cons of Shopify Exchange?
A great deal of time, planning, and research goes into creating a new professional Shopify store. You might have several questions and concerns before you begging using Shopify Exchange. In that scenario, it is always wise to weigh the pros and cons of your situation.
It can be tough to simply the pros and cons of a comprehensive website like Shopify as each business owner has different requirements that may or may not be met through Exchange. However, thoroughly looking at every aspect is important as it can make or break your business.
It is also important to understand that you won't succeed by just buying and creating a Shopify website. Any business's victory relies on the person operating it. Use Shopify as a way to enhance your business skills and market your product.
It is also important to know what you are paying for before investing all your hard-earned funds into a Shopify Exchange store. Here are some pros and cons that will help you make your decision.
Pros
Save Time
Shopify Exchange provides you with a built-in store that is tailored to your business's needs. This means that you don't have to spend additional time creating and designing a website for your e-commerce site.
When you purchase a Shopify store, you conserve your time and energy that would be better spent marketing your business.
Shopify offers several useful apps that will help you create your website according to your business requirement. You can use the additional time to refine your product, take product images, improve item descriptions, etc.
Authorized Site
Buying a Shopify store means investing in an authorized product. This provides you with reliability and ensures that all your transactions are secure. You don't have to worry about fraud or any other form of malpractice when purchasing a Shopify website.
Creating a Shopify website also helps attract your customer base. Customers who check out your website understand that Shopify is an authorized hosting service, and therefore your business gains legitimacy.
Cons
Previous Business Owner
If you buy a Shopify website with a well-known product and brand identity, it will be difficult to retain its customer base. Even if your business comes under the same category as your predecessor, customers might not be willing to engage with your business.
On the other hand, if you buy a Shopify store with a terrible reputation, it will be difficult to build up your customer base.
You may have to spend additional time trying to win back the confidence of your customers. Therefore, buying an established brand website can sometimes limit your chances of being successful.
Your Criteria for Buying a Shopify Exchange Store
Now that you are convinced you want to purchase a site on Shopify Marketplace, there are certain aspects you need to look for. These aspects will help you evaluate how well a Shopify store will work your business' goals.
If you purchase an online store, it's always good to ask why the seller is selling their store. Through this communication, you can understand which parts of the online store need to be updated and which can help you grow your business. You can also learn about reasons that are not provided in their listing.
Apart from this, there are several other criteria you need to look at before you purchase a Shopify store.
Resources for Your Financial Goals
Shopify has made it easy for people to buy and sell well-established online stores, leading to instant profit. However, before you purchase a store, you need to understand how it will help you achieve your financial goals.
If you invest a minimum amount such as $50 into your store, you might not experience any major loss; however, if you purchase an expensive million-dollar store, you could experience a loss that will be hard to recover from.
Let's say you purchase a reputable Shopify store and its data shows that this is extremely profitable. You might purchase this store thinking you could also reap the same benefits.
But in some cases, a reputable store might not necessarily fit your business model and produce profits. In this situation, you should thoroughly analyze your financial goals and see how they align with the online store's data.
Financial Plan
The first and most important step to understanding your financial goals is creating a financial plan. A financial plan acts as a budget, lets you organize your money, and helps you understand where you should invest it.
You need to answer this question in your financial plan – what results am I expecting with this purchase? Before looking for a Shopify store, you should list and research your financial objectives. It is important to do this beforehand as you might get swayed by all the listings at the Exchange marketplace.
Here are some points to include in your financial plan:
Your general financial goals?
How much you will invest in your first purchase?
Are you looking for a website that is similar to an existing Shopify business?
How are you planning on earning from this store?
Do you want to purchase a site that is already profitable, or do you want to build a site from scratch?
How much time are you willing to invest?
What is your financial goal for the next ten years?
Buying a Shopify store is a large investment of your time and money; therefore, having clearly defined goals will help you in the future. These questions will help you determine your financial goals before purchasing a Shopify store. They will help you stay focused and determine potential financial resources.
Make sure to always leave extra room in your budget for any hidden costs. These hidden costs can come in the form of website improvements, advertisements, and any other necessary repairs to improve your website.
Consider if You Want to Buy or Start Your Store on Shopify
Before you even think about purchasing a Shopify store, you should consider whether you want to build your store from scratch or buy an existing store. Both of these options have their own set of pros and cons, and you should carefully evaluate them before making a decision.
Shopify is one of the best and most effective solutions for business owners to build their websites. Currently, more than one million businesses have been built and successfully run through Shopify.
If you buy an already established e-commerce website, you will save time and money on designing a website. This time can be used for promotional efforts instead.
On the other hand, even though building your website with Shopify is time-consuming, you get more freedom in your website's design and layout. But you can overcome this issue on the Exchange marketplace by purchasing a website that resembles your brand.
When you buy a Shopify store, you don't need to worry about purchasing a domain or a hosting service. However, you will need to purchase these items separately to build an e-commerce website by yourself.
What is the Website's Target Audience
Targeting a particular market and set of customers is the best way for any business to turn a profit. Before you purchase your Shopify site, check if there are any competing websites. Also, make sure that your potential website offers information about its target audience.
See if the site uses Shopify-specific SEO for its audience. SEO is important for a website's organic growth.
This criterion is simple but extremely important to ensure the success of your business. If your potential website's target audience fits your business's customer base, you will see growth.
How to Buy a Shopify Exchange Store?
Now that you have all the necessary information about Shopify Exchange, here is how to can purchase a site on the marketplace. With a careful selection process, you can purchase a website capable of creating a steady income stream without the hassle of building a website from scratch.
Shopify makes the purchasing process easy for potential buyers. Here are some simple steps to purchase your website and establish your business.
| | |
| --- | --- |
| Step | Process |
| Find The Right Shopify Store For You | Browse the marketplace to find your perfect e-commerce website |
| Shortlist Your Desired Websites | Make a list of potential websites according to the criteria |
| Research Your Websites | Check the data for the websites you are interested in purchasing |
| Contact Website Seller | After finalizing your store, contact the sellers |
| Conduct External Research | Check external sources like customer reviews and social media for research |
| Give An Offer | Give an offer to the seller |
| Accept Offer And Conditions | Accept the seller's offer and agree to any terms and conditions |
| Make Payment | Pay for the store you purchased |
| Receive Assets | Seller transfers assets after payment |
| Inspect Your Site | Inspect your purchase site and see if it is the best fit for you |
| You Are Now The Owner | After all the processes are complete, Shopify makes you the new owner |
Find the Right Shopify Store for You
Shopify Exchange marketplace offers a variety of options for almost all business industries. Shopify allows you to browse according to different options such as business type, business attribute, and sales channel.
You can also filter your search by prices and revenue and even look for newly listed websites. Stores with high revenue and business value tend to be pricier, so make sure you look at the whole purchase.
If you were looking at listed websites a long time ago, try to negotiate the price instead of purchasing them right away.
Take full advantage of all the resources available on Shopify Exchange to find your perfect website.
Shortlist Your Desired Websites
Now that you have looked through the marketplace, shortlist some of your favorite websites. These businesses should meet your criteria and help you successfully run your business.
Once you have your list, you can estimate the budget, time, and resources you are willing to invest in your new business site.
Dropshipping is your best business if you look at the lower end of the price spectrum. If you are interested in fashion, you can create a list of makeup and clothing websites.
Your potential list of websites can be as long or short as you want, but having a shorter list might make it easier for you to choose a perfect site.
Research Your Websites
Once you have your list of potential websites, you should research these businesses. This research should be more comprehensive than your initial search on the marketplace, as one of these websites could host your future business.
When you are doing your research, look for information about
Asking price;
Value of inventory;
The total revenue earned;
Monthly expenses;
Social media followers;
Estimated monthly revenue.
Each listing on Shopify has information regarding all these points, so you will have enough data to research. All the information provided is authorized and pulled by Shopify, which means all information is reliable and accurate.
Contact the Seller
After finalizing your potential store; you should contact the seller. You can contact the seller through the secure communication tool provided by Shopify to ask for additional information.
If you request information for a business priced over $5000, you will need a verified account. In some cases, you can connect your LinkedIn profile with your Shopify account to ask for businesses priced at $20,000 or more.
Conduct External Research
While waiting for the seller's response; you can do external research. Check customer reviews in other communities and look at their social media page. Look up the owner of the company and legal information as well.
Give an Offer
Once you communicate with the seller and are satisfied with the information, you can give your initial offer.
Accept Offer and Conditions
Once the seller agrees with your offer, you can create an Escrow transaction. You will receive an email about this transaction to help you make your payment. The seller will also email you with terms and conditions about the payment.
Receive Assets
Once the payment has been approved, the seller transfers all the assets to you. Your escrow should be market received once you obtain the assets.
Inspect Your Site
Once you have your site, you should conduct an inspection. Shopify recommends an inspection period between 3 to 30 days. Check all your assets and resources and make an assessment.
You are Now the Owner
After the inspection is complete, you have all the assets, and all the payments are approved, Shopify makes you the new owner.
Final Takeaway
Shopify Exchange is a great place to buy verifiable e-commerce stores. You can also sell Shopify store easily on Exchange. All the information provided by Shopify is accurate, and you don't have to worry about malpractice.
You can browse sites according to industry and budget to find one that works best for you.