In this article, we're going to be walking you through some of the best eCommerce platforms available on the market and giving you an in-depth comparison between all of them, in order for you to understand which one would fit your needs best and how the eCommerce business works in 2020.
Every industry is developing, and eCommerce web design agencies market is currently saturated. Choosing the right design firm for eCommerce web designing is not easy. Top eCommerce Web Design Companies help through experts in e-commerce development may be the best option available, here you can guarantee a perfect job that will be safe in the long term.
To get started, we've made an in-depth, step-by-step guide for making an eCommerce website.
One of the most crucial components of making an eCommerce website is the eCommerce platform that you choose for it.
What Is an Ecommerce Platform?
An eCommerce platform basically enables business owners with the right online tools to allow product and service purchases and transactions between the goods seller and buyer. It is just like it is in a normal, physical store – the store has all their products divided into categories, displayed on their shelves.
A customer comes in, looks for what they want, wanders around the aisle, picks up what they need, adds them to their cart, and proceeds to the checkout counter to pay for them.
An online eCommerce platform follows the same process but with one difference though – all of it happens online, digitally. You are not required to physically go to the store and browse around.
You can repeat the same process from your phone while sitting on your couch, in your living room, watching television.
It's simple, convenient, and hassle-free.
What Does an Ecommerce Platform Do?
An eCommerce site is an online platform that works as a regular store where customers can buy physical products as well as digital ones. It consists of a website with an eCommerce software formed by several product pages, electronic payment processors, a support team, unlimited products, and many other eCommerce functionalities.
Some other aspects that a successful online business should cover well are:
Social media presence
Dropshipping
Competitive shipping rates
Chat support
Cart recovery
Mobile app on App Store and Google Play
Gift cards
Other add-ons
Different payment options
Apart from the functionalities to improve the user experience there are some marketing features an online shop should include in order to get a good position on search engines. To do this, there are some marketing tools you can use on your eCommerce website. Some of these SEO tools are free. All the marketing efforts should be aligned with your business plan to make sure you get the expected results.
Basic Characteristics of an Ecommerce Platform
The best eCommerce platforms on the market will help you accomplish whatever tasks that you might have in your mind, easily. Convenience is crucial. But not all eCommerce platforms are the same or work the same. They can differ in pricing, customer support, features, integration, etc.
But before going into the details of the things that set them apart from each other, let's just talk about the key features that any good eCommerce platform must have:
1. Platform Uniformity
A uniform platform, in this context, means that you don't need to integrate 3rd-party functions into it because they're all already available within this one platform. Whether it's your accounting system, POS, inventory and order management, customer service, marketing, merchandising, or financial programs – all are readily available on a cloud-based program, providing you quick and easy access to everything with just the click of a button.
2. A Complete Customer Experience
When I say "a complete customer experience", I mean that the platform should enable you to make sure that your customers' experience is given paramount importance. It should be designed to accommodate them in a way that their experience and interaction with the platform are consistent at all touchpoints.
3. Order Management
It needs to have a centralized order management system that will help you keep a track of buying, fulfilling, and returning purchases. Inventory/order management can get tricky, especially if you're dealing with an influx of orders or stock. Therefore, a single view of inventory throughout all your channels will make sure that no discrepancies occur and that you're always in control of the situation.
4. Ease of expansion
One of the best things about good eCommerce platforms is how easily they allow you to expand in the shape of new sites for various business models, brands, and languages – all within the same platform. Even currency variations are easily doable.
Ecommerce Platforms in the Market
There are hundreds, if not more, of eCommerce platforms available on the internet these days. In a lot of ways, it's a good thing – competition = low prices. But in a lot of ways, it can be a bad thing, too.
How? Well, when there are so many options available, how do you even differentiate? That is the question.
But you're in luck.
We're going to be doing the heavy lifting for you here so that you don't have to.
So, without further ado, here's a list of some of the most common eCommerce platforms available in the market (in no particular order):
1. Wix
Wix is a popular software company that is popular for its website builder component. They also offer an incredible eCommerce platform, perfect for beginners and one of the best eCommerce platforms for small businesses.
They offer many free templates for you to choose from and over a great variety of customization, although not as much as some of its other contemporaries, still – it's quite user-friendly and provides incredible on-page customer support, one of the best in the industry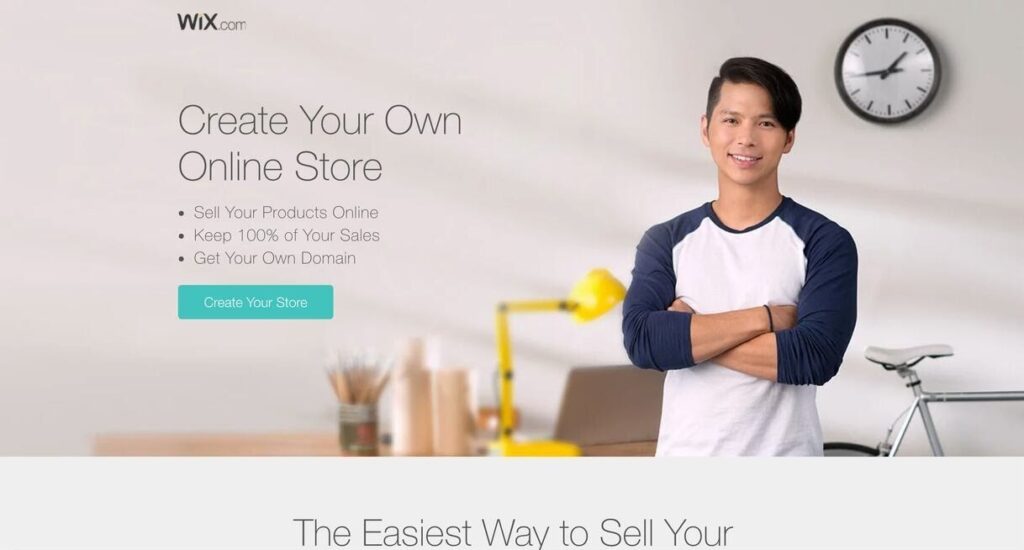 2. Shopify
One of the most popular, best eCommerce platforms for startups and small to medium-sized businesses — it is a one-stop shop for all your eCommerce needs. Their 'Shopify Plus' is also one of the best B2B eCommerce platforms out there.
Whether you need eCommerce branding solutions or an online store builder – it provides everything. Shipping and payment solutions are also a huge part of the draw. Its user interface is quite intuitive and user-friendly, allowing you to set up your online store quite easily.
No wonder it's one of the best eCommerce platforms in the USA (one of the biggest, if not the biggest, eCommerce-friendly country).
3. WooCommerce
WooCommerce is an open-source plugin, built for WordPress. It is one of the best free eCommerce platforms in the world. It enables you to turn any WordPress site into an online store with its eCommerce-rich features.
WooCommerce powers more than 28% of all online stores and has more than 64 million downloads. Needless to say, it's quite powerful and popular – even though it's just a plugin, compared to some of its competitors.
Moreover, you can integrate other extensions with it as well – payment gateways, email marketing, one-click selling, etc. and it can be customized according to your own needs and specifications, due to its open-source nature.
4. BigCommerce
BigCommerce is one of the most used and trusted eCommerce platforms out there. Whether it's Ben & Jerry's or Skullcandy – it's trustworthy and it enables you to make your online store exactly the way you want it to be by giving you great building and customizing tools.
You don't necessarily need to know how to code in order to launch an eCommerce store but if you do, you could use it to adjust the HTML and CSS on your site's template, in order to do more customization according to your preference.
5. Magento
Incredibly flexible and top-notch, Magento is a top-tier eCommerce platform used by the likes of Nike and Cisco. Yes, it does offer an eCommerce store builder, provides content staging, merchandising, and instant purchasing options, but it offers additional features too.
There are more and more features included in this platform, according to your needs and requirements –order management, inventory management, cloud deployment, business intelligence, and customer service, etc.
Furthermore, they boast a highly active userbase and possess some fantastic experts, ready to help you out, every step of the way. It would come in handy, though, if you were to possess some web development skills – if not, hire someone who does.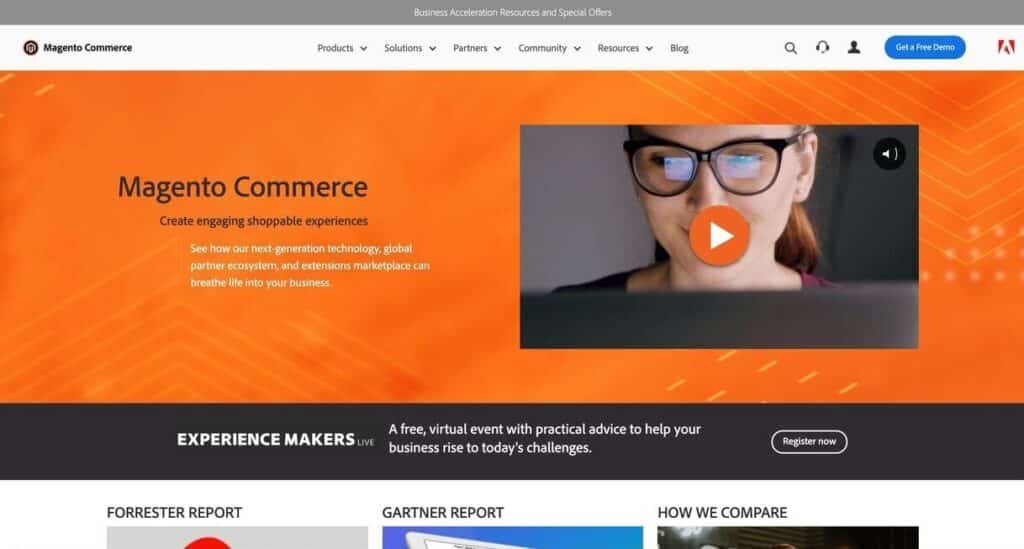 6. Jimdo
Jimdo is a German eCommerce platform, designed to be an all-in-one hosting solution for all your eCommerce needs. It doesn't require you to have any web design experience and provides an easy-to-use user interface. It has two products: Jimdo Creator and Jimdo Dolphin.
Creator, Jimdo's main platform, is quite the type that you've probably seen elsewhere as well. Its robust editing interface allows you to add, resize, and drag any and all elements that you wish to play with, in order to make your website look its best.
Dolphin, on the other hand, is an artificial design intelligence (ADI) solution that designs and develops the website for you, bespoke.
While Dolphin provides a quick solution, Creator enables you to have more control over the layout and customization of your website.
Both of Jimdo's products possess great tools and can help you get your desired outcome quite easily – choosing one of the two depends entirely on your needs.
7. Volusion
Volusion is one of the earliest entrants in the eCommerce platform world. Launching in 1999, it has stood its ground for over two decades now. Over the course of all these years, they've helped launch around 30,000 online stores and processed more than 185 million orders. That's quite a number.
While Volusion provides brilliant analytics and data tools, it is a little behind its competitors when it comes to advanced sales features. It does, however, have an abundance of payment gateways that you can take full advantage of as well.
Lastly, it doesn't have a blog feature and doesn't let you sell digital products, either.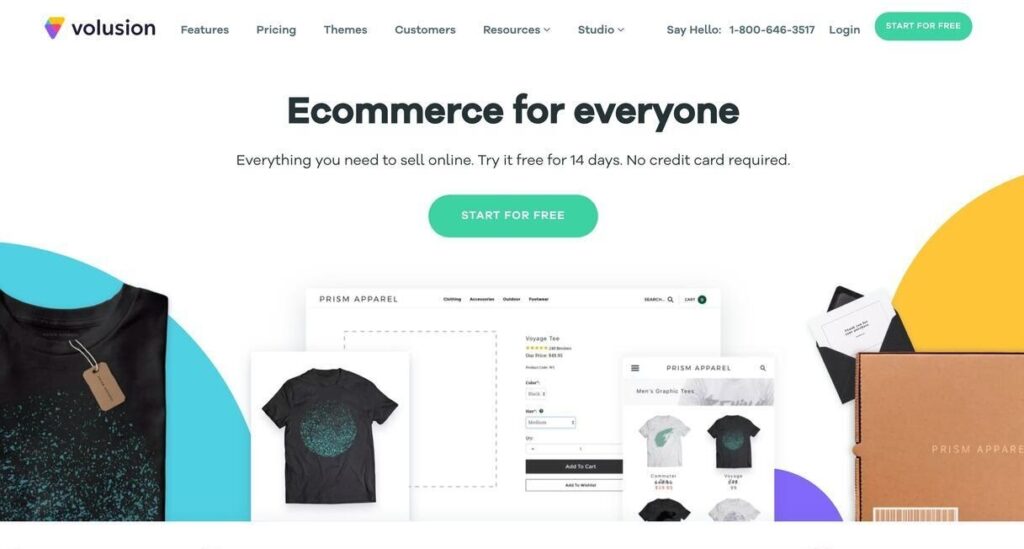 8. OpenCart
OpenCart is an open-source eCommerce platform that possesses an easy-to-use interface, without complicating anything. A sophisticated administrator dashboard allows you to get access to the most important analytics for your business e.g. sales, customers, etc. These can help you immensely improve the quality of your products and service.
Moreover, their fantastic multi-store support allows you to be in control of your various stores, should you choose to have them, with the help of a single interface – so simple! Moreover, you can customize each of them according to their own requirements. For example, themes, products, sales options, etc.
9. osCommerce
Just like OpenCart, osCommerce is an open-source eCommerce platform. It helps you develop a tremendously customizable eCommerce store for your business. Moreover, it gives you complete access and control for your online store.
More than 349,862 store owners, developers, and service provides make up for osCommerce's growing community which are going to help you through every step of the way for developing an incredible online store.
With more than 20 years of experience, it has more than 9,120 free ad-ons, 21,022 live sites, and more than 1.7 million forum postings.
10. Spark Pay
If you're looking at starting your very first online store or if you want to start a chain of eCommerce stores and are confused because of the various options available out there, make sure that you pay attention to this eCommerce platform as well.
Spark Pay provides various customization options and designs that you could tinker with according to your own preference. Moreover, it allows you to go beyond the site and helps you sell through Facebook and other third-party websites – all with the help of convenient embed code integrations.
You could have access to many of your online stores and track their inventory, site traffic, and other analytics just through one dashboard – highly useful.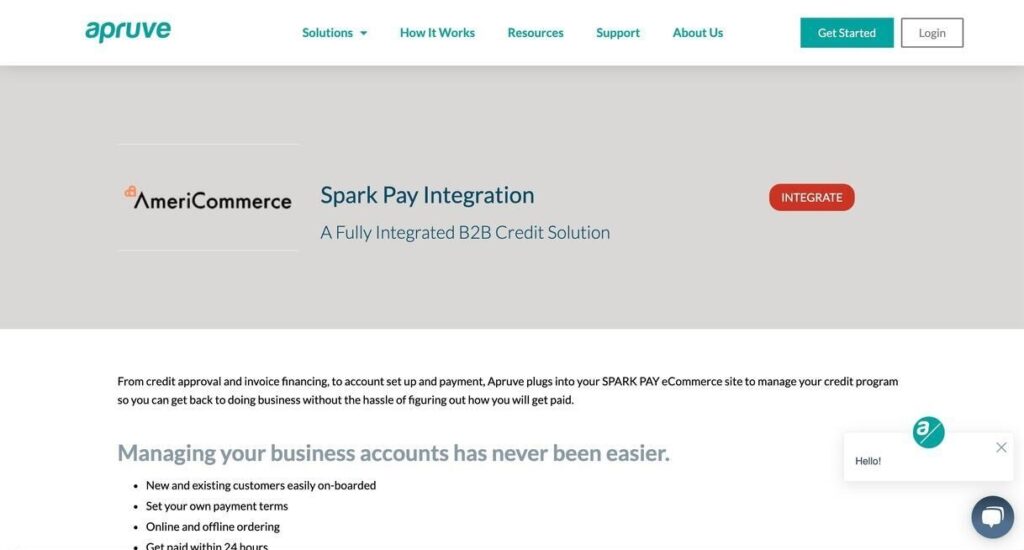 11. 3dcart
Founded in 1997, it is used by more than 17,000 sites, encompassing stores that sell anything from food to car parts. It claims to be "the best eCommerce platform for SEO". Well, we can't exactly confirm if that is absolute, 100% true or not but it does definitely perform well when it comes to SEO.
It provides more than 200+ built-in features, 90 free templates, and here's the whopper – more than 160 payment gateways. Although 3dcart provides the option of multiple payment gateways, it suffers from the fact that in spite of its great built-in features, it offers little customization and creative control.
It has a powerful API and provides an easy automation tool for connecting apps, with the help of Zapier. It provides quick access to more than 1000 applications which you can use to equip your online store with the latest and greatest options.
12. Big Cartel
The most interesting thing about Big Cartel is the fact that it is probably the only eCommerce platform that lets you make your online store for free and doesn't even charge a transaction fee. But that comes with its own limitations as well. For example, it's much easier and simpler to sell individual pieces instead of bulk items as its simple sales features are quite limited.
That is why it is most appropriate for small businesses that are either just starting out or have no plans of upscaling anytime soon. Their friendly and easy onboarding process, in the shape of prompts and reminders, makes it easy for any beginner to set up a store.
But in order to really utilize the platform and get the best out of it, coding and web design skills can come in handy, even though it's quite a basic platform compared to some of its other counterparts.
13. Squarespace
Squarespace is one of the most widely used and popular eCommerce options out there in the market. Top-notch and sleek, it provides you with wonderful designs and templates for your online store that really put the focus on your products and its easy customization process lets you make changes without any hassle – whether it's the layout, the design, anything.
With more than 100,000 websites powered through Squarespace, it's safe to say it's a trusted platform. Their emphasis on design and focus on making the websites look as pleasant as possible makes it a favorite for people who want their products to be shown in the best way possible.
Even though it might take a little bit of time to get used to the platform's tools and features, it's well worth it in the long run.
14. Selz
Selz is one of the newer eCommerce platforms out there in the market. Founded back in 2013, they have grown and upscaled in a remarkable fashion which can be attested by the fact that since then, they have opened up offices in 4 countries and have a staff of more than 50+, along with more than 100,000 merchants, all around the world, using their services to power up their online stores.
Selz takes great pride in their easy-to-use design features. One example of this could be that of their simple drag and drop store building option. They provide many free templates as well, rich with great design and aesthetics.
You also get a free SSL certificate, not just for your checkout, but for all of your web pages – a feature that no other platform provides. They also provide a great blogging platform that you could use to your advantage for your content marketing and to improve your site's SEO ranking.
All in all, it's a great option but it can be too simple for some users. Therefore, the use of HTML and CSS might come in handy if you want more customization.
15. Gumroad
Gumroad is a platform that is positioned for creatives – artists, bloggers, writers, influencers, designers, etc. It claims to "help creators do more of what they love". Being founded in 2011, it has sent over $201 million to artists of all sorts.
Even though it possesses simple eCommerce features, its analytical tools, offline payment processing options, and audience-building software help it be much more than just that. Its marketplace options are also a great tool for anybody wanting to display things that they want to sell – essentially providing you free promotion for your products as they pop up on their "Discover" tab.
It's also one of the most inexpensive eCommerce platforms out there, starting at just $10 a month. Since your billing is based on the number of customers you have, it will automatically increase to $25 after the 1000 customers limit. Similarly, after 2000 customers, it'll charge you $50/month.
16. Storenvy
Founded in 2010, Storenvy was originally an online store builder (like the rest of the options on this list) but since 2012, it has expanded into becoming an online social marketplace with their 'Storenvy Marketplace' tab.
It's designed and positioned for small businesses and merchants, setting their goal towards becoming the "Amazon for independent store owners". This is quite useful as store owners can sell their goods on their own storefront and the marketplace that Storenvy provides them.
It's a simple process, setting up your online store with Storenvy. Within a few minutes after signing up, you can start uploading and listing your products. It's quite simple. Actually, too simple. Therefore, it might not be the best for people who want a lot more from their eCommerce platform as it offers minimal customization.
It's free to set up and you have the ability to list up to 500 products, without worrying about any subscription fees either. You can pay extra if you want their premium features, though. For example, $5/month for a custom domain and $9/month for discounts and promotions that let you create promo codes.
17. Weebly
Designed for small to medium-sized businesses, Weebly Ecommerce lets you get right down to business by letting you start selling your products instantly. They don't put you through the trouble of complicated setup processes or other confusing shenanigans, making it extremely simple and easy for beginners.
Whether you sell any physical or digital products and services, Weebly supports all. There's an SSL encryption on your site's checkout for customers and a semi-automatic shipping and tax calculator which saves you a lot of time and energy.
Providing good SEO options and flexibility in terms of template customizations, it's quite a good package.
They have a free plan which comes with a Weebly ad that you can see in the footer and then they have their three premium options – Personal, Professional, and Performance.
Personal ($6) – lets you connect your online store with a domain and the footer ad is still visible.
Professional ($12) – lets you include features like video and audio players, along with phone support. This option rids you of the footer ads.
Performance ($26) – lets you get access to many other eCommerce features, optimum for larger websites.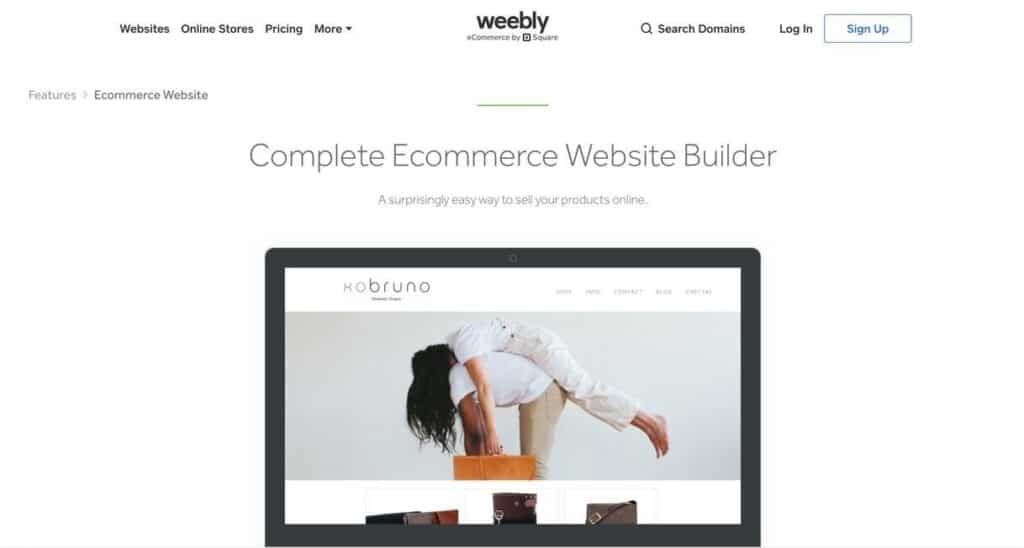 18. E-Junkie
E-Junkie caters to the creative sellers by enabling them with simple shopping carts, designed for that specific purpose. Whether you're an author, a musician, a developer, a photographer, or even a crafter – E-Junkie aims to capture all of these groups.
Unlike the other eCommerce platforms mentioned over here, E-Junkie doesn't provide a sophisticated or even a dedicated content management system. Instead, it focuses primarily on the checkout process and allows useful integrations with other payment processing companies.
Their Shopping Cart and Buy Now buttons can be integrated with payment processing services like Stripe, PayPal, etc.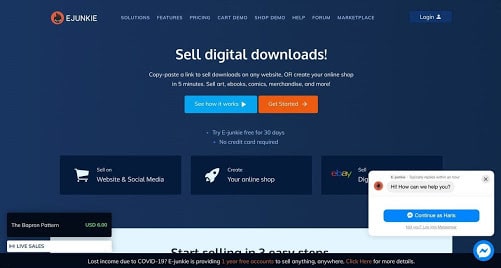 19. SendOwl
Even though SendOwl sells tangible products, they primarily refer to themselves as a "digital goods" selling platform. Their focus is on the latter, absolutely. It is a great platform if you wish to sell any products that fall within any of these categories: Software, subscriptions, eBooks, videos, video games, comic books, music, magazines, audio tracks, license keys, etc.
Another quite interesting fact about this platform is the fact that, unlike some other platforms that take away a rather hefty sum from your income through their transaction fees, they don't subscribe to the same model. Moreover, they provide you with an on-site checkout which is a relief for customers of all types – it's secure, safe, and quick.
You can construct a digital store really easily and inexpensively, enabling you to get down to the business of selling your products, right away. Its "one-click" process helps you cut down on the noise and focus straight away on the products.
Lastly, they have a low pricing model, which is fixed. Meaning, you won't be slapped with redundant fees for your transactions.
How good is that?
20. Ecwid
Not everybody can afford the luxury of subscribing to top-tier eCommerce platforms. Maybe their business just isn't there yet or they're just starting out. Either way, sometimes the top-tier just doesn't seem feasible. Therefore, options like Ecwid are extremely necessary for businesses that want to explore other options without breaking their bank.
Ecwid charges you less than $20/month and doesn't even take away a chunk out of your sales as fees. Moreover, their plug-in allows you to integrate it with any existing website and if you can't afford the $20/month option, you can always go for their basic plan which is free (it adopts a freemium model).
21. X-Cart
X-Cart is an open-source eCommerce platform with more than 35,000 online stores, all around the world, that are powered through the platform. It is easy to set up and the running of the store is quite lovely as well because of how flexible and feature-rich it is. Moreover, it is one of the fastest eCommerce solutions, across all the options – perfect for faster loading times and transactions.
If you want to get a taste of what the platform can actually do before deciding on buying it, you can always avail of their free 30-day-trial – you don't even need a credit card for it.
Since it is a shopping cart, you can choose any hosting provider you want to set it up on, given that you acquire and install an SSL certificate for a safer checkout process.
The best thing about this platform is the fact that it only charges you a one-time fee for a lifetime license, unlike its many other subscription-based competitors.
You have full control over your store and the level of customization that you require can be done without any annoyances. Your privacy is a priority for the platform and they provide you with the right solutions for it.
The only additional costs apart from the licensing fees are the third-party hosting fees.
22. PrestaShop
PrestaShop might be one of the lesser-known eCommerce platforms in the market, compared to its competitors, but that doesn't mean it's any less, in terms of the quality and features that It provides. This can be solidified by the fact that it has around 270,000 online stores, powered through their platform, all around the world. They may be small but they're growing at a rapid pace.
It's a free, open-source shopping cart, which you can either install on a server of your own choice or on their PrestaShop Ready server. Even though it is fundamentally open source, you can still make modifications and customizations, according to your own needs and requirements. There are two ways of doing that – either through modules (an expensive option) or through coding by yourself (or someone you hire).
It is free to download software and they charge you through the modules, themes, hosting, and domains that they provide you with. If you know how to code, you can bring down the costs considerably. If you don't, it might get a little expensive for you.
Their PrestaShop Ready option, though, has a monthly cost of $20, without the transaction fees. You're not charged the transaction fee for a sum lesser than or equal to $3000/month but after this limit is reached, expect to be charged 1.5% for your sales, going forward.
23. Foxycart or Foxy.io
Foxycart, now known as Foxy.io, is an eCommerce solution launched in 2007. It was positioned to be an eCommerce solution that was great at one thing, instead of being just good at multiple things. It wouldn't be wrong to say that it was perhaps the first shopping cart that was designed to be developer-focused.
At its core, Foxy is a shopping cart integration solution that you could install on any of your existing websites and you could modify it accordingly, with the help of some coding. As mentioned, since it's a developer-focused solution, coding and web development knowledge is imperative for you to get the best out of it.
Basic HTML knowledge for your cart and products, CSS/JS skills for optimizing them, etc.
You get a wide variety of elaborate features and tools with this platform that you could use to launch your online store. Moreover, it's very flexible and customizable, offering a seamless checkout process for your customers, and last but not least, it provides affordable and custom pricing.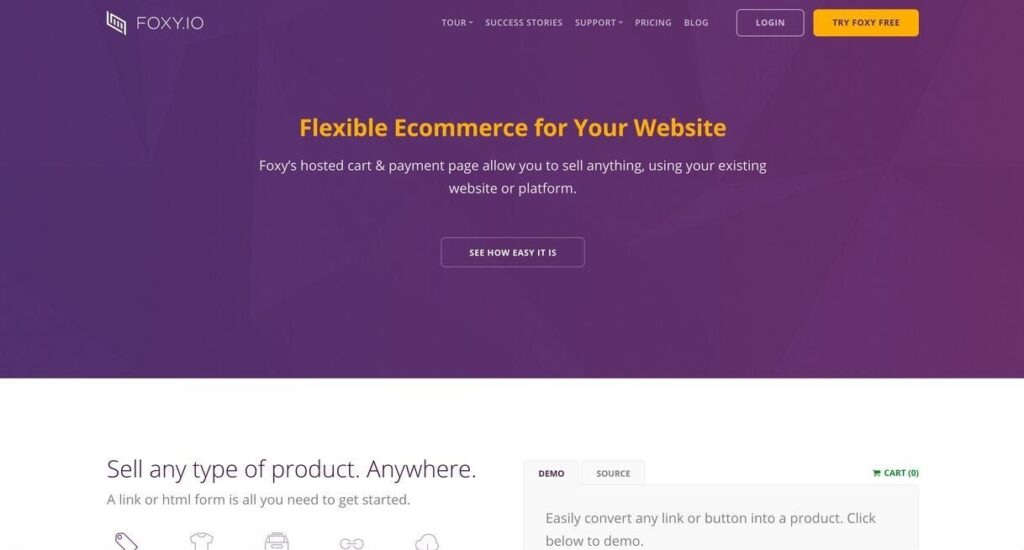 24. Zen Cart
Zen Cart is also an open-source eCommerce solution and it is based on PHP/MySQL. Just like Foxycart, Zen Cart is also free to download. An interesting fact about this software is that it used to be a part of osCommerce until they split up. Apparently, the people behind Zen Cart wanted to make changes to the architecture of the software and felt like a split was necessary for that.
Since Zen Cart is an open-source and community-focused platform, beginners or people with not much coding or web design experience might find it a little difficult to work with. Since it is maintained mostly by volunteers, the support options are primarily self-help and the layout on the platform isn't quite as intuitive as its other competitors.
As mentioned, it is free and there are no costs to using it. It even comes with GLP2 license which ensures that it will always remain that way and anybody can modify it according to their requirements.
Nonetheless, there are additional costs, though – web hosting, domain name, SSL certificate. Moreover, you probably would have to hire a web developer and designer to get precisely what you want if you don't possess those skills yourself.
25. MoonFruit
MoonFruit is one of the earlier entrants into the market of eCommerce platforms. Founded in 2000, it's sustained itself for two decades now and needless to say, it has a good enough following. It is a website builder that doesn't require much programming or coding knowledge for users to build an online store.
Even though you can build a good enough website at affordable rates through this platform, it just isn't as easy or seamless as, perhaps, its modern rivals. You see, unlike its competitors, Moon Fruit's site editor is Flash-based. The company has tried to introduce a new, better editor, though.
Moreover, they also have a very limited number of responsive templates. You can, however, customize them either individually or by shifting the entire block around.
Their basic plan comes at $5.99/month, Professional at $11.99/month, and Ecommerce Lite at $18.99/month. The Professional plan is popular for small businesses as it provides a good enough package to them.
Too Many Options?
If you're reading this, you've carefully read through all of the aforementioned platforms' details. So, first off, congratulations on making it so far.
Now, I know you might be confused right now. A lot of these platforms are really good options. Sure, I mean, some are not going to be what you're looking for, straight away. But you might be thinking about a few of the options that fit the requirements that you might have and fit in your budget, too.
So, what should you do? Easy – you keep reading. In order to simplify everything, we're going to now talk about the top five most popular eCommerce platforms, in order for you to get an even clearer perspective.
We're going to be doing that by comparing them all side-by-side, on the basis of the prices they offer, the features they provide, the quality they promise, what they deliver, and many, many more options.
Top 5 Best Ecommerce Platforms (2020)
According to BuiltWith.com, popularity-wise, here's the data of the top 5 platforms: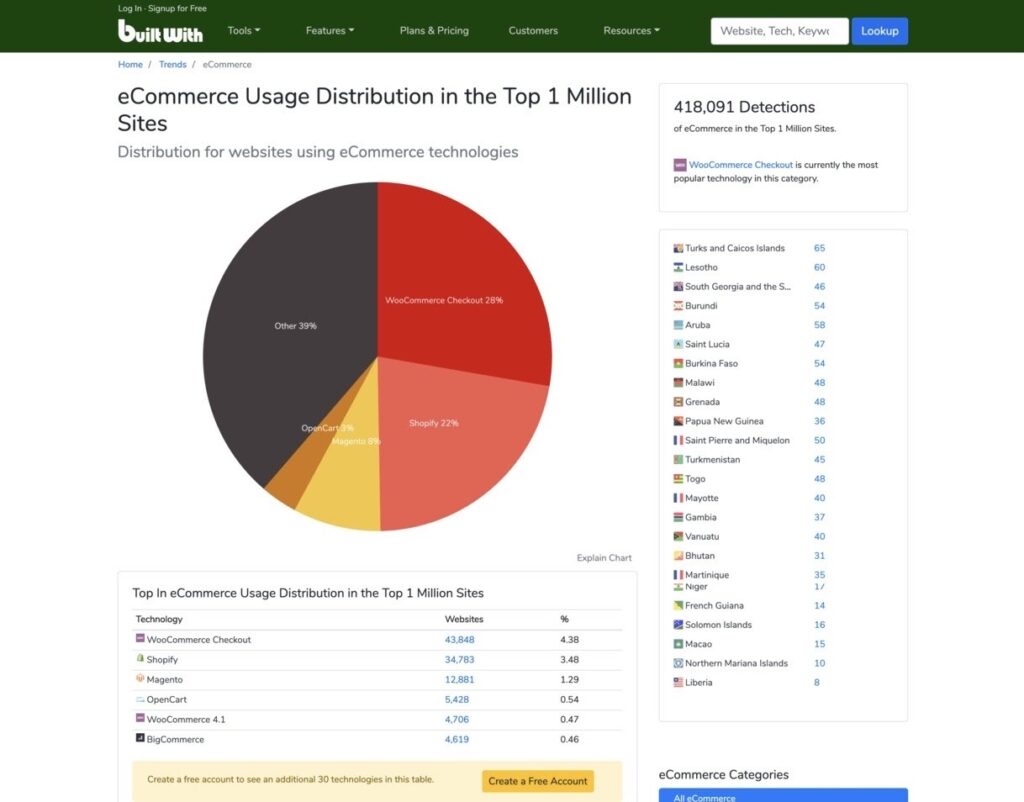 Now, bear in mind, this is just on the basis of popularity, and not necessarily based on features or pricing. This just shows the number of websites in the top 1 million websites, around the world, that is powered by these platforms.
Most people think of Shopify when it comes to eCommerce, but as this data suggests, it's WooCommerce that's at the top.
Comparison of the best platforms for eCommerce websites:
| | | | | | |
| --- | --- | --- | --- | --- | --- |
| | Shopify | WooCommerce | BigCommerce | Magento | Wix eCommerce |
| Price | $9/month (limited)$29/month$72/month$299/month | $0 (the software itself is free)$100/year (hosting costs) | $29.95/month$79.95/month$249.95/month$900+/month (enterprise solutions) | $0 (community edition0$100/year (hosting costs)Up to $15000 – $50,000/ year (enterprise edition) | $17/month$25/month$35/month (this is paid yearly) |
| Software type | Subscription- based | Standalone software | Standalone software + subscription based | Subscription based | Subscription based |
| Subdomain/Hosting inclusion in package | Yes (you can also add your own domain) | Yes | Yes (you can also add your own domain) | Yes (you can also add your own domain) | Yes + a free custom domain (you can also add your own domain) |
| Product Management Features | Yes | Yes | Yes | Yes | Yes |
| Order Management Features | Yes | Yes | Yes (shipping charges also included) | Yes | Yes |
| Multiple Payment Gateways | Yes | Yes | Yes | Yes | Yes |
| Customer Management | Basic | Through third -party plugins | Through customer groups, etc. | Basic | Basic |
| Themes | 100+ (more through third-party options) | Thousands on the web (can be free or paid) | Particular themes available on the web | 100+ | 500+ |
| Mobile-friendly | Yes (can be customized further via HTML and CSS editing) | Yes (only as much as the theme allows) | Yes | Yes | Yes |
| Bandwidth | Unlimited | Depends on the host | Depends on the host | Unlimited | Unlimited |
| Sales Report / Analytics | Yes | Yes | Yes (quite advanced) | Yes (quite advanced, with many options) | Yes (not too great, but available) |
| Discounts/Coupon Codes | Yes | Yes | Yes | Yes | Yes |
| Extensions | Many options (sales channels, POS, Facebook, etc.) | Yes | Yes | Yes (sa | |
| Built-in support and apps | Yes | No | Yes | No | Yes |
Which One Should You choose?
The criteria for the best eCommerce platform vary from person to person but all of these platforms are incredibly popular, and rightfully so. They provide incredible features and they are used by hundreds of thousands, if not more, of websites all around the world. Still, you might be wondering, "All of these are great options, which one should I go for?". Well, it's simple.
In order to finalize an eCommerce platform that would work the best for you, you need to understand the following things:
1 Ease of use
It's imperative to know how difficult the platform might be for your use. Are you a web designer, a web developer, someone who knows to code, proficient in CSS or HTML? If you're not, do you have easy access to one – someone working for you, a friend, a family member, etc.? If so, perfect. You've narrowed down a few of your options already.
If not, and you don't know anything about coding or web designing, you'd probably want to go for options that don't require the hassle. You'd rather go for something that gives you the best result without making you scratch your head every two minutes.
Your customization depends on it, too. Do you need to customize your online store in a specific way or are you going to be satisfied with the templates given to you by your choice of eCommerce platform? This is important because if customization is important for you, you might get away with it to a certain extent without the knowledge of much web design, but if you want some specific changes, you'd be better off with a platform that allows you to edit the code via HTML or CSS.
2. Type of business
Whether you're a clothing store trying to sell some shirts and jeans, a shoes store selling customized, bespoke shoes, an online extension of an existing, brick and mortar bakery, or a raw material B2B supplier – it matters when choosing a platform.
Some platforms are designed for a specific niche or a community type. Usually, they possess the exact, specific tools, tailor-made, for that type specifically. Take an example of E-Junkie, which caters directly to creative sellers or artists – musicians, writers, developers, photographers, etc.
They have simplified the process for them with their shopping cart. When a platform is built for a certain niche, it is bound to smoothen the process for people belonging to that niche more than they would favor, perhaps, people from other categories.
Nonetheless, there are platforms like Shopify, WooCommerce, etc. that cater to the general market and provide equal benefits as they don't stick to just one niche.
3. Business size
Are you just starting out or are you an established business? Are you looking at scaling up your online store in the near future or are you content with keeping it at a small enough size for the foreseeable future? These are the types of questions you need to be asking yourself.
The options for a small to medium-sized business differ because the requirements are different. If you have an established business, you'll have an established clientele – meaning, you have to consider the fact that your store needs to have a certain quality and requirements so that it can serve your clients in the best way possible.
If you're just starting out, you can afford to go for the lower options available, perhaps, because you need to preserve costs while increasing revenue. Your emphasis should be on getting more and more clients and as you progress along, you can go for even better options to support your growing list of customers.
4. Price
Some of the options over here are extremely good for any business but they might not necessarily be what you're looking for – either what they're offering isn't what you're looking for, or they just cost too much. The price does matter, especially when you're running a business – you need to contain costs as much as possible without compromising on the quality.
So, according to your own budget, you need to decide what price is the best for you and what option provides the best value to you, within that amount. Even then, you need to decide if you want to go with the subscription-based platforms or the free download platforms (which charge in other ways).
These platforms' offerings vary widely, according to the options you select. For example, on platforms like Shopify, BigCommerce, or Wix, you have multiple tiers of pricing models available and you can select the one that you feel is the best for you and provides you the best value for money.
5. Online store requirements
This is a recurring thing that I've touched upon in this article and it's absolutely pertinent to know what your requirements are. Whether you're just starting out or are an already established business looking to foray into the world of eCommerce – you need to know precisely what you're looking for in order to get the best deal.