Corporate websites are online platforms that allow companies and businesses to showcase their products, services, and brand to the world. They are typically designed to be clean, modern, and easy to navigate, with the goal of providing visitors with a positive experience that will encourage them to learn more about the company.
While corporate websites can vary greatly in terms of their design and functionality, there are some common elements that all successful corporate website design share. These include a strong visual identity, clear messaging, an intuitive user interface, and valuable content.
If you're looking for inspiration for your corporate website, check out the stunning examples we have listed in this article.
What Are Corporate Websites?
Corporate web design is creating a website for a company or organization. The design should be professional and reflect the company's branding. The website should be easy to navigate and offer relevant information to the company's target audience.
When it comes to corporate web design, there are a few key elements that you should take into consideration. First and foremost, the website should be easy to navigate and user-friendly. It should also be visually appealing and reflect the company's branding.
Additionally, the site should be packed with relevant, keyword-rich content to attract search engine traffic. And finally, it should include calls to action encouraging visitors to take desired actions, such as signing up for a newsletter or requesting a free consultation.
What Is Difference Between Usual Website And Corporate Website?
A corporate website is created, maintained, owned, or operated by a business or an organization. It might be used for marketing, selling products or services, or providing information about the company.
It typically contains information about the business, its products or services and may include a section for customers or clients to log in and access resources.
Corporate websites are usually larger and more complex than other types of websites, and they may have different sections for different audiences. For example, a corporate website may have separate sections for investors, customers, and employees.
A usual website may or may not be created or maintained by a company or organization. An individual can create it for personal use or any other purpose.
What Should Be Included On a Corporate Website?
Trends in web design come and go, but a few elements make well-designed corporate websites stand out of the crowd. Following are the features of the best corporate websites 2022:
Clear purpose
A corporate website should have a clear purpose. Whether the goal is to educate, inform, or entertain, each element should contribute to the overall objective. A well-designed corporate website can build thought leadership, establish your company as an expert in its field, and generate leads and sales.
A Simple Web Address
Corporate websites can be long and complicated, with multiple subdomains and folders. This can make it difficult for customers to remember the exact URL or for search engines to index the site properly.
Using a simple web address can help solve both of these problems. A short and easy-to-remember URL is more likely to be typed correctly by customers, and it will be easier for search engines to find and index your site.
If you're unsure what web address to use for your corporate site, consider using a domain name related to your company's name or industry. You can also use a keyword in your web address to help customers find your site more easily.
Strong, Professional Branding.
Your corporate website is one of the most important tools for promoting your business and building your brand. Your site must convey a strong, professional image that will instill confidence in your potential customers and clients.
A few key elements are essential for creating strong, professional branding on your corporate website. First, your site should have a clean, modern design that is easy to navigate. It should also include high-quality images and copy that accurately reflect your brand identity. Finally, ensure your site includes clear calls to action and contact information, so visitors know how to get in touch with you.
Simple Navigation
Your corporate website is the face of your business, so it's important to ensure that it has simple and straightforward navigation. This will make it easy for visitors to find what they're looking for and help them get the most out of their visit.
There are a few things you can do to ensure that your site has simple navigation:
Actions That Keep The Navigation Simple
Descriptive Titles
Use clear and descriptive titles for your pages
Logical Structure
Create a logical structure for your site with an easy-to-use navigation menu
Contributes To Conversion Events
Use breadcrumbs to help visitors keep track of their location on your site
Search Box
Include a search box on your site so visitors can quickly find what they're looking for
Easy-to-Find Contact Information
Any corporate website needs to have easy-to-find contact information. This way, potential customers or clients can easily get in touch with someone from the company.
There are a few ways to ensure that your contact information is easy to find. One is to list it prominently on the homepage, preferably in the header or footer. Another is creating a dedicated contact page that includes all the necessary information.
Whichever method you choose, just make sure that the contact information is clear and easy to find. Otherwise, you risk losing out on potential business opportunities.
Strong Calls to Action
Your calls to action are the most important part of your website – they tell your visitors what you want them to do and how you want them to do it. If your calls to action are weak or ineffective, your website will be weak and ineffective.
Here are three tips for creating strong calls to action to get results:
Keep it simple
Your call to action should be easy to understand and easy to follow. Don't try to cram too much information into it – just give your visitors clear, concise instructions they can easily follow.
Make it relevant
Your call to action should be relevant to the rest of your website content. If it's not, your visitors will likely be confused and won't take any action.
Use strong language
Use persuasive language in your call to action that will encourage your visitors to take action. Be sure to avoid vague language like "click here" – instead, use something more specific like "sign up now" or "download our free eBook."
A Great Mobile Experience
A corporate website should have a great mobile experience for several reasons. First, more and more people are using their mobile devices as their primary means of accessing the internet. If your website is not optimized for mobile, you could miss out on a large portion of your potential audience.
Second, a good mobile experience can help to build trust and credibility with your visitors. If they have a positive experience on your site, they will remember your brand and come back to it in the future.
Third, a mobile-friendly website can help you to stand out from your competition. With so many websites now available, finding ways to make yours stand out is important. Optimizing for mobile is one way to do this.
Finally, a great mobile experience can make your website more enjoyable. This can lead to more repeat visitors and longer average visit times, which are good for your business.
So if you have not yet optimized your website for mobile, now is the time to do so. It will benefit your business in many ways and help you to serve your customers better and reach your goals.
Compelling Content
Your website is a crucial part of your business, so it's important to ensure that the content is compelling and engaging.
Here are some tips to help you create compelling content for your website:
Write headlines that grab attention
Your headline is the first thing visitors will see, so make sure it's catchy and inviting. Use strong keywords to help search engines find your content and entice readers to click through with a strong headline.
Use images and videos
Images and videos can help break up text and add visual interest to your website. Use high-quality visuals that are relevant to your message to help engage visitors.
Make use of whitespace
Whitespace can help break up text and make your page more visually appealing. Use it judiciously to help guide visitors' eyes through your content.
Write clear and concise copy
Visitors should be able to understand your message easily. Keep your copy clear and concise, and easy to understand.
Use calls to action
Include calls to action (CTAs) throughout your posts to encourage readers to take the next step, whether it's signing up for your email list or contacting you for more information. Make sure that your call to action is clear and visible.
The Best Corporate Websites To Inspire Your Imagination
Let's see what innovative corporate websites are doing to stand apart from the competition.
The website has a beautiful design that is easy to use. It shows off the company's past projects and provides the necessary information to first-time visitors. Their contact page is simple and user-friendly.
The quality of visuals throughout Walker's Martin Building site is excellent. Transitions and scrolling effects create a positive user experience.
Paragon Oak constructs buildings, and their website's first impression is stunning. Visitors can easily find all relevant information regarding their services due to the streamlined design. They have several case studies explaining the process and include high-quality photos.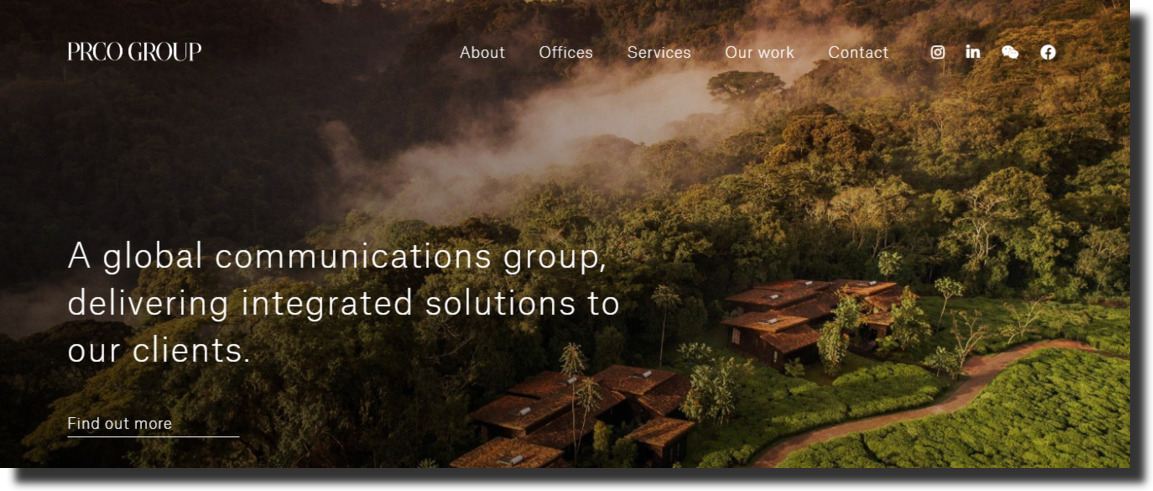 PRCO's homepage features a front-and-center background with a statement about what PRCO does. You can scroll down to see a few quick, cohesive images and headlines in place of text.
With a unique website design, Ashcroft Law Firm provides information on everything you would expect from a law firm. This website is professional and different from others, with large background photos and details on the staff and their practices.
The minimal design of the Stink Studios website utilizes a single-column layout with images, photos, and text. The focus is on the content without distraction.
The Ruby Company deals in product supply and logistics. Their website is easy to navigate and has large high-quality visuals. You can find high-quality photos, beautiful typography, and other visuals that make the website stand. These visual elements make it easier for visitors to find all the relevant information about your company and products.
Source: Babord Group
The Seafood provider's homepage has a full-screen video, with immense attention to detail throughout the website. When you click on the burger icon on the left screen side, the Navigation Menu opens up. Click on any of the main menus or links to access sub-navigation options.
Oh has an impeccable design, where the navigation is both beautiful and easy to use. With a pop of color, the architectural firm keeps photos of all its projects on its site, and its content is always fresh and up-to-date.
The site has a dark blue background and lots of high-quality photos, with small amounts of animation and links to major sections in the navigation menu. You can easily navigate the site by scrolling on the page.
Who Makes the Best Corporate Websites?
Many factors go into designing a corporate website, and the best design firm will consider all of these to create a visually appealing and functional site. It will focus on key elements, including branding, user experience, and conversion optimization.
When it comes to branding, the best corporate website design firms work closely with their clients to ensure that the site reflects the company's values and mission. They also ensure that the site is consistent with the company's other marketing materials.
User experience is another important element of corporate website design. The best design firms create websites that are easy to navigate and understand. They also ensure the site is responsive and looks good on all devices.
Conversion optimization is another important consideration for corporate website design. The best design firm ensures that the site encourages visitors to take action, whether filling out a form or making a purchase.
Key Takeaway
If you're running a business, it's important to have innovative corporate websites that look good and reflect your company's values. A well-designed website can compel a potential customer to choose your business over another. In this list, we've compiled some of the best corporate websites for you to drive inspiration for your own site.
From simple and elegant designs to more complex ones with multiple pages and intricate details, there's something here for everyone.
So take a look at the best corporate websites 2023 and see what you can find!