What are Broken Links?
Broken links, also known as dead links or link rot, are hyperlinks on a website or web page that no longer point to a valid or functioning destination. In other words, when you click on a broken link, it does not lead you to the intended web page or resource but instead results in an error message, typically a "404 Not Found" error.
How to Find Broken Links?
| | |
| --- | --- |
| Manual Inspection | Manually click on each link on your website and check for errors or broken pages. |
| Online Broken Link Checker | Utilize online tools that offer broken link checking as part of their feature set. |
| Content Management System (CMS) Plugins | If you're using a CMS like WordPress, consider using plugins like "Broken Link Checker" to find and manage broken links. |
What Causes the Occurrence of Broken Links?
Content Changes: Websites frequently update or remove content. When URLs change or pages get deleted, the links pointing to them become broken.
URL Structure Modifications: Website redesigns or changes in URL structures can render existing links invalid.
Typographical Errors: Mistyped URLs or incorrect link coding can lead to broken links.
External Site Changes: If your website links to external sources, those sources may modify or remove the content without notice, resulting in broken links.
Server Issues: Temporary server problems, like downtime or misconfigurations, can cause links to break intermittently.
Content Migration: During the migration of content from one platform to another, links may not be updated correctly, causing them to break.
Link Decay Over Time: Over an extended period, websites may naturally accumulate broken links as external sources change or go offline.
Human Error: Errors in manual link updates or maintenance can introduce broken links.
Outdated References: Links in older content may point to resources that are no longer available or relevant.
Best Broken Link Checker Tools
This tool is crafted for SEO and marketing analysis and is widely adopted by website owners and link builders to track their competitors and pinpoint broken links.
The Sitechecker website crawler examines your site for broken links and offers comprehensive guidance on rectifying them. You can investigate the anchors of 404 error pages and promptly address any issues. Being a web-based tool, it is compatible with any operating system and capable of crawling websites built on various CMS platforms.
Additionally, you have the option to configure monitoring results based on country, region, and city, providing highly localized insights into your web resource's performance. This level of granularity can be particularly valuable for local businesses and companies with multiple branches across various geographic areas.
The tool offers a comprehensive range of data that extends beyond monitoring. Sitechecker enables you to extract information and create customized, ethical SEO reports, which can be generated automatically on a daily or weekly basis. This functionality proves invaluable to marketing agencies aiming to keep their clients informed with current data. These reports offer an opportunity to assess your promotional strategy and make enhancements as necessary.
Pros:
Sitechecker generates an extensive report packed with valuable SEO insights.
You can opt for a single-site check at no cost or subscribe for a full website assessment.
Visual representations of internal and external linking are provided.
It identifies content errors such as problems with meta tags and thin pages.
The premium version offers additional features, including a backlink tracker, ranking analysis, and website monitoring with notification capabilities.
Cons:
Exporting data is not available with a free version.
This software package empowers you to effortlessly and comprehensively examine your website. Moreover, it offers an improved comprehension of your site and the effectiveness of your digital marketing efforts and tactics.
SEMrush offers sophisticated tools to bolster your strategies, encompassing content marketing, PPC advertisements, social media, and beyond.
Pros:
Its user-friendly interface allows for easy navigation between software features.
It offers robust user support to assist you in the event of technical problems.
The extensive range of features enables rapid website optimization.
Cons:
Incurring costs can become significant when adding multiple profiles for an agency with numerous team members.
The Ahrefs Link Checker tool provides an extensive report concerning all the backlinks to your website. It can discern the methods through which your site's links are either increasing or decreasing.
Supported by AhrefsBot, which boasts the largest live backlink database and swift crawling capabilities, this tool is invaluable for consolidating information about broken backlinks throughout your network in a single location.
Pros:
It features a robust backlink checker to assist in establishing online authority.
Ahrefs provides keyword suggestions to aid in identifying content opportunities.
Various payment plans are offered, allowing businesses to select the one that best fits their needs.
Cons:
The user interface can be complex, requiring some time to learn and adapt to.
The pricing options are on the higher end.
SE Ranking's Website Audit requires only a few clicks to assess the health of your website. Once the audit is completed, you'll be directed to a dashboard displaying your domain's statistics. From the left-hand menu, you can select the area to explore in-depth, including link analysis.
All identified issues are categorized based on their importance as errors, warnings, or notices, and you have the option to group them by category or page, simplifying navigation and analysis.
In addition to various other checks, this tool provides reports on 3XX and 4XX URLs, identifies orphan pages, and detects redirect loops, ensuring that no broken links escape detection.
Pros:
SE Ranking provides a 14-day free trial to all newcomers, giving businesses the opportunity to test the platform before making a commitment to a paid subscription.
The platform's user-friendly interface, coupled with its intuitive design, makes it an ideal choice for both newcomers and experienced users, promoting a seamless and efficient user experience.
Seamlessly connects with various tools and platforms, expanding its compatibility.
Provides exceptional customer support services to ensure users have a smooth experience.
Cons:
Certain functionalities may necessitate extra payment.
It falls short in offering some of the more advanced SEO features.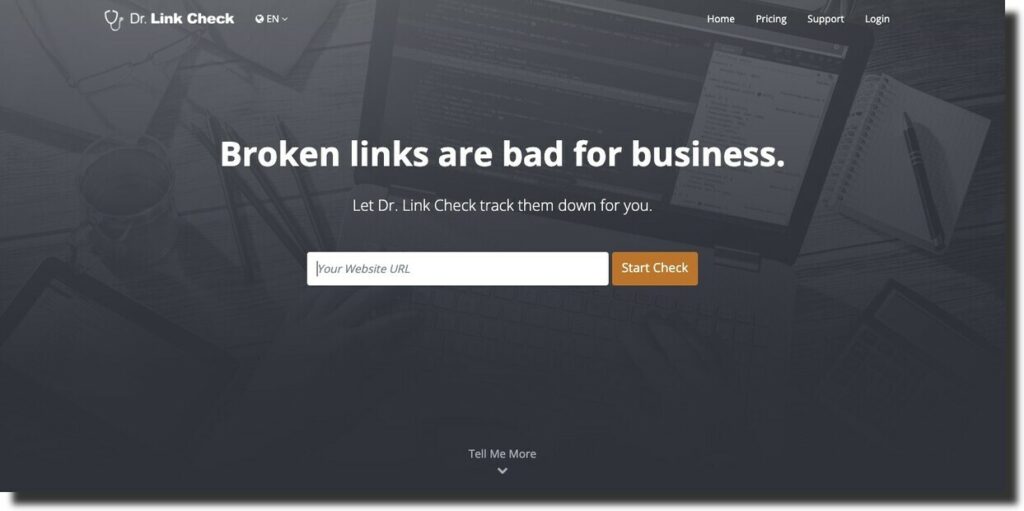 Dr. Link Check is a contemporary tool exclusively designed for the purpose of link verification.
Its paid functionalities encompass blacklist checks, ensuring you aren't linking to websites flagged as malware or phishing sites, as well as parked domain checks and SSL certificate verification.
Pros:
Easy-to-use
You have the option to configure your checks for automated runs on a monthly, weekly, or daily schedule, and you can also opt to receive email status reports.
With this tool, you have the ability to create rules specifying which URLs to examine and which ones to ignore.
It also allows you to set a crawl speed restriction to prevent overloading your server during the checking process.
Cons:
Limited free version – 1,500 link checks, after which an upgrade is required, starting at just $10 per month.
What Makes Broken Links Problematic?
Poor User Experience
When users click on a link and encounter a "404 Not Found" error or a similar message, it can be frustrating and confusing. It disrupts their browsing experience and may lead them to leave your site in search of more reliable information.
Loss of Credibility and Trust
Broken links can make your website or content appear outdated, neglected, or untrustworthy. Users may question the credibility of your information and be less likely to return to your site in the future.
Negative SEO Impact
Search engines like Google consider broken links when assessing the quality and relevance of a website. Too many broken links can harm your website's search engine ranking, making it less likely to appear in search results.
Reduced Engagement
Users are less likely to engage with your content if they encounter broken links. They may not explore related pages or follow calls to action, which can impact your conversion rates and overall website performance.
Missed Opportunities
Broken links can prevent users from accessing valuable resources, such as product pages, articles, or downloads. This can result in missed opportunities for engagement, lead generation, or sales.
Accessibility Concerns
Broken links can also affect the accessibility of your website, making it difficult or impossible for people with disabilities to navigate your content using screen readers or other assistive technologies.
Reputation Damage
Continuously having broken links can harm your brand's reputation and professionalism. It can send the message that you don't pay attention to the details or that you don't prioritize the user experience.
Inaccurate Analytics
Broken links can distort your website analytics data, making it harder to assess the performance of your content and marketing efforts accurately.
To avoid these issues, it's essential to regularly check and maintain the links on your website or within your digital content. Tools and plugins are available that can help automate this process and alert you to broken links, making it easier to keep your online presence in good shape.
Conclusion
In conclusion, understanding the significance of broken links, or link rot, in your online content and taking proactive measures to address them is crucial for a seamless user experience and the overall health of your digital presence. These broken links can lead to poor user experiences, erode trust, negatively impact SEO, and hinder engagement, all of which can have detrimental consequences for your website's performance and reputation.
Fortunately, there are various tools and strategies available to identify and rectify broken links effectively. By regularly auditing your website and employing broken link checker tools like Sitechecker, SEMrush, Ahrefs, and SE Ranking, you can stay on top of these issues and ensure that your web resources are consistently reliable and up-to-date.
Remember that not only does addressing broken links improve user satisfaction, but it also enhances your website's credibility, maintains strong SEO standing, and allows you to make informed decisions regarding your content strategy. In the fast-paced digital landscape, staying vigilant about broken links is a fundamental aspect of maintaining a successful online presence.