Are Squarespace plugins different from WordPress plugins? A notable difference with Squarespace plugins is that you use code snippets to add functionality to your site. If you're looking to start an eCommerce store, Squarespace is among the best eCommerce platforms to use.
Squarespace does not provide you with plugins for web development. You will have to access them from a third party by adding the provided code to your website.
Also, you'll need to use Squarespace integrations to connect your website with other platforms. Designing a website becomes easy, or you can hire a web design agency.
Top Squarespace Plugins To Build Your Site
If you're on a tight budget, there are free Squarespace plugins to use. However, if you want to have access to the advanced features, you can go for the premium Squarespace plugins. Want to know the top Squarespace plugins to use on your website? Here is a list of 32 Squarespace extensions and plugins to try.
1. Wiremo Review Squarespace Plugin
Wiremo review plugin integrates with Squarespace to give you and your users a good experience. First, You can ask for reviews from your customers using email or from your website.
The plugin also allows you to customize the review carousel to display anywhere and as you want. It's also possible to import previous reviews with Wiremo.
2. WhatsApp Chat Plugin
Small businesses and large organizations are adjusting to using WhatsApp chat to engage and grow their business. It makes communication easy and fast as you can respond to clients' messages anytime and anywhere.
Squarespace live WhatsApp plugin by Elfsight is responsive and easy to use. For an eCommerce store, for instance, it allows you to have personalized communication with your clients.
You are not required to have technical skills when using this plugin. Check the features, pricing, and installation process before proceeding with the plugin.
3. Testimonial Slider Plugin for Squarespace
This testimonial plugin is compatible with both Squarespace version 7.0 and 7.1. You can choose between standard and business licenses.
This plugin is compatible with any template, and it's easy to customize. Testimonials help in building trust and converting new clients to repeat customers. The plugin displays testimonials as sliders, hence the name testimonial slider.
4. Squarespace Sidebar Plugin
Squarespace sidebar plugin allows you to create different sidebars for your website. This plugin is mobile responsive. It's easy to customize the width, position, margin, and choose a preferred type of display.
It's compatible with any template and works on Squarespace Version 7.0 and 7.1. As a feature of this plugin, you can have more than one sidebar on a webpage.
You're free to enable or disable a sidebar and make changes without interfering with the other. This Squarespace plugin is a premium plugin with a business and standard license.
5. Squarespace Lightbox Anything Plugin
As the name suggests, you can use this plugin to create any lightbox pop-up to add to your website.
For example, if you're a makeup artist or photographer, you can display your gallery using this plugin.
It's also useful when displaying video pop up, newsletter forms, and size charts. The Squarespace lightbox anything plugin works by displaying a lightbox pop up once you link to it on your website.
6. Squarespace Form Builder Plugin
What kind of forms are you looking to design? Form builder plugin allows you to create different form designs for your website. Examples are feedback forms, surveys, newsletters, or rating forms.
Some of the features of this plugin are five predefined form field styles and a submission message/ action.
7. Squarespace Photo Gallery Plugin
With the Squarespace photo gallery plugin, you can upload as many images as you want and design an album on your website. The plugin has six layouts and varying design options.
Choose between different pagination variants and use Call-to-action buttons to guide users towards a specific target.
8. Pricing Table Plugin
Elfsight pricing table helps you to come up with a price table for the different packages that you have in your business.
This plugin comes with predefined styles, and it's mobile responsive. You can choose a design that appeals to you and is compatible with mobile devices.
9. Age Verification
Do you have sensitive information that you want to control access? The age verification widget presents you with three verification methods to choose from.
You can place the verification widget on a specific page or your website in general.
10. Cookie Consent Squarespace Plugin
A cookie plugin allows you to inform your site users that your website uses cookies. You can choose to display this information using pop-ups.
The cookie consent plugin allows you to type a display message and a button that will allow website users to select an option. Select either a bar or box layout to display the cookie as a pop-up message.
11. Facebook Feed Plugin
Facebook Feed is more of a widget than a plugin. Increase customer engagement using the Facebook Feed widget. You only need to paste the code on a page on your website.
Facebook feed helps in attracting visitors to a site by sharing posts, videos, and images. You can also advertise on Facebook to increase awareness and increase online sales.
12. Booking Reviews Plugin
Bookings Review plugin helps in building trust between users and a business owner. You can display bookings reviews with the writer's name, ratings, and a review button.
The button helps direct new users to the review section. You can also filter the number of reviews to display. With the exclude feature, it allows you to filter the reviews to display. For example, you may want to show positive reviews only.
13. Social Tabs Plugin
The social tabs plugin allows you to add social media accounts to your website. Social tabs help attract traffic, increase engagement, and generate conversion.
You can place them at the top or bottom of your web page. Try adding them to the pages which your users frequent the most.
14. Countdown Timer
The best way of creating urgency is by using a Squarespace countdown timer. For instance, if you're running an offer or promotion, you can push an urgent buying need using this plugin.
It's compatible with Squarespace version 7.0 and 7.1. With a countdown timer Square space plugin, you set a fixed time rather than a specific day. Time helps in creating urgency.
15. Squarespace Google Reviews Plugin
Adding Google reviews on your website helps in convincing visitors to work with you. It also helps in building trust.
With this plugin, you can filter to display positive reviews. Also, you're free to add ratings, author details, and a redirect button for new users to submit their views on Google.
16. Portfolio Plugin
If you're a photographer, Makeup artist, or designer who wants to showcase their work on a website, try using the portfolio plugin.
It allows you to display your professional work, add descriptions and dates to increase customer engagement. Include a call-to-action button that will bring your website users to your target page.
17. Exit Intent Popup
The purpose of this plugin is to trigger a pop-up when a user tries to leave or exit your website. Here is an example of how exit intent pop-up works in an eCommerce store.
If a shopper tries to leave a page without completing a transaction, you can create a pop-up message that reminds him/her to complete the process
18. Logo loading screen
For improved user experience, you can use this plugin to display your website logo before the content appears on the screen.
After the site content is fully loaded, the logo fades off. The idea is to keep your users engaged and not having to stare at a blank screen.
19. Related Posts and products Squarespace Plugin
This Squarespace plugin will automatically display products and other posts based on the current tags and categories.
With the related posts plugin, you can customize the summary block to achieve a specific purpose. You're also free to set the number of posts or products to display. This plugin is compatible with Squarespace version 7.0 and 7.1.
20. Accordion Tabs Squarespace Plugin
The Accordion tabs plugin has unique features to use. First, you have two options for adding a tab to a page. Also, you can change the styles of a specific tab block without affecting the other.
21. Mega Menu Plugin
Megamenu is a SquareSpace extension that works well if you have many pages and sections to navigate. A mega menu increases user experience. Users can find what they are looking for faster and with ease.
This extension makes use of a drag & drop feature. Therefore, you are not required to have any technical skills to design a mega menu. It's also compatible with most of the Squarespace templates.
22. Lazyload Images for Squarespace
Lazyload increases website speed and SEO. Images only appear when a specific section is visible to the user.
Lazyload images for Squarespace works well when you want to display several images on a website.
23. Squarespace Inventory Indicator Plugin
If you have an eCommerce store and you want to keep track of your products, you need a Squarespace inventory plugin.
Every time you add new stock or as clients continue making a purchase, the inventory indicator adjusts automatically. You can enable this feature from the products page.
24. Squarespace Video Lightbox Plugin
If you want to include a video link on your website, you can use this plugin to change the link to a lightbox or modal pop-up.
The Squarespace Lightbox Video plugin works for Youtube, Wistia, Loom, and Vimeo videos.
25. Contact Form Squarespace Plugin
For whichever purpose you're creating a website, having a contact form is very important. It helps you keep in touch with your clients.
To create a contact form, you need to start by choosing a template. From there, you will have to optimize the form's attributes to suit your website requirements.
There are different ways of customizing a contact form. You can use the POWR plugin to design a contact form for your Squarespace website.
26. Squarespace Facebook Blog Comment
This plugin works for Squarespace version 7.0 and 7.1. You can add Facebook comments on your Squarespace blog.
You can display a Facebook comment on your blog. This way, you can drive traffic and engagement to your blog as well.
27. Squarespace 'Tweet This' Quotes
The Squarespace 'Tweet This' plugin allows you to tweet a selected block of quotes. It works on all Squarespace templates. You are in control of the styling and customization of this plugin.
For example, the 'tweet this' button can display when a user hovers over a quote.
28. Upsell Page Squarespace Plugin
Do you want to increase sales in your eCommerce store? The Upsell page plugin seems to work well for eCommerce businesses. Start by creating an Upsell page for products with different prices and features.
After a client adds items to a cart, you can use a pop-up to redirect the client to an Upsell page. The client may end up adding extra items to the cart hence increasing sales.
29. Background Videos Utils
Background videos Utils is a Squarespace plugin that plays or pauses Youtube or Vimeo background videos. This plugin works on templates with an enabled video background.
You can also get a similar plugin on Squarespace themes. You can customize the plugin to meet your requirements.
30. Banner Gradient Squarespace Plugin
To create appealing images for your website, you should try using the banner gradient plugin. It allows you to add a gradient overlay on an image or video on your website.
31. Mailchimp Email Marketing Plugin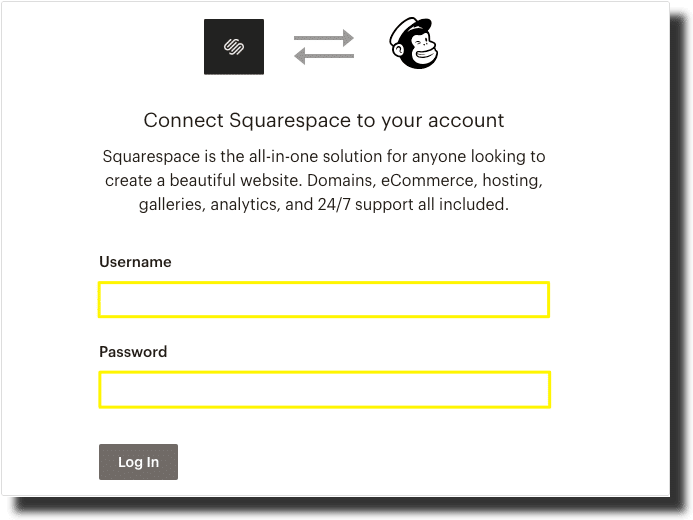 Mailchimp integrates with Squarespace to give you a platform where you can design and send personalized emails to your subscribers with ease.
Also, Mailchimp helps you to grow your subscriber list by allowing you to collect email addresses from your customers. Mailchimp comes with a free plan as well as premium versions. You can create your account and start growing your email list.
32. Squarespace Product Image Rollover
Are you looking to include different images on your Squarespace website? The Squarespace product image rollover plugin will display images once you hover or place a cursor on it.
This plugin works for summary bocks with images, product page, and a product box.
Is that all for the Squarespace plugins?
Squarespace plugins help you to display information, styles, and features, which were previously not visible on a website.
Whether you're using the free or the paid Squarespace plugins, be careful about how you use each. Check out the installation guides before using a plugin or extension.
From the above list of Squarespace plugins, is there any that you've used, or which one do you intend to use next?