Seeking strategies to enhance your sales and tempt potential customers into sampling your products temporarily? Sales promotions stand out as a prime tool to stimulate sales and offer trial periods.
To guide you, we'll delve into top-tier sales promotion ideas that can elevate your business and give you a competitive edge. From tailored discounts and rewards schemes to social media contests and friend referrals, myriad inventive methods exist to engage new clientele and entice regulars back for more.
What Is a Sales Promotion?
It's a marketing tactic designed to amplify sales by presenting deals and incentives that resonate with customers, persuading them to buy a product or service. While the 'buy one, get one free' approach is a familiar sales promotion, there are various other models you can employ to achieve your sales targets.
Why Is Sales Promotion Important for Your Business?
Sales promotion plays a pivotal role in a company's marketing endeavors. It not only fosters product and service awareness but also amplifies sales and cements customer loyalty. The forms sales promotion can take are varied—ranging from discounts and giveaways to contests and exclusive deals.
Through such promotions, you can captivate new customers while cherishing the loyal ones. Moreover, instilling a sense of urgency through time-sensitive offers can spur customers into action. Consequently, with a well-crafted sales promotion approach, you can elevate your sales and enhance your profitability.
Where to Launch Your Promotional Campaign?
| | |
| --- | --- |
| In-Store | For retail businesses. Use eye-catching displays. |
| Company Website | Highlight promotions on homepage or special landing pages. |
| Email Marketing | Target existing email subscribers with clear calls-to-action. |
| Social Media | Good for B2C. Use paid ads for reach and interactive content. |
| PPC Advertising | Quick online reach, monitor ROI. |
Sales Promotion Ideas That Work
Free Trials
These trials grant users unrestricted access to products and services for a set duration without any charges. The objective is to let users experience the value your offering provides, hoping they'll be persuaded to buy once the trial period concludes.
Doscounts
Offering a discount, such as 20% off, serves as a compelling enticement, especially for prospects you've established a connection with. If these individuals appreciate your product/service and their primary reservation is the cost, the right discount can be the push they need to commit.
When you collaborate with other businesses, consider extending discount codes to customers who patronize both entities. Given that these customers already have faith in the businesses they frequent, and you're recognized as a trusted partner, they're inclined to perceive your offerings favorably. An additional discount can further motivate them to transact with you.
Coupons
Coupons provide a sense of privilege, as they extend special offers not available to every shopper. Contrary to universal discounts, vouchers can be offered as a token of appreciation for a purchase, a birthday gesture, or a nudge to subscribe to a newsletter. Being a physical (or virtual) entity, an effective voucher can spur a potential customer into action.
There's an underlying psychological tug; they might feel they're missing out if they don't utilize it. Moreover, one-off vouchers are generally less impactful on profits compared to perpetual discounts.
Buy One, Get One Free
Buy One, Get One' (BOGO) tactic involves offering an extra product at no cost to incentivize a purchase of the primary item. The initial product captures the customer's interest, while the complimentary item acts as an added bonus. Given that customers have a penchant for complimentary items, such an offer can motivate them to finalize their purchase.
Moreover, it serves as an effective method to acquaint customers with new products or services they might not have previously known about. All in all, the "buy one, get one free" promotion stands out as a stellar sales tactic that can bolster business revenues and draw in new clientele.
Social Media Giveaway
Leveraging social media contests can be a potent tool to elevate your business and boost sales. They serve as a straightforward yet impactful method to connect with a vast audience and generate excitement about your brand. Most of the expenditure for these contests stems from the prize, making them a budget-friendly promotional strategy.
Furthermore, they encourage customer interaction with your brand, fostering loyalty and trust. With a well-planned approach, social media contests can significantly enhance your sales and expand your business footprint.
Contests
Contests serve as promotional tactics where participants stand a chance to win a designated prize. They present engaging opportunities to bond with your audience. By organizing such competitions, you can elevate your lead generation and amplify your online visibility.
Seasonal or occasion-specific competitions are a favorite among promoters. For instance, offering a chance to win a gold necklace for Valentine's Day can significantly pique interest in your brand.
Flash Sales
A flash sale is a promotion that's constrained either by time or by the number of discounted products available. Such sales can instill a feeling of urgency among consumers, and can dramatically elevate sales as shoppers rush to seize the deal before it expires.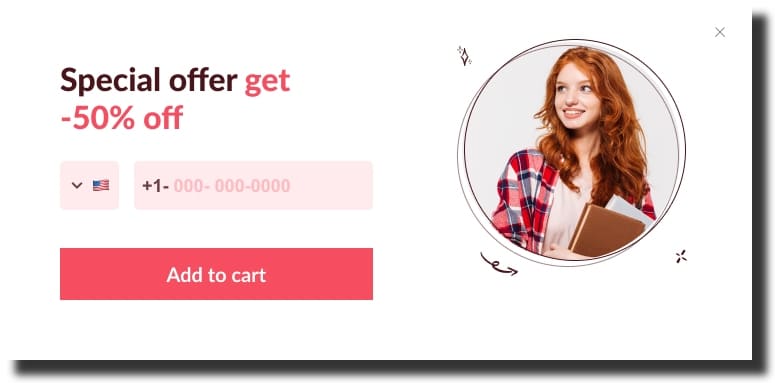 Leverage Popups to Engage More Visitors:
Several motivations might drive you to create website popup. These popups can entice new visitors, foster loyalty among existing customers, and amplify brand visibility.
Popups serve as effective platforms to highlight sales promotions.
Loyalty Programs
Looking to bolster your business's customer retention? Consider implementing a loyalty program; statistics show that it persuades more than 84% of consumers to remain loyal to a brand.
Cherish your customers by rewarding their fidelity and enticing them to buy from you again.
While loyalty programs prove beneficial over time, there might be occasional slow days. During such periods, offering double or triple points for a short span can motivate your customers to shop.
Seasonal Promotions
Numerous businesses roll out special offers tied to particular events or times of the year. For instance, presenting birthday or holiday-specific discounts can motivate individuals to shop in alignment with those celebrations.
Cashbacks
These sales promotional strategies designed to attract customers for repeat business. Each time a customer makes a purchase, they receive a cashback that can be utilized in their subsequent purchases.
This method fosters loyalty and incentivizes recurring purchases, as they present added value compared to competitors.
Promotions for Abandoned Carts
69.99% of online shopping carts are abandoned, leading e-commerce stores to lose potential sales due to this. Thus, a pivotal promotional strategy is addressing these abandoned carts.
In real-world applications, you can monitor when customers leave items in their carts without purchasing and then send a promotional email offering a discount or code, nudging them to complete the purchase.
Geo-targeted Promotions
Utilizing location-specific offers can be a potent tool in marketing your products and services by targeting customers within particular areas. These might range from discounts to complimentary samples or unique deals.
Furthermore, companies can harness location data to fine-tune the consumer experience, rolling out offers curated to align with users' preferences. As more businesses recognize its efficacy, this promotional approach is gaining traction. When executed correctly, geo-targeted promotions can compel customers towards purchases, thereby boosting sales and profitability.
Sign-up Promotions
Sign-up incentives can significantly enhance sales and pique interest in your enterprise. They not only lure in new patrons but also stimulate recurrent purchases from existing ones. The essence of a compelling sign-up incentive lies in presenting something customers deem valuable.
This could manifest as a price cut, complimentary shipping, a bonus item, or an offer solely reserved for those enrolling. Whatever the perk, ensure it tempts individuals to subscribe. After garnering subscriptions, maintain engagement through periodic emails or other touchpoints. This approach fosters rapport and sustains customer enthusiasm. Properly executed, sign-up promotions can elevate sales and expand your clientele.
Affiliate Program
Through an affiliate partnership, influencers and associated brands can earn a commission each time they channel a customer to make a purchase with you. By establishing these collaborations, you're tapping into a broader audience and propelling sales.
Bundling
When you have products that complement each other or enhance their value when bought collectively, think about offering them as a package deal. Such deals appeal to potential buyers who appreciate added value. After all, they receive a discount on the collective set of items!
Gift Cards
Gift vouchers are gaining immense popularity. They serve as an excellent tool to draw in new clientele, appreciate the loyal ones, and foster sustained loyalty. They're especially potent in spurring sales during festive seasons.
Their flexibility allows them to cater to a wide range of budgets, from nominal values for single users to more substantial amounts for bulk acquisitions. Moreover, their distribution is straightforward. Beyond simplifying the shopping experience for consumers, these vouchers also furnish businesses with critical data on customer purchasing patterns.
Subscribe & Save
The subscribe & save program stands out as an exceptional sales promotional strategy for businesses. It encourages customers to enroll in regular orders, generating a consistent revenue flow for the business while deepening customer relationships. Not only is this program simple to initiate, but it's also adaptable to each customer's unique needs.
Lifestyle Discounts
Lifestyle discounts offers are an effective tool to draw in new clientele and retain the existing ones. These deals can be customized to appeal to particular groups, like families or students. By providing savings on essential or desired products, you're increasing the likelihood of a purchase.
Plus, these special offers foster loyalty, enticing customers to come back for continued discounts. In essence, lifestyle savings offers serve as a powerful strategy to elevate sales for businesses of all sizes.
Exclusive Deals for App Users
Promotions exclusive to app users can significantly boost sales and lure in more clientele. Providing special offers or perks to those using your app can motivate them to engage more frequently and amplify their purchasing activities. Such exclusive deals can also foster app downloads and user involvement while appreciating dedicated customers. When strategized and implemented effectively, these promotions can bolster sales and cultivate a devoted customer community.
Referral Discounts
Leveraging referral discounts can be a powerful tool to enhance brand exposure and attract new clients. By providing incentives to existing customers who bring in new ones, you not only motivate them to spread the word about your business but also strengthen their bond with your brand.
This sales promotion idea offer myriad advantages like heightened brand recognition, strengthened customer loyalty, and increased sales. Moreover, it's an excellent way to show appreciation to your dedicated customers, making them feel esteemed.
Happy Hours Campaign
This sales promotions idea can serve as potent tools to enhance sales and foster customer allegiance. By featuring special deals or offers during designated times daily or weekly, businesses can pull in a larger audience and motivate them to elevate their spending.
These campaigns can be strategically employed:
to spotlight new offerings;
amplify brand awareness;
show appreciation to steadfast customers.
The crux of a successful "Hour of Joy" campaign lies in striking a balance where offers are alluring enough to captivate consumers, while ensuring the business remains profitable.
To Sum Up
When deciding on the ideal sales promotion tactic, it's crucial to align with the preferences of your target demographic.
Do they lean towards free trials? Or are they on the lookout for discounted products?
Regardless of your chosen approach, ensure your promotion integrates compelling elements like urgency and scarcity.
Should you find yourself caught in the crossroads of decision-making, with expertise in digital marketing solutions, UPQODE can help illuminate the best path forward, ensuring your campaigns resonate powerfully with your target audience and give your business the competitive edge it deserves.