Social media is one of the most important components of our lives today. Our lives revolve around it and we mostly live in the worlds that we've created for ourselves within it. The benefits of social media have no end. With that being said, one can't entirely put its downsides out of the equation either.
We often hear the term "Social Media" thrown around in media but do we really understand what it is and everything that it entails? I doubt it. It's become an industry in its own and every industry has its own jargons, terminologies, technicalities, tools, and ways of working.
There are a lot of advantages and disadvantages of social media and this article is designed to give you a complete understanding of that.
What Is Social Media?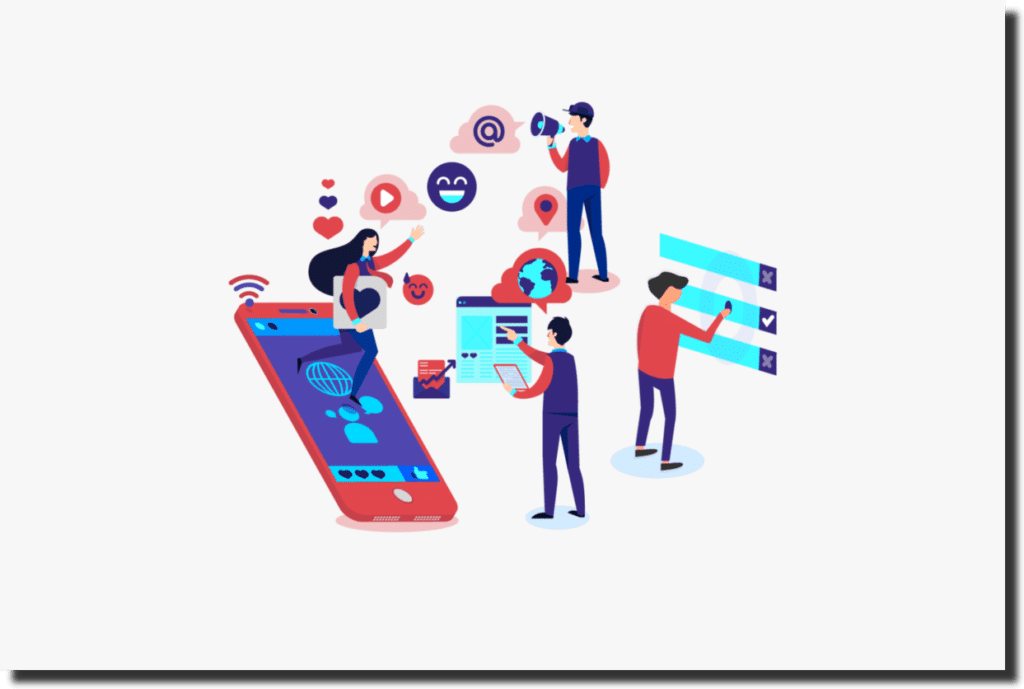 We often associate the term "Social Media" with Facebook, Instagram, or Twitter. That's become the go-to association of the term, right? But is that all it is? No, it isn't. There are hundreds or thousands of different definitions that you'll find for this specific term. One of the reasons why that's the case is because there's no consensus on any one definition.
Technologies that we used to use a decade ago have become obsolete. Such is the pace of rapid technological development. Technologies at our disposal right now are evolving at a much faster pace than ever before. That is another reason why you can't know for sure if something can be classified as social media or not.
Social Media is evolving as well. The definition is evolving with it. A general, textbook definition of the word, however, describes it as:
"Websites and applications that enable users to create and share content or to participate in social networking,"
This aforementioned definition does make things a little easy to classify some of the widely used tools available at our disposal. But, what it does, is give us an essence of what the term entails.
The single most important thing to classify anything as "Social Media" is interaction. Here, however, there's another distinction that we need to make clear. A website that allows comments as an 'add-on' to the content of the site can't be counted as "Social Media".
On the other hand, a website whose design and infrastructure are based all around the interaction between people can definitely be counted as one.
This should make it a little easier to make the distinction between which sites classify as "Social Media" and which don't.
There are a few important components that all social media platforms embody. Here's a list of a few:
Communication
Communication is the exchange of information between people. Social media thrives on information. In the blogging world, WordPress and Blogger are some of the most recognizable platforms used as communication tools where people can write their own content and allow other visitors or readers to comment.
Social networks such as Facebook, Twitter, Instagram, and TikTok also do that. It also takes it a few steps further where you can send a 'Friend Request' or a 'Follow Request', share your personal details, pictures, videos, events, and message others.
Collaboration
Collaborative tools are incredibly useful as they allow multiple people to work on something together. This is what gives them a 'social' aspect. Let's take the example of Wikipedia. We all use it, right? It's the go-to site for all of us who want to find out information about something or someone. It's extremely useful and widely collaborative.
Many people update Wikipedia simultaneously which allows us to get access to all the current and past information about our search queries. It's an online encyclopedia that can never get outdated because of these specific practices.
Google Docs is another fine example. It allows for us to work on something while simultaneously having a collaborator view it and add or subtract from the piece. It's convenient and saves so much of time and energy.
Gone are the days when you'd need to wait a couple of days before you could present the draft of your copy to your boss for approval. Now, you can just send them the Google Docs link and let them make the corrections and add notes directly.
Cloud-sharing apps like Dropbox, Google Drive, and OneDrive allow for you to have a central folder where you can drop all of your important (or unimportant) information, files, docs, pictures, videos, etc. and give the link to anybody you wish to pass on that information to.
You don't even need to grab a hold of a flash drive to share data anymore. It's just up there, in the cloud, waiting to be accessed and uploaded (or downloaded).
Reviews and Opinions
A lot of us look for reviews before deciding on an important or expensive purchase, as it should be. Whether it's a new Thai food place across the town or a new iPhone, reviews matter because they can save us the hassle of wasting our time, energy, and money – all of which are extremely valuable to us.
Moreover, when it comes to opinions, not all blog sites can be well-regarded. There are so many of them. Everybody has an opinion. But the right platforms can amplify your opinion with the help of other people's 'Likes' or 'Upvotes' to validate it. This is where websites like Quora and Yahoo Answers shine.
These aforementioned websites are well-regarded and well-established enough to warrant an audience of millions, every month. Some people have questions, some have answers. These platforms connect both and give them a chance to get what they want.
There are other websites as well that thrive on reviews and opinions. Some that I can think of include The Verge, CNET, Amazon, etc. They include all types of consumer products and more.
Expert reviews are also shared while customer reviews also play a major role in any potential customers purchase decision.
Entertainment
If there's one thing that COVID-19 has taught us, it's that people love interacting with each other. The physical absence of which gave an unprecedented boost to online interactive activities. Whether it be through Netflix's Watch Party or online multiplayer video games – all received maximum boost during quarantine and it is bound to either stay this way or increase even more in the future.
Media Sharing
Media in the shape of music, video, or photos is also extremely popular. Platforms like Spotify have replaced CDs and digital downloads to give rise to streaming. People can stream all sorts of music within an instant for a subscription fee. They can also make playlists and share them with their friends and listen to what their friends are listening to.
Platforms like Flickr allow people to upload pictures and share their links. Pinterest allows people to bookmark interesting ideas, pictures, and information.
Websites like YouTube and Vimeo are great options for uploading and sharing video content. YouTube allows everybody to share their videos with the world and engage with them.
People can engage with you by 'Subscribing' to your channel, turning the 'Bell' notification on, 'Liking' your video or by sharing it.
Benefits of Social Media
1. Large Audience Reach
Social Media can act as a huge catalyst of growth for your business. In today's time, having an online presence on social media is a necessity. If you're not visible on any social media platforms, your chances of reaching out to the maximum amount of potential customers are absolutely zero.
It doesn't matter what kind of business you're in, having a social media presence can instantly give you the ability to reach the maximum number of potential customers or audience.
Businesses need leads and leads are generated through social media websites. Whether it's Facebook, Twitter, Instagram, LinkedIn, or Pinterest, etc. You can engage them and interact with them and generate many opportunities to extract sales from them.
It doesn't matter if you're a new business or an established one. There are a lot of benefits that one can enjoy from these platforms. It is a great equalizer for new businesses who're vying for customers' attention. In the online world, if you follow a few simple steps, nobody can stop you from reaching the same customers as established brands.
2. Customer Interaction
Any marketing strategy devoid of customer interaction is bound to fail. Marketing is all about communication and messaging. These strategies are made to enhance the brand image and to preserve it from any smearing.
Gone are the days when it'd take a monthly, quarterly, or yearly sales report to understand if a product has failed. Nowadays, all it takes is a few days to know how the customers feel about a product. The customer is King and they are always right.
If you don't listen to them, don't expect to be in business for long as your ignorance might cost you your business. Engage with them, get to know them, provide top-notch customer service whether it's through Twitter, Facebook, Instagram or any other platform.
Don't take everything seriously either. There's a great appreciation that customers bestow upon businesses that don't take jokes seriously. A great example of this is Microsoft's Xbox Series X on which a lot of memes were made. Its shape was made fun of because of its resemblance to a fridge.
What did Microsoft do? They manufactured functioning fridges in the shape of its console and sent them out to YouTubers and influencers. The response? Ecstatic.
Feel the room and act accordingly.
3. Organic Content
One of the biggest advantages of social media is that you can generate your own, organic content for free. You don't have to pay to get access to valuable, potential leads. A lot of companies use these platforms to generate and interact with leads.
There is no limit to how much content you post. You can deploy all of your content resources to generate an insane amount of interest in your products and projects. Whether it's through the use of photos, videos, or just updates – there's a high chance of generating a response through each of them.
4. Access to Advertising Tools
Organic posting is a great option and a very solid one. The results might be slow but the conversions will definitely be worth it. However, you can also employ the use of social media platforms' paid advertising tools.
You can create advertisements for your products and projects through almost all the big social media platforms. Whether it's Facebook, Twitter, Instagram, YouTube, etc. They are all great and they all provide great value for money.
You can tailor your ads in a way that they can generate the exact result that you're looking for. These platforms have incredible algorithms that allow you to find the customers that would be most interested in your products.
Gone are the days when you'd have to save up money just to spend it on an expensive billboard or an overpriced spot in a newspaper or magazine without any solid returns. These days, it's all simple and cheap. Anybody can benefit of these services.
Whether you want to spend or less, depends entirely on you, your business, and your resources.
5. Redirecting Traffic From Social Media
Let's suppose you're an online portal for real estate in your local town. Your business is your website. Therefore, you need maximum traffic to be diverted to your website so that you can generate sales.
It can be extremely difficult to find great success on search engines without extended SEO practice. It's a known fact that Google's rankings are not an easy nut to crack. Therefore, a quicker and easier way to send traffic to your website can be through your social media platforms.
Post engaging content and add the link to your website so that the people who've shown interest in your products can check out more details and perhaps become closer to conversion.
6. Performance Evaluation
Social media is far more simple than other ways of evaluating your marketing performance. If you book a billboard in a traffic-heavy area, it's going to cost you a lot and while you may take pride in the fact that you're going to be attracting a lot of eyeballs, there's no certainty as to how many people have paid attention to it or responded to it.
The same is the case with running print or TV ads. Social media, on the other hand, gives you access to a lot of analytic tools that help you see how your campaigns have performed. It's so simple.
You can track your campaign and also see how many people have interacted with your posts in the shape of likes, comments, shares, etc. Whether it's impressions, clicks, bounce rates, or conversions – Social media is the way to go if you want to assess your performance objectively with proper metrics.
This will help you save a lot of money as instead of wasting away your money on campaigns that don't give you guaranteed results, you can actually see if your money was put to good use here.
7. Social Media Is Free to Use
One of the best pros of social media networks is the fact that some of the most popular ones are free to use. You can get access to billions of people who're using the platform, as long as you know how to reach them.
That can be through organic posts or paid, promotional posts that allow you to reach that audience that you want.
Moreover, it's not necessary that you opt for these social networks' paid advertising models. You can always create your audience through organic means. It will take a lot more time to gain a loyal following but it will always give you a loyal following that is genuinely interested in your product.
These are the people that are going to be buying your products. Therefore, be calculated with your approach. Understand what your goal is and create a strategy accordingly.
8. Get Viral
Viral content or getting viral are phrases that have now become a common topic among Marketing teams and audiences alike, all around the world. Every company wants to create content that goes viral instantly.
They want their ads or campaigns to become an instant hit and remain a topic of discussion. It is, however, not an easy thing to do. Companies are nowadays known to spend millions of dollars in their pursuit of getting the next big viral campaign but it doesn't always work like that.
Sure, if you have enough resources, you might get close to doing it and also become successful in this pursuit, it doesn't always work like that.
Content that mostly becomes viral is content that people can associate with. If they resonate with it, they will share it, like it, and comment on it. That's the organic way of doing it and anybody can do it. You just have to have genuine, engaging content. If you're going to invest in paid ads, make sure to buy social proof. For example, buying Instagram likes. Social ads with lots of likes get more engagement.
9. Customer Insight via Social Media
Knowing about what your customers like and dislike can help you a lot in making sure that your products are attractive to them. These days, people are spoilt for choice. If they like something and they can't get it from me, they'll get it from someone else.
It's all about convenience.
So, in a world that has reached this level of competition, the more you know about your customers, the better it is for your business. Social media helps you do that.
They let you gain valuable information about your customers which you can make and promote your products around in order to get the maximum benefit. Social media lets you do that by letting you know how your customers feel about your products, your brand, your quality, your campaigns, etc.
Customers are more than willing to tell a brand how they really feel about their products on social media. Good and bad. It's on you and your brand to decide what to do with that information after that.
10. Social Media Can Be Your Testing Ground
Big companies allocate hundreds of millions of dollars (and more) to their R&D departments in order to come up with a product that is extraordinarily attractive to their customers. After that, they spend more money on their testing. Whether it's product testing or general testing to know how their target customers will feel about this product.
Even after that, there's no guarantee that their product will succeed. Social media helps you get a real-time understanding of how people feel about things. You can get a great understanding of the direction towards which they're tilting and you can pivot accordingly.
Sometimes, these decisions are made in time successfully, while other times it just simply isn't.
An example of this can be taken from Xbox's Xbox One console announcements during which they made their Kinect accessory mandatory for their console, disallowed sharing of used games, and featured an always-on requirement. It backfired immensely on them and while Xbox listened to the customers and removed these restrictions, by the launch day, it was too late.
Sony overtook them and capitalized on Xbox's mistakes.
There are pros and cons of social media, but nobody can deny that it's one of the greatest inventions of all time. If you use It correctly, it will only give you good results. So, the onus lies on you, how do you want to use social media?