You cannot afford to ignore responsive display ads if you want to take your marketing strategy to the next level in 2022.
Whenever you create a new Display ad on Google Ads, you always come across a default ad type option, also known as Responsive Display Ads. RDAs offer advertisers an amazing opportunity to maximize the performance of their accounts. Leaving them out of your marketing strategy is a grave mistake that results in losing real-time marketing opportunities to capitalize on.
If you are still reluctant to make Responsive Display Ads a part of your marketing strategy, this article is for you. Keep reading to learn how to boost your business marketing strategy with Responsive Display Ads.
What is the difference between display ads and responsive display ads?
If you work in the tech industry, you must be familiar with responsive designs. A responsive design adapts to every screen size and browser. Visual ads that automatically adapt an ad space are referred to as Responsive Display ads. These ads fit the ad space by adapting their appearance, format, size, and more.
The components of a Responsive ad designed for Google Display Network include:
Headline
Description
Multimedia (image, logo, or video)
Google responsive display ads
Responsive display ads google are different from traditional advertisements. The search engine automatically tests and changes the component sequence to suit your marketing objectives. It uses various headlines, multimedia, and description combinations to meet your campaign goals.
When should you use responsive display? – Step-by-step Guide
To start creating responsive display ads in Google Ads, you need to follow the steps below:
Log in to your Google Ads account;
From the left-hand navigation panel, choose "Display campaigns";
On the same side, select "Ads & extensions" from the page menu;
Click on the "+" button;
Choose "Responsive display ad";
Choose which ad group you want to be a part of.
Once you are through with the steps mentioned above, move on to add the following:
Add your final URL
Your landing page is your final URL, where the users will ultimately land after clicking on your ads. Make sure you align your ad content with the landing page because the latter will support the content. You can create a custom landing page with personalized ads to drive users to land on it. You can't be sending your users a blog post for summer shoes when you need to send them an ongoing sale advertisement for shoes.
Upload your logos and images
Make sure you upload your logos and the related images to the responsive display ad. You need to upload at least one square and one landscape-size picture per Google requirements. You can skip on adding logos, but it is recommended to upload them. This will help build visibility and brand awareness amongst new and old users. Always remember to follow the Google specifications for logos and images.
Text on the image should always be less than 20%, and you can upload up to 15 images. If you provide multiple assets to Google, it will optimize them to find the best creatives that can work for ads.
Some of the options Google provides for adding images are as follows:
Upload: You can upload images directly from your computer for custom ad campaigns or even the drag-and-drop option.
Website: You can enter the website URL, and Google will do the rest, but it will only upload images that meet the size and dimension requirements.
Stock Images: You can find relevant stock images for your company but search with URL, words, or phrases.
Upload your videos
You must first upload YouTube videos to run Google Ads on them. You can add up to five YouTube to your responsive display ads. The logo and one of your marketing images will appear if you use videos.
Write your headlines
After uploading images and videos, you can add headlines that you should work on beforehand to avoid spending too much time after posting. A character counter tool always helps here as the character limit is 30 characters for headlines and 90 characters for long headlines or descriptions. In many cases, your display ads will have a 30-character headline, while other times, they will have a 90-character headline. Make sure you think thoroughly before writing a unique headline.
Responsive display ads best practices for writing headlines include:
Write your descriptions
Descriptions are to be added to the Google ads with a 90-character limit. You can mention different things in this description, including uses, selling points, or a promotion followed by CTA. Google will mix and match different headlines with the descriptions, so make sure you write it accordingly to fit any ad.
Add your business name
This step is easy if you have a brand name with less than 25 characters. If you have multiple names for your brand, make sure you use the one your users know. For a responsive display ad, it is best to use "MyStore" instead of the legal name "MyStore Inc."
Customize your CTA text
After adding the assets, headlines, description, and known business name, you need to add CTA. There are standard CTAs that are available, which include:
Shop Now
Apply Now
Download
Sign Up
Learn More
Contact Us
Book Now
Visit Site
Get Quote
See More
Subscribe
Google offers various CTA options to choose from. If any CTA doesn't match your requirements, you are not bound to add it. Always try to offer CTA in advertisements for your users to land on the page and make the final purchase.
Select Custom Colors
You can pick and choose the colors according to your brand theme. You can switch them between logo and accent colors according to the brand guidelines. It's important to know that these colors will not always be visible on the display ad. These may vary according to the publisher's settings. Restricting the site display based on specific colors can affect the reach.
After thoroughly following all the steps mentioned above, you can simply click "Save" and launch your ad!
Why make Responsive Display Ads a part of your marketing strategy?
The popularity of Responsive Display Ads can be attributed to the growth of mobile devices such as smartphones and tablets. Like responsive web design, RDAs adapt to various screen sizes, including a smartphone screen to a full-sized desktop display.
The prices of online display ads are getting higher with the advent of new digital marketing techniques. With ad campaigns getting more expensive, choosing the best ad platform is important. One wrong decision can destroy your entire marketing budget. Investing in and running responsive display ads is the best way to get the most from your marketing budget.
A carefully crafted Responsive Display Ad campaign can increase your brand's awareness, lead generation, and nurturing, leading to more conversion.
Marketers love Responsive Display Ads for various responsive display ads benefits, including time efficiency and affordability. RDAs drive strong conversion rates. Most advertisers report that adding these ads to their campaigns has generated more traffic and improved conversion rates.
The best way to improve Display Ad Campaigns is to run Responsive Display ads along with Image Ads. It boosts the performance of your marketing campaigns, significantly improves impression volumes, and improves conversion. Additionally, the cost per conversion for these ads is considerably lower than Image Ads.
So how do responsive display ads use automation to do that? Well, there is a combination of factors involved:
Improved Reach
The use of mobile devices has significantly increased over the last decade. Young or old, everyone uses a smartphone. Since RDAs can fit any screen size, it allows marketers to convert a wide spectrum of audiences that use different devices to connect with the brand. Unlike set-sized Image Ads, RDAs adapt to the ad space and improve User Experience. Increased impressions lead to more clicks and create more opportunities for conversion.
RDAs are Google's priority
Google responds to RDAs better than Image Ads. There is no official statement to confirm this. Based on countless real-life experiences, advertisers with RDAs often perform better and maintain a higher SERP position than marketers relying only on Image Ads.
Get the best with Google's MLO
Google's Machine Learning chooses the ideal ad combination for your marketing campaign. The outcome is based on your objectives, performance history, asset content, and target audience. It optimizes your ad to reach and convert the right audience. No matter how experienced a marketer you are, you cannot compete with Google's detailed MLO for each ad impression you receive.
Fast And Efficient
You need to keep several factors in mind while running an ad campaign. You need to identify your target audience and determine the best way to reach them through digital and traditional media, including print ads and television.
Unlike print media, your job isn't done as soon as you design and send the media for printing. With online ads, there is always room for improvement. Since your audience uses multiple devices to access your website, you might need to ensure that the ad perfectly displays in the available space. This is important to ensure a seamless user experience.
Responsive Display Ads do just that for you quickly and efficiently. RDAs automatically adjust their ad assets to fit the provided ad space. Retargeted or Responsive Display ads save the time and effort you need to create a separate interface for each screen size.
Boost Customer Engagement
As discussed earlier, Responsive Display ads offer countless marketing opportunities to capitalize on if used correctly. Goal-oriented display ads are retargeted to reach the relevant audience. These ads are run on most mobile apps and websites your target audience frequently visits. You can increase leads and generate more sales by boosting customer engagement using Responsive Display Ads.
Higher Return On Investment
Greater ROI is an added benefit responsive display ads offer. Since display ads cost more than traditional marketing means, businesses expect them to generate a higher return on investment. They are designed to reach the audience interested in the particular business's offerings. Therefore, they offer a higher conversion rate.
The chances of these ads being clicked by the relevant audience are higher than any other advertisement type. Therefore, RDAs are an incredible source of generating more leads and big sales.
Save Time with Responsive Display Ads
Responsive display ads are automatically designed to target a wide audience range. These paid advertisements are optimized to fit any screen size and device. This saves you the hassle of creating a separate ad for the devices your audience access your ads through. This leaves you with one less responsibility and the peace of mind to work on your core business operations.
How to make your Responsive Display ads 10x better?
Responsive Display ads can dramatically increase your conversion rate. Looking to make the most of this opportunity? Here are some tips:
Preview your ads
Before you launch your responsive ad, you should review them. Ensure it looks how you have envisioned. Previewing your ad on desktop and mobile devices before hitting the launch button can improve the ad's quality. You can also fix any issues you might have missed while editing. For example, you can tweak the description or change the image to make it more appealing.
Use ad rotation
The best way to improve your Responsive Display ads is to use ad rotation. Ad rotation settings offer enhanced insight into your ad content and its performance. Google ML chooses your best-performing ad version to show the audience by default. But this setting only shows the top performers, putting the new ads at a disadvantage.
The best way to tackle this problem is to use ad rotation settings. Get faster data on your latest ad assets by updating the settings to "Rotate ads indefinitely." All you need to do is to go to the ad campaign's setting and find the "Ad Rotation" option. But if you are not creating new ads to manage your ad campaign, go with the "Prefer best performing ads" option.
Ad rotation prevents ad fatigue if you combine it with frequency capping.
Update your assets
Keep updating your ad assets. No matter how good your responsive display ad performs, you must keep updating your campaign with new creative assets. It is safe to stick to your top performers. But creating new ad assets will put your top performer in competition with fresh content, and you may also find a new top performer.
What is the difference between responsive display ads and Google responsive display ads?
Responsive display ads are visual ads with auto-adaptive sizes, appearance, and font and always feature descriptions, headlines, logos, images, and videos. On the other hand, Google's responsive display ads are different from the responsive display ads or other traditional ones, and they adapt to the changing creatives automatically. An example to understand the latter is Google experimenting with different headlines, descriptions, and media combinations. It will only pick out the best combination that it can optimize to reach your main goal.
What is the importance of responsive display advertisement?
Why invest time, effort, and money on responsive display advertisements when users will just see them when they are going through different content and not when they are actively searching for it? Responsive display advertisements have changed how advertisers approach the pay-per-click (PPC) advertising model.
Build brand awareness
The biggest goal any marketer has is building widespread exposure for the brand, which helps them in the long run. This brand awareness reflects on overall sales and helps in generating leads.
Differentiate your brand
You need to find different ways to stand out from your competitors, and the best way to do that is to find different brand elements and build different visual imagery for them. This helps establish your brand in the minds of the users.
Improve ad performance
If people know your brand and are familiar with it, they are more inclined to engage in your marketing campaigns than new users.
When should you use responsive display ads?
You need to use a responsive display to achieve a better response rate and a higher click-through rate. The reason is that you want to optimize the features and get the maximum returns on the efforts that you put in. The responsive display ads benefit you in achieving immediate action on your
Examples of Google Display Ads
Need help and inspiration to create an amazing responsive display ad with the help of the guide above? Here are some amazing responsive display ads examples.
Stellar Imager by CheapCaribbean.com
CheapCaribbean.com is on top of our list of examples for not just nailing its overall targeting but also using stellar imagery to attract users. With its beyond-gorgeous images, there is no need to incorporate out-of-the-box copy. The prices and different packages speak for themselves. They claim to be cheap, and they are in all aspects!
ClickCease taps into the power of fear
The emotional copy on this display advertisement asks for a response as it calls out users to save themselves from click fraud. The message in the copy is enough to grab the users' attention and help them sell their software. It creates fear in the users and pushes them to make decisions based on their emotions at that moment.

As no one who owns a PC wants to fall victim to click fraud, this ad will push them to protect their data. The only thing missing in this ad is a brand name to help users build a connection with it and for them to recognize it easily.
Wikibuy makes an undeniable value proposition
Sometimes the best approach moving forward is to be competitive. This is the key model Wikibuy follows with its digital ad comparisons. A direct comparison and simple value proposition: Stuff is cheaper when you buy it from us. There is nothing too crazy even in this comparison; it's simple. You can see all the major elements in it, and that is what is needed in competitive markets.
Alteryx nails the headline (and offer)
Alteryx is a software solution for data science and analytics, and they came up with this amazing ad copy to take play with the aspirational sentiments of the viewers. Moreover, by adding the subheading, they put forth a value proposition: We make analyzing data easy. They have an eBook that they are offering instead of a crash course like most software solution companies would do. It adds value to their model and helps them make revenue too.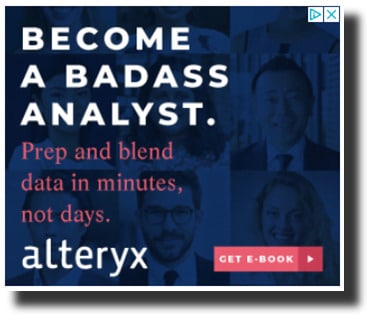 It is too personal with LinkedIn.
For B2B marketing, there is nothing better than this ad by LinkedIn. The copywriting technique here is more of a psychological approach to things, called FOMO. This is a clad without another extra information in it.
Key Takeaway
Responsive Display ads hold immense value to advertisers. One of the reasons is their ability to target specific demographics. These ads offer a uniform user experience across every device, from desktop computers to smartphones. You can run them on various devices, making them an interesting marketing tool for businesses that want to reach and convert the right audience.
Want to run responsive display ads for your business? Choose the best digital marketing agency to do this arduous task while you focus on the money-making aspects of your business. Goal-oriented display ads will generate a crazy amount of leads for your business and drive more sales.