Want a real estate web design that represents your name and showcases your services accurately? – A better design will help you get more customers for your company.
With an increase in online activity and internet access all around the world, most businesses have either already developed their online presence or are in the process of doing so. Having an online presence has become a necessity for businesses in all sectors, all across the world.
People like convenience. They want to be able to pull up their smartphones and instantly look at the product or service that they are considering buying, in order to have a better look at it, compare it, and read about the details – whenever they want, however they want, anywhere they want. A great real estate website design has to adhere to all these factors.
Why Do You Need a Real Estate Website?
Convenience is the game and you, the business owners, are the players. In order to win, you need to make sure that you make the right moves and stick to a strategy that's going to yield you long-term results.
Just like all other sectors, real estate has gone digital as well. There are many portals available online these days that can help you display your real estate properties for sale or rent. But then again, those don't work well for individual real estate businesses.
If you're in the business of real estate, hoping to get more clients, your best bet would be to have your own website.
According to the National Association of Realtors, more than 51% of people purchased a home after finding it online. That should be enough to convince you of the medium's power.
The Benefits of Having a Real-Estate Website
Whether you have a real estate brokerage firm or you're an independent real estate agent, the benefits of having a real-estate website are going to do wonders for your business.
1. Brand Awareness
As I mentioned earlier, people want the convenience of looking up at things online before making purchases. If your real estate business has an online presence through your official website, it will help you cater to them much more easily. When people, for example, search for certain properties in the locality that you are located in, your website will pop up and they can then look at the properties that you have listed.
2. Quality Leads
Chasing leads can be extremely daunting and thoroughly draining for any real estate agent. They have to devote multiple hours, at a stretch, of their day, prospecting. Moreover, they have to spend time on marketing and advertising too. This can be quite useless if the required results aren't achieved.
3. Credibility
These days, if you're not easily found on the web, your business might not be deemed as credible, especially if you're just starting out. Property decisions are quite important for people and the investments are usually very steep. Therefore, they wouldn't trust any novices to handle their investment.
Furthermore, they wouldn't want to get scammed because those things happen a lot, too.
4. Marketing
Whether you've got some new, interesting listings that you'd like to show, or some special packages, discounts, or events – you can easily showcase all of them through your website. It's going to not only help you cater to your audience but it'll also lead towards them finding the relevant information easily.
All in all, it'll help your business grow.
So, without further ado, let's take a look at some fantastic commercial real estate website designs that you can use as inspiration for your website:
Real Estate Website Design Examples
As you can see from this image, their website has an incredibly clean and subtle look to it, coupled with a lustrous design. They've featured high-definition pictures of their listings and navigating through them is awfully easy with their slider selections.
They've featured some fantastic copy material on their website which also makes it relevant for search engine optimization. Along with that, they've got separate property cards and video sections.
To round it off, their sidebar submenu is extremely useful.
Swanky, professional, and minimal. That's the look they are going for with this website. The interesting things that you could incorporate in your own real estate website include their search option in the top right corner, their animated menu that gives you the ability to custom navigate through their site, the use of multiple design elements, the effects used, the way they have integrated their property cards with Google maps, the presence of a filter option on the Auction page to search what you specifically want, and user profiles.
As you visit the website, you can see the approach they've taken – a little animated. Quite literally, they've got an animated, slider text that greets you. The website is adorned with Black, White, and Orange colors.
Moreover, they've gone with a stylish design that is perfect for displaying their work. They've also got horizontal navigation that allows you to transition through them smoothly. Hover effects and light animations are also an integral part of this website's design along with custom fonts, interesting insights and Team page, blog posts, and recent news.
This is an utterly fantastic website that perfectly encapsulates what the company is all about. Not only does it have a minimal and sleek design, but it's also quite pleasing to the eye and focuses a lot on the visual side of things. Pictures of properties are displayed right on the homepage, engaging you instantly.
They have wonderful video backgrounds, possess seamless multilingual functionality, have an interesting grid layout that is masonry-style. Not only that, but their design effects also consist of hover animation, sliders, and parallax.
All this and much more.
Real Estate Website Design Templates
To make your template search easier, here are some of the best real estate website designs, by some of the top real estate website design companies, that are going to provide you with great value: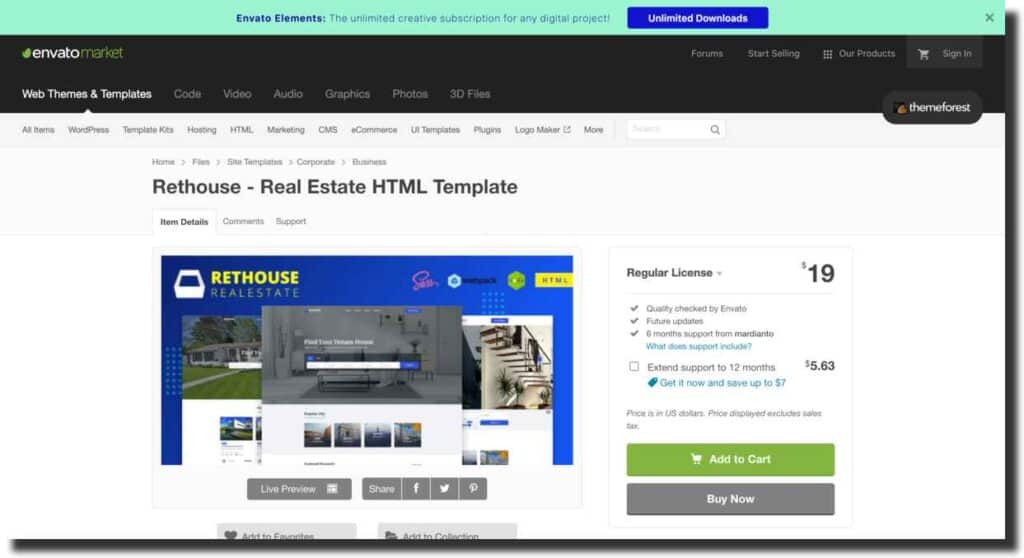 These were some of the best real estate agent website designs that you could use for your business but don't be limited by these. Feel free to explore other options and see which one fits your needs better.
How to Build a Real Estate Website Professionally
If you're one of those people that want a little more customization and want to create a bespoke website, fit for their business needs, you can get that, too. You could either choose real estate website design companies or individual real estate website designers for that, as long as you know what you want.
 Here's a step-by-step guide for how to make a custom real estate website design:
1. Domain
The first thing that you need to do is to get a domain name. A domain name is a unique web address that helps visitors and potential customers find you online. Just like your physical address, your web address helps distinguish you from the others and helps them find you.
For example: 'Facebook.com' is the web address or domain for the company Facebook.
For this purpose, you'll need to find a domain registrar online, to buy a domain off of. GoDaddy is one of the finest and most popular options for this purpose. Through their search bar, you can search for the domain that you'd like to have. If it's available, great. If it's not, they will provide you with other similar variants of the same.
Provided you don't like those names either, you can come up with something else.
These are the key features that your domain name must have:
Always go for the '.com' variant for your domain name. It's the most common, popular, and trusted form. It will instantly provide you with a solid start.
Keep it simple. You don't want an overly complicated web address. Your customers should find it easy to remember it. Don't complicate it unnecessarily.
Seek meaningful representation. Don't just name it something that doesn't directly represent your business. Unless and until it directly correlates with your business, it's not serving any purpose.
Even the best website designers for real estate agents will agree.
2. Hosting
In order for your website to function and load up, all across the world, you need to put it on a server. The server stores all of your site's data and then let people access it once they enter the web address.
You need good hosting servers. These days, you can easily find a great hosting service that provides you great value for the money. You can look around options as much as you like but you need to know what you require of the server storage and services.
I'm going to assume that you're a small real estate business, therefore, your needs won't require you to go for the top tier options. You need something that does the job for you perfectly without breaking the bank.
So, my recommendation would be BlueHost. It provides you with great packages for affordable pricing.
3. Initial Setup
Now that you've gotten your domain and sorted the hosting, you can finally set up your website. You can use other CMS options as well but from our experience, WordPress is quite phenomenal at it so we're going to use that as an example here.
The biggest benefit of WordPress development is the fact that you can do so much with it without even knowing a single line of code. This has enabled so many people to get the desired look for their websites. You don't need to be technically savvy to work your way around WordPress.
Moreover, it's free and Opensource, which means that you can customize it accordingly; it provides multiple great features that are going to help you enhance the look, feel, and structure of your website for the better; just because it's intuitive and doesn't require technical expertise, doesn't mean that professionals or technical people won't like it. On the contrary, it provides a great deal of value to that niche as well.
Thereafter, you install WordPress onto your site by logging into your Bluehost Cpanel, going to the website section and clicking on 'Install WordPress'. After clicking the install button, you need to enter your domain name. If you open the advanced options, you'll find that you can modify your email address, username, and password for your WordPress login.
Finally, you'll have to read and agree to the service agreement and license and click on the 'Install now' button. That's it.
4. Adjustments
Now that you're past the initial setup of your website, you can get into the side of the adjustment. You can make your website as personalized as you'd like and insert or delete any elements that you want.
You can upload your logo and put your business name in the site title, change the colors of the website including the background, foreground colors, etc., add pages and create a menu, add and adjust different elements and sidebars, etc.
5. Adding the properties
Now that everything is done, you just have to add the properties to your website and you can continue to make changes as you see fit, as you move along.
This is a basic guide to making a professional real estate website but if you feel like you might not be tech-savvy enough, you could always seek professional help and it'll give you the best web design results possible.