Wix is ​​a powerful platform for creating business websites. It is one of the most promising designers to date. Wix is ​​constantly updated with new templates and features.
Even free Wix themes are ​​well-suited for quality graphic content delivery that looks aesthetically expensive. Social network or dating site you can hardly do on it, but any site of medium volume and complexity of the structure – easily. The result is very attractive and is relatively simple.
Benefits of Using
Wix Themes:
Speed ​​and lightness. Designing a website using a designer service such as WIX is very simple and quick. Creating a business card site can take several hours. To do this, you need to choose a plan, choose a template from which you will make a website, fill it with content and the site starts working.

The convenience of the interface. Wix and similar services are thought out to the smallest detail, offer functionality that allows you to implement your plan in a few clicks without having programming skills.

Saving. A site on Wix can cost you for free. At a minimum, most sites provide a free trial period at the time of development, as well as free site placement on a subdomain. But not on your own domain. And with advertising.

A large number of beautiful w

ix

templates. Various topics of beautiful and modern Wix templates for creating a website.
80% of people stop doing business with a company after a bad experience on its website. This alone proves that it is very important to have a well-functioning website if you want your online store to be successful. Do you need an online store with all the tools you need to build, manage, and grow your business? A lot of eCommerce Marketing Agencies create their own websites on some of the largest website design platforms in the world. Wix was one of the first website design platforms to make it easier for business owners to edit the basic website design.
We selected 45 beautiful website templates of Wix. All of these free Wix free templates are suitable for many types of businesses. Check them out!
Real Estate Wix Website Templates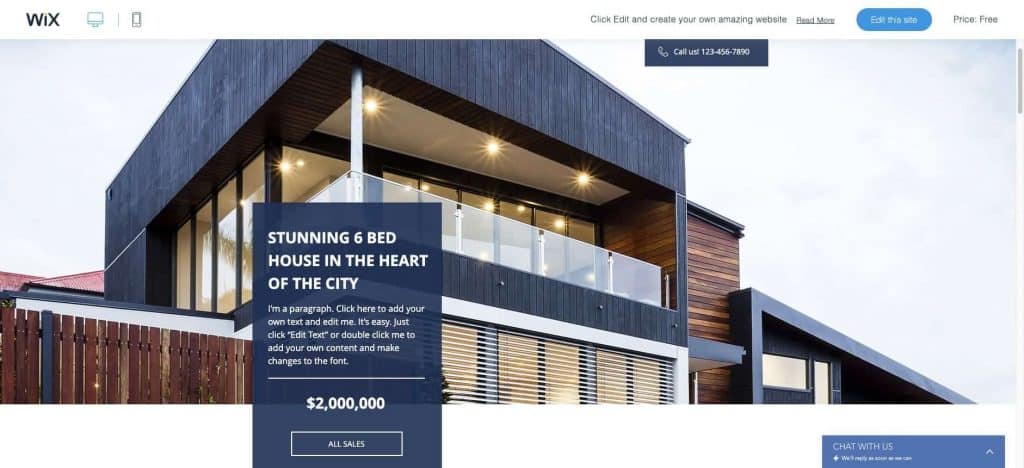 The best choice for: Real Estate Agents, Brokers and Property Developers.
A professional website template for a modern and successful real estate company. With a wealth of image galleries to promote your latest properties and separate pages for both sales and rentals, this template is almost ready to go. Simply customize the text and upload images to get your real estate company on line today!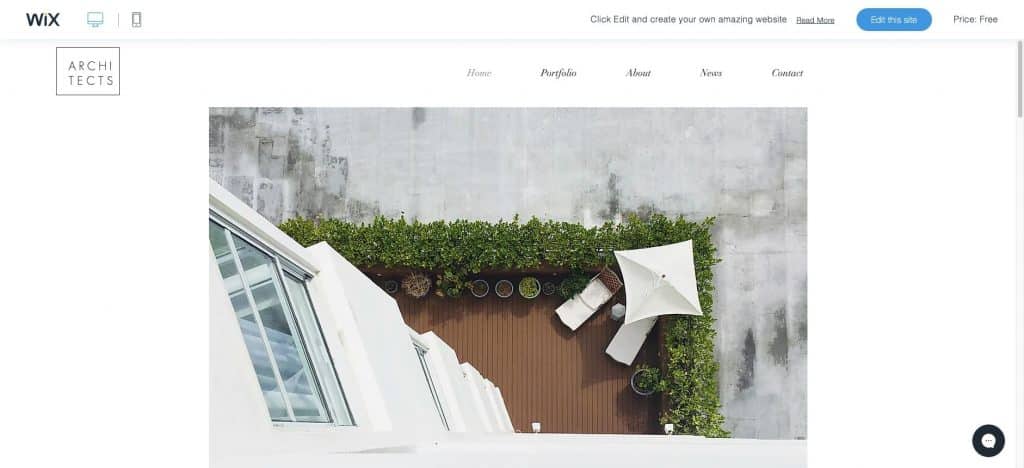 The best choice for: Residential Architects, Building Designers, Architectural Engineers.
Showcase your best architectural creations with this clean and modern template. Quickly upload images of your projects with the ProGallery. And highlight your favorites with an eye-catching parallax scrolling effect. Select this site and start sharing your talent with the world!
The best choice for: Real Estate Agencies, Real Estate Agents, Property Management Groups.
With its modern, chic, and fresh design, this Wix template will take your real estate agency to the next level. Show all of your properties in one clean and concise landing page, specifically designed with real estate agents in mind. With parallax scroll features, and the option to add a stunning media gallery of all of your property listings, your real estate will be selling like crazy. It's easy to get started creating your own website. Simply click 'Edit' below to let your real estate do all of the talking.
The best choice for: Real estate advisors, consultants, and freelancers.
Catch your client's eye with this modern yet welcoming design. The clean layout perfectly showcases your professional background, services and projects. Above all, it is easily customized to make it your own. Click edit to begin today.
The best choice for: Architects, interior designers, portfolios and creative professionals.
Clean and simple, this template is the perfect foundation for your designs. With plenty of room for photos and text, this template is perfect for showcasing your designs and accomplishments. Let this template of Wix be your blueprint to success!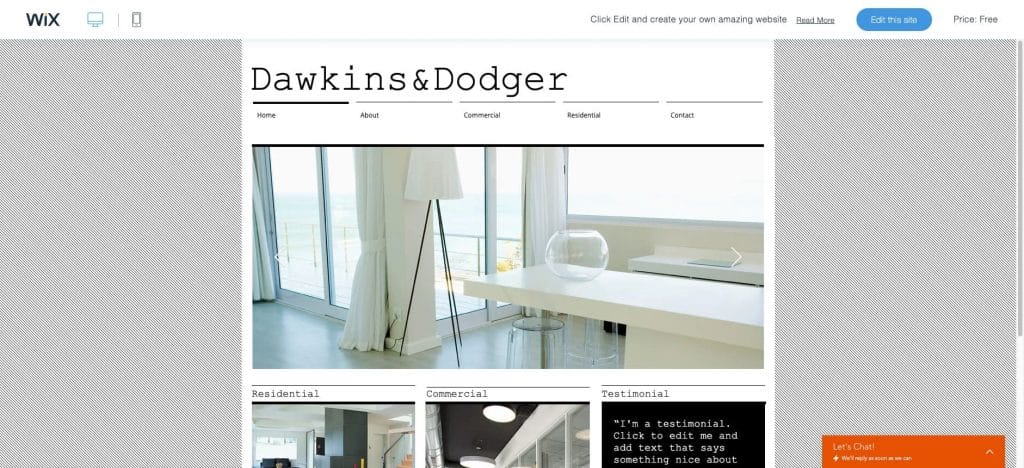 The best choice for: Creative professionals, architects and online portfolios.
This clean and modern website template is the ideal blueprint for architects and designers in any field. The generous space for both text and images allows you to show off your projects from every angle. Customize the design and layout to make your firm stand out from the crowd.
The best choice for: Architecture Firms, Architects, Architecture Companies.
Show off your business' style with this sleek and chic architectural website template. With stunning images and a design that makes your projects pop, your viewers will not be able to get enough of all that you have to offer. Simply click "Edit" to start crafting your own website today.
Technology & Apps Wix Website Templates
The best choice for: Applications, startups and high-tech companies.
Promote your company and attract potential clients or investors with this modern and attractive one page startup template. With parallax scrolling and easy to edit strips, it has never been easier to showcase your product. Simply click edit to begin personalizing the text, images, logo and more. And watch as you create the perfect landing page for your unique product.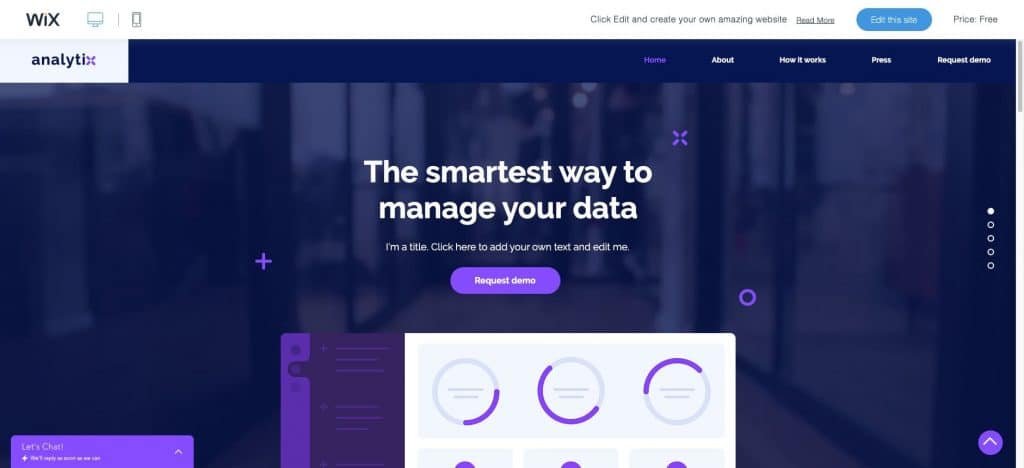 The best choice for: Applications, Apps, Developers.
Your business is growing fast, and it's time that you get noticed. We'll make sure you catch all the right people with this new and uniquely designed app template. With stunning background videos, eye-catching transitions, and sections placed perfectly for you to show off your business' vision, this is the website template that you have been searching for. Simply click 'Edit' below to get started today.
The best choice for: Educational and children's app developers, and start-ups.
Your awesome new app deserves a beautiful landing page. This template is perfect for highlighting your app's features, benefits, and media recognition. With App Store and Google Play links built onto the site, your numbers will increase in no time. Easily add your photos and customize the content, then click 'Publish' to go live.
The best choice for: Small businesses, professional agencies, marketing firms.
Bold, colorful and engaging, this landing page template is guaranteed to spark your client's interest. Easily add your own messaging and content to make it your own, and get online in no time!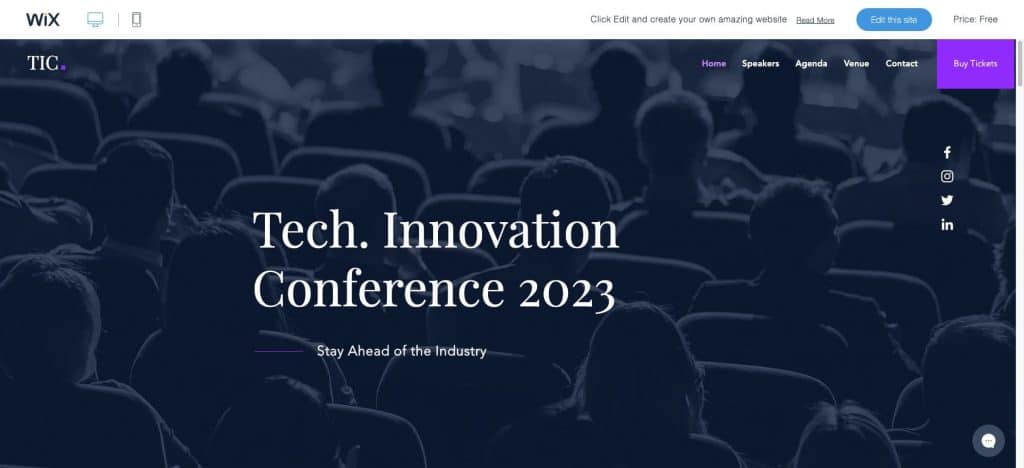 The best choice for: Technology conferences, innovation summits, and speaker events.
Your high-impact event needs a professional landing page, and this template is a great place to start. Build up excitement for your conference by introducing your keynote speakers and information about your sponsors. Add details about your event so participants can buy tickets online in just a few clicks.
The best choice for: IT companies, high-tech firms, computing services
A polished Wix theme featuring bright colors and cut-out style graphics awaits your IT company. Add text to promote your services, rates, and credentials. Adjust the design and layout to create a cutting-edge website ready to compete in the online market.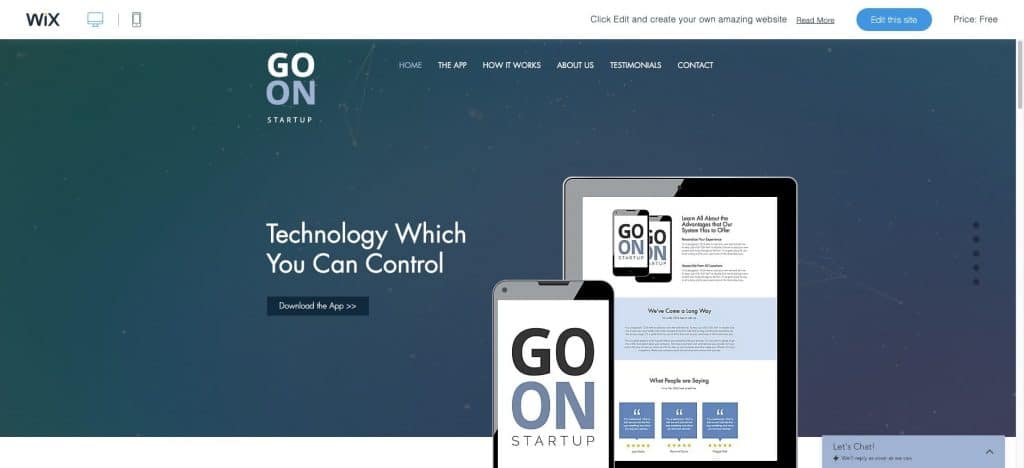 The best choice for: Startups, applications and software.
Showcase your idea with credibility, modernity and professionalism. Created specifically for apps and digital platforms, this template contains all the criteria that a growing start up needs. Start editing now and get ahead with your amazing idea.
The best choice for: Graphic design, web design, creative
Show off your work with this bold, exciting template. With a gorgeous portfolio gallery right on the homepage and only one additional page for contact, keep it simple yet stand out from the crowd. Your website should be daring as your work, so look no further.
The best choice for: Apps, Game Sites and Gamers.
Get your app to market with this interactive Game App website template, perfect for anyone wishing to showcase a new app or product. With parallax scrolling and easy to edit strips, it has never been easier to get your product on the web. Simply click edit to personalize the text, screens and logo, and watch as you create the perfect landing page for your app.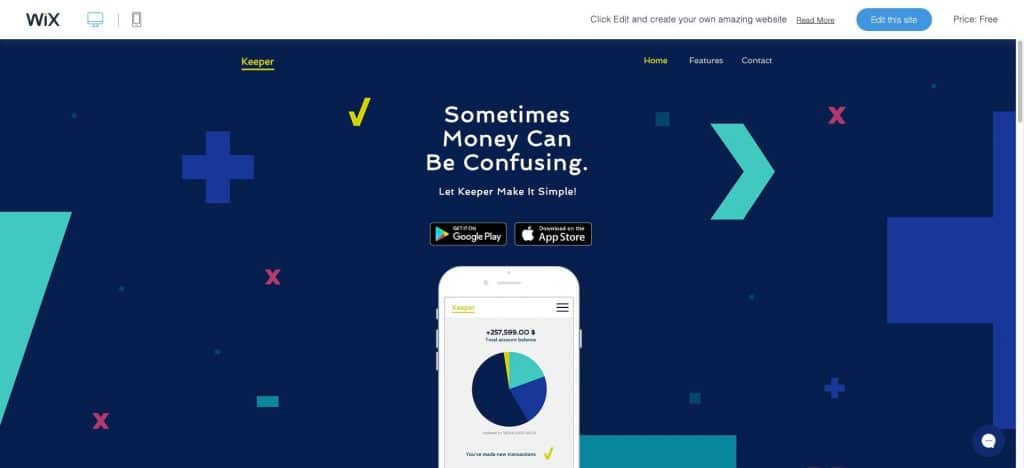 The best choice for: Mobile Apps, startups, SaaS companies, mobile software development companies, and financial software companies
Introduce your software or mobile app with this captivating and contemporary landing page. With a professional, yet friendly design, you'll be sure to make an impression. List the features that make your app exciting and revolutionary, include screenshots of it in action, and showcase press you've received. Simply click 'Edit' to get started!
Health & Wellness Wix Website Templates
The best choice for: Personal trainers, Fitness Instructors or Gyms.
Wow your clients with a stunning website that will get heart rates pumping. This bold simple yet sophisticated website template is perfect for fitness instructors wishing to attract new clients. With Wix Bookings, your clients can easily book a personal training session or attend a group workout in just a few clicks. Start editing now to promote your online presence and unique fitness plan!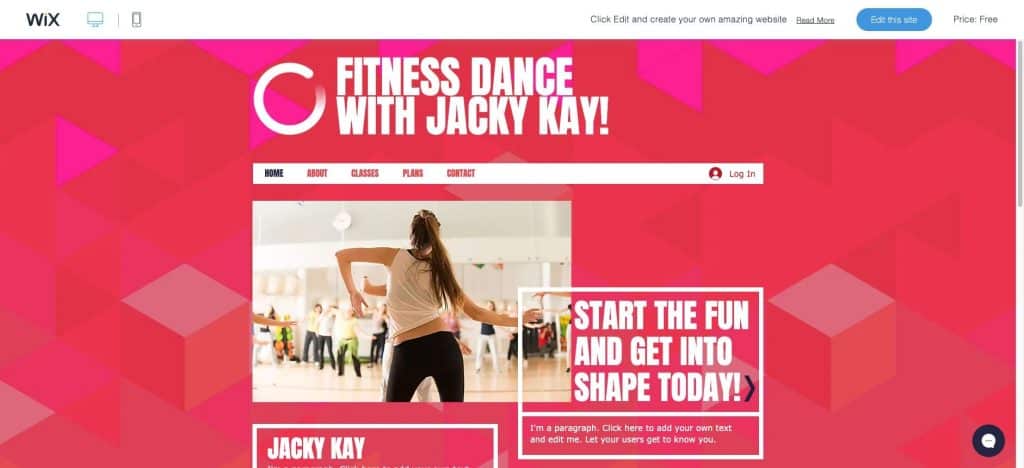 The best choice for: Fitness instructors, dance teachers and personal trainers.
Warm up your visitors with this energetic and vibrant website template. The bold colors and dynamic graphics make this the perfect eye-catching template for anyone wishing to attract and engage new followers. Simply edit the text and add your own photos for a customized look and create a website that's as lively as you are today!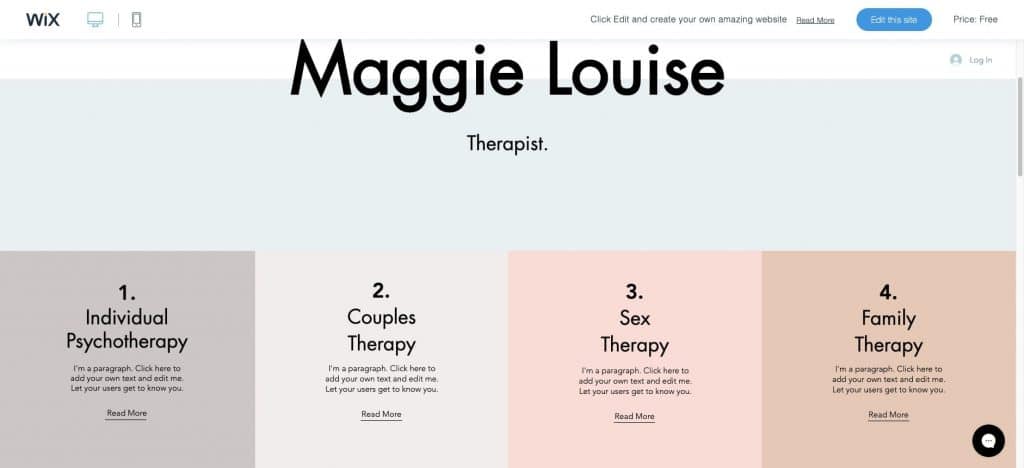 The best choice for: Therapists, psychologists, and mental health professionals
A convenient option for professionals who want to showcase their clinical services online. Share your expertise by including articles and papers you've written, and provide additional information about your therapeutic approach so clients know what to expect from your sessions.
The best choice for: Fitness instructors, personal trainers and health professionals
Build your fitness community with this inviting, friendly template. The simple and quick class registration using Wix Bookings, media photogallery and testimonials show just how easy it is for anyone to take a little time for their own health and wellbeing. Click 'Edit' to start creating your ideal fitness site today
The best choice for: Walk-in clinics, hospitals, and healthcare professionals
This modern template has everything that you need to promote your clinic and provide quality healthcare services to the community. Bright and easy to use, this template is the ideal platform to inform patients about the services you provide, your opening hours, staff details, and so much more. Simply edit the text, upload your images – and get your clinic online today!
Conferences & Meetups Wix Website Templates
The best choice for: Conference Invitations, Corporate Events, Business Conferences
Show the world that you mean business with this sharp and professional corporate conference template. Your event's website provides guests with all the details they need; from location and confirmed speakers, to RSVP forms and sponsor info. This template is ready and waiting for you, so click "Edit" now to begin creating your own.
The best choice for: Meetup Events, Startup Events, Entrepreneur Events
Make your event or meetup stand out with this sleek and modern template. Highlight your best images through parallax effect or reveal scrolling. Share important event details with a bold and clear design that really makes the text pop. Start editing today!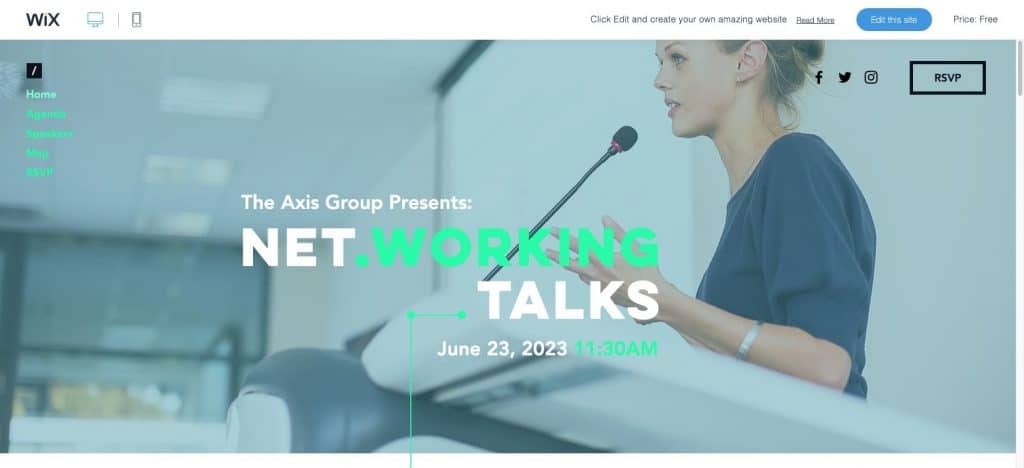 The best choice for: Business Networking Event, Networking Event
Its minimalistic design, bold colors, and sleek layout make this the perfect template to highlight your next business networking event. Parallax scrolling effects add a modern touch, while large fonts and simple visuals allow your important event details to take center stage. Start editing and get the conversation started about your event today.
The best choice for: Festivals, conferences and professional events
This is no ordinary Wix template. It comes jam-packed with impressive designs, creative layouts, and engaging visuals which are guaranteed to grasp the attention of your site visitors. With Wix Events, this site makes the perfect platform for selling tickets, showcasing featured speakers, and highlighting the important info your attendees and participants should know.
The best choice for: Conferences, workshops and corporate events
Attract guests to your event with a modern and ambitious landing page. This template includes plenty of space to customize the important details about your upcoming event, such as date, time and location, information about the keynote speakers and sponsors. Get everyone excited by uploading highlights from previous events using Wix Video, and manage ticket sales with Wix Events to so you can start registering attendees as soon as you publish your site.
Photography Wix Website Templates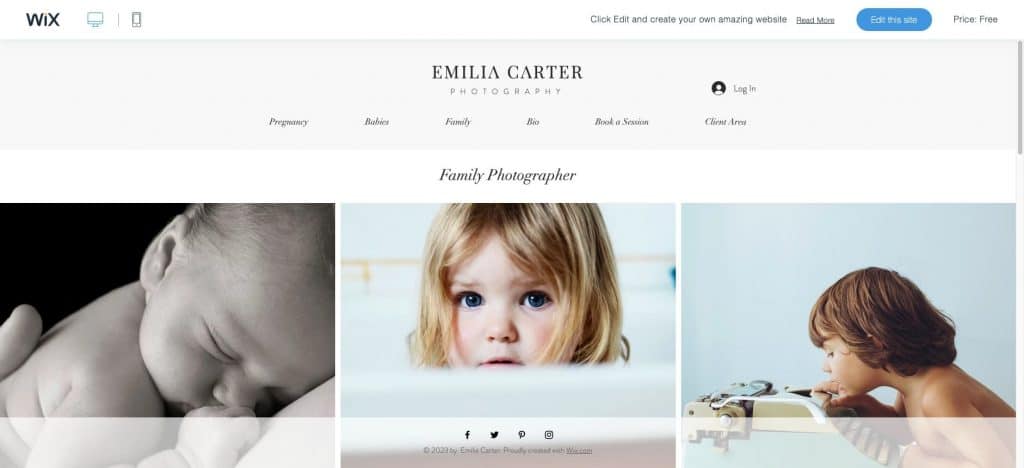 The best choice for: Photographers, portrait studios, professionals, portfolios, and all creative types
Impress potential clients with this beautiful and minimal family photography website template. Upload images to show off your projects and add text to highlight your services and qualifications. With Wix Bookings, you can also set up and schedule appointments, allowing your visitors to set up appointments with ease. Simply click edit to personalize this template and make your photography standout!
The best choice for: Food photographers, professional chefs and cooking blogs.
Showcase the beauty and diversity of cuisine with this elegant and attractive food photography template. Fill your portfolio with multiple image galleries, engaging blog posts, and featured photo collections to keep everyone updated on your latest and greatest work. Click edit and share your eye for delicious design.
The best choice for: Photographers, artists, creatives and professionals
Catering to the needs of photographers and designers, this elegant template gives you plenty of space to show off your creative projects. The option to create multiple photo galleries allows you to exhibit the full range of your talents. Start editing to build a stylish online portfolio! Use the Blog page to keep your followers up to date on your latest activities.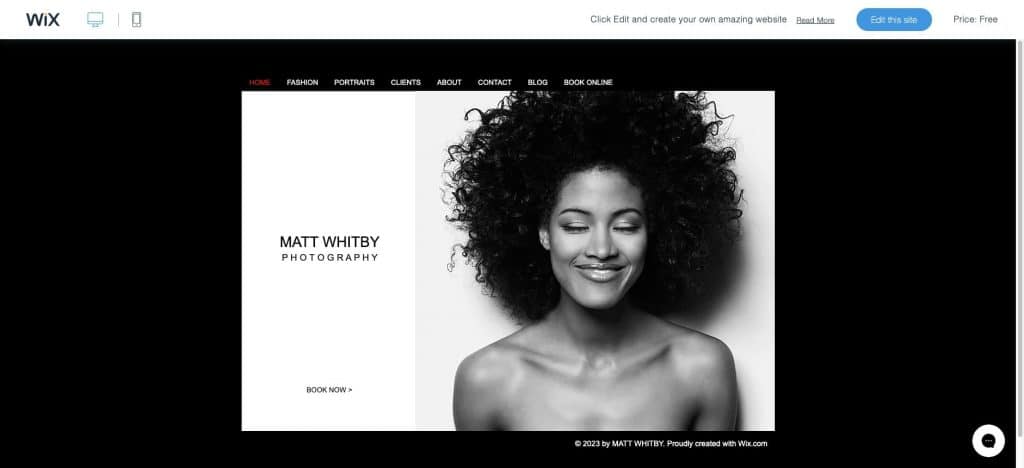 The best choice for: Photographers, videographers, creatives, artists, portfolios
The full-image background and minimal layout of this template make it the perfect portfolio for photographers, designers, and all creative types. Upload photos to the gallery to showcase your projects. Choose a color scheme and design that matches your artistic vision.
The best choice for: Photographers, creative professionals and portfolios.
Let your work speak for itself in this bold yet elegant website template. Perfect for photographers, this template allows you to showcase your images using the portfolio page and to update your followers through the stylish blog. Upload photos and add text and get your portfolio online today!
The best choice for: Art exhibitions, gallery openings, pop-up shops
Let your creativity take center stage with this simple yet impressive single-pager. Easily add photos of your work and links to all your social channels so visitors can better connect with your art. Wix Events allows you to share all the important details and lets guests RSVP from any of their devices.
The best choice for: Photojournalists, photographers, professionals, and portfolios
Make an impact with the minimal layout and bold fonts of this free template. Perfect for photojournalists, the multiple photo galleries allow you to display the full range of your creative work. Start editing to establish your online presence.
Portfolio & CV Wix Website Templates
The best choice for: Designers, creative professionals, photographers, portfolios
Let your design shine on this bright and exciting template! Upload photos, add text, and make this template totally yours. The template is fully customizable because you know your art best. Get ready, get set, get online!
The best choice for: Actors, Models, TV Personalities
Show how talented you really are with this one-of-a-kind template. Designed with actors and models in mind, this clean and bright template will surely get you noticed by everyone in the industry. With an option to add your bio, resume, and an eye-catching photo gallery, your personal website has never looked better. Start creating your own site now, by simply clicking 'Edit' below.
The best choice for: Writer, resume, cv, portfolio, freelance
With modern design, bold fonts, and sleek graphics, this template caters to copywriters and freelance professionals. Customize the resume page to draw attention to your skills, education, and work experience. Upload images and share links to show off your creative projects.
The best choice for: Art directors, photography enthusiasts and creative professionals.
Friendly. Fresh. Fun. Share your artistic work and creative talents with this stunning template. Click edit and upload your photos to showcase your visual projects in serious style.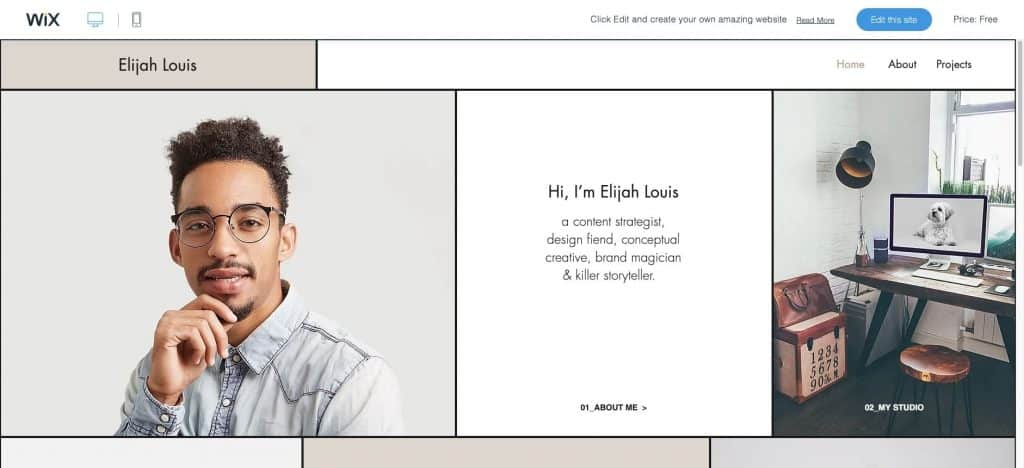 The best choice for: Resumes, CVs, and creative professionals
You're a creative individual, and your CV should reflect your imaginative personality. Now it can with this bright, bold, and modern template that allows you to represent your skills, showcase the projects you've worked on, and let your originality shine through. Like what you see? Make it yours by editing now.
Free Wix Education Website Templates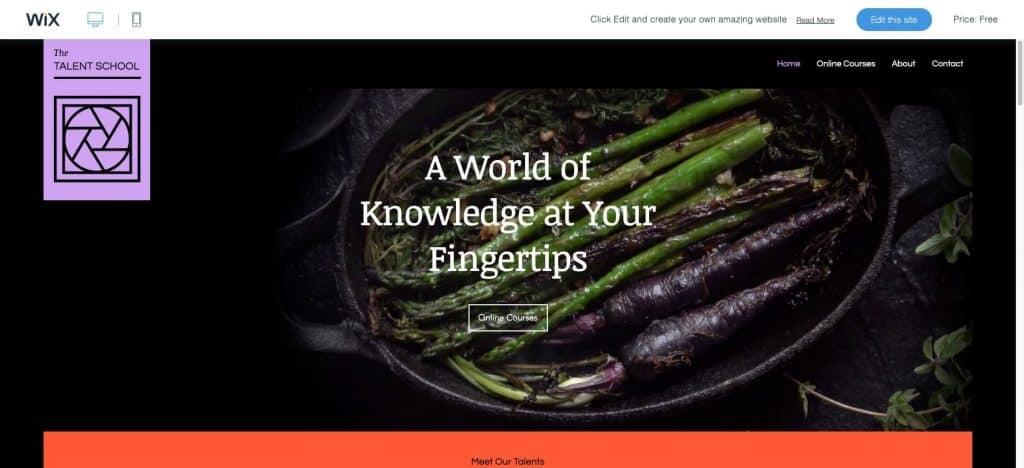 The best choice for: Tutorials, video courses, and online educators
Give your online videos the platform they deserve with this straightforward and cinematic template. The Wix Video app will make uploading, organizing and sharing your content an easy and fun experience, and lets you control the pricing and previewing settings of your entire collection. Invite your site visitors to subscribe to updates and add a few details about yourself or your classes. Ready to attract your first viewers? Start editing your site today!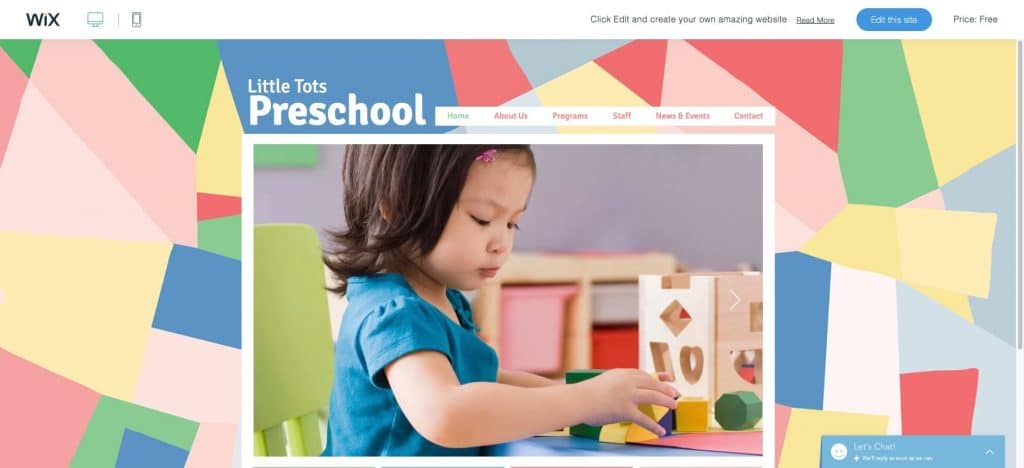 The best choice for: Schools, toddlers and children, small business
Perfect for nurseries, daycares, and preschools, the pastel colors and geometric background of this template create a warm and friendly vibe. Customize the text and upload your own images to introduce your programs, staff, and philosophy. Start editing to craft a playful website that captures the spirit of your business!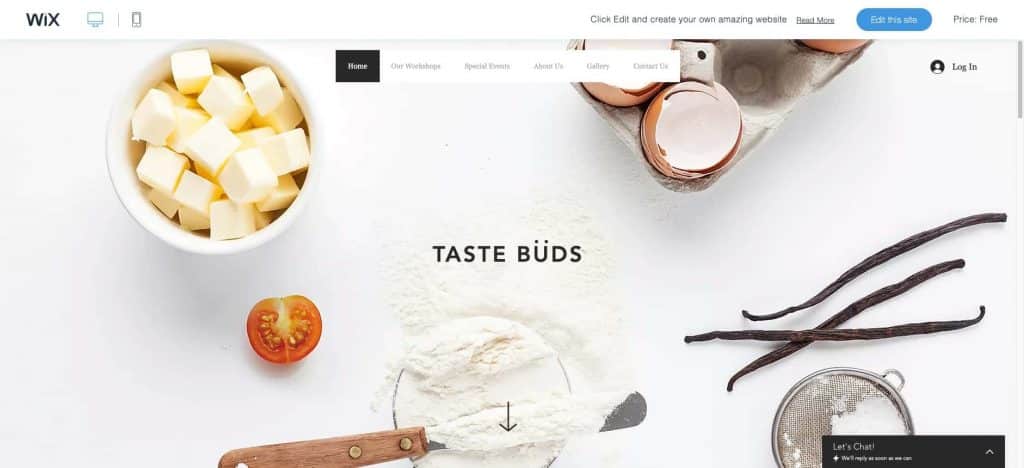 The best choice for: Cooking schools, chef workshops and culinary events.
Cooking is a gastronomic journey of the senses, complete with mouth-watering colors, aromatic ingredients, and rich textures. This culinary school template is sure to satisfy your online palate with plenty of beautiful images and stunning videos to tingle the taste buds of your visitors.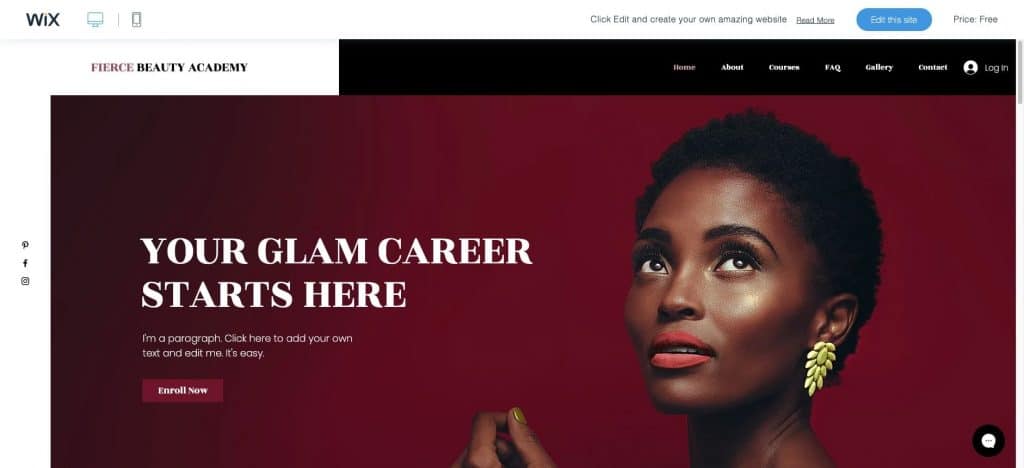 The best choice for: Academies, schools, academic institutions
This bold and dynamic Wix template is perfect for inspiring potential students to join your academic institution. Easily customize each section with your own content and showcase available courses through Wix Bookings. Click edit to get online today!
The best choice for: Language schools, independent schools and academic institutions.
Build an online presence for your language school or institution with this professional yet inviting website template. The structured layout and built-in links for brochures give you plenty of space to discuss your programs, fees and schedules. Simply add text, photos and video to take your institution to the next level with a custom-made website.
The best choice for: Online educators, film producers and video distribution companies.
Share your expertise and educational multimedia content with this fun and engaging wix template. The Wix Video App makes it easy to upload your video collection, promote your online courses, and manage user subscriptions. Make an impact with your interesting lessons and professional resources, click 'Edit' to start customizing your video sharing platform today.
Didn't find what you needed? Maybe you should choose another platform to build your site? Check out the major benefits of popular platforms and make your best-fitting e-commerce choice with digital marketing experts review.