Do you think improving your consulting website design is daunting? – Well, it's actually easier than you think.
The market for online businesses and consulting agencies is vast with options and choices. As an online business owner, it should always be your goal to stand out from your competitors through excellent content and top-tier services. However, in this digital age, the marketing and visual components of any website is highly valued by online consumers.
This means that the sales and success of any given online business depend on the website design and the user experience it can communicate. A well-designed website does not merely mean a website that looks pretty.
It is a website able to effectively and communicate the brand's services and products in a way that is accessible and enjoyable to site visitors. This means the website is structured to be easily navigated and consumed by audiences across different devices.
The Power of Well Designed Consulting Website
With more and more businesses entering the online sphere in every industry, as a consulting firm, your website should be able to facilitate, manage and cater to different needs and preferences of all kinds of businesses.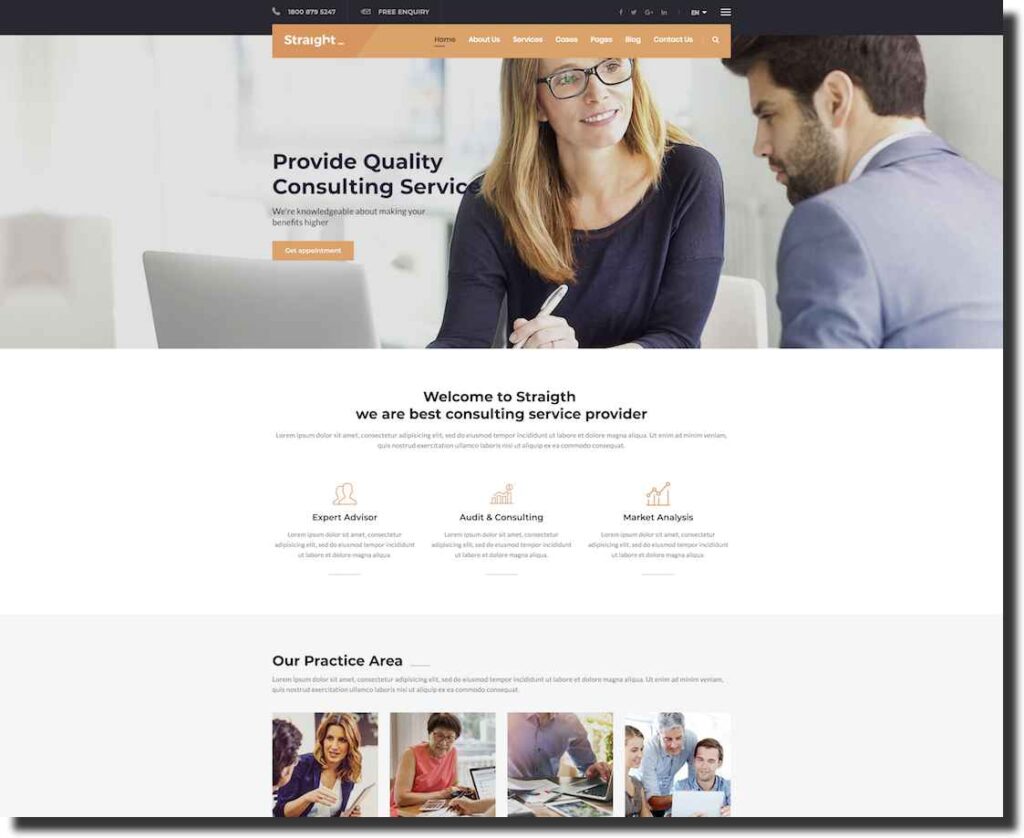 The power of a well-designed website can easily be the solution for many of your business woes. Most issues on sales, high bounce rates, low conversion rates, or low customer retention rates can be addressed with comprehensive website design.
There is a list of things that need to be considered when thinking about what design to use for your consulting website. Besides communicating your brand's identity, you must also find current market strategies and effective ways to engage with your audiences.
In this article, I will talk about the different styles and templates of high-performing consulting website designs and what you should think about when choosing consulting website design inspirations. I will also get into the benefits of outsourcing professionals to boost online sales through a useful and well-designed website.
Let's begin!
What Elements Should My Consulting Firm Website Have?
Whatever design or aesthetic style you eventually choose for your consulting website design, there are a few elements that need to be present and integrated into your site.
These elements revolve around making your website and your content accessible, visible, and engaging for your site visitors. Ultimately, the goal of a website redesign services or makeover should be to optimize your site's valuable elements and functionalities to maximize the user experience. As a consulting company, you need to be concerned about what your clients experience when working with you, even if it is just browsing through the contents of your website!
Here is a list of website elements and functionalities you need to integrate into your site design.
1. Communicate Your Brand Effectively
Highlighting your company's values and guarantees should be effectively communicated to your audience. In developing your website design, your brand and online persona should be incorporated effectively.
This means developing a brand book or style guide for future strategies is a must. The tone and message of the smallest elements of your website can make a massive difference in the user experience. Tastefully choosing design elements such as colors, fonts, structure, and the multi-media you feature on your website will affect the trust and confidence of customers and potential clients.
As a consulting company, your brand should look and feel credible online. This can be quickly done by establishing an online branding that is distinct, updated with the trends and professional.
2. Establish a Credible Online Presence
Establishing your credibility online can be achieved through web design and relevant content. However, a lot of the time, site visitors will see and notice elements that communicate credibility first instead of textual messages.
You can establish credibility with your potential clients by including professional and high-quality photos of your team and the overall design and structure of your website. Easily navigated sites with intuitive hierarchies can easily make any site look credible.
Credibility can also be achieved by featuring customer testimonials and successful projects from the past. Customers and potential clients are highly concerned about safety and security nowadays. Thus, help ease their minds by providing information about your privacy and terms of use policies. Provide information about your guarantees as well as other queries that might be a concern for clients.
The last thing to consider when designing your website is the content itself. How do you communicate your messages to potential clients? Is the tone of your texts and visual elements effective?
Here are some tips for applying when deciding on how you will convey your services to potential clients:
Dynamic and fun but not silly;
Authoritative but to full of pride;
Concise and Confident;
Casual but not Chummy.
Like many online businesses, you might already be on several social media platforms. Understanding how your customers use these platforms and adapting to the traditional way of communicating through them is highly essential in establishing a credible online presence.
Say a good number of your customer base are active Twitter users. Tapping into these platforms and communicating and engaging with your customers and potential clients is a great way to soft-sell your company. Establish your brand's persona appropriately to what is typical or famous in that given platform.
3. Make your Website Mobile Friendly
The online market is mainly accessed through mobile phones nowadays. Designing your website to function seamlessly on mobile and other devices would increase accessibility for users. In designing your website, make sure to include making your website mobile-accessible in your project plan.
Make sure all the design elements and functionalities work at optimal speed on mobiles. The last thing you want is for potential clients to rule your company out because your website wouldn't load or because they weren't able to navigate it through their mobile phones.
4. Seamless User Experience
As mentioned previously in the article, a lot of the important elements you need to incorporate in your website design revolves around accessibility and engagement. Another way to optimize your consulting site for optimal accessibility and engagement is to fine-tune the small things.
This means removing unnecessary information or steps that may cause friction for your potential clients. One way to do so is by creating a clear structure for your website. Make sure that important sections such as the contacts page, information about your services, and frequently asked questions are easily visible and accessible by your clients.
To help intuitively guide your potential client's user experience to valuable information, you can use contrasting colors or dynamic effects on your clickable sections. This would not only make important sections and information visible, but it can also encourage your visitors to complete the desired action.
5. Customer-Oriented Content
The texts on your website should be effective in delivering clear and easily understandable information. Many online users are visual learners. The fleeting attention span of many users today is also a factor you are working against when communicating with potential clients through text.
With this said, you need to be able to deliver your message in a concise and engaging manner in order to retain the attention of potential clients. Avoid huge walls of texts on your website, as this is usually a reason for high bounce rates. Use texts sparingly to experiment with different visual components to help give your readers a break.
Examples of visual components are an effective use of colors, shapes, high-quality images, dynamic figures, animation, GIFs, or even short videos.
Below is a quick list of things to consider when producing written content for your website.
Is your message clear and concise?
Are the arguments you give valid?
Are your texts visually structured for easy reading?
Have you included expert opinion on your write-ups?
Is it engaging and dynamic?
If you were the reader, would you take the advice you are giving?
6. Attention-Grabbing Elements
As mentioned above, contrasting colors, powerful photos, high-quality videos, or other attention-grabbing elements can all improve the overall user experience.
Powerful high-quality visuals can encourage your visitors to stay longer on your site and can potentially lead them to subscribe to your services. Visual elements such as moving clickable elements or using contrasting colors on your calls to action will help tremendously for your conversion rates.
7. Efficient Customer Service
Customer service is an excellent way to retain customers. It can also be a good way to encourage potential clients to take the leap and employ your services. Effective and efficient customer service is important in any business website. For a consultancy firm where your primary service pertains to assistance and guidance, solid customer service is important.
Making sure you are able to feature responsive and intelligent customer service on your website is highly important. Functions such as live chats, intuitive contact us pages, or anything that can encourage responsiveness and steady communication is good things to have on your website.
Here is a list of other things that will help you build and feature an efficient and effective customer service process:
Helpful information about your company and your services;
Frequently Asked Questions;
Live Chat;
Callback Option;
Messaging Options;
Fast response rates;
Customized emails and messages;
Links to additional and relevant information;
Client testimonial pages;
Links to Community blogs and networks.
8. Clearly Showcase Your Certifications and Services On Your Website
Consultant work is a highly competitive industry. Showcasing your certifications and awards as a firm is important for your website. Letting your potential clients know of the professional qualifications, training, and awards each of your team members holds is also a good idea to include on your website.
As mentioned above, it is important for you to be credible and authoritative in the eyes of your site visitors. A website design that features a staff page is a great way to let potential clients know of your qualifications and rankings in the consultancy industry.
Highlighting notable projects and achievements through a portfolio section is also a good way to let people know what you have to offer.
9. Engaging Calls to Actions
Aside from composing, your CTA is as exciting as possible, making sure it is located in strategic areas is also important.
Your CTA should be short, engaging, and clear. Making sure you are able to communicate what it is exactly you are offering and if there are any restrictions through your CTA is highly important. This will ensure that your customers feel that you are transparent and honest.
Some ideas of where to place your main CTA are the following:
Above the Fold or Large and On Center: this will make your CTA the first thing your site visitor sees when entering your home page.
In-Line with Text: This location will allow your visitors and potential clients to have more information about what it is exactly you are offering before opting-in.
Popup: presenting your CTA this way elicits confidence and authority. This may be effective, especially if your audience is on the verge of completing the desired action. With this said, this placement can be too imposing for some customers.
To know the best way to effectively craft and place your call to action, you must first analyze and understand how your target audience responds to elements on your website. Split testing and market studies are accurate and effective ways to figure out your customers' preferences. As this requires some technical guidance, you may want to hire professional help to guide you in this process.
Top 10 High Performing Consulting Website of 2020
Now that we have gone through important elements to include in your consulting website, it is time to look around and brainstorm for ideas and actual designs. For consulting website inspirations, it is best to browse through the top-tier global consulting firms to see what elements and functionalities they feature.
This list contains ten of the highly rated and most popular consulting firms of 2020. I suggest you visit these websites and see how their websites are
Top Consulting Website Designs
Visual elements and types of design can be effective if you know what your target customers prefer. Contemporary consulting firms need to be able to design their website in a way that is relevant to their potential and target clients. With the growing market of online businesses today, there is also a growth in the type of online personas businesses want to communicate.
As a consulting firm that may work with all sorts of different businesses and brands, it is helpful for your website to appear dynamic, current, and flexible to what your clients may need.
Here is a list of the best website designs for consulting companies.
Millemann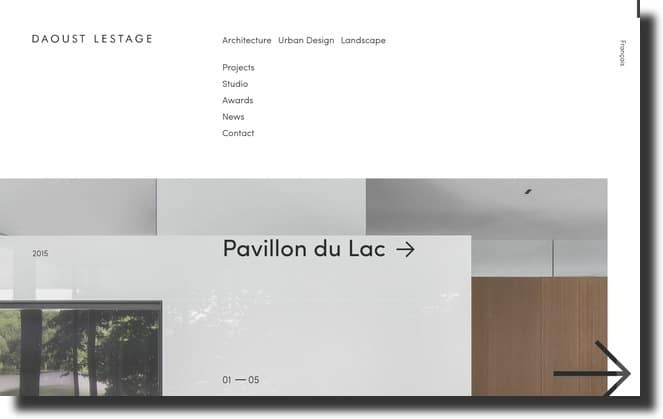 This type of website design is minimalistic with only a few elements, showcasing only relevant sections such as about page, contacts page, and site menu. If you find your target audience responds well to minimalist designs, the Millemann website can be a great source of inspiration for you.
This website is made for easy scrolling without boring potential customers. The content is displayed in a clean and bold manner. Intuitively, a potential client will find contact information as well as a creative portfolio of past projects at the bottom of the page.
Human Innovation
This consulting firm website features dynamic moving elements as well as a pop of color on their website. If your consultancy firm aims to target playful and cosmopolitan clients, this type of design might work well for you.
The simple animation plus the balance of space and use of color by Human Innovation creates an enjoyable user experience.
Pajama
This type of website is also minimalistic. It gives the user ample visual space to not overwhelm them. Like most websites, the contact information can be found at the bottom of this page. Pajama may work well for your company as potential clients will be compelled to view information and additional content before they reach out to you.
Fresh
This consulting website design features a traditional or classic design with ample use of colors and blocks of text. Their website intuitively offers their services after describing their process and the steps they take to meet their client's goals.
This type of website features a few elements with a lot of white space. It also uses a soothing color scheme to help potential clients consume their content without feeling overwhelmed. Fresh also uses different high-quality images that are relevant to its website to capture the attention of its visitors.
This website is an excellent example of using a parallax effect. They contrast their white background with colorful and contrasting elements on the other side of the layout to give visitors different visual elements to look at.
OnPoint Coaching
This website is a good example of the effective use of colors and shapes. The customized drawings featured on its landing page give it a unique and distinguished look. The OnPoint Coaching company CTA is well highlighted with the use of contrasting colors as well as by strategically placing it above the fold of the page.
This website features two contrasting colors for elements and text. As much this design strategy can be boring, notice how this website is able to break the monotony by changing the background color from white to red to indicate different sections of content.
Code and Theory
Code and Theory is a great example of a minimalist dynamic website. The color scheme used in Code and Theory is a traditional black white and gray, and the text on the website is bold and dynamic. The main home page is creatively constructed as the site menu while communicating a witty brand philosophy.
The websites and companies in this list have been ranked by official surveyors in the consulting industry. If you would like to know more about the process of ranking, as well as other notable consulting firms, visit this link for more information.
In Outsourcing Web Designers
As you know by now, coming up with a well-designed and effective website has a lot to do with knowing what your client's preferences and online behaviors are. It also takes a good amount of knowledge with the latest design trends, online marketing strategies, as well as the most effective practices.
Additionally, website designing projects, demand planning, and time.
This is why outsourcing professional website designers should be considered when thinking of giving your website a new look. Not to mention, experts can give you valuable insights and more consulting website design ideas that can effectively help you increase your online sales.
Here are some benefits of Hiring a Pro:
They present you with an online marketing strategy and how this may translate into your best website design for the consulting business.
Excellent quality of deliverables and final outputs.
SEO services can be requested.
You will end up with responsive and reliable web design.
Hiring a professional will give you a competitive edge over other consultancy firms.
It can be time and cost-efficient.
You will have a better, faster, and well-maintained website.
Design Your Website and Increase Your Sales
The competition for online business, especially in the consultancy industry is fierce! As you can already tell, web design takes a lot of work and research decision-making. To get your money's and time's worth, make sure your new designs and market strategies are based on actual data. This data should include your customer's preferences.
Creating a customer-oriented website with fresh and relevant content is incredibly important. An effective website design should be able to communicate this to your target audiences even if it employs only the most basic and elemental features of a website.
Your ultimate goal for your consulting website design is to appear credible, trustworthy, and qualified to get things done excellently. Effective website design can help you communicate these values through improving your site's accessibility, visibility, navigation, engagement, and overall user experience.