Do you want to improve your construction website design but are not sure where to begin? Say no more. With these templates, you'll realize it's easier than you think.
Today, construction has gone global. Therefore, displaying your accomplishments and portfolio using a nice-looking construction website design is crucial in promoting your business. This is considering that an online presence is important for any business and construction companies are no exception.
Again, as an architect or a civil engineer, having to present your expertise individually can be a tedious process. For that reason, having a professional construction website design can easily solve this problem and cater to both your local and even international clients.
Also, if you're available online, you become easy to find, thus giving potential clients access to your past projects plus other information with ease, which translates to new opportunities.
Note that creating a construction business website for a global audience is no easy task as there are several factors you need to consider. Besides, when designing your website you must consider your business model.
Above all, your construction website needs to have a clean design, is easy to navigate and incorporate lots of social proof.
18 Best Construction companies Websites Design Templates for Boosting Sales 2020
Next, I'll be discussing some of the best construction companies' websites design templates that can help you share your construction projects interactively with clients. Plus they can help double your chances of closing a deal.
This construction company website design template is perfect for you if you want to showcase your construction work to your clients. The construct design will draw their attention through different images and an image is worth millions of words. Therefore, when you visually showcase your work, a user will understand your workmanship and skill better.
The construct design template gives equal importance to both image and text contents. Hence it gives you a balanced website that allows you to clearly display your services to users.
Since Construct is a multi-page design template you'll have more space to clearly describe each project to the users. The call to action button is perfectly placed at the right-hand corner of the top bar displaying "get a quote".
Besides, its placement is perfect and the orange stripe highlighter looks attractive against the clean white background. Plus, users will notice it once they land on your construction site.
BuildPress is an advanced and quality WordPress theme that works well for construction companies. Your website maintenance should not burden the managing of the actual business. Hence Buildpress will help you in this aspect thanks to its simple setup procedure and an easy to use interface.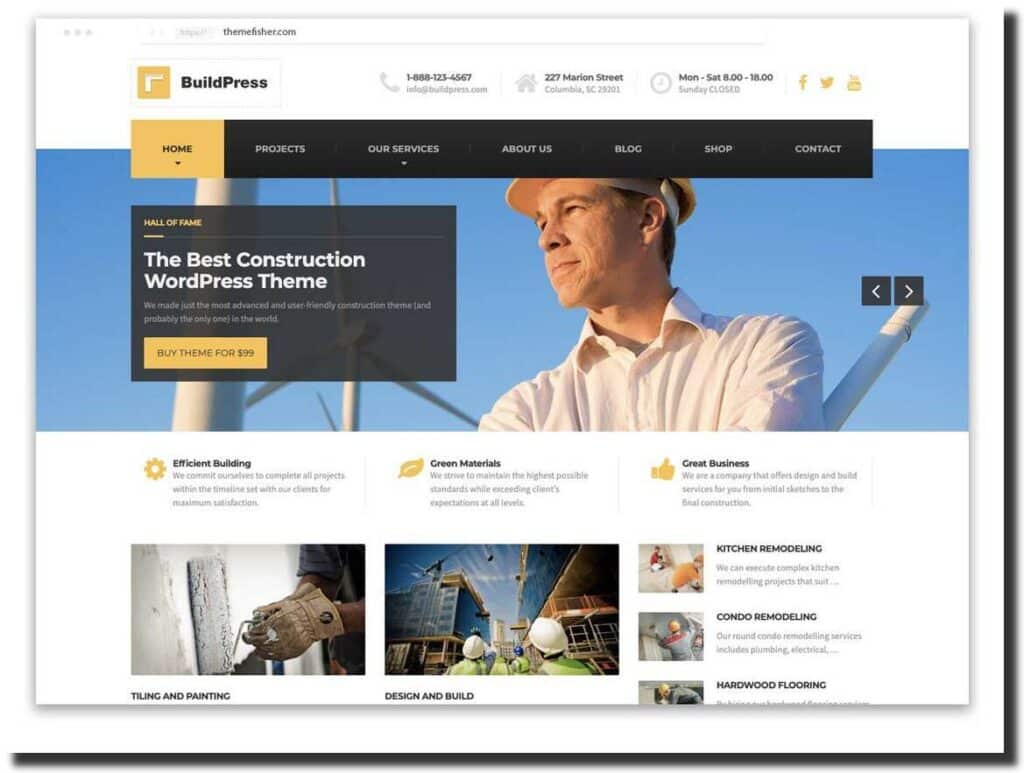 This website design also offers different layout options and a real-time customizer that's bundled with the theme. Additional features include multiple custom widgets and sidebars with the Essential Grid Gallery Plugin and WooCommerce compatibility.
It is a fast and responsive WordPress template that is developed on the foundation of market demand.
Renovate is the perfect choice for remodeling, construction, and renovation companies. It is an amicable and reliable WordPress theme for professionals. In particular Renovate works well for marble setter and building tiler, electrician and installers, carpenter and plumber websites.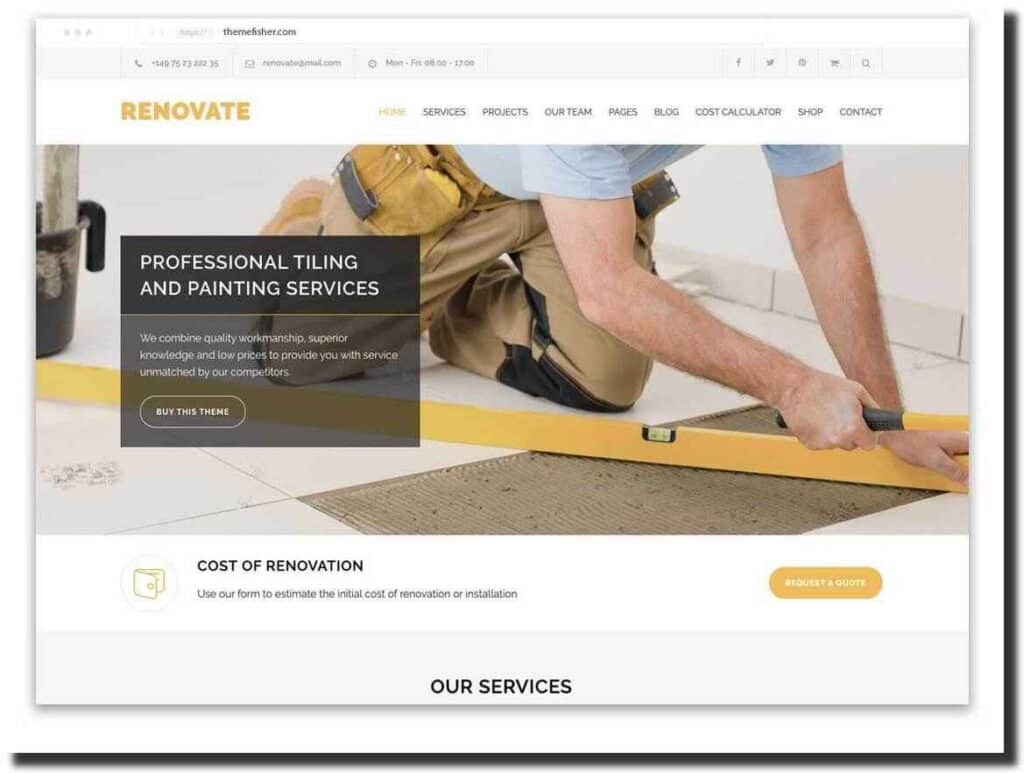 What's more, you can build a full-fledged functional website with Renovate without having to code. Its main features include two responsive homepages, retina ready display with a built-in slider revolution.
Other features are sticky columns plus build in cost calculator and Woo-commerce integration with a theme options panel.
This is a modern and bold website template that stands out thanks to its visual effects. Starting from the header to its footer it uses interactive animation effects. And because the visual effects are minimal and mild, this design does not cross the professional design mark.
The Architect design uses shapes to highlight images and certain points. It is a multi-page template that utilizes the yellow colour scheme. This template offers you pre-designed subpages like about, contact, projects, and services.
An additional feature of the Architect template is its line icons. Unlike other free templates, Architect comes with suitable construction work-related icons.
Yellow Business is a theme with a design built with modern architecture in mind, its design remember the minimalist buildings and interiors of some of the best architects in the world like Renzo Piano.
The yellow color has been chosen to bring something of the construction industry into it, but it can change with one click from the Theme options panel. The WordPress theme is also very fast on the server-side and the JavaScript codes are compact and less than 100KB in size. This is definitely one of the fastest themes for architects and construction available in the market. The support reply in less than 12h. It's very responsive.
Conebrick is a clean, practical, and professional architectural theme that is ideal for any business in the building, construction industry, from modern Architecture and Interior Design firms to Renovation and Construction corporations.
You can save money with Conebrick because it includes Free Lifetime Updates and many Premium Plug-in Integrations for showcasing your portfolio, adding team members, displaying design projects, showing renovation process videos, posting architectural design articles, showing construction stats, and offering products and services online. What a deal! And no need for professional web developers to build your site, you can easily customize it just by drag and drop.
By visualizing your projects and giving statistical numbers, Conebrick theme help businesses build trust and make your work more appealing to online visitors. Make your own building website to be different from other normal building sites right now. Get Conebrick today!
Pivot is the best construction website design option for large enterprise-level business websites. It uses a clean design with lofty font styles that gives it a majestic look. Also, it uses white spaces to effectively present content that engages the audience.
What's more, the generous amount of space found between each element makes the interaction feel more natural. This multiple page construction company website design inspiration has pre-designs of all the important pages that relate to the construction businesses.
Also, a promotional element asking visitors to request a quote can be found near the footer segment of all pages. Thus it improves the likelihood of gaining new leads.
Although it's a colorful website template, this one-page design template is packed with many interactive web elements. Rather than adding text rotator and image sliders, its header section uses a calculator.
Though this is a real estate website template the calculator has been designed to estimate property price. However, with a few adjustments, this template can be made into one of the best construction company website design templates.
The Real Estate website template is a front-end fully completed template, so all you need to do is backend work which allows the web elements to function properly. At its top bar, there's an option to add user login, contact information, and user registration.
This minimalistic website template works well for both interior design and construction websites. Its minimal look allows users to read and understand the project and services you offer.
The Loaft design gives both text and images content equal importance. Again cut-outs are included to highlight texts found in-between images to give an artistic touch against a clean white background.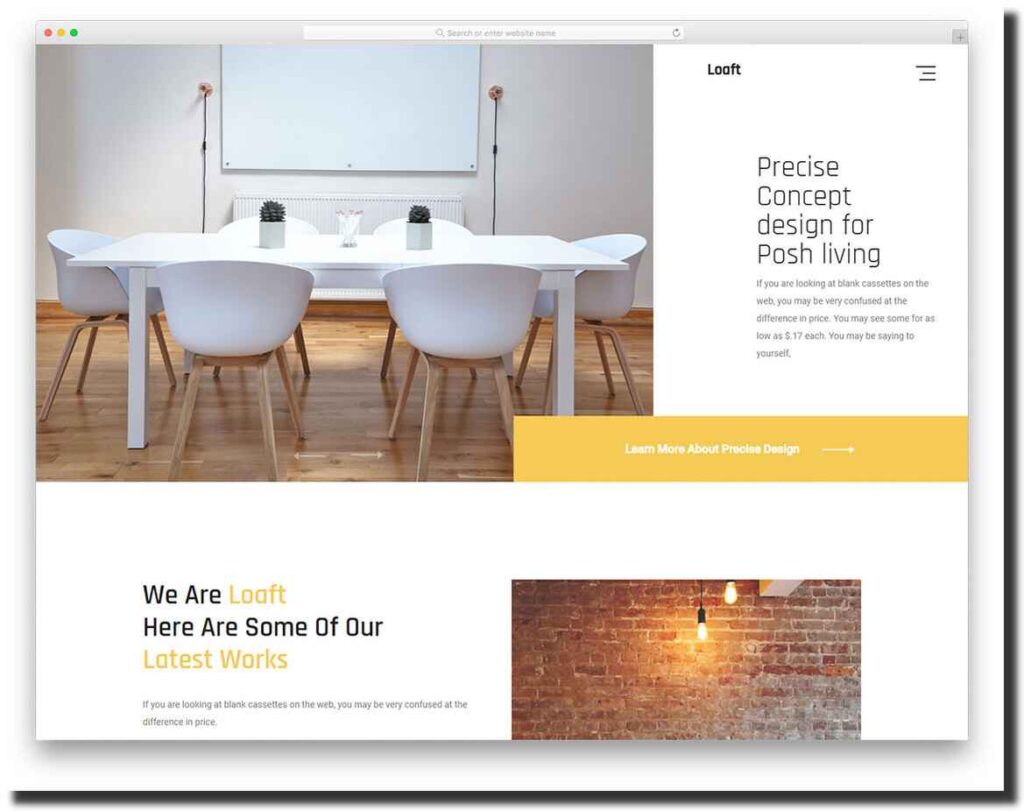 Even then, there's lots of room which allows you to incorporate your creativity. This template is extremely flexible which makes it easy for you to customize it to meet your requirements.
Loaft is a multi-page website template and all these pages come with minimal designs that give a consistent look all through the template. This is a key factor when you are branding your website. The default colour scheme is yellow, but you can choose to add your brand colours as preferred.
While Carries is a logistics and transportation website template, it uses a creative design template that works by holding visitors to the site. Its modern web elements are intended to engage and convert visitors.
With a card-like element, this design template helps you correctly explain your services. Also, it gives a captivating gist on the different projects on the homepage.
Since Carries design is a multi-page template you could use separate pages for detailed explanations for each service using videos and images.
Also, this feature-packed website template offers you three homepage variations, two blog versions and six types of the about pages. Carries is among the few free construction company website design templates that come with pre-built 404 pages and the coming soon pages.
In general, the Carries is the best website design for construction companies that offers many useful features and other options similar to those you get with a premium template.
Although this website template is radically designed, it does not compromise on the user experience. This template includes many new elements and designs that help you promote your services and not obstruct the user experience.
ConstructionCompany is a unique and free template that offers you a creative and premium quality design. Subtle animation effects and hover effects bring this template to life. Also, users can easily access the different segments depending on the information they are seeking.
Also, this template comes with pre designed multiple inner pages. So, all you need to do is simply add the related content and then launch your website.
Originally, this construction company website design inspiration template was intended for handyman services. Even then, the Handyman can also be used for creating construction company websites. It is created using many light color shades that help distinguish the major sections from the rest.
The Handyman includes the quote request form on the homepage header section hence users can promptly request your service once they land on the website. It uses colorful elements and icons throughout the website to give this design template an attractive light color background.
Since this design template takes care of everything related to design, all you'll need to do is do the behind the scenes work before you launch your construction company website.
This bold full-width corporate website design template works well for logistics and transportation sites. Its smart design helps make the layout a great fit for any professional construction company website. Through the use of CSS3 and HTML5 framework, the Unship design offers you interactive transitional effects for its image sliders.
Your construction company website designer can use the full-width design in a combination of split content and boxed contents for amazing user experience. The use of different elements in building this template helps keep your visitors engaged once they enter your construction business site.
Its top bar gives you the option to add social media profile links, contact details, and language options. The Unship template is however not translation ready even though the option is used for demo purposes.
Are you looking for multi-language support? This template needs to be manually activated to make it translation ready.
This website design has two navigation options; the traditional top bar navigation and a hamburger style left sidebar navigation bar. By using the hamburger menu bar you can add a resource library and advanced options.
By default, FineOak is a furniture website and interior design website template. Even then, its minimal design makes it perfect for a construction industry website as well.
The advantage of using this minimal website design template is that you can grab user attention without adding animation effects. To help match FineOak's minimal design, mild colour tints have been used in the template.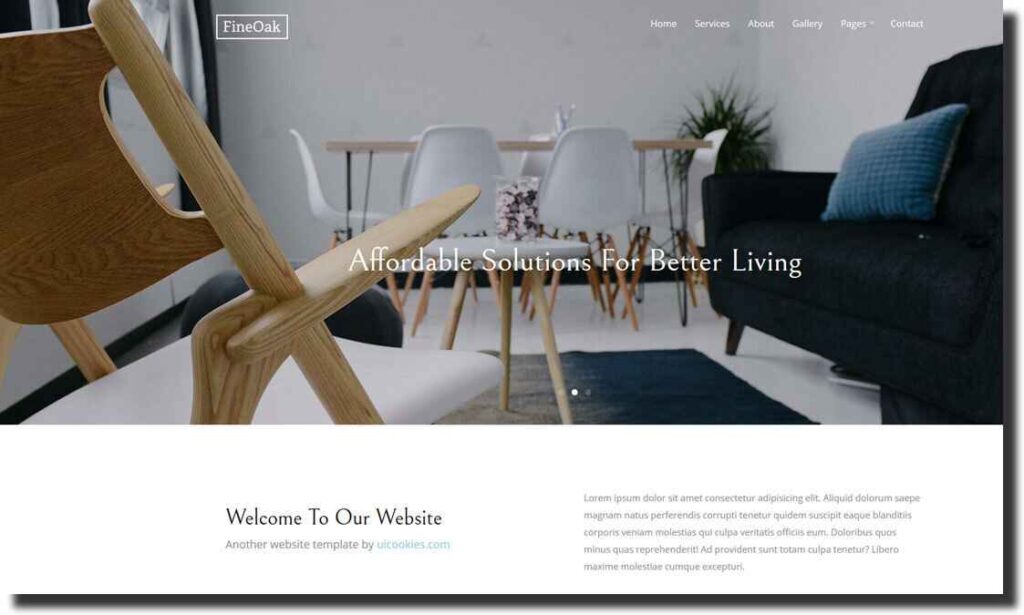 Since this website template is content focused, you'll have space to add both image content and text contents.
Also, this template used customized line icons which make it irresistible to visitors. Since this template is fully featured, all you need to do is add your content before launching your website. Since it's a multi-page website template, you will get pages such as contact, about, gallery and services.
The Homebuilder is an eye-catching yet professional-looking website template. This template uses bright colors all through the site to help differentiate the crucial sections/elements from the others.
While it's a free template, the Homebuilder uses high-quality icons that look crisp on any high-res screens. The Homebuilder incorporates all the icons and images used in the download file, thus making it easy for you to work with it.
For the most part, sharp and swift animations have been used in the Homebuilder design template to make it load faster. Also, this helps users interact easily with your website.
This premium website design template is perfect for those who want to concentrate more on creative structures and corporate offices. The consistent designing of the Vertex template will help you to neatly share your works and expertise to site visitors.
Smooth animation effects have been coupled with a trendy design which gives life to your construction images and projects. This website design template uses a full-width layout that also includes fully stretched website elements. It also uses creative web elements to highlight crucial contents such as promotional sections and testimonial sections.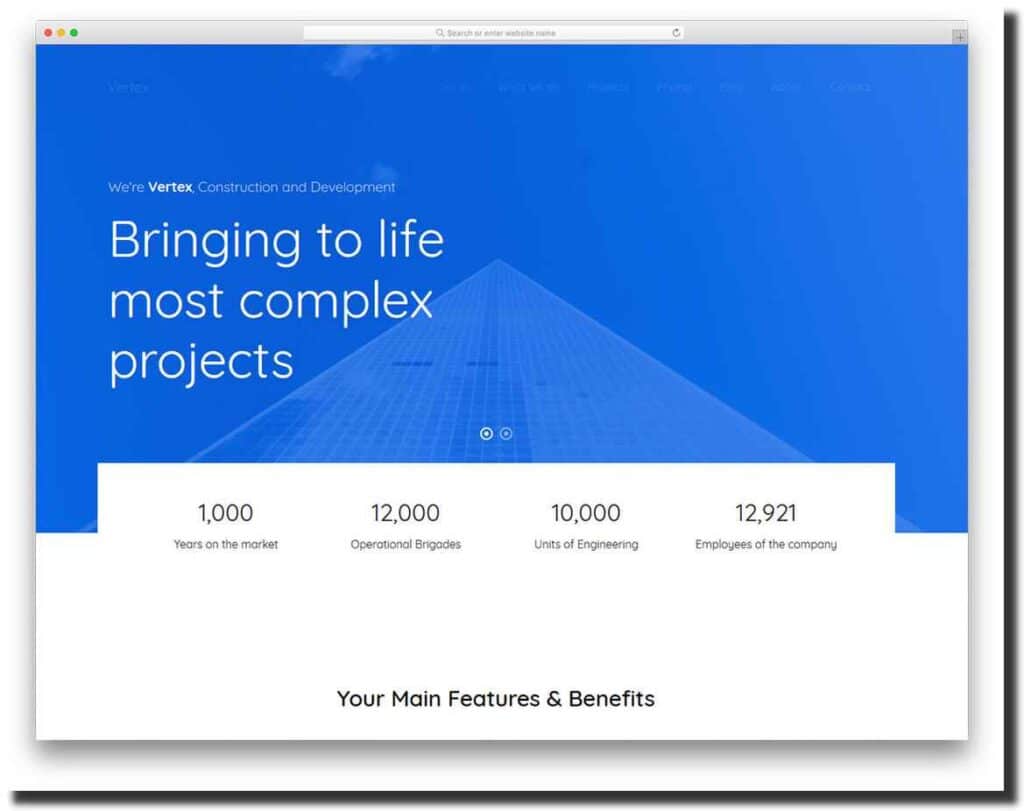 Also, line vector icons have been used to neatly explain your products and describe your services. Vertex is a multi-page website template thus it will give you more than enough pre-designed subpages.
To help maintain consistency of the design, all Vertex pages use the same uniform and clean design. Each of its subpages gives you an image banner at its header section that you can use for displaying related project images.
Besides the homepage, this design template also has a separate page for displaying all your projects. Again, its demo version only shows project images. Therefore, if you prefer, you could use a separate page to give your users a detailed explanation of your project.
Also, to boost the chances of getting leads, you should consider adding a "request a quote" banner on all the pages.
The Sel template is designed for both construction and real estate websites. It's a minimal looking template that you can easily use. It incorporates many interactive web elements which makes it unique for a construction website.
Icons and fonts of different sizes have been used in the Sel template to elegantly highlight all the major web elements. Against its clean white background, Sel uses a bright red colour scheme which gives it an attractive look.
The header section gives you an advanced search form which helps visitors search for the information they seek. Also, this long-form can be used for business inquiries. In addition, the form's placement in the header helps increase its visibility.
Sel design template also uses shadow and depth effects to neatly highlight all the crucial web elements from other elements. Again, its footer segment is big enough to include widgets and page links. With an image widget added in the footer, you can use it to share your social media feeds.
The Webuilder website template is perfect for construction businesses. Even then, it can be used for both repair service providing companies and construction companies. This well-thought-out and creative design will help you capture visitors' attention after they land on the website.
Are you an upcoming construction company? If so, this template will not only help you display your projects but it lets you share about you. The Webuilder uses content blocks for listing your services under one place which helps users find all your services with ease.
This template also has a testimonial section that allows you to feature your clients and their images to boost your work's credibility. The top bar gives you the option to add your contact details and office working hours.
The Webuilder template also has a Google map widget in the contact section that helps clients locate your office with ease. It also uses vector line icons that are related to construction work thus you can use it for this.
Spaces have been included to allow you to add video content. This is crucial as this allows you to show and explain your projects.
What should You Consider when Building a Sales-Driving Construction Website?
Is your competition outperforming you? This likely has something to do with their website and what's on it. The best website design for construction companies should make it mobile-friendly, visible in search engines, secure, fast and offer optimal user experience.
Visibility – By being visible I mean your site should appear in search engines for instance Google. More than 90% of users' online experiences start with a search engine. Therefore, your construction website should be optimized for SEO (search engine optimization) best practices.
Mobile friendly – more than 50% of all online traffic in the U.S comes from tablets and smartphones. Also, mobile websites rank higher in the Google search engine results.
Speed – When building any construction website speed is essential. Your visitors should see some activity happening on the site in less than three seconds. This is crucial as it can cause a reduction in conversions.
User experience – Once your site page loads, visitors will form an opinion within 0.5 seconds. Again, they expect to easily and quickly find information on your site.
Security – at present hacked consumer information and data breaches are big topics of concern—and your clients and visitors know this. So, if your website includes forms where users should fill in their personal information (that includes their email address and a phone number) it must be secure. Also, Google search results lean more towards the secured websites.
Remember that if your website does not have one of the above-mentioned necessities, it can hurt your bottom line.
Which Construction Website Design is Best for You?
While there are many construction website design ideas, it's important that you choose one that clearly showcases your construction company services and projects.
The trick to landing more clients is to provide something unique to outperform your competitors. Furthermore, your site can act as an excellent platform for advertising your uniqueness.
All in all, the themes I have discussed above are customizable and feature-full thus will prove to be useful in landing you more projects.