Congratulations on your new YouTube Channel. As a content creator, understanding the YouTube algorithm is essential to the growth of your channel. With one billion hours of watched videos, the platform also attracts a massive audience with over two billion users.
High-quality videos get a higher engagement rate as compared to chunks of text in a blog. YouTube is free to create an account. Although not limited to the list, YouTube has corporate, entertainment, and content marketing videos. So, how do you make sure that YouTube recommends your videos?
Now, this is where YouTube Algorithm comes in. Unlike other social media platforms, the YouTube algorithm is easier to understand than you think.
Here is how to go about it!
What Is YouTube Algorithm?
It is an algorithm that YouTube uses to determine the video content to display in search results. In addition, it helps to place videos on the platform for people to view and click. Therefore, the content that appears on your home page is different from someone else's feed.
All this is possible due to the YouTube algorithm.
How YouTube's Algorithm Works
In 2020, there has been growth in social media and online platform usage. Due to the Covid 19 pandemic, brands, corporates, and content creators resulted in social platforms to create and promote content.
In the United States, for instance, according to Statista, the number of YouTube viewers has risen to 205.9 in 2021. To keep viewers up to date and attract new subscribers, you have to publish quality content that resonates with your audience.
To increase the chances of YouTube recommending your videos, you need to optimize them for SEO. Equal to how you optimize a blog with keywords, you also need to help viewers discover your videos when they type in a keyword or phrase.
Here is how YouTube Algorithm works:
Youtube's algorithm has two goals. To find the appropriate videos for individual users and keep viewers watching or engaged. To manage this, understanding the YouTube algorithm is fundamental. It is possible. Check out the tips below.
View Velocity
View velocity is a YouTube algorithm metric that helps to determine video ranking on the platform. Your subscribers need to view your video content as soon as you hit the publish button. The higher the viewer velocity, the higher the ranking of your videos.
As a YouTuber, you need to grow your subscriber list. Create high-quality videos that match your user's needs. For instance, if you're creating content about YouTube algorithm videos, digital marketing, or SEO, your content needs to add value to your subscribers.
Having genuine subscribers will attract them to leave a reaction on your channel. View velocity relies on organic traffic and not paid promotion.
Therefore, you need to grow your subscriber list by being consistent in content publishing. As a small YouTuber, you can ask people to subscribe to your channel before publishing your video.
To increase view velocity, you can raise awareness to the users by creating an email list. You can request people for the email address and forward a personalized message to them after publishing a video.
Click-through Rate (CTR)
YouTube's algorithm relies on click-through to determine if your videos will appear on search results or the home section. The more the CTR, the more YouTube recommends your video. It means that your content is relevant to the user's search query.
You can increase the Click-through rate by creating an engaging title description, thumbnails, and high-quality content. Marketers need to create content that the users will want to watch. For instance, you can create a poll and ask your audience what they want to know about a specific topic or your organization.
Creating user-generated content will not only increase the click-through rate but also improve audience retention. But, this will only happen if the audience will find the videos relevant to them. Users will click to watch a video based on the thumbnail. As a content creator, do not be tempted to use click baits.
It can have a setback if your content does not make sense to the viewers. Clickbait will affect your view duration as well as video views.
YouTube may end up penalizing you for cheating. Your content may not appear on YouTube's search, recommended section as well as trending page.
Watch time / View Duration.
Viewers should be able to watch your videos to the end. The higher the view duration, the more it increases your ranking. Watch time is essential to the YouTube algorithm. Marketers and content creators should create valuable content that answers the user's question.
While editing videos include humor where necessary, images, or even infographics. It breaks the monotony of watching plain videos and attracts the viewer to keep watching. You can also add links to other relevant videos in your channel.
As you publish videos on YouTube, have a long-term goal in mind. It will help you create videos that your audience will want to watch.
Search
The YouTube algorithm determines which videos will appear in the search area. To optimize your videos for search, publish relevant and quality videos. For instance, let's say a user is searching for a video on how YouTube monetizes a video.
First, your video needs to be ranked for the keyword, monetize. It will increase the chances of ranking on search. It means that your titles, descriptions, metadata, and tags should match the search queries.
Sometimes, a user can use a keyword that you are ranking for on a search engine, and your video appears on the search results. It will increase the click-through rate to your YouTube channel.
Subscription
To grow your audience, you need your viewers to subscribe to your channel. You can also proceed and ask them to click on the notification bell. It helps discover new content as soon as you publish it on the page. Youtube algorithm works by checking how many subscribers you have, in a metric mentioned earlier as view velocity.
As an audience, you must have subscribed to a YouTube channel. It means that the information on the page was helpful to you, and therefore, you do not want to miss future posts from the platform.
Home and recommended videos
The YouTube algorithm will track user history and engagement with previous videos. YouTube will suggest videos on the sidebar, at the end of a video, and home screen. If YouTube does not recommend your video, you can promote the next video in your channel at the end screen.
The recommendation system can rank a video by analyzing the performance and how well it has satisfied similar people. YouTube will recommend videos from different channels and promote other types of content.
Trending
The trending section has popular and new videos. It is specific to the user's country. YouTube considers the view count and growth of the videos they rank in this section. The user needs to click on trending on the left side of the platform.
YouTube will monitor the views on the pages and how quickly they grow. The trending section gives room for not-so-popular videos to attract views.
How To Optimize Your Videos For YouTube Algorithm
Videos have a higher engagement rate and can increase conversion for a business. YouTube is a social media platform that you can use for entertainment, marketing, how-to, content creation, and learning.
So, how do you optimize videos for views on the platform?
Recommendation algorithm
YouTube algorithm works for small YouTubers as well. For YouTube to recommend a video, it is triggered by several factors. It can be watch time, clicks, likes, comments, and upload consistency. YouTube also recommends new videos.
Before YouTube recommends a video, it will check on the impression it has. Do not be tempted to create a new YouTube channel or use clickbait to attract an audience. YouTube will recommend a video as long as the viewers keep watching it.
Use Niche-specific keywords
As part of the YouTube SEO, consider using niche-specific keywords. For instance, if you are dealing with web design, you can create videos that help users create and optimize websites. You can also rank for specific keywords.
You can use YouTube's autosuggest feature to come up with long-tail or short-tail keywords. Consider using the keywords in the video title, thumbnails, and video description.
Track Your YouTube channel analytics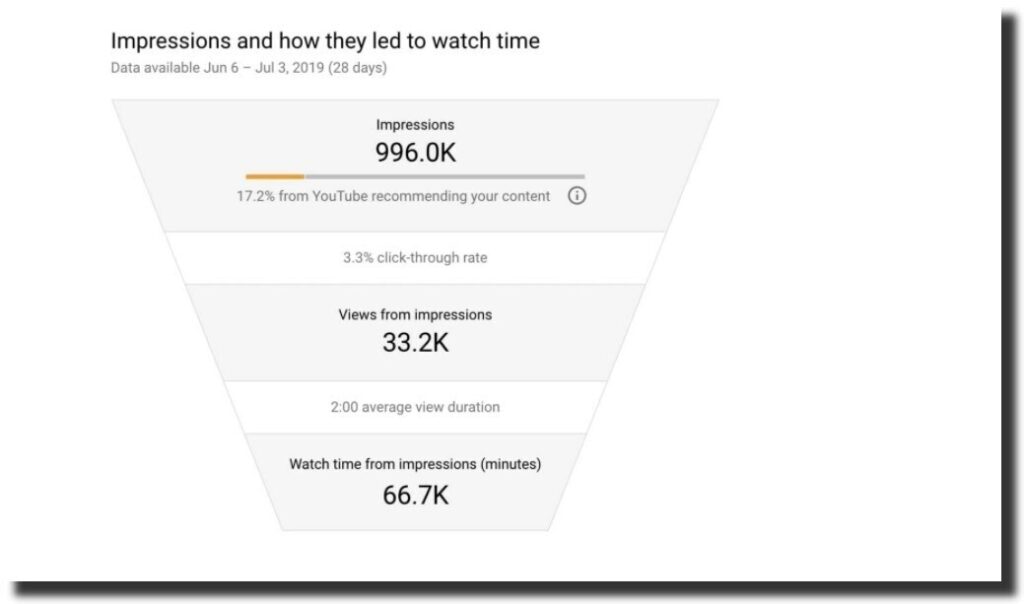 Tracking the analytics gives you insights into how people are interacting with your videos. From the analytics dashboard, you can discover the impressions from YouTube recommending your content, click-through rate, view duration, and watch time.
The information is presented in the form of a funnel. It helps you optimize your videos for click-through rate and increase watch time.
User Experience
As a content creator, you need to consider how users feel after visiting your channel. YouTube algorithm rewards user engagement and not vanity metrics. Remember, you are creating content for the audience and not competing with the search engine.
Most of the audience within the age bracket of 18-34 in the United States watch YouTube videos compared to TV. Therefore, it should be easy for anyone to find and use the content on your channel. It should also have relevant links if possible.
An example of how you can improve user experience is by providing timestamps with titles for users to skip to the sections that matter to them most.
Use a hook
To attract more viewers to watch videos on YouTube, you need to have a strong hook. It will attract people to view at least 50% of the content or view to the end.
A hook is something that promises to add value to the people. For example, if you're creating a marketing video, you can start by making a promise to the viewer. If your video has a strong hook and remains relevant to the user, it can increase subscribers to your channels.
Make use of thumbnails.
Adding a custom thumbnail can attract clicks to your videos. Most of the video users will check on a thumbnail before clicking a video. If you do not add thumbnails to your videos, YouTube will pick one for you.
Engage with your audience
With the engagement metrics, YouTube monitors the likes, comments, and shares your video attracts. Replying to comments that people leave on the channels is essentials. YouTube algorithm checks to see if you are having relevant conversations with your audience or simply increasing the vanity metrics.
Engagement can affect the discovery system as well as a search algorithm. Keep in mind that the goal is to help viewers discover videos they want to watch and have a long-term viewer engagement.
Markert externally
As a new YouTuber, do not only rely on the algorithm to promote your videos. To grow the subscriber list and increase video views, you need to grow your audience. Using a digital marketing agency or freelancer can help you market the channel.
You can also create a blog and embed a video from the platforms. It helps views who do not like reading to watch the video, thereby increasing the views and driving traffic. Marketing on other social media platforms like Instagram, Facebook, and Twitter can drive engagement.
You can also use email marketing and focus on YouTube SEO.
Include a Call-to-action (CTA)
A CTA can be a button, link, or text. Most YouTubers add clickable links at the end of the video to market a new video. It also helps to market other videos with the channel that can add value to the audience.
You can also add links to direct users to other social platforms. It helps users who do not subscribe to your content to opt-in for different options and receive notifications from you.
Be Consistent in publishing videos.
If your audience engages with your content and realizes an increase in your subscribers, you need to be consistent in posting. Let's say you are a travel vlogger who creates content on various destinations. You notice there's traffic to your channel, and most viewers are engaging with your content. Your top priority will be to create more content to keep them engaged.
Therefore, you need to check Youtube Analytics to find out how your audience interacts with your channel. How long do they watch a video? Do you have new viewers? Do you have return reviewers? The information you gather will help you decide on how consistent you will be in publishing new videos.
One of the benefits of publishing videos consistently is that it helps in retaining your audience. It increases the chances of YouTube recommending your videos in suggested and home video sections.
Include video descriptions
When adding a video description, include keywords that you are ranking for. Also, the video description should inform the viewer what to expect from your video. A viewer will start by reading the description first before clicking.
Therefore, you want to attract more views by having captivating descriptions that describe what your video entails.
Are There Algorithm Changes?
YouTube algorithm controls different sections within the platform. That is the search, trending, home, subscription, notification, and recommended pages. There have been changes in the algorithm since its launching in 2005.
The changes in the algorithm are to help viewers discover the content that they are searching for. In the inception years, YouTube was ranking pages that got the most clicks. However, there have been several changes with the algorithm as more people keep uploading and searching for videos on the platform.
One of the questions with the new YouTube algorithm change is -does the algorithm limit the number of video uploads to a Youtube channel? According to Youtube, there is no limit on video uploads to the platform.
It will still recommend the videos if the viewers continue to watch them. However, if the videos do not perform well, they may not appear on search or home sections.
Here is a list of other changes with the algorithm:
Creating high-quality videos is essential to the ranking of the video. With more people creating YouTube channels for vlogging, marketing, and other purposes, it increases competition. Therefore, there's a need to publish content that is relevant to the users. The metadata should match user queries.
Increase watch time. As content creators create more content, your audience needs to watch it to the end. It will inform the YouTube algorithm that the videos are fit for other viewers to watch.
Therefore, marketers and content creators need to create content that will compel users to watch more than 50% of the videos.
Final thoughts,
As a content creator on the Youtube platform, you need to keep up with the algorithm changes. Despite the algorithm changes, YouTube's goals will always be the same. To have more people watching and engaging with videos.
As users of the platform, you will need to keep up with these changes to attract subscribers and watch time in your channel. YouTube pays attention to videos the users are watching. Therefore, you need to create quality content that improves your vanity metrics as well.
Understanding your audience and creating content that resonates with them generates engagement and increases watch time. As a result, your videos will be ranked on the search results page recommended section and home page.