Search Engine Optimization is one of the greatest tools that companies have in terms of acquiring online visibility since it brings in more visitors through free, organic search results. Google, Bing, and Yahoo rank websites based on some criteria they consider essential. By optimizing the website and by increasing the ranking in SERP, you will get an increase in organic traffic to your website.
SEO audit helps recognize issues that may block any site from ranking on search engines.
A great SEO audit should provide a list of actions to be taken to improve organic search performance. A good SEO specialist should scan the Website for over 130 possible technical and SEO mistakes.
List of SEO actions
The actions should be divided into three or more groups, depending on their priority: errors, warnings, and notices.
Errors: Ex. Major issues need to be addressed first, such as broken internal links.
Warnings: Ex. Problems, including broken external links and nofollow attributes in outgoing internal links.
Notices: Ex. Issues we should work on after handling the errors and warnings, including orphaned pages and permanent redirects.
Some of the most common reasons why the companies need to audit their websites
The company plans a new growth strategy.
The company designed and developed a new website and wants to figure out the next steps.
You have lost organic traffic and need to discover why.
Part of any SEO strategy includes audits to identify and fix issues quickly (it is recommended quarterly).
Why SEO Audit is so important for your Business
SEO Audit is about identifying the issues which impact negatively the organic traffic. Once you start missing on traffic, that means you are losing out on leads and eventually on sales.
Crawling or indexation issues lead to the fact that your content will not be able to compete with your competitors and as a result, you will miss on organic traffic.
If there is any factor to urge you to go and audit your site, it is recognizing that your competitors could be taking your organic traffic and conversions.
If you don't audit your site on a systematic basis, you will miss opportunities for growth, accidental issues that arose in the latest development roll-out, or simply things you could have done better.
SEO Audit Actions in details
An SEO audit isn't easy; it's a puzzle with lots of evolving pieces. We teach you everything you need to know about your site and find and prioritize issues that could be holding back the site's performance and help you understand the first steps we need to take to grow your organic traffic.
1. Traffic Analytics (last 6 months)
Report that provides estimations of website desktop and mobile traffic.
Estimates of total website traffic to any domain and its subdomains, and subfolders
Visits, unique visitors, pages/visit, average visit duration, and bounce rate analysis
Traffic sources
Geolocation-based web traffic analysis
Top "destination sites" that users visit directly through hyperlinks on the analyzed domain
Historical data
Mobile / desktop traffic
Audiences' overlaps
Comparison for 3 domains
2. Domain Overview Report
Presents a range of overview metrics about your's domain online visibility so that we can quickly get a full picture of your website's online presence.
Domain Authority Score
Organic Search
Backlinks
Paid Search Traffic
Display Advertising
Traffic Engagement Metrics:
Keywords by Country and Traffic Trend
Compare Domains
Domain Organic Research
Domain Growth Report
3. Organic Research Overview
Gives a brief summary of the estimated traffic, keywords, top position changes, SERP features, top pages, top subdomains, main organic competitors, and competitive position map – all based on the keywords where the queried domain has an organic position in Google's top 100 results
Traffic
Organic Keywords Trend
Estimated Traffic Trend
Keywords
Traffic Costs
Branded Traffic
Non Branded Traffic
4. Position Tracking. We will provide a report on your rank across the keywords. We extract the keywords for which your website is currently ranked from specialized Analytics Tool or/and you provide us the list of keywords you would like your website to rank for. It included Keyword Analysis for 5 Pages.
Top Keywords
Positive Impact
Negative Impact
Cannibalization Health
5. Understanding Your Competitors. We will provide a clear visualization of your competitors' positions to help you understand who you are competing against; we can then dive deeper into their site's SEO performance (analyzing why and how their websites stand before yours).
6. We Check For Duplicate Versions of Your Site in Google's Index. This is perhaps the most basic check that needs to be run on your site, but it is really important to ensure that Google is indexing only one version of the site. Your site could sit on: http://www.domain.com; http://domain.com; https://www.domain.com; https://domain.com. To a search engine, these are different versions of the site. Your site should only have a single version indexed, and we need to check for duplicates.
7. We Check the Site and URL Structure. Why is this important? From a UX, "pretty" permalinks can show what a page is all about, even before checking out the page. SEO-wise, URLs are a very important ranking factor so having this right is crucial for SEO efforts. The URL should be short and concise.
8. We check The XML Sitemap. Your site's XML sitemap should be used to specify to Google those primary pages on your site that should be indexed. We check if your sitemap file contains URLs that either lead to webpages with the same content, redirect to a different webpage, or return non-200 status codes. We check if your sitemap is submitted to Google Search Console.
9. We check your 404 Page. Every page should be valuable for the user, especially for those triggering a 404 page on your website. Why? Because if people can't find what they're looking for, they'll just go back to the search results, creating a "pogostick" effect and increasing your overall bounce rate
10. We Check the "Trust Pages". Why are they important? Google measures sites from a trust perspective as well. Any legit business should and does have such pages live so it's important that you have them too (About, Contact, Privacy Policy and TOS page).
11. We Check Your Site's Indexed URLs. We check how many pages and posts are published in your Website (CMS). We check if the number of indexed results is what you expect. If the result is lower than it should be, we may find that your site isn't being crawled or indexed accordingly. If the number of indexed pages is higher than it should be – the cause here is usually the automatically generated pages on your website.
12. Crawlability. We Analyze and Check Further Indexation Issues that could be preventing your site from being crawled and indexed correctly. We need to make sure that every important page of your website is accessible to search engine bots, and that all of the pages you do not want to be indexed are hidden from them Ex.:
Pages that have a noindex attribute and that are submitted in a sitemap
Pages blocked from being crawled in your robots.txt file but that are included in a sitemap
404 pages that are submitted in a sitemap
Pages that redirect
Crawl anomalies
Pages that are crawled but not indexed
Not found (404) errors
13. We Check Internal/External Linking and Redirects Errors. Having broken internal links creates a really poor user experience. If a user clicks a link on your site, they expect to be taken to that page, not served a 404 error. Having broken internal links creates a really poor user experience. But that aside, it sends negative quality signals to the search engines. Page loading and server errors affect the user experience and can create issues when a search engine tries to crawl your site. There can be different issues that are related to redirects.
Broken internal links
Malformed links
Broken external links
Too many on-page links
Nofollow attributes in outgoing internal links
Too long link URLs
Nofollow attributes in outgoing external links?
Orphaned sitemap pages. Orphan pages are those that exist on your site but are not linked to from any other page. Essentially, if a page isn't being linked to, it is not receiving topical authority passed through internal linking and can be considered, in rare instances, a gateway page.
Page Crawl Depth more than 3 clicks. The farther away a page is from the homepage, the higher its click depth and the lower its value to search engines.
Pages with only one internal link
Permanent redirects
Resources formatted as page links
Links with no anchor text
Links with non-descriptive anchor text
Redirect Chains & Loops. A redirect chain is a two or more redirects happening at the same time.
Temporary Redirects – 3xxx Status Code (302,307)
4xx Status Codes These errors indicate that a requested page can't be accessed and are known as broken links
5xx errors exist on the server side. They indicate that the server could not perform the request.
14. We Audit Canonical Tags Issues. Canonical tags are used to point out the "master page" that the search engine needs to index when you have pages with exact matches or similar content.
15. We Check Your Web Hosting Server Performance. Hosting your website on the right platform is important because it can impact a series of SEO factors such as page speed, bounce rate, and the overall UX experience. This not only improves performance but also enforces the security of your website. A hacked website is a nightmare, because not only do you lose control over the site, but your rankings will tank as fast as being manually penalized by Google.
16. We check if the server is located close to your service area.
17. We Check Site Performance and Your Site's Page Experience. Page loading speed is a major ranking factor, it also significantly affects user experience. User experience is being introduced as a ranking factor. Web Vitals is an initiative that was launched by Google in May 2020 that is intended to provide unified guidance for quality signals that are essential to delivering a great user experience on the web. Google has announced that they will roll out a Page Experience Update in 2021 by the end of May beginning of June. It is more important than ever that your site is fast, both from SEO and UX perspectives (UX is more ingrained in SEO success than ever before). When we audit a site for speed, there are two data points to consider.
Page speed: How long it takes one webpage to load
We check for Gzip Compression. Gzip is a method of compressing files (making them smaller) for faster network transfers. It is also a file format. Compression allows your web server to provide smaller file sizes which load faster for your website users.
We check your Images for optimization. The images are the biggest factor which influence the size of a page so optimizing them properly is like the 80/20 of any website optimization.
Site speed: The average page speed for a sample set of page views on a site. Let's say there are 2 identical pages on 2 different websites. Google will favor in search results the one which loads faster.
37% of Visitors Bounce When Your Site Takes Five Seconds to Load
A One-Second Delay Results in a 7% Drop in Conversions
Three of the Top Four SEO UX Signals are Page Speed Dependent
The Core Web Vitals metrics results which are impacting User experience one of the main ranking factor are:
Largest Contentful Paint (LCP): measures loading performance. To provide a good user experience, LCP should occur within 2.5 seconds of when the page first starts loading.
First Input Delay (FID): measures interactivity. To provide a good user experience, pages should have a FID of 100 milliseconds or less.
Cumulative Layout Shift (CLS): measures visual stability. To provide a good user experience, pages should maintain a CLS of 0.1. or less.
We do provide separate Web Vitals Measures Report for Mobile and Desktop.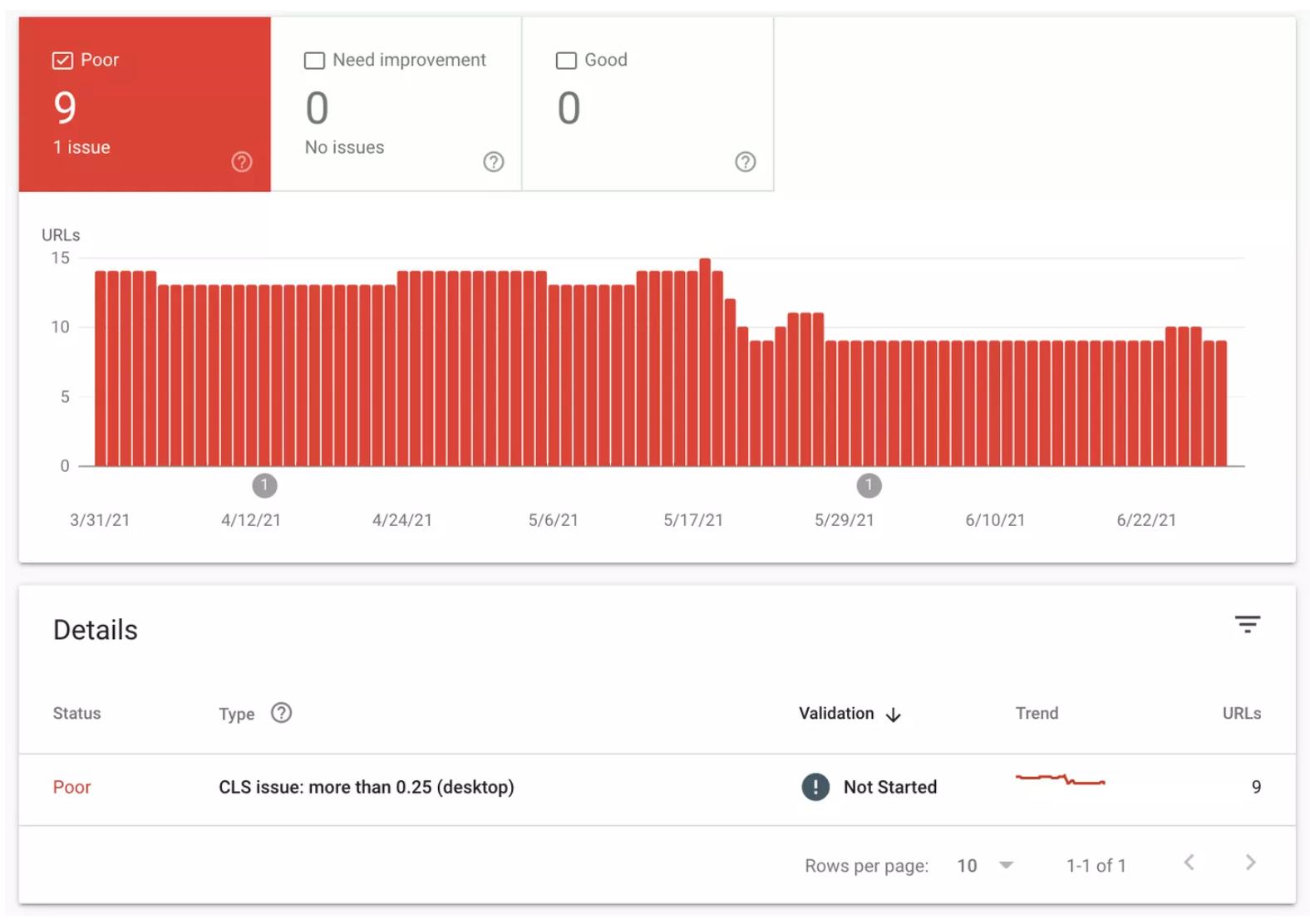 18. We Check For Mobile-Friendliness Issues. We live in a mobile-first world, and if your site isn't mobile-friendly, there is a very good chance that you are not properly putting your user's experience first. Mobile-friendliness has been a ranking factor since 2015. As of February 2021, more than half (56 percent) of web traffic happens on mobile devices. Google plans to implement mobile-first indexing for all websites by the end of March 2021.
19. We check for Technology Update Status. It's important to keep everything under the hood up to date, so that you can benefit from the latest features in terms of security and performance.
20. We Check For Manual Actions. If your site is deemed to be in violation of Google's Webmaster Quality Guidelines, Google can (and occasionally doeses) issue a manual action. This used to be referred to as a manual penalty. It means that your site's rankings will drop and that you won't be able to rank as highly as you previously were until the action is revoked; this action can either be at page-level or sitewide.
21. We Check for Site Security Issues. HTTPS has been a ranking signal since 2014, and if your site still runs on HTTP, we need to implement an SSL certificate. Data transferred over a Hypertext Transfer Protocol (HTTP) is not encrypted, meaning a third-party attacker may be able to steal information. We check for possible issues as:
Expired security certificate
Certificate registered to the wrong domain name
Old security protocol version
Non-secure pages with password inputs
No server name indication (SNI)
No HSTS server support
Mixed Content
Internal links to HTTP pages
No redirects or canonicals to HTTPS URLs from HTTP versions
HTTP links in the sitemap.xml
22. We Audit Your On-Page SEO. On-page SEO, also referred to as on-site SEO, is the process of optimizing the content on your page to make it as discoverable for search engines as possible. On-page SEO relates to things like:
Lengthy Title Tags (for optimization scope)
Missing H1s
Duplicate Title and H1 Tags
Missing/Duplicate Meta Descriptions
Missing/Inappropriate Image alt tags (Name your images properly)
Target keyword in URL, Title and Heading
Heading Hierarchy
Format and style the content
Featured Snippet
Duplicate content on your site can cause issues that prevent you from ranking as highly as you could. In fact, it can send confusing signals to search engines. When your web pages contain identical information or nearly identical information, it can lead to several problems.
An incorrect version of your page may display in SERPs.
Pages may not perform well in SERPs, or they may have indexing problems.
Your core site metrics may fluctuate or decrease.
Search engines may be confused about your prioritization signals, leading them to take unexpected actions.
We Identify Thin Content Pages. Just as duplicate content can cause issues, so can thin content. Thin content is typical of little or no value to both users and search engines, yet spreads your site's authority thinly.
​
23. We Check your Brand on Multiple Social Networks. The idea behind this is to secure the entire 1st page of search results for your brand name. And the way to do this is by claiming your brand's online properties.
24. We Do Backlink Audit and We Check For Toxic Links. Not all links help you rank. If Google considers a link to be an attempt to manipulate your search rankings, it violates their Webmaster Guidelines. We analyze the links that are may be toxic. Links remain a key ranking factor, and SEO Backlink Audit is the base for planning a strategy to build better links than your competitors. According to our ranking factors study, backlinks are still a top factor in Google's organic ranking algorithm. So, link building and backlink maintenance should absolutely be a part of every SEO strategy.
What Are The Next Steps After a SEO Audit?
Once the SEO audit is done and the issues are identified it is time to jump straight into fixing these. One essential thing to realize is the value of prioritizing tasks, both based on the severity of the issue and the resources and work required to fix it. The issues and errors we should be put into one of several categories, depending on their type:
Issues to be fixed by the SEO Specialist
Issues a developer or system administrator will need to be involved to fix.
With these in hand, need to start fixing some of the biggest site mistakes, and provide a custom SEO Strategy for:
Site Structure
Site Hierarchy
URL Structure
Sitemap Creation
Sitemap Optimization and submitting to GSC
robots.txt Fixes
Canonical Tags Fixes
Internal Linking Issues Fixes
Site security Issues Fixes
Site Speed Improvement
Mobile-Friendliness Issues Fixes
Most Common Code Issues Fixes
Duplicate Content Issues Fixes
Fix content cannibalization
Redirect Errors Fixes
On Page SEO Fixes
International SEO, Hreflang Fixes
Toxic Links Disallow
Competitors' Websites SEO Analysis (why/ they stand better)
Keyword Research
SEO Content strategy
Backlinks (Link Building) Strategy
Interlink Social Networks
Guest post on niche-related blogs
Turn brand mentions into links
Schedule social posting
Copy Audit and Copywriting (10x content)
Claim your Google My Business Listing (Local SEO)
Claim your Bing Places for Business Listing
Optimize Listings
Get Your Website on general relevant directories
Reach out for reviews
Reply to reviews
Publish Google Posts
Add site-wide NAP details
Add local business markup to your homepage
etc.
By finding problems as quickly as possible, you can fix problems that prevent your site from achieving its full potential.