Struggling to coordinate meetings with your remote team members or clients? Or you might be looking for ways to improve communication and collaboration within your organization. Video conference software is the solution that can provide your teams with seamless collaboration.
Businesses that utilize efficient internal communication methods are more likely to see improved outcomes. Interestingly, effective communication within a team can boost productivity by as much as 25%
But, with so many options, choosing the right tool for your business can be overwhelming. That's why we've put together this guide to help you navigate the world of video conferencing tools and find the perfect fit for your needs.
In this article, we'll look at some of the key features you should look for in a video conferencing tool. From the ease of use to security and collaboration features, we'll cover everything you need to know to make an informed decision.
Let's begin!
The Importance of Video Conferencing in Busines
In recent years, video conferencing has become a vital tool for businesses of all sizes. With the rise of remote work and the need for companies to stay connected with employees, clients, and stakeholders worldwide, video conferencing has become an essential tool for effective communication and collaboration.
| | |
| --- | --- |
| Face-to-Face Communication | One of the main advantages of video conferencing is that it allows for face-to-face communication, even when people are not physically present in the same location. This can be especially beneficial for companies with remote employees or businesses with international clients or partners. Video conferencing allows for real-time conversations that can help to build trust, foster relationships, and improve communication and collaboration. |
| Saves Time and Money | Another benefit of video conferencing is that it can save businesses time and money. Rather than traveling for in-person meetings, companies can use video conferencing to connect with employees, clients, and partners from the comfort of their own offices. This can save businesses significant amounts of money on travel costs and time that would have been spent on commuting and preparing for in-person meetings. |
| Collaboration and Productivity | Do you know that 33% of employees believe that poor communication and transparency can greatly negatively impact their overall morale and motivation at work?Video conferencing offers other advantages, such as document sharing, screen sharing, and meeting recording. This can make it easier for team members to collaborate on projects, share ideas and feedback, and stay up-to-date on the latest developments in their projects. With the help of video conferencing, teams can work together more efficiently, leading to increased productivity and better outcome. |
Features to Look For in a Video Conference Tool
Whether you're working remotely, hosting a webinar, or conducting an online meeting, having the right video conferencing tool is crucial to your success.
Video conferencing has become an essential tool for businesses and organizations. With so many options available, it can be difficult to know which features to look for when choosing a video conferencing tool.
Ease of Use
One of the most important things to consider when choosing a video conferencing tool is its easy use. You don't want to spend hours setting up and figuring out how to use the software. It should be easy for anyone on your team to join a call, share their screen, and use the various features.
Therefore, you should look for tools with a simple, user-friendly interface that doesn't require much technical knowledge. It should also be easy to schedule and join a call, even if you're not the one who set it up.
Video and Audio Quality
The main purpose of a video conference tool is to facilitate communication, which means having high-quality video and audio. A tool with poor video or audio quality will make it difficult to understand what others are saying and can lead to frustration and confusion.
Therefore, you should search for tools with high-definition video and crystal-clear audio that can handle large numbers of attendees without lag or buffering. If your team is using the tool for important business meetings, consider investing in a tool that offers high-quality audio and video.
Screen Sharing
Screen sharing is a crucial for many teams, especially when working on projects. It allows team members to share what's on their screen in real time, which can help troubleshoot issues, conducting presentations, and more.
When choosing a video conference tool, find one that can share the entire screen or just specific windows or applications. Some tools also offer the ability to annotate and draw on the shared screen, which can help point out specific areas of interest.
Scalability
Another important factor to consider is scalability. A video conference tool can accommodate participants, from small one-on-one meetings to large group meetings with hundreds of attendees.
It should also handle a high volume of concurrent meetings without lag or interruption. This is particularly important for businesses that may need to host webinars or large-scale events.
Security
Security is another crucial feature when choosing a video conference tool. With the rise of cyber threats, ensuring that your video conferencing tool has robust security measures to protect your sensitive information is important. This includes end-to-end encryption, password protection, and the ability to lock meetings to prevent unauthorized access.
Collaboration Tools
Collaboration is one of the main benefits of video conferencing, and it is important to ensure that your video conference tool has the necessary tools to facilitate collaboration. This includes screen sharing, whiteboarding, and real-time file collaboration.
To streamline your workflow, it is also important to look for a video conferencing tool that integrates with other productivity tools, such as Google Docs and Trello.
Top 14 Free Video Conference Tools For Business
There are several video conference tools in the market. But some are more advanced and intuitive than others. We've curated a list of the most popular video conference software that can facilitate collaboration between your team members and make communication with the clients seamless.
Zoom
Zoom is one of the most popular video conferencing tools available, and it offers a great option for those on a tight budget. In fact, 50% of Fortune 500 companies currently have at least one Zoom account for video conference Zoom free. Plus, many virtual interviews are also conducted on Zoom.
With its free version, users can benefit from video conference Zoom free from clear audio with background noise suppression, screen sharing, and a recording function to save and send the meeting to those who could not participate.
While the free plan has a 40-minute limit on group meetings, it's worth noting that the 40-minute cap does not restrict face-to-face meetings.
Features
Multi-user screen sharing
720p HD video
Host up to 100 participants
Private and group chat
Unlimited meetings
Dialpad Meetings
Dialpad is a cloud-based UCaaS solution that provides all the communication needs for your business. It is a virtual workspace offering various features such as video meetings, VoIP phone calls, instant messaging, and SMS/MMS. 
With Dialpad, you can easily connect to anyone, anywhere, and anytime, as long as you have an internet connection. You can invite people by sharing a dial-in number, sending an email invite (as it has integrations with Microsoft Outlook and Google Calendar), or even sending them an SMS with a link.
Features
Audio-only conferencing
Call recording
Meeting room locks
Third-party integration with software, such as Slack, HubSpot, Twitter, Salesforce, LinkedIn, Intercom, and Evernote
Cisco Webex
Cisco Webex Meetings is considered one of the leading video conference solutions due to the extensive features that are included in its free plan. It shares the 40-minute time limit with Zoom, but it provides 1 GB of cloud storage and allows up to 50 participants in a single meeting.
Real-time polling is also a feature in this software. It can be used to make team decisions during meetings. All meetings and recordings are fully encrypted to ensure privacy and security. It also supports HD video and screen sharing as a cherry on top.
Features
Active speaker view
Calendar integrations
Full encryption on meetings and recordings
Screen sharing
HD video
Microsoft Teams
Microsoft Teams is a well-known platform that provides some cloud storage and the ability to place video calls. Like many other tools, it's priced on an annual subscription basis, but it can be used for free with limited features.
When using the free plan, Microsoft video conference free lets you host meetings for 60 minutes with up to 100 participants. It also gives you 5GB of cloud storage per user and comes with file-sharing capabilities. However, it's worth noting that the Microsoft video conference free does not include meeting recordings or customer support.
Features
Storing documents in SharePoint
Private and group chat
Screen sharing
Audio conferencing
Skype
Whether you're having a quick 1-on-1 conversation or a small group meeting, Skype makes it easy to stay connected with your colleagues, friends, and family.
Skype is a popular video conferencing tool that allows you to connect with others anywhere, anytime. It's great for small teams, as its free version offers a simple and easy way to conduct video chats from your computer, phone, or tablet.
It also has a Skype in the Classroom feature that is specifically designed for online education. This makes it easy for educators and students to connect and collaborate remotely. With its user-friendly interface, high-quality video and audio, and ability to share screens, Skype is a great tool to help you stay connected and productive.
Features
Screen sharing
Interactive video chats
Location sharing
Video call recording
Google Meet
Google Meet is a cost-effective and user-friendly video conferencing tool for small teams. If you don't need to record or store meetings, the tool is free to use forever for up to 100 participants. It also integrates with other apps and allows you to create a custom app using Apps Script.
Additionally, it comes with unlimited Google Drive storage.
One of the most prominent features of Google Meet is the speech-to-text real-time captioning feature for video chats and meetings. This makes the video conferencing tool ideal for hearing-impaired participants, non-native speakers, or participants with noisy backgrounds.
Features
HD video
Document sharing
Screen sharing
TrueConf Online
TrueConf is an ideal solution for conducting group video conference free for small teams or individuals who require a basic tool to host video calls or collaborate with small groups.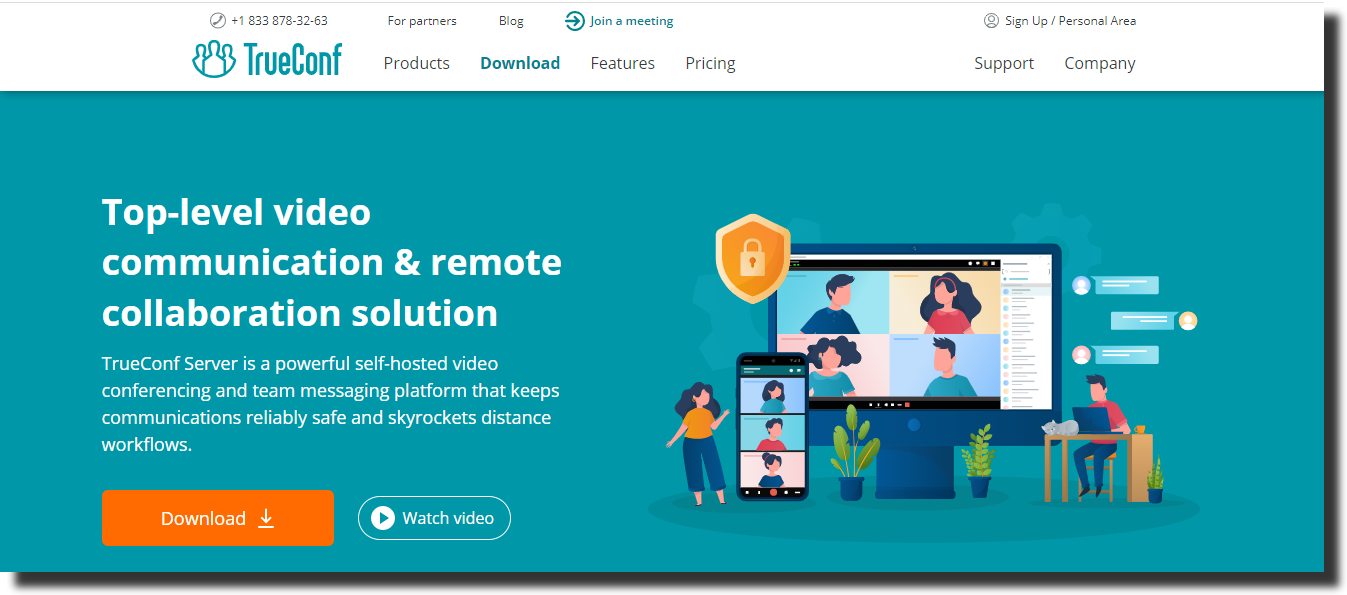 Its free video conference call allows up to three participants in video calls. The video conference tool has several features that can help you seamlessly collaborate with the team members. For instance, it comes with collaboration features, such as remote desktop control, which is particularly useful for support teams who need to assist clients in resolving issues.
The free plan provides an easy and cost-effective way for small teams or individuals to communicate and collaborate effectively without requiring extensive or advanced features. It is a great option for those looking for a simple and straightforward solution for their video conferencing needs.
Features
Maximum of three team members per video call
High-definition video quality
Features for collaboration such as screen sharing, remote control access, call recordings, file transfer, and a shared whiteboard.
Whereby
Whereby is a newer video conferencing platform primarily caters to small teams. Whereby is the perfect group video conference free tool that stands out from other options due to its unique platform.
With the free version of Whereby, you can host group meetings for up to 45 minutes and have unlimited one-on-one meetings. It's worth considering if you're looking for a fresh and modern video conferencing platform for small teams.
Whereby is a convenient and easy way to host video meetings without needing any app or software downloads/ All you have to do is choose your own personalized URL and meet using your internet browser, whether on mobile or desktop, with just one click. It's the most straightforward way to start a video conference with friends, colleagues, or family.
Features
Secure video meetings.
Recording capability.
Screen sharing feature.
Large Meeting capacity.
BigBlueButton
BigBlueButton is an open-source virtual conferencing platform that educators designed. Therefore, its features are centered around distance learning. However, it also offers key benefits that companies can benefit from.
The platform has a whiteboard, polling, and breakout room capabilities, making it easy to collaborate and exchange insights during and after the conference. It supports various integrations such as Chamilo, Canvas, Fedena, Drupal, Schoology, and more.
Furthermore, the platform's support for 65 languages makes it accessible and useful for a global audience.
Features
Whiteboard and polling features
Shared note-taking capabilities
Breakout room functionality
Support for 65 languages
Integrations with educational platforms
AnyMeeting
AnyMeeting is a full-featured web conferencing tool that is designed for small to medium-sized businesses. It is available on desktop and mobile devices, allowing you to have reliable and stress-free meetings from anywhere at any time.
With high-definition audio and video quality, interactive collaboration tools, and artificial intelligence capabilities, AnyMeeting enhances communication and provides a smarter, faster, more engaging meeting experience.
Intermedia AnyMeeting is designed to provide the highest quality video conferencing experience, ensuring that even the smallest and most unnoticeable facial expressions are picked up, providing the best human-to-human experience.
The video conferencing feature of AnyMeeting includes support for up to 100 webcams, screen sharing with annotation, recording with AI-based transcriptions, and end-to-end encryption to ensure that your meetings are ultra-secure.
Features
Screen sharing
Whiteboarding tools
Scheduling options
Recording feature
Permissions for Participants
Live chat functionality
FreeConference
FreeConference may not be as well-known as some of the other options on this list. However, it excels in its simplicity. It is a video conference for free tool that provides the quickest and easiest onboarding processes of any conferencing solution, allowing you to set up an account and start your first video call within 10 seconds.
The free plan even includes features such as screen sharing, file sharing, and access to FreeConference mobile apps, making it a great option if those are your primary needs without needing an upgrade.
Features
Quick and easy 10-second account setup
Support for up to 100 participants
Automatic meeting summaries feature
Screen sharing capabilities
Whiteboarding tools
Live chat functionality
Hand raising feature
Slack Video Calls
Slack is a great tool for teams to communicate and collaborate, and one of its most convenient features is the ability to make video calls right from the platform.
You can easily start a call with a teammate using the command "/call" or by clicking on the phone icon at the top of the conversation. This makes it super easy to ask a quick question or have a face-to-face conversation without ever having to leave Slack. You can even start a call from a channel and invite others to join, making it great for small team meetings.
Features
Ability to make group calls with up to 15 people
Option to make individual calls
Built-in messenger feature for text-based communication
RingCentral Meetings
RingCentral is a well-known provider in the VoIP industry but did you know they also offer a video conferencing solution called RingCentral Meetings ? This tool offers standard features such as HD video and screen sharing, as well as recording and text chat capabilities.
Users can choose between using the in-meeting group chat or a private chat, depending on the level of confidentiality of the information shared. The meetings can be joined from a computer, mobile device, or landline. Similar to Zoom, it does have a 40-minute time limit for conferences but does not impose any limits on face-to-face meetings.
Features
HD video
Recording option
Screen sharing features
Device compatibility for desktop, PC, and landline
Group and private chat feature
U Meeting
U Meeting is a tool that allows free video conference call and emphasizes collaboration and remote education. One of its standout features is the breakout sessions, which allow you to divide participants into smaller groups for various purposes such as marketing strategies, group studies, and more.
It also includes a roll call feature, making it a great educator option. The platform also includes annotation and laser pointer tools to emphasize important parts of a presentation during discussions and meeting recordings to archive all information discussed during the conference.
Features
Ability to divide participants into smaller groups for targeted discussions
Convenient roll call feature for educators
Tools to highlight and discuss specific parts of presentations during the meeting
Recording capability to save and archive the information discussed during the conference.
Key Takeaway
Video conferencing tools have become vital in daily communication, whether for work or personal use. But, with so many options, choosing the right one that suits your needs can be overwhelming. The good news is that several free video conferencing tools offer many features, so you don't have to break the bank to have a successful virtual meeting.
Don't hesitate to try out a few different options before settling on the one that works best for you and your team.