When looking for trending topics for your blog, timing is everything. That's especially the case when sourcing recent topics for your site. And in the business world, fresh blog content today does not stay fresh for long.
The thing is the best trending topics don't just show up. Instead, you must dive deep into research to identify good trends that tap into your audience's needs and these should resonate with your business goals.
So what are the fastest ways to identify hot headlines in your niche? What strategies and tools do you use to find evergreen blog topics with consistent search volumes over time? Where to start especially if you're just joining the blogging industry?
Today we'll explore the anatomy of finding popular topics for your blog — from the crucial steps you should take before picking a trending headline to the best strategies and tools to use.
3 Steps that Matter When Looking for Trending Topics for Your Blog
When looking for popular content to focus on, most entrepreneurs assume that they've mastered the industry and entirely know the target audience. But a different reality hits them when analyzing blog traffic and audience reaction to the content.
So whether you're new in the blogging industry or you've been around for some time, the following are the critical steps to take when looking for a hot topic in your niche.
These steps will help you avoid creating content that lingers on the dark side of the internet where no one explores.
Step 1: Define Your Specific Audience
Targeting a general crowd makes you lose business that could otherwise uplift your organization to the next level. That's because potential customers are a group with specific pain points, age, gender, and a particular geographical location.
Knowing your audience's unique attributes and deepest felt needs sheds light on the topics that interest them.
However, make sure your goals align with the audience you're defining to get desired business results from your blog.
Step 2: Generate Blogging Ideas Based on Your Audience and Business Goals
For instance, the marketing team at a hospital specializing in obstetrics wants to create a blog. The question they may ask themselves is, "what's trending in the healthcare industry?"
While that sounds like a sensible question that might lead to a blog-worthy headline, the team may end up with trending topics that attract unwanted traffic. Instead, they should dig deeper to identify more fruitful starting points.
What topics are people looking for from a hospital specializing in obstetrics? What actions do you want existing and potential customers to take every time they visit your blog?
Such questions will help you create high traffic and engaging blog posts. As a result, you'll not only generate relevant content for your audience but also drive desired actions that benefit your business.
The idea here is to niche down your blog as much as possible. You're not just publishing any trending information in the industry. Your business specializes in a particular field in the industry, and your blog topics should be too.
Step 3: Monitor Your Competitors
Monitoring your competitors doesn't mean stealing topics and publishing them on your blog. Instead, it's defining and understanding your rivals.
It's determining their weaknesses and predicting their moves to improve your blog. After all, it's wise to learn from other bloggers' mistakes.
Keeping an eye on your competitors might uncover opportunities to build on an idea and have a new perspective on how to handle it. As a result, you get to stand out on trending topics.
So to monitor your competition, use powerful keyword tools to check clear trending searches your competitors rely on to create relevant headlines and rank well on organic search results.
You can also use Google Alerts to track changes on the web. It notifies you via email when new searches related to chosen keywords are discovered on the internet, informing you about what's trending in your niche.
Even more, monitoring your competitor's social media activities can give you essential insights into hot topics you should focus on.
That said, the following table summarizes three essential steps to take to find relevant trending topics for your site.
| | |
| --- | --- |
| Step | Description |
| Define your target audience | Tap into your audience's needs and unique characteristics. Know what exactly they expect from your blog |
| Source trending topics based on your audience needs and business goals | Align the needs of your audience with your business goals to remain relevant to your readers as well as drive desired business results |
| Monitor your competitors | Borrow ideas from the competition and build upon them to differentiate yourself in trending topics. |
5 Strategies to Source Trending Topics for Your Company Blog
Once you've learned the three primary concerns when searching for a popular headline for your blog, it's time to explore some of the best strategies to identify good trends in your niche.
1. Explore Online Public Forums
Internet users post all kinds of questions, topics, and comments in forums like Reddit and Quora. Most of these platforms have industry and niche-specific sub-forums you can source inspiration for blog topics.
Getting your blog topics from search forums gives you a clear picture of people's pain points and opinions regarding a particular subject.
For this reason, you get to write blog posts in the voice of your readers and tap into their deepest feelings, helping you build an audience.
To access a public forum, start by typing its name on any Google query and gain insights into what fascinates your potential readers.
2. Dive Deep into Keyword Research
Doing thorough keyword research will not only help you identify worldwide trends but also boost your online visibility.
The reason being people use search terms to find content online, while search engines use these terms as ranking factors on result pages.
That said, there are several questions you should ask yourself when doing your keyword research.
· What terms drive the most traffic? Trending topics entail keywords with heavy search traffic.
· What exactly are searchers within your industry looking for most on giant search engines like Google?
· What type of content would you be searching for if you were in your customer's shoes?
Getting the answers ensures you include the correct terms your prospect will most likely use to find a topic in your blog. That way, solid keyword research attracts meaningful traffic that drives success to your business.
3. Leverage Social Media Platforms
Similar to public forums, social media platforms flood with millions of posts. They are a rich source of prospects' opinions, questions, and complaints you can explore to find a killer headline that interests a large army of readers.
However, it can be exhausting to navigate through dozens of posts on social media. Sort through the mess by narrowing it down to keywords and hashtags relevant to your industry or niche.
Twitter and LinkedIn are arguably the best sources of trending topics. Members tend to respond and engage with posts organically, especially through the comment sections.
Do further research to see what people say concerning a particular topic on such platforms. Then, use the relevant comments on social channels to extract the voice-of-the-audience and use it in your blog. That way, you'll engage readers and stimulate public shares.
4. Use the tools
Today, you'll find numerous tools that you can use to identify topics for your brand's content. What's more, most of these tools are either free or are low-cost.
These tools include Ubersuggest, Ahrefs content explorer, Exploding Topics, Google Trends, SEMrush, Buzzsumo, and Social Animal.
Also, each of these tools has some pros and cons as well as features that can help you generate ideas to use when marketing your content.
5. Data Analytics And Subscribe To Trending News In Your Industry
It can be challenging to manually monitor social media for all details of trending topics.
So, how then can your marketing team monitor audience behavior on all the different social channels? In such instances conducting social media, analytics can be helpful.
This allows you to analyze and discover your audience behavior along with the engagement level of your existing content. That way you'll get new topic ideas for blogs.
Also, understand things that attract your audience the most then create interesting blogs following that framework. Be sure to subscribe to business forums, newsletters, and periodicals to discover what's new in your industry.
8 Best Tools for Finding Trending Topics
Publishing viral topics is a surefire way of building a loyal brand following, but knowing exactly where to source trending topics can be challenging.
Fortunately, there are dozens of tools you can use to discover the latest headlines before they turn into old news. For this reason, the tools help you create fresh content that drives heavy traffic and strongly engages readers.
Here's a list of the eight best tools that shed light on what's happening as it happens— from industry-specific trends to regional and worldwide trends.
1. Ahrefs Content Explorer
This tool is a handy extension in the SEO tool Ahrefs. It allows you to source trending stories on search engines and social platforms.
You can also use it to find popular keywords (in titles, content, or everywhere) and sneak peek at the most shared content online.
With filters like social networks, referring domains to the content, and organic traffic, Ahrefs content explorer, gives you solid insights into trending topics online. For instance, it shows you viral content on social networks in the last 24 hours on its homepage.
What's more, it gives you content ideas based on top-performing content, allowing you to learn what's new in the industry and tailor it to suit your niche.
2. Google Trends
Google trends tool is a rich source of global trends. You don't need premium access to use its features since it's free.
It gives you a deeper dive into the latest data broken down by geographical location, category, and date range. The insights can range back from more than a year in search to the past one hour, showing you the rise and falls (in a graph) of various topics worldwide.
You can also filter the trending topics in Google Trends 2021 by types of search within Google, like YouTube, Google News, and Google Shopping.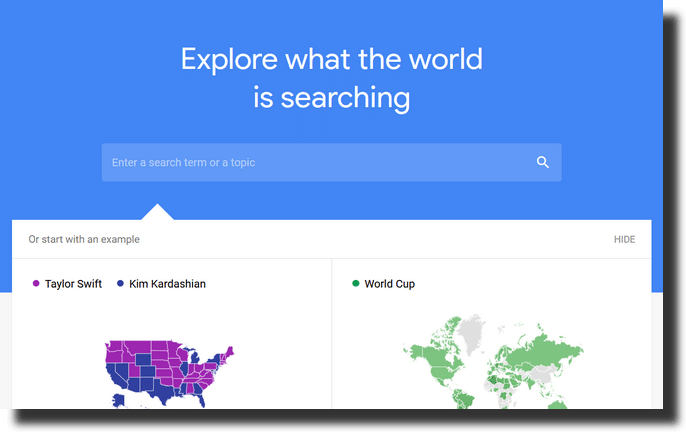 With most searchers turning to Google when browsing the internet, Google Trends 2021 is a gem for flagging viral topics.
Even better, this tool can uncover content ideas that will become popular in the future, which are denoted by "breakout." The keywords indicated like that means their popularity on Google has risen by 5000% or more.
3. Quora
Quora is a brilliant tool to get into the minds of your audience and know their opinions on a particular topic. It's a Q&A platform that is growing in popularity on the web.
You can identify niche-specific questions on Quora and use them to source meaningful topics on your blog. For instance, you can use it to find a long-tail keyword or discover the audience voice to use on your blog.
Alternatively, you can provide high-quality answers to the queries to establish yourself as an authority in the industry, allowing you to link relevant posts in your answers and drive heavy traffic to your site.
To decide on the questions deserving your attention, look at stats to evaluate their influence and relevance. Just make sure the questions are entirely tied to your niche.
4. Twitter
With a reputation as a timely source of breaking news and trending content, Twitter is a gold mine for many marketers and bloggers.
Hashtags make Twitter even more interesting by enabling you to monitor related content and participate in real-time conversations on trending topics. As a result, you get meaningful insights that help you create engaging and high-traffic content.
However, finding relevant hot topics on Twitter depends on who you follow and your location. The platform uses an algorithm that tailors trends in your account based on geographical location and the people you follow.
So if you want trending ideas about your niche from Twitter, you should follow industry experts and analysts.
5. Reddit
With millions of user accounts and billions of comments, Reddit is a go-to platform for clear trending searches that make popular blog topics.
In addition, it organizes discussions in user-created sub-platforms called subreddits, which help you niche down to popular discussions relevant to your blog.
Reddit is a brilliant source of trending topics because it ranks comments, discussions, and recommendations based on users' votes.
Discussions with the most votes appear on top, while those with fewer votes are on the bottom. That way, finding viral topics for your blog becomes easy.
6. BuzzFeed
Explicitly founded to track trending content, this tool presents breaking news, the latest videos, viral posts by BuzzFeeders, people's opinions, trivia knowledge, and pop culture topics.
As one of the popular online platforms in the U.S, Buzzfeed is a brilliant source of trending content. The tool ranks viral content based on traffic from Twitter, Digg, Facebook, Stumbleupon, and other external sources. That way, you'll be sure that the topics you choose are truly viral.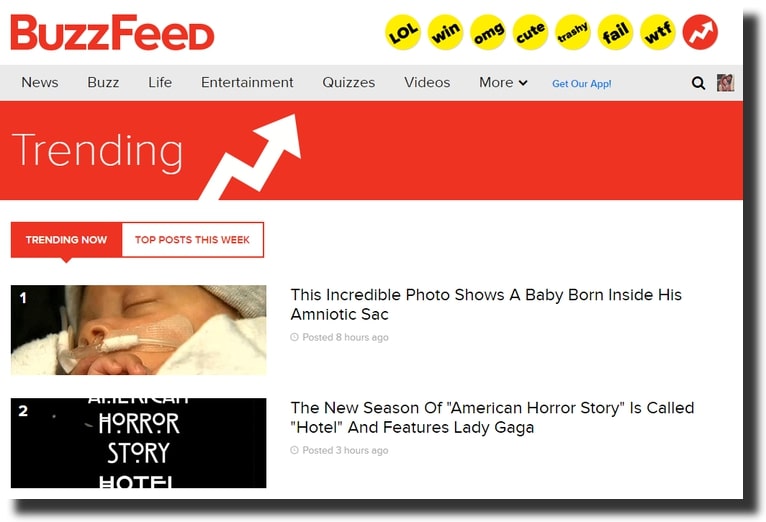 You won't need a premium subscription to use this tool. All you have to do is sign up, and searching for a specific keyword is all you have to do.
7. Feedly
This tool is an RSS-based content aggregator you can use to source the latest content as they happen around the world.
By feeding keywords relevant to your niche, Feedly flags crucial insights from the corners of the internet, including websites, Twitter, blogs, and newsletters.
With millions of users on this platform, you'll access 1000+ articles per week, making it easy to find relevant and engaging topics for your blog.
Additionally, you can organize all your trusted sources in a centralized place and prioritize your feeds, topics, events, and trends.
8. BuzzSumo
BuzzSumo is an awesome tool for discovering influencers in your niche, generating high-quality content ideas, and identifying trending stories.
It's famous for its four powerful features— discovery, research, influencers, and monitoring— giving marketers and bloggers solid insights into what to focus on.
It organizes topics into categories and has a trending score to let you know how fast a particular content is gaining popularity, making it easy to identify trending topics for your blog.
The tool lets you conduct searches for any topic and even use date filters. You can uncover hot stories of the previous 24 hours, week, month, or even a year in search. As a result, finding popular topics for your blog is fast with BuzzSumo.
Unlike other platforms like Quora, Reddit, and Twitter that are free, you must subscribe to BuzzSumo's monthly plans to enjoy the full benefits it offers. It has three monthly plans and a free trial with ten monthly searches.
Why You Should Identify Trending Topics For Evergreen Content
Focusing on trending topics on your blog is worthwhile. It tells your audience that your brand understands their interests. It's also a perfect way for new fans to find you on the web.
However, the key to successfully handling a viral topic is to ask yourself three crucial questions.
How much time is available to create, promote and benefit from the topics? Is there any new material you can add to the content to make it unique on the web? Are there ways you can make your blog content evergreen?
Getting the answers helps you identify whether content curation around a popular topic is helpful to your audience and business.