Want to build a website technology? Then, you are probably looking for the right technology website design templates for your site. I've created this post so you can make an informed choice.
While Technology services cover a broad collection of expertise and industries, the use of a great technology website design can make your company stand out. Since the technology needs of clients are diverse, the greatest sites will in general show what they offer on their homepage for clarity.
Even then, the best technology websites' designs are imaginative, insightful, and compelling. These websites integrate dynamic elements, innovate features, and seamless systems that help users navigate the sites in a fluid yet efficient way.
Realize that tech companies are businesses that are judged depending on the websites they have. Therefore, these tech e-commerce sites should address this and even rise above their competition. Also, as a business, technology brands are in the innovation industry— whether they work in automobiles, video streaming, or wireless sound systems.
Things to Consider When Building Your Tech Website
Since technology brands are constantly learning and growing their website designs should also match this forward-thinking mindset.
Furthermore, technologies are always developing, with new solutions and trends rising to the top while others fall away. Therefore, for technology brands to remain relevant, they have to keep up to date on all that's happening within the industry.
Also, the use of custom diagrams and graphics works well in visually conveying technical data thus making it easy to understand.
When it concerns people's partial attention, note that most visitors do not read a website, instead, they choose to scan. Most people will quickly skim through the content as they look to quickly disqualify or qualify a website depending on their needs.
Another way you can capture your visitor's attention is by displaying easily digestible metrics. This may include percentages, specific stats, or key numbers that confirm your technology's performance.
In understanding the problem your tech solves plus how it works, you can then create visually appealing technical diagrams that are easily understood by both non-technical and technical people.
Although websites are designed to appear unique, look beautiful, and interesting, however, the tech sites I will be discussing below are created to sell. Selling for B2C tech companies can be something like an immediate sale. While for B2B tech companies the action is often inquiring about a product demonstration or getting more information.
14 Best Technology Website Design templates To Attract More Customers
For technology website design inspiration and to get a better understanding of what it means to operate and construct one of the best technology company website designs, check out the 12 best technology website design templates in 2020
Since technological businesses create amazing products this is what sets one company apart from the other. The Iteo tech website design highlights the building part by showcasing it brilliantly on its landing page.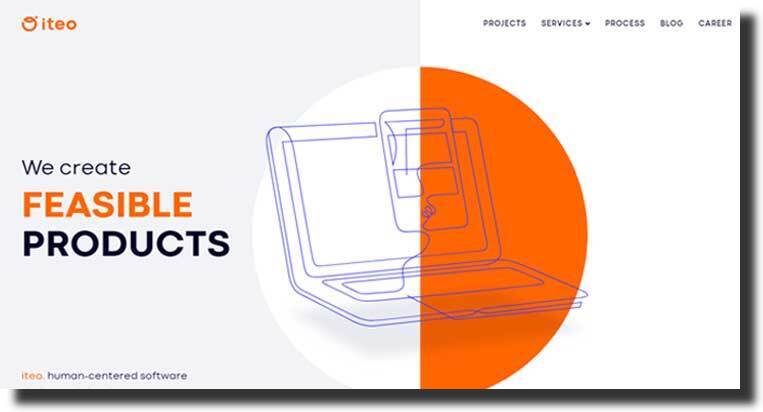 What's more the content included on the front works well with this approach in capturing the attention of your visitors. Iteo's whole navigation is clear and smooth. It uses a simple menu bar and most of this website design is user friendly.
This website belongs to an app development company and its web design displays this clearly. The top of the Build fire menu bar has three bold visible buttons that direct visitors towards building an app, requesting a quote, and signing in.
The one feature that makes this website unique is that visitors won't have to visit other inner pages to find out more about their services. The site's landing page contains all the sections and also clearly defines each service.
Riot website is a beautiful tech website that uses a simple design. They've also used a static feature that gives a tech feel to site visitors.
Riot website has a whole landing page that's filled with their work showcased beautifully. The designer has then used a fine and clear footer at the bottom.
Chronicled uses a unique approach to attract visitors by showing them their project blueprints. This technology company website design inspiration plays this amazingly. Their content can be viewed in large and bold letters above the big high-quality image used as the background.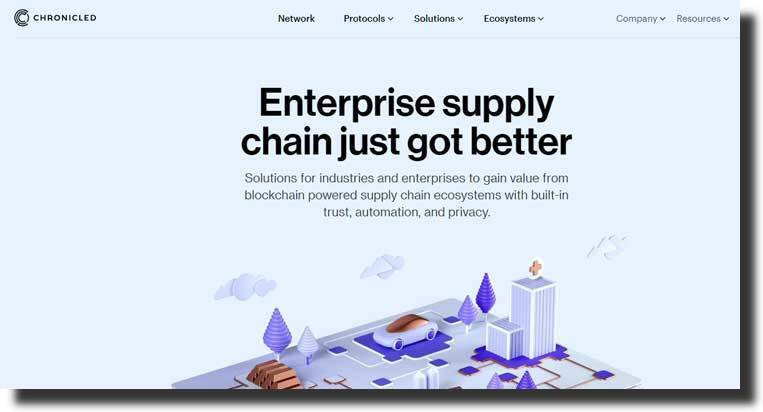 One thing that makes Chronicled web design stand out is its focus on displaying informative text over images. The entire website design is packed with content that serves to convince its customers.
Fleava is another beautiful technology website design that uses a creative and unique button as a cursor.
This tech website design employs a striking horizontal slider for displaying all works the company has done. The site's navigation is great and smooth. What's more, the color combinations used on this website are unparalleled.
This tech website design uses content to capture their visitors' attention. Plus, the content is written in a first-person tone. What's more, the With Pulp design gives their customers friendly conduct.
Also, this tech web design includes a short menu bar. Overall, this website design makes the most by using a white space which makes it look good.
Another unique technology website design is Rapidops. It uses a moving image as the background alongside large and bold content.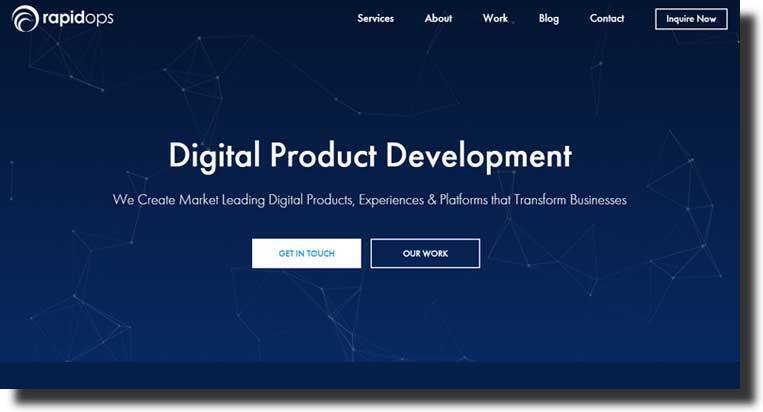 Just under the content visitors will see two buttons that serve to direct them to the inner pages. Also, under the slider, this tech web design displays all the services that the company provides in a bold style. Finally, in the site's footer section this website design uses extra informative CTA buttons.
The most effective marketing technique is using a slider to display your products and Logitech's website design achieves this perfectly. Also, notice the size of the images they've used.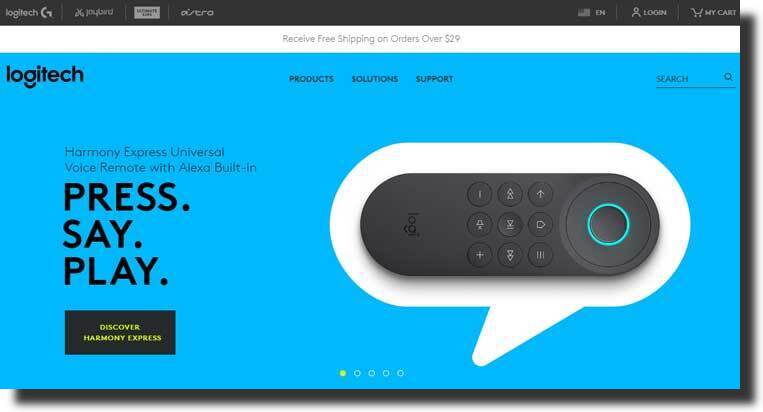 The thing that makes this website design stand out is that the footer section has been added under the site's slider image. While the entire website page has been omitted, the menu buttons however reveal the inner pages.
Salesmate website design follows a more traditional style and uses no animation in its design. The unique feature of this tech website is that it maximizes the use of the blue and white colors.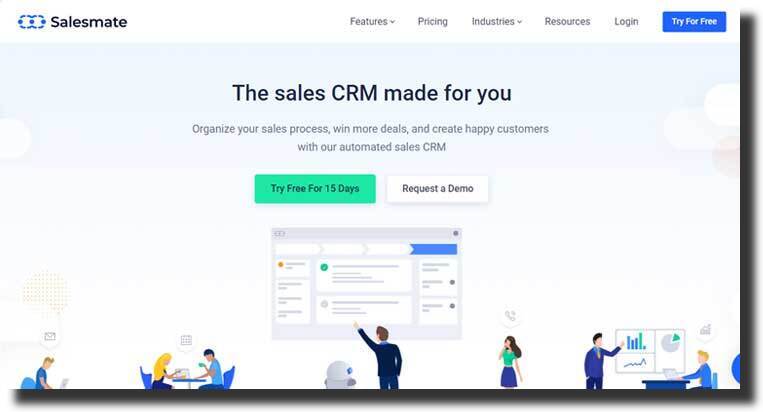 The whole website design uses a blue and white color theme. At the heart of this website design, the designer of this website showcases their client's testimonials.
Envato website design includes a slider image that covers half of the whole design. Also, the image used is quite faded for this design.
What's more, the content added over the image is eye-catching which helps draw in more visitors. Plus it displays the necessary information for potential clients. The best part about this design is that it uses a consistent green color theme.
The Nest brand website focuses on everyday people. So, for the site to capture the attention of these people, the company uses a playful and colorful design that's inherently fun, engaging, and clever.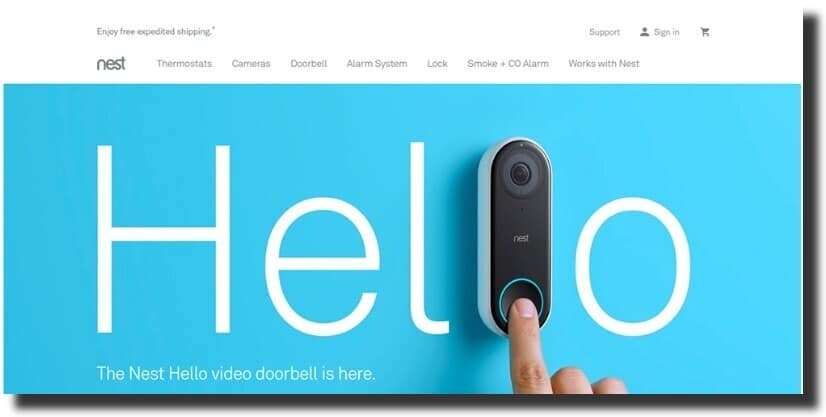 The website's cool colors amaze, excite, and entertain visitors. Since the Nest brand understands that their audience wants quick, cool, and easy design, they play around with different design elements to lighten the mood, while informing and leading users swiftly and efficiently all over the site.
This tech website includes a slideshow of text and images to share brief news updates with users so they understand what's happening with the brand, its products, and updates that might affect them. Nest gives its users a single interface they can interact with to communicate with the company and stay up-to-date.
The images and typography used are also bold, directing users through the site while giving them perspective on product usage. Likewise, their products can be seen being used in real situations which adds approachability to their products and their use thanks to the inclusion of lengthy videos.
This tech site intends to make its products compelling and easy to use for its customers by helping them understand them.
Here's another unique tech website design inspiration. Its slider boldly showcases the brand name while the menu bar in this design shows all kinds of information.
Nonetheless, the best feature of the Fueled website design is its nav. The design of this website has creatively included a mobile in the middle of this website design and the entire navigation follows the pattern. Since the mobile stays there, the colors and text are then filled in as visitors scrolls down.
PayPal's website design is simple, efficient, and modern. This brand aims to offer its services to help simplify money transfers which they achieve using simple navigation and a comprehensive online presence.
PayPal's website opens up through engaging and interactive imagery, that's overlaid with simple text. This website lets people choose between using their services for business or personal needs then the service diverges from here.
However, the brand's main theme is simplicity, with minimal transparent and copy images and a focus on simplicity.
By pairing blue color schemes with simple navigation, users are immediately put at ease hence they can enjoy the service without anxiety or stress.
The website is seamless, clean, and straightforward — just what any money transfer service needs to be.
What Can You Learn from Tech website Designs?
The technology website designs above are exciting, fun, engaging, and innovative.
They've been used to focus on the technologies, products, and technologies in a seamless but sophisticated way. Plus users enjoy navigating these sights.
Intuitive web designs. These websites were created with their targeted audience in mind. Therefore they understand the users and what they might do to reach them. A great website understands its audience, and these technology websites do.
They are jam-packed with elements, features, and are ahead of their time. These website designs have exciting interactive qualities that help elevate these designs which help them stand out. These website designs are just one of the many reasons why brands attract more customers.
By digging deeper you'll have a better understanding of what makes these web designs so effective. They are intuitive, stunning, and interactive and that's everything consumers want. They offer visitors all the information they need, which helps prove to consumers that the brand's products are worth all the publicity.
The website designs help you intimately understand a brand and what its products do. These tech website designs make it obvious and work smoothly on mobile devices and laptops as well. These web designs use enough mystery to captivate, but they right away get to the point, encouraging and enlightening visitors to buy.
Realize that these tech websites were developed to sell and they do achieve this. They will lead clients on an intuitive yet exciting journey. First, they beautifully present the products and then offer consumers all the necessary information right when they need it. What's more, these websites help eliminate anxiety, stress, and questions among consumers.
Which Tech Website Design Suits Your Business Needs?
Although there are numerous technology websites online, I have looked at some of the best inspirations websites you can look at before creating your website. Even then, ensure that you use a web design that is 100is100% custom. This is because, when selling technology products you will be selling something unique.
Also, as concerns selling technology products and services, you'll have to use a story so your prospective customer understands how your products work and the problems they solve. But, be sure to tell the story in a language that your visitor can understand.
How can you integrate these theme inspirations into your technology web designs to emulate one of the best website design for technology companies discussed above?