Storyboard examples like the ones that we're going to be presenting you with today are going to be incredibly helpful for you. If you're in the entertainment industry, or any other visual industry for that matter, chances are you're already familiar with what storyboards are and how they are used.
If you're not from a visual industry and are aspiring to get into one, you should be familiar with storyboards. It is an exceptionally useful tool that can help you bring out the best out of your ideas.
It can be used for movies, animation, and video games, etc. Moreover, it can be used as a very effective tool in web design as well.
So, here's a list of some of our favorites storyboarding examples to help you understand it better:
Movie Storyboard Examples
1. Spider-Man 2 (2004)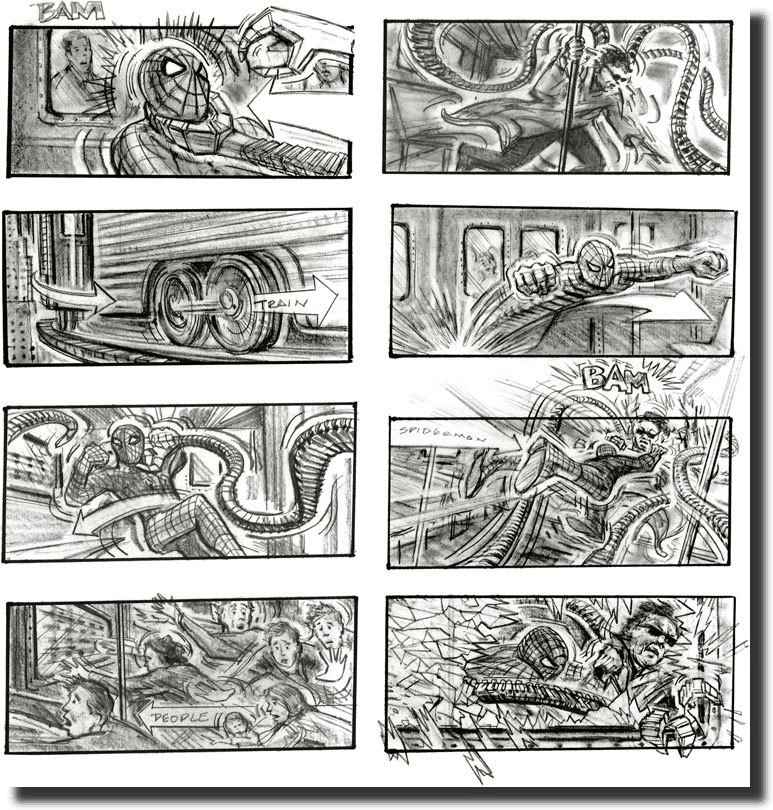 One of the best Superhero movies of all time, Toby Maguire's Spider-Man was pitted against Dr. Octopus in this movie. This particular fight scene between the two of them takes place on top of a high-speed, moving train. It's an unbelievably well-designed sequence.
This storyboard example describes the direction and the angles of everything, including the characters. It helps the director and his team in executing the scene perfectly.
2. Tomorrow Never Dies (2007)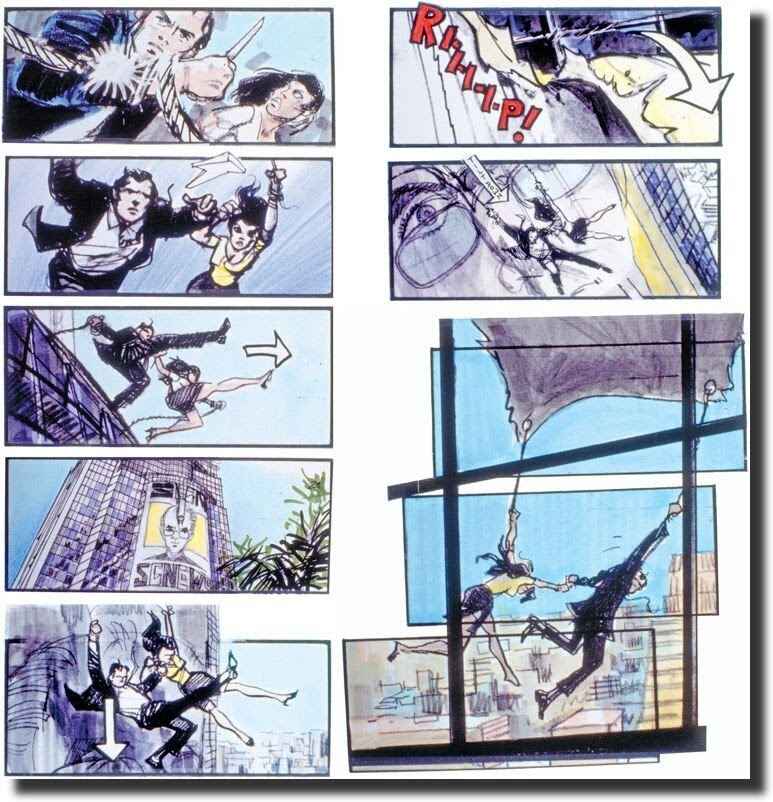 James Bond is one of the greatest literary and cinematic characters of the century. The character's popularity knows no bounds and his heroics have been widely appreciated on the silver screen. In this movie, the titular character is seen making an escape. The character has made plenty of dramatic escapes before as well but for the first time ever, the help of a banner is employed here.
This storyboard example emphasizes on the key shots such as Bond's use of a knife to cut the rope, multiple angles of the banner and the two characters swinging, etc.
3. Edge of Tomorrow (2014)
Edge of Tomorrow, starring Tom Cruise and Emily Blunt, is a fantastic film that must have been difficult to write, shoot, and direct. Precisely because of its Groundhog Day like twist where the main character has to live again and again after getting killed in order to battle against some pretty hardcore aliens.
This specific scene of Tom Cruise where he moves towards the battlefield with his comrades is enhanced by the choice of camera angles that make it so dramatic.
4. Forrest Gump Storyboard example (1994)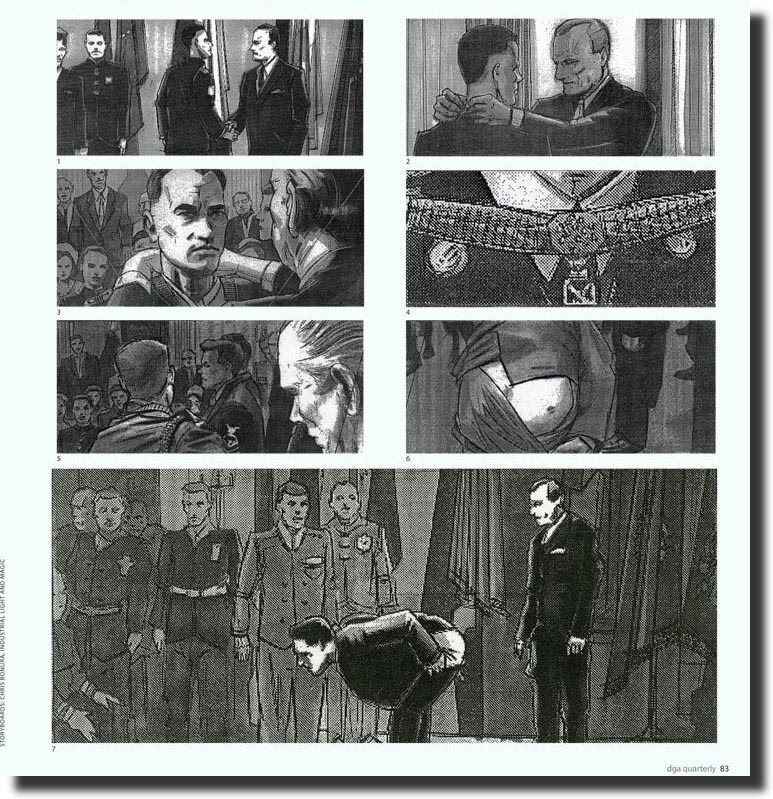 One of the most beloved movies of all time, Forrest Gump is an fascinating character that is performed to perfection by Tom Hanks. In this particular scene, he can be seen mooning the President while showing the bullet wound on his buttock.
This storyboard example is absolutely marvelous for its specific close-up shots, particularly the shot where the President wraps a medal around the main character's neck which is followed by the latter dropping his pants.
Extremely detailed with perfect shot composition and angles.
5. Gladiator (2000)
One of Russel Crowe's finest performances and Ridley Scott's greatest directorial achievements, Gladiator enthralled the audiences worldwide with its fantastic tale of an ex-Roman General who is on a path of vengeance against the evil emperor who's responsible for the death of his family and for sending him into slavery.
This particular scene shows Maximus (Russel Crowe) in a fight against a tiger. The storyboard example does a great job at visualizing all of the angles for this fight in order to build tension and increase the drama to push the audiences to the edge of their seats.
6. Inception (2010)
A modern-day masterpiece, straight out of Christopher Nolan's brilliant mind. Inception was a dazzling piece of cinema that has fascinated audiences when it released a decade ago. It is still a point of discussion amongst movie-goers and is widely regarded as one of the best movies of all time.
A dream within a dream, within a dream, within a dream. Confusing, right? Well, that's the point.
The ending of the movie is still a talking point – was it a dream? The cliffhanger where the movie ends before Leo's totem, the Top, stops spinning.
The storyboard shows how the brilliance of that last scene was designed.
Animation Storyboard Examples
7. Up (2009)
Up is one of the most popular and widely celebrated movies of all time. The fact that it was an animated movie didn't stop it from being so successful amongst people of all ages. So much so that it was even nominated for an Oscar for Best Picture, only the second animated film in history to do so.
Its opening sequence is an emotional roller coaster ride that warms and breaks your heart.
8. Tom & Jerry Storyboard
Tom & Jerry are two of the most well-known animated characters of all time. It wouldn't be wrong to say that their popularity might eclipse some of the other most well-known characters as well.
These characters were introduced 80 years ago. The storyboards from back in the day reflect a certain charm here. The text is written in a strictly functional manner while the images provide the direction to make the whole scene flourish in the end.
Game Storyboard Examples
9. Uncharted 3
The Uncharted series of video games has received critical and popular acclaim ever since its first entry. The games have incredible storytelling at its heart and allow you to have a fantastic experience while playing.
One of the most visually appealing games ever released, this storyboard example perfectly encapsulates what makes them so awesome.
10. BioShock Infinite
BioShock Infinite was a visual treat that allowed gamers to enter a fascinating airborne city of Columbia in the year 1912. It won dozens of awards and particular praise was directed towards its story, setting, and visual art design.
The magnificence of its visual art design and storytelling stems from its storyboarding process, as can be seen.
So, now that you've seen the storyboard examples, let's talk more about it:
What is a Storyboard?
It is a visual representation of your script. You take sequences from your script, break them down into individual pieces and represent them visually through drawings. You could further include camera angles, directions, lighting arrangements, dialogues, and other important details that you feel are important.
Think of a comic book. It works almost exactly like that. Sure, the usage and methods differ from person to person, but the gist of it remains the same.
You could use photographs, sketches, drawings, etc. to represent all the frames. You could either use stick-figures or really well-defined and detailed sketches to this – again, it all depends on what you want out of it.
A lot of web design agencies can help you out with this format as well because of their experienced design teams.
Storyboard Examples Types
1. Traditional Storyboard Examples
Traditional storyboarding is quite straight-forward. It includes pencil or ink drawings that you can use to layout the plans for your video or movie before it begins filming. You could sequentially arrange them in a notebook or hang them up on a wall – whatever feels more convenient to you.
You can make it as detailed as you want it to be or as basic as you want it to be. Whether it's a print, television, or internet ad — a lot of agencies follow this format of storyboard examples as well.
2. Thumbnail Storyboard Examples
Thumbnail storyboarding is a process of making small sketches of the shots that you want to include in your movie or video. They are as small as a postage stamp. Since the size is so small, the details are less and this process also takes lesser time than Traditional storyboarding.
This is a very convenient method for anybody who wants to draw out some ideas really quickly before going for a more detailed, Traditional storyboard.
Whether you're trying to do digital marketing for a small business or in search of a shopify expert to help you out with your business, this storyboarding format can help you out with your design approach as well.
3. Animated Storyboard Examples
The aforementioned storyboarding methods have existed for many, many decades now. It's a process that has been in practice since way before modern technology became what it is today. Technology and its evolution give you convenience and that convenience has also helped in creating a new category of storyboarding – animated storyboards.
With animated storyboarding examples you can create more detailed and complex storyboards that could also include dialogue and music. It's so easy that you don't even have to be a professional to do it nor do you have to learn a new software. With the help of a wave.video you can just combine photos of your sketches and create a video that can also include music or dialogues.
Why Do You Need a Storyboard?
Some people like to wing the process of filming while some like to dissect every last detail well before the filming. There are also some people who fall somewhere in between. The nature and scope of your project also plays a huge part in this decision. Is it a general vlog or a documentary? Or maybe is it a short-film or a high-budget show? Is it an indie movie or a high-budget summer blockbuster?
A lot of web design projects also use storyboarding as an outline for the design approach.
It depends on all of these above mentioned factors. However, whatever your project may be, there are many benefits of storyboarding that can help you deliver a better, greater project:
1. Organizing Your Ideas
As a director, you might have a dozen ideas regarding a particular scene or sequence. But you won't have the time or budget to try and test all of them on the day of filming. This trial-and-error method won't be possible. Therefore, storyboarding all of them will help you understand what works and what doesn't.
Whether it's the camera angles, the cuts, the lighting – by the end of it, you'll have a far clearer idea of what's working best for what you want to achieve.
2. Planning
Making a movie, a short-film, or even a sophisticated video involves a lot of planning. You have to coordinate everything, connect the pieces and test out ideas to get to where you want to be. Storyboarding will help you achieve all of these things.
3. Communication of Ideas
Communication is one of the most important components of a great collaboration. The better you communicate your ideas to your collaborators, the better the result. Storyboards can help you precisely in doing just that. Ideas in your head, no matter how great they are, are just ideas in your head. Some might get the gist of it while others will miss out on the comprehension completely.
A storyboard examples can help you explain your ideas in the most accurate way possible. You can also use it to explain what it is that you're trying to achieve from the movie or video to your important stakeholders or investors to gather their trust.
4. Problem Identification
Just like rehearsals allow you to perfect a scene, storyboarding helps you perfect your execution. It allows you to identify the problems in your sequence or scene early on and allows you room to seek out other options. This isn't possible or easy when you're filming as you're on a tight budget and schedule.
So, we viewed different kind of storyboard examples and now you know what storyboarding is, how it's used, and how multiple formats and filmmakers take advantage of this process, you'll be better able than ever to tackle any video or visual project that you take up.
You can use these free storyboard templates and Canva's storyboarding tool to get acquainted with the process.