Squarespace offers high-quality website templates for countless niches. Some of the niches our templates can be used for include:
Blogs;
Restaurants;
Online businesses;
Portfolios;
Photography;
Music;
Design.
What would the world be without Squarespace? Well, maybe not the world but definitely the online web design community. It would be surprising if you haven't heard of Squarespace by now, especially if you're into web development and design.
Squarespace is a platform that gives you all the tools and templates you need to construct dynamic and unique websites, and you don't need to know much about design and coding to do it on your own.
Additional 30 Squarespace Templates Just for You
1. Wise
Wise is probably one of the most popular options among Squarespace templates. Wise is a power photography Squarespace template for professional modern photographers & creatives. Each theme it showcases has a common underlying structure which makes designing and creating a smooth ride.
Features:
Multiple image sections available;
Option to add blocks on the top banner;
Range of customization options when it comes to texts, images, and videos;
A mobile-friendly set-up is also included so you can customize the template depending on your needs.
View Demo
Download Theme
2. Pixelab
Looking for something minimalist and sleek? Then the Pixelab Squarespace template is the one for you. This theme is always a hot favorite of people who dislike clutter on their web pages and want something romantic and classy for their layouts.
Features:
Classy and sleek design;
Easy to work with if you are a beginner;
Multipurpose;
A great portfolio page feature.
View Demo
Download Theme
3. Snapix
If you happen to be in the photography business side of things, then you are going to love this Squarespace template. The template is ideal for professional modern photographers & creatives. And even if all you want to do is showcase your portfolio, this is the Squarespace template for you.
Features:
View Demo
Download Theme
4. Envy
Here's where we move from free templates to Squarespace templates for sale. But is Envy worth the money? If you've been browsing Squarespace templates for blog related pages then this might be the one that will be your hit.
Features:
Grid page layouts that will allow you to organize your information in an efficient way;
Marketing optimizations to help your conversion rate to skyrocket thanks to CTA buttons and sign-up forms available.
5. Boho social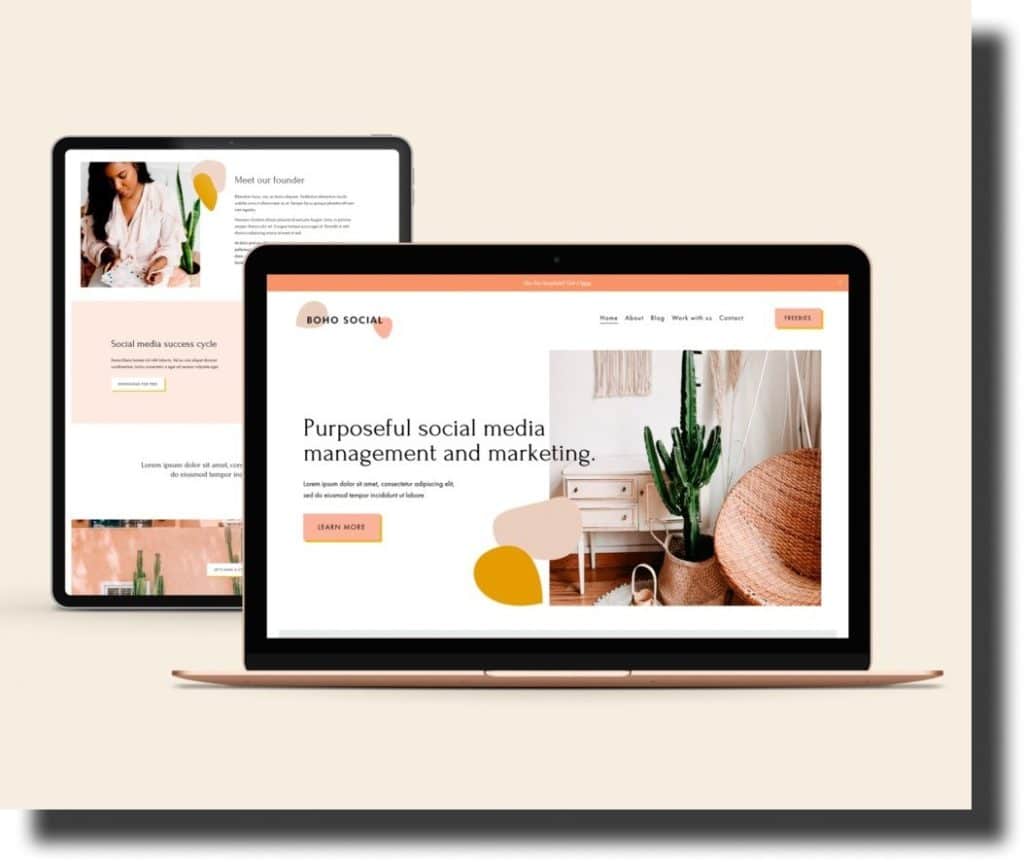 This Squarespace template from Applet Studio is unique with its vibrant colors and visually appealing graphics. It has a professional and positive vibe that is sure to put your audience in a good mood the minute they land on your page.
Features:
Grid-based blog category option as well as a way to integrate your social media accounts onto the page;
A freebies button is a great way to persuade your audience to leave their registration information with you before they leave;
Sign up form.
6. Flatiron
Artists and creatives this is your time to shine. Everyone is always scrambling to get their hands on this template, making it one of the most frequently bought Squarespace templates for sale. The reason for this is it being very beginner-friendly, especially for young photographers that are transitioning into a business. Even if all you want to do is showcase your portfolio, this is the Squarespace template for you.
Features:
Easy to customize;
Great storytelling layout;
A carousel feature;
Numerous galleries;
Parallax scrolling.
7. Sparhawk
Sparhawk comes with two template options; a lite version and a plus version. It is a minimalist template with a clean design and if you're looking for something with a high response rate, then this is it.
Features:
Good page layout structure that will allow users to grasp the gist of your products and services at a glance;
Strong visual appeal, and you'll realize this when you start getting a high audience engagement;
A personalized content section at the top of each page.
8. Bailard
With this template, you get a lazy loading feature that helps if you have a ton of images on your site and need it to load swiftly as the user is scrolling down. It overall has a simple design which decreases the chances of your audience being confused.
Features:
Perfect for blogs, companies, or online businesses, this option covers it all;
A shopping cart feature that further enhances the eCommerce experience for your audience;
Let's you showcase featured work.
9. Tremont
Tremont is a Squarespace template that has been a go-to for website designers since day one. Its main features include a full-bleed picture design where the photos you choose take up the entire home pace.
Features:
As you move from link to link, the pictures change and you can include a variety of images that show up as you move the cursor from place to place;
ChowNow integration tool which is great for online ordering, and something preferable if you are creating a restaurant site;
Scrolling effect;
Fonts scaling.
10. Bryant Hill
Bryant Hill is the kind of template that any kind of business from any industry can use even though it was created with real estate companies in mind.
Features:
Adaptable;
A design that can fit your needs;
A pretty, clean aesthetic that is bold at the same time;
Features a hero image along with a full-bleed header.
11. Skye
Here's another Squarespace template for blog-related activities.
Features:
A minimalist and modern look which is always a hit with a wide range of audience;
Allows you to organize your blog in any way you like based on the topics they have;
Blog-friendly features like "About the Author";
Hidden navigation;
Hamburger menu.
12. Pacific
If you own a restaurant, hotel, coffee shop, or another type of local business along the same lines then you won't find something better than the Pacific template for your website.
Features:
A one-page website that allows its visitors to select what section of the page they'd like to see, such as a menu, working hours, etc;
Customized to the fullest for any kind of place which sells food and wants to provide a top-notch dining experience;
Full-width imagery;
Splashy text.
13. Avenue
Avenue is the Squarespace template you want to have if you want to put your portfolio out there and present it in an impactful way.
Features:
The homepage of this template features a grid-based layout where you can include previews of your work;
A page where you can include more information about your piece;
A blog and a portfolio site all-in-one.
14. Anise
If you want your website to look as simple as it can get, but still look good then Anise is the Squarespace template you're looking for.
Features:
A sleek design;
You can choose how many pages you want your website to have;
Allows you to add more pages whenever you want.
15. Loam Bakery
Loam Bakery is another template that will catch your eye if you work in anything related to the food service business.
Features:
Adaptable to be of good use for eCommerce store sites;
Integrates an online store into its template;
View the products and order them as well.
16. Keene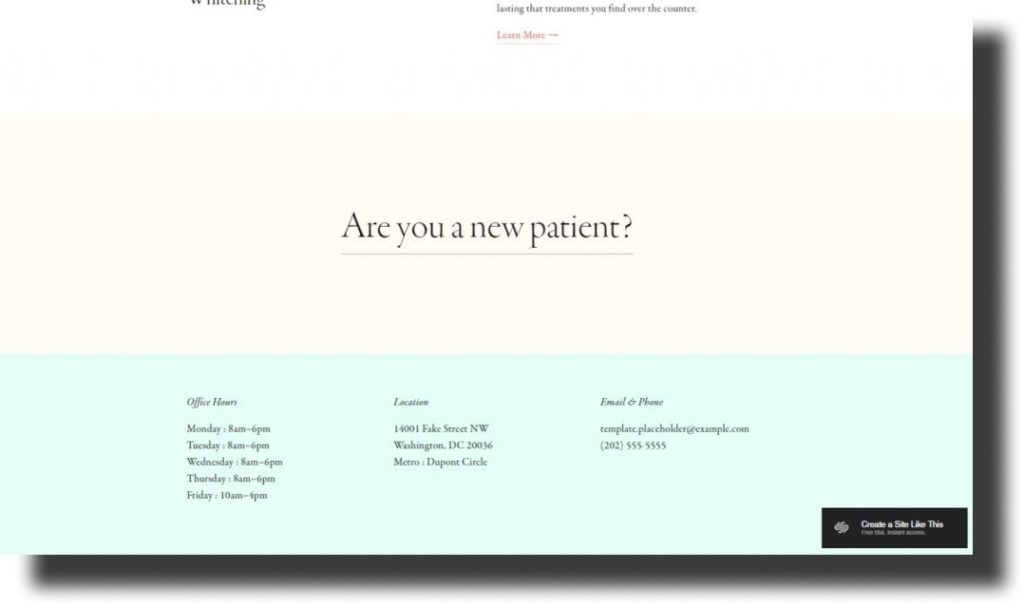 You can find any kind of niche on the internet nowadays and that goes true for Squarespace templates too – Keene is a template specifically dedicated to businesses in the health care niche.
Features:
Customizable;
You can make it work for other industries as well;
Simple layout;
A useful design keeping functionality in mind;
Allows links to the pages that your audience may be interested in directly on the homepage itself;
Comes with an appointment form option.
17. Lange
If you want to make your work stand out and impress your audience, including stakeholders, then Lange is the template for you.
Features:
Allows you to create a mesmerizing portfolio;
Enables you to create a page for every example of work you have;
Vertical scrolling.
18. Rover
This is a template for businesses that offer a service rather than a product. You can use this template to create a website that showcases your services in the best way possible.
Features:
A neat layout where;
You can combine and showcase content and pictures at the same time;
Spacious typography.
19. Solange
The Solange template is all about elegance. It is one of the premium Squarespace templates for sale and offers a high-end and polished design that immediately reminds you of luxury.
Features:
A wide range of customizations of summary blocks, split sections, galleries, and image layouts;
The package you will get also includes source files in Figma;
Allows you to play around with the template's graphics when creating your website.
20. June
June is all about style and minimalism and is a template designed specifically with wedding and family photographers in mind.
Features:
A modern layout;
Soft colors;
Capable of presenting your art pieces in a lovely and captivating way.
21. Noire
Noire is one of the unique Squarespace best templates that are for portrait and street photographers in particular. It is a perfect fit for the confident and bold types who want to showcase their work with a loud impact.
Features:
A fierce style;
Pictures everywhere you look without being too much in your face;
Supports a detailed gallery and a blog.
22. Willow
Willow is a template that is a great choice for brand and fashion photographers looking to impress their audience. The design is simple yet dynamic, and absolutely professional.
Features:
Soft, muted tones;
Shapes that match a pleasant vibe;
Unique graphic templates.
23. Milano
There are not many Squarespace templates as versatile as Milano, while still keeping a sophisticated design at its core.
Features:
A well-rounded layout;
Smooth animations to welcome visitors to your page;
Enables you to share tips and tricks you've learned through your craft.
24. Bold Babe
Bold Babe is striking in its own unique way. This template is great for photographers who want to make an impact on their work.
Features:
Displays your images in a charming manner;
Simple design;
Vertical scrolling;
Intuitive interface.
25. Roseti
Roseti is a template that will instantly gain the attention of your audience and this will be particularly useful if you are trying to spread awareness about a social cause. If you work at a charitable organization, NGO, or community group, then this template will do wonders for your website.
Features:
About page;
Visit page;
Numerous CTA buttons across your blog;
Newsletter pages are structured.
26. Hart
Hart is a staple if you're into fashion and want to showcase your work in a fun and unique way. It's pretty much a dream come true if you are a designer, stylist, or blogger.
Features:
A simple, versatile design;
Emphasizes on style;
Showcases numerous photo galleries.
27. Talva
If visual art is your passion then grab the Talva Squarespace template and don't look back. It is a template perfect for artists, designers, and photographers.
Features:
A huge virtual gallery;
Includes a feature of a full-screen slideshow.
28. Dario
Dario is a good Squarespace template if you are featuring weddings and other RSVP events. It is classy with a ton of features and a design that sets it apart from the rest.
Features:
A space dedicated to storytelling;
You can showcase your journey and move the hearts of your audience for sure.
29. Hester
Hester is the perfect template for those running any kind of eCommerce business. If you want to market your products on the world wide web and grab the attention of a global audience, then Hester is the template for you.
Features:
Bright colors;
Refined, crisp design;
Eye-catching aesthetics;
Flexible.
30. Indie Studio
The Indie Studio Squarespace template is for those looking for a modern and luxurious vibe. Especially if you have a business in photography, visual art, or any art domain, this template will be a life-saver for your website needs.
Features:
Muted colors;
Golden tones;
Geometric accents;
A refined finish that will make sure to be memorable for your audience and help establish your brand.
You can easily use 24/7 customer support, website metrics, mobile optimization, SSL security, unlimited storage, and Squarespace's best templates to create a site that suits your business's needs. It's the simplicity and flexibility of Squarespace that has made it as popular as it is today.
Squarespace and Its Benefits
Working with Squarespace gives you a variety of benefits, from an easy-to-use interface to multiple Squarespace templates for blogs that you can use for styling. Probably one of the most popular features that have all designers flocking to the platform is the fact that coding is optional.
Yes, that's right. You don't need to know how to code to make a stellar website on Squarespace. In addition, Squarespace is very responsive and allows a mobile-optimized experience You can check how your site looks on different screen sizes and make sure it's all optimized the way it should be.
Squarespace also uses the best SEO practices, contrary to popular belief. It has built-in SEO features such as SSL certification as mentioned before, as well as site maps, search engine, and page descriptions, headings and tags, clean URLs, accelerated mobile pages (AMP), and more.
Squarespace and Its Limitations
The only real issue anyone would have with Squarespace is how it's a bit restricting if you're someone who is used to coding from scratch. But that's mainly because Squarespace is built more for beginners, or for those designers who want to create a good-looking digital space for themselves as quickly as possible. Other than that, costs are also a slight disadvantage – if you design your site from scratch, hosting costs will be lower compared to the all-in-one service that Squarespace provides.
How to Choose From Squarespace Templates?
Ideally, you'd want a template that fits best with what you want your finished website to look like. And that can be difficult to do when you've got so many options to choose from. Let's be real – the more you scroll and sift, the more everything starts looking the same.
Here are some things you should consider when trying to choose the perfect Squarespace templates for blogs, eCommerce websites, and more.
Beware the default section theme colors
If you don't like to make choices, then default color themes coming along with some templates is going to feel super useful to you. However, if you were looking to design on a white background, then you have to avoid those templates that don't support that.
If you choose a template that already has a default color theme, you'll have to go the extra mile and edit the section theme color each time you add a new section to the page. And there can't be a bigger and more annoying stump in the workflow than this.
Home page types
There are some Squarespace templates for sale that have a specific page type for the template homepage. So what you get is a kind of gallery homepage where you can build and style your homepage.
The problem is that if you were to decide that you don't want a gallery there at all, then you'll have to go back to the drawing board and start over the entire homepage from scratch. This is why it's better to consider from the get-go what type of page type you want to go for.
Think about style, not industry
The best way not to waste time when creating your website is to think about your goals, style, and feel of your brand instead of just what other competitors in your industry are doing. It's important that you understand that your brand is unique enough to have something that others don't. And you have to visualize and display it on the website you create if you want to help your target audience understand what your brand is all about. In the templates section, Squarespace divides their templates according to industries to make organization easier, but what you should do especially as a beginner is browsed through while keeping the theme of your brand in mind.
Let's say you are a restaurant owner – your ideas of what you want your brand to represent will definitely differ from other restaurant owners. And picking templates only under the restaurant category is going to do nothing but limit your creativity and put you in a box.
Instead, think about the style and what you want your audience to feel once they enter your website and drop onto the landing page. This will save you time scrolling through the wrong options, and help you make the best choice for your site.
Keep functionality in mind
One thing you can do when browsing through templates is to ignore the colors and fonts. All of this can easily be changed with a few clicks so what you really need to look at is the features that are important to you. Keep your eyes peeled for stuff like index pages, gallery styles, navigation layout, and various blog styles that the templates sport.
This is what's going to help you define what's important for your brand, what will appeal to your audience, and how it all can align with your main objectives.
Wrapping up
Picking the right template is like playing dress up. And the thing about dressing up is that some people are a natural at it, and some are not just not that great.
If you want your website to impress your audience, you might want to head over to UPQODE – the best web design agency you can find. Whether it's web development, digital marketing or eCommerce, UPQODE has you covered.
FAQS
What is Squarespace?
Squarespace is a way to build websites. For an annual or monthly subscription, we provide access to a set of tools you can use to design your own site—no coding or web development experience is required.
Which template should I use?
On the current Squarespace platform, all sites use the same template, with the same features and style options. The design you choose when you start your trial is a starting point, but it doesn't limit the designs or layouts you can create. Explore the template store to find a design that fits your vision. We recommend paying more attention to the structure and style rather than its example content. The demo content is there for inspiration, but you can customize it to meet your needs.
What does a Squarespace subscription include?
Every full Squarespace subscription includes:
Website building tools
Content hosting
Search engine optimization
Squarespace analytics
Responsive design for mobile viewing
24/7 Customer Support
How much does Squarespace cost?
We offer a few billing plans. Learn more about them here, then visit our Pricing page for details. You can register multiple domains, send Email Campaigns, sign up for email from Google Workspace, and license Getty Images as additional subscriptions.
If you're currently a student at an eligible school, you can use the Squarespace student discount for a reduced price on the first year of your site's billing plan.
Why don't I have total control over every style attribute on my site?
Every Squarespace template has been crafted by our Design Team. Our designers develop style rules for each template that help you create a beautiful website without starting from scratch or needing advanced design skills. They also employ the latest coding techniques to ensure that your site is compatible with modern browsers and mobile devices. To help your site stay consistent, and to prevent conflict between different elements, templates have pre-determined style tweaks with set parameters. Advanced users can further modify their site's code with code injection, code blocks, CSS editing, or the Squarespace Developer Platform.
Can I control how my content looks on a per-page basis?
In version 7.1, you can style individual sections on any page.
In version 7.0, you can customize some templates per page. For example, in Supply, you can set a different background color for store pages and index pages. In general, however, the style rules for site elements like colors, fonts, and header sizes will be consistent across your site.