Nearly all our photographs are taken with a phone. Most people not only take their photos from their mobile phones, but they also make edits through their phones. If you don't like the background of your photo, you don't need to be a photoshop expert to do so.
With a background changer app, you can easily add background to photo. That's not all; you can also add pretty background images to your photos and create professional photos for a profile picture.
This article will discuss ten simple tools that add background to photo. We will discuss the pros and cons of each application to help you decide which background tool is best for you.
Let's begin!
Some Things To Consider
You should look at some criteria before using a tool app to add background to photo. Here are some features you should look for:
What are the tools included?: Your desired app should feature tools that will help you edit your photos. These tools need to do more than just add a background to your image. You should be able to crop, enhance, etc.
Quality of tools: Is the automatic remover feature accurate? Do you have tools available to refine the photo cutouts? Can you change the background manually? Does the app have a tools background?
Transparent background: Many apps allow you to add an image as your background; however, they don't let you add a transparent background. The app you choose should allow you to add transparent background to any picture. The app should also allow you to save this picture as a PNG.
Picture background: Check what type of background your app allows you to add. Can you only add a picture background or a solid color background? Does the app have an in-app camera that will allow you to add a background?
Now that you have your criteria let's look at some of the best background remover apps available on the market.
Background Eraser – Photo Editor
Pros:
Free app
PNG maker
100+ backgrounds
Multiple tools are available.
Cons:
AI cutout is not very accurate.
You have to pay to access all backgrounds and shapes.
Background Eraser is a great tool to add background to photo. With this app, you can add backgrounds and even remove them using their AI background cutting tool. The background eraser app is easy to use for anyone, and you don't need to learn technical photoshopping skills to use this app.
The app offers plenty of features and backgrounds for free. With this app, you can remove photo backgrounds using AI Cutout. The AI Cutout tool allows you to draw a selection around the subject or use one of the app's default shapes as a cutout selection.
Once you have your cutout, you can save it as a transparent PNG. This PNG is separate from the original photo so that you can have two copies – one with the background and one without. You can easily use your transparent background images as a sticker on social media.
Also, you can add a solid color background to your picture, apart from the transparent background. You can also add a photo from your gallery as a background or use one of the many photos and graphics available on the app. However, not all backgrounds on the app are free. To get full access, you will need to upgrade your app to PRO.
The app also features a crop tool to post your photos on any social media platform. You can also add text to your image and edit it with many more features.
Auto Background Changer
Pros:
Easy to use
It contains a smoothing feature
Free app
Cons:
There are ads
Does not have a wide variety of backgrounds
App can crash
Auto background changer allows you to alter your photo background automatically making it easy to add background to photo. This app features an AI that does the job for you, and you don't need to edit your background manually. This is one of the best free background removing apps you can find.
This app is straightforward to use, and you don't need a tutorial on navigating the app. You can just upload your photo, and the AI will automatically erase the background for you. This app is also great at removing complex backgrounds, but it might take some time to do so.
This app features background tools such as composites, blur, and add color, allowing you to make multiple changes to your photo background. With the blur action, you can smooth out the area between the subject and the backdrop when doing your edit. This tool will make your edits look seamless and high-quality.
However, there are some limitations to this app. The app sometimes freezes or shuts down completely. This issue can occur during the editing process, presenting a major issue for many users.
Superimpose
Pros:
Advanced background removal tools
You can edit your backgrounds independently
Features tools that make your background look realistic
Cons:
The app is laggy
A paid app
Superimpose is one of the more advanced background editing tools on this list. Superimpose features several tools that make your background replacement look realistic and seamless. The seamless blending tool makes your photo blend in perfectly with its new background.
Even though this app does not feature a long list of tools, it is still more advanced than the other tools. The tools featured in Superimpose give you high-quality edits instantly. You can get professional-level photos with Superimpose.
The app's name refers to a powerful way of editing your photos known as superimposing. Therefore, you are guaranteed pictures with perfect edits.
One of the best features of this app is the ability to edit your background independently. After you have replaced your background, you can edit your picture by adjusting the exposure and saturation and making many other changes. The app uses the concept of layers to edit the background in your photos.
Although this app is available on iOS and Android, it works best on Apple devices. There are also some reports of lagging in the app. Weight the benefits and limitations of the app before using it.
Simple Background Changer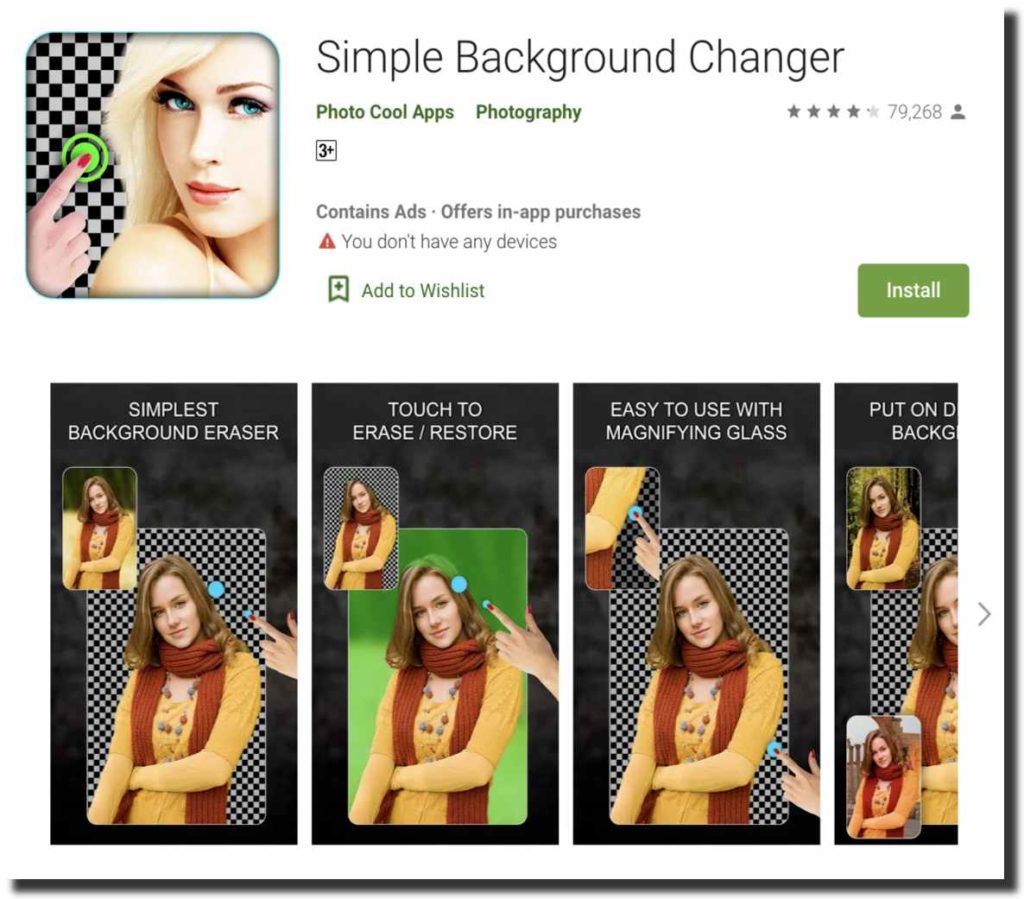 Pros:
You can change backgrounds easily with location presets
Easily restore details when you make a mistake
Cons:
Only available for Android users
Your work is not saved automatically
As the name suggests, Simple Background Changer is an easy-to-use app. This is exclusively available to Android users, and it is one of the best apps for that software.
This app is easy to navigate and edit your photos. Simple Background Changer offers users lots of control over their photos, making it easy to edit their photos just the way they want. The app features a zoom function that helps you make accurate edits with their background eraser tool.
The app automatically provides you with a transparent background; however, you can replace this with an image from your gallery or use the app location backgrounds for your image. These pictures are high-quality and realistic.
The app features several ads if you use the free version, and your pictures will have a watermark. This issue diminishes the app's quality and can be a problem for many users. If you want to have an issue-free experience, you can upgrade the app for a price.
Adobe Photoshop Mix
Pros
Free app
Compatible with all Adobe apps
Works with iOS and Android
You can use multiple layers
Cons
You need an Adobe account.
Adobe Photoshop Mix gives you professional tools at no additional cost. All Adobe photoshops apps are free to download; however, you do need an Adobe account to access these apps.
Photoshop Mix does much more than a regular background eraser app. With this app, you can work on several layers of a picture to edit your background. This allows you the freedom to make your own creative choices just as you would on any other photoshop software.
You can cut out subjects from your photo background or remove sections from a photo to seamlessly merge with other images. Each image becomes a layer that you can adjust or blend to get realistic results in this process.
The app also offers basic editing tools and multiple FX features to edit and enhance your website. All these edits can be done as a copy so that you can save your original image. You can sync your computer projects to your phone if you have a paid Photoshop subscription.
Apowersoft: Background Eraser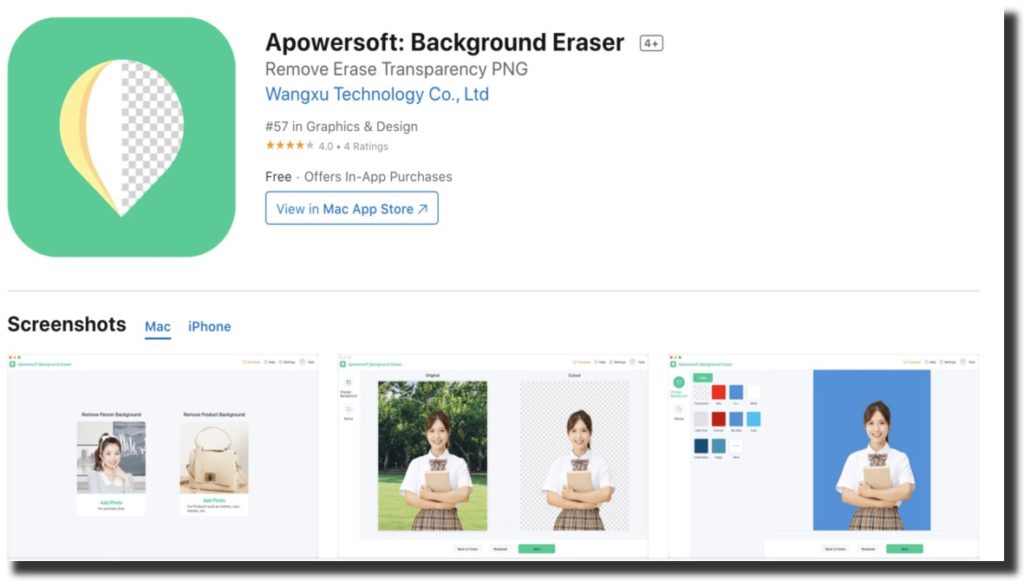 Pros:
AI technology for editing
You can do quick edits
Cons:
Expensive image options and a yearly subscription
It can be a little difficult to place your backgrounds
Apowersoft is another powerful background erasing tool. The app features advanced AI technology to make its edits more accurate. With this app, you don't need to edit your photos manually, and you can leave it all up to the AI. And just like other apps, Apowersoft is great to add background to photo.
Once you upload your photo to the app, the AI identifies your subject and makes necessary edits. Apowersoft offers three subjects option for AI optimization – human, product, and logo.
This app gives you a seamless background removal experience and high-quality edits due to AI technology. The sharping tool in the app makes your pictures stand out and does not make them appear blurry.
One of the most useful functions of this app is the ability to do batch edits. This allows you to edit multiple photos simultaneously. One of the major limitations of this app is that you have to pay to get access to more features. The app is also not a one-payment solution as you need a yearly subscription.
LightX
Pros:
Easy to use and well-organized interface
Multiple functions available
Cons:
You can't move photos as you edit them
Difficult to fix small details
LightX offers a variety of editing tools that give you professional-level photos. LightX offers a powerful eraser tool that provides accurate results. The app is well-organized, which makes it easy for anyone to navigate.
You can easily add a transparent background image or use a simple, transparent background with LightX. You can also save your edit to apply other functions to the image. These functions include text, frames, and stickers for your photo.
One of the key features of LightX is the magic brush tool. This tool easily removes your background without affecting any other part of your picture. Another great feature of the magic brush is removing your background within minutes.
LightX is a pricier option; however, it features tools on par with professional photoshopping tools.
PhotoLayers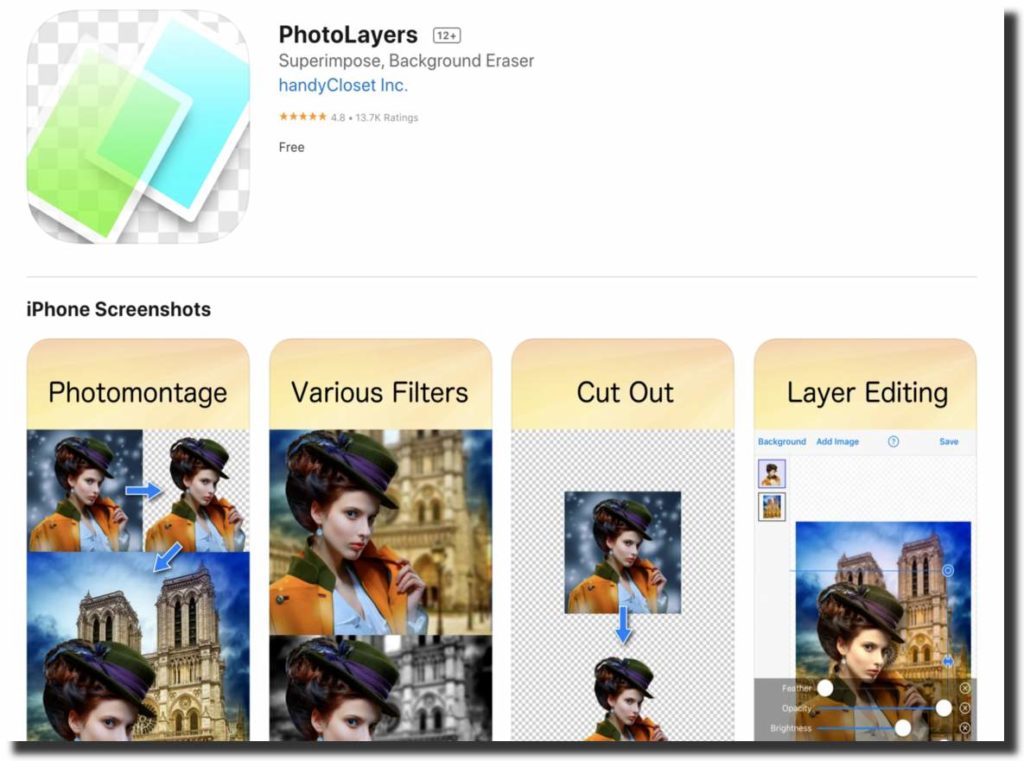 Pros:
You can make photo composites
Control the picture's shadow
Manual and auto tools
Cons:
Requires some instructions
PhotoLayers provides an easy way to make fun and realistic photo background edits. The app offers multiple tools to help you meet your editing goals, and you can create photos with accuracy and smoothness.
One major back draw of PhotoLayers is that it requires some technical knowledge. This app is not as intuitive as the other apps on this list, but you can get several ways to customize your photo backdrop.
To use the app, start by uploading your desired background image and then add another on top to begin composing your picture. You can use basic photo editing tools on the app to fix saturation, brightness, etc.
Automatic Background Changer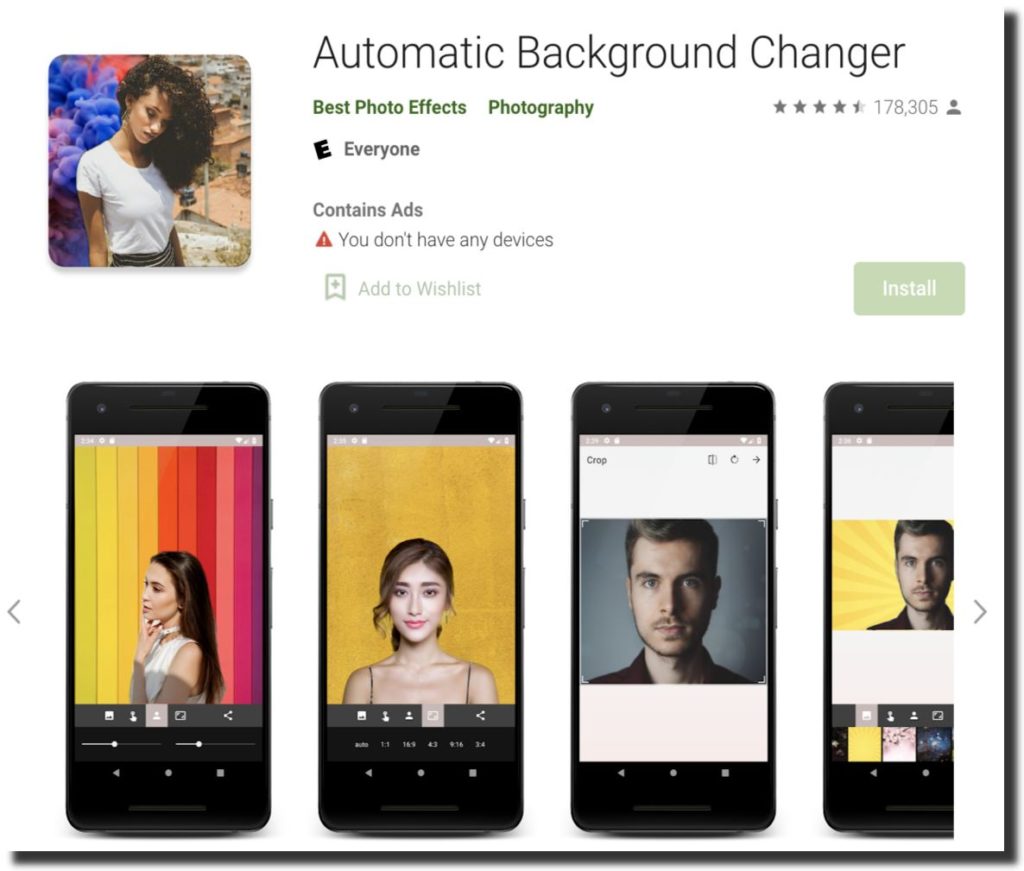 Pros:
Free app
Multiple background options to choose from
Retain original image quality
Cons:
Slow processing speed
Limited subject detection functionality
If you are looking for a free background changing tool, this is the app for you! As the name suggests, Automatic Background checkers automatically adds your subject onto a transparent background. You don't have to manually cut out your subject and add it to a backdrop with this function.
The app comes with several built-in backgrounds for you to choose from. This removes the need to have your own background for the photo.
Despite the automatic process, AI does have some difficulty finding out the subject. As of now, the app's AI only recognizes humans and some animal faces.
Superimpose+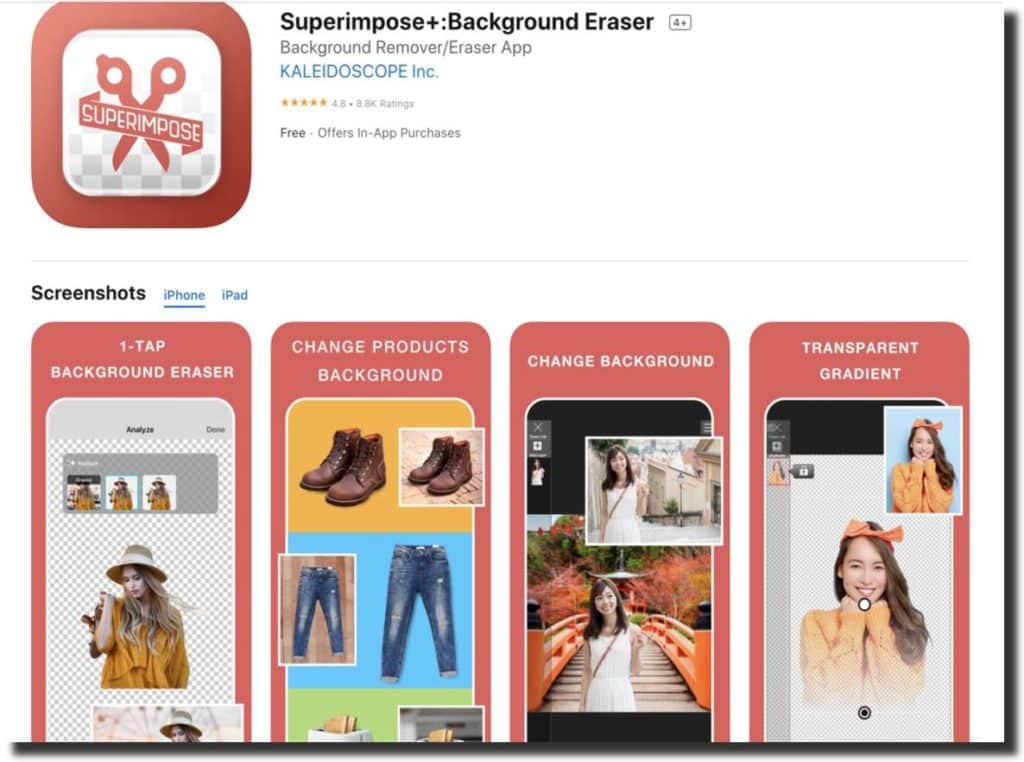 Pros:
Free app
Erase background with one-tap
Edit up to 20 photos at a time
Cons:
This app is completely different from the other superimpose apps on this list. With superimpose+, you can edit up to 20 images simultaneously. This app is great to add background to photo.
You can easily erase your background with one tap, thanks to the automatic detection tool. You can also use the lasso tool to outline your subject and then use the shape cutter to erase the background. With superimpose+, you can easily share your finished pictures on social media.
This app is not ideal for devices that are running low on space. The app requires 152 MB of space. This is a large amount when compared with the other apps.
Final Takeaway
This list has all the apps you need to change the background of your image. You can choose the software that best fits your budget and editing needs, from free options to paid apps.