If you are stepping your foot in the eCommerce world, you should know that the design of your website plays an imperative role in making or breaking your business. A visually-appealing website from Shopify can skyrocket your sales, while a complicated website with a dull look can do the exact opposite.
Interestingly, Shopify has nearly 11% of the eCommerce shares.
But, since you are just getting started, you don't want to spend hundreds of dollars on buying a template. We have curated a list of the 40 best free Shopify themes for stores of all the major e-commerce industries out there. Whether you're starting an online shop for your clothing business or a visual showroom of furniture, you'll easily be able to find a Shopify theme that fits your preference.
Let's get started!
What should I look for in the free Shopify themes?
Shopify itself offers several premium and free themes for the users to create a stunningly visual and eye-pleasing website. These themes are used by several major industries and business niches to operate their business online. Besides, Shopify and various other third parties provide themes for free or at a lower price. These third-party template stories include ThemeForest and Templatemonster.
However, it might be a confusing task to browse among so many themes to find the one that fits your criteria.
But, what should you look for in the free Shopify themes 2022?
As I have mentioned, a good theme can either make or break your business. Therefore, a perfect theme should meet the following criteria.
| | |
| --- | --- |
| Fast and consistent | There is nothing more frustrating than waiting for a page to load. This is why a template that is fast, quick, and consistent in performance is essential to creating a website with the least errors and glitches. |
| Customizable | While many themes are pre-designed with bold headings and nice layouts, you might still want to tweak a few changes to ensure that the website is exactly to your liking. Therefore, the option of customization is extremely crucial since it allows you to adjust the website without delving into the world of coding. |
| Responsiveness | Nowadays, websites are not only accessed through laptops or PC. Besides, mobile devices were responsible for 61% of visits to U.S. websites. This is why choosing a responsive design is extremely important to ensure that your website looks appealing on all devices. |
| Customer Support | Your visitors might experience a few bugs or errors while placing an order. Having an option of Customer Support will allow them to report such issues right away. Moreover, the availability of customer support creates a bond of trust between the seller and the customer. |
Best 40 free Shopify themes for your business
Let's look at the best 40 Shopify themes that you can use for free to build your business website.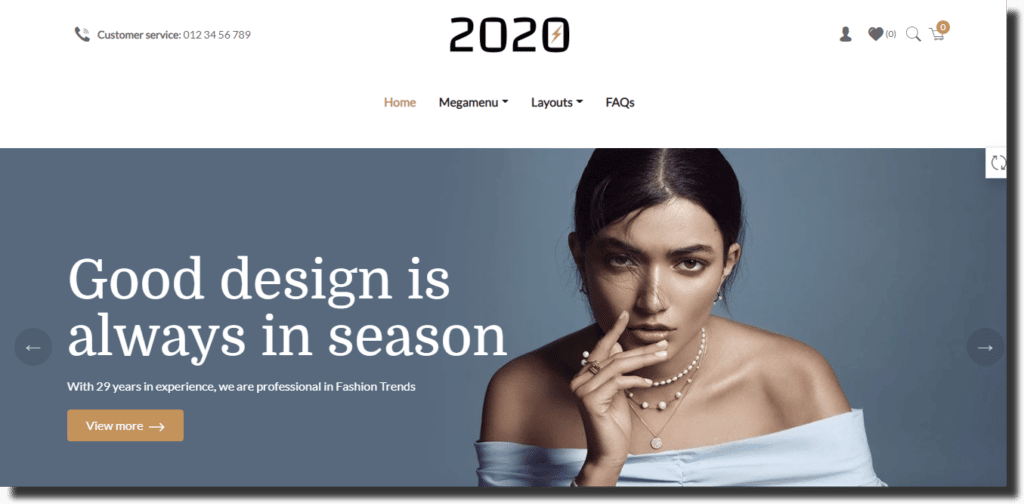 Twices is a multipurpose free Shopify theme with stunning visuals. The theme can be used for free as long as the link to the theme is shared across your social networks. You can upgrade to premium for more advanced features too!
If you're looking for a simple, easy-to-use Shopify theme that's easy in your pockets, then Minimal is the one for you. The theme especially caters to fashion, art, and furniture stores.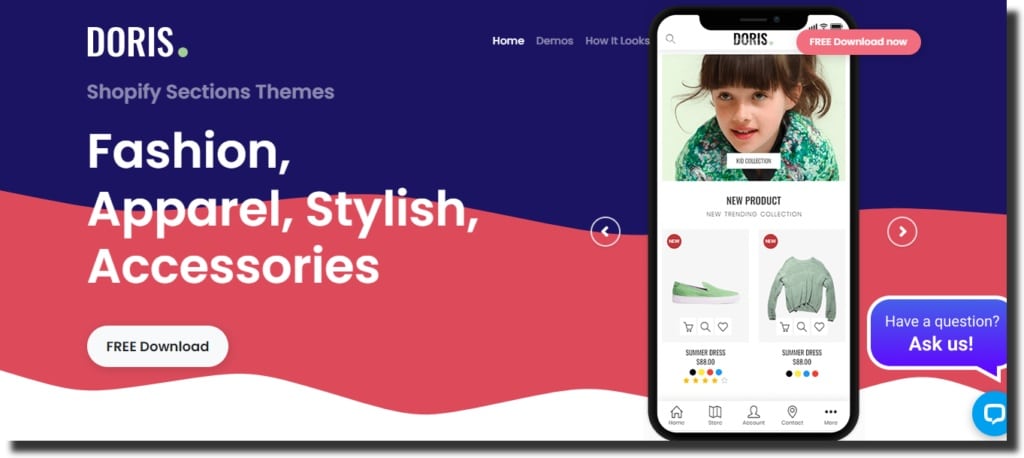 Just like Twices, Doris is yet another one of the best free Shopify themes for stores that can be used across all major niches. Plus, Doris has several intuitive features like animation effect, full-screen slideshow, parallax style, etc., for free.
Debut is considered one of the best free Shopify themes known for its flexibility, easy-to-navigate design, and customization. The theme is uniquely stunning and can create and store a broad range of stores for you.
Suited for fashion and electronic stores, Supply has an appealing appearance with a user-friendly interface that is easy to navigate.
If you've got more than 50 products and a large menu, then Supply is an ideal option for you. With its slideshow and customizable sidebar, you can effectively showcase your products on the homepage.
Similar to Twices, Apparelix is a part of the free Shopify themes that can be downloaded by sharing the links to the theme across social media. Best suited for fashion and clothing stores, Apparelix comes with various built-in SEO-friendly features.
As the name sounds, Simple is a minimalist theme that is quite popular among its users. The theme comes with all the basic functionalities that you can use to set up your online store without any hassle.
Brooklyn is one of the best free Shopify themes for stores with an appealing outlook. This Shopify theme is easy-to-use and has variants of 2 styles for different audiences. The theme is perfect for your fashion or food store.
Colorlib has created some of the most gorgeous Shopify themes, but unfortunately, most of them are premium. However, Fashe is the first of the free Shopify themes created by Colorlib.
Debutify is an excellent alternative to Shopify-distributed themes. If you're not tech-savvy and want to set up your website and get it running quickly, then this theme is the one for you.
Plus, the theme also offers a currency converter for multiple currency checkout options with Shopify Payments.
Beauty (Simple) is yet another one of the free Shopify themes for fashion, clothing, and apparel stores. With a sidebar menu, animated images, and product recommendations, Demo is a highly intuitive, responsive, and functional theme that can be easily customized to create the store of your choice.
Another one of the free Shopify templates is Boundless, a classy and modern theme that is perfectly suited for your clothes and apparel store. The homepage offers an option to create an eye-catching slideshow so you can welcome the clients with the visuals of the best that you offer.
If your store is focused on high-quality photographs, then Boundless is a great option for you!
True to its name, Narrative displays every single product through the art of storytelling. Narrative is a simple and minimalist template that is the best choice for you if you want to showcase a single product.
Constance is a free Shopify template for skincare and beauty stores. With the highly responsive and advanced theme, Constance showcases its products in a hierarchical order to help customers find what they want.
Create a stunningly vibrant sports store with Apparellix Bikes themes and catch the eye of the customers with its aesthetic visuals!
Apparellix Bikes offers high-quality photos that can be customized to the background according to your preference. Moreover, the template has more than 6 drag and drop sections with SEO-friendly built-in features.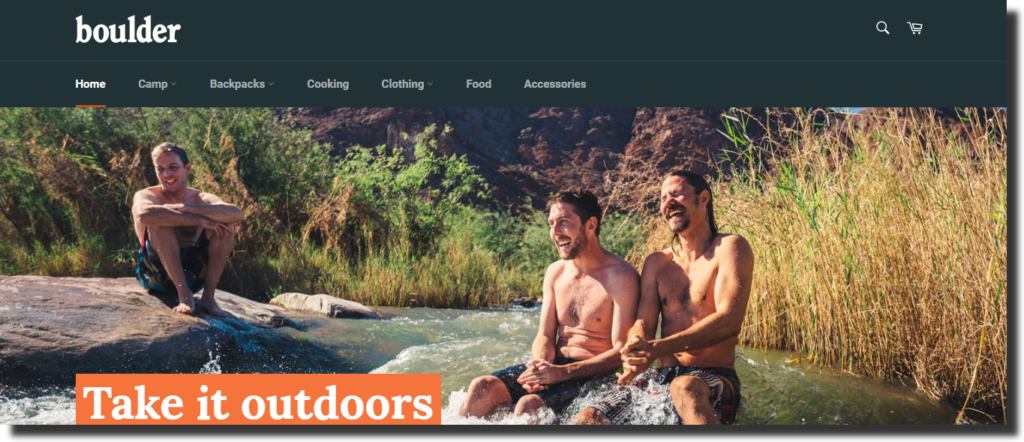 While most minimalist themes can be used for multi-purposes, Venture is a free shop theme that is best suitable for stores that sell sports and other adventure-related equipment. This is because Venture gives off a fresh and outdoorsy vibe.
Venture offers intuitive features, including a drop-down menu with multiple columns and product filtering that allows your potential customers to find exactly where they're looking for.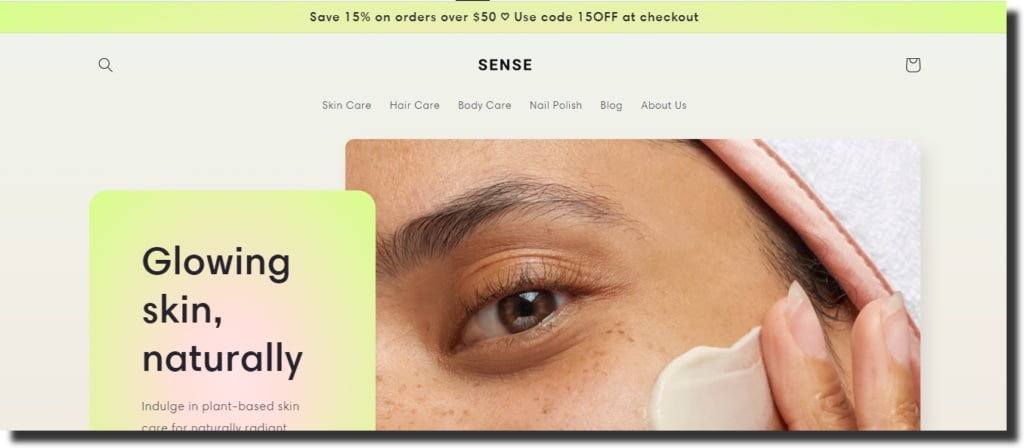 Sense is a visually-appealing Shopify template that is perfect for beauty and skincare merchants. The template has a fresh and rejuvenating design with several advanced features that can be availed without any specific coding.
With its advanced customization features and flexibility, the template aims to market the products through visual storytelling.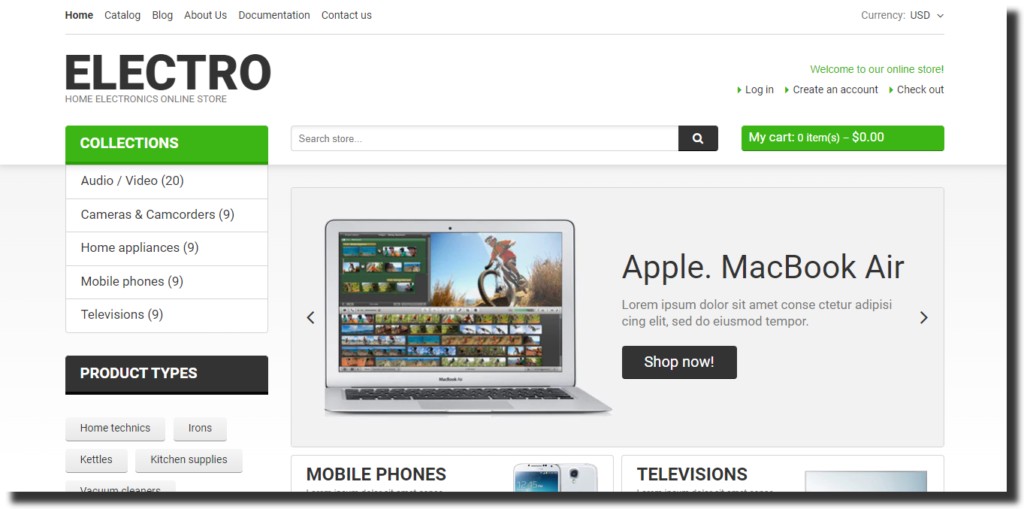 Another one of the free Shopify themes is Electronic. Befitting to its name, Electronics is the perfect option for your electronics store. The design is quite simple and contemporary to make it easy for the customers to navigate through the website.
Plus, the theme offers access to online chat support for free.
If you want to set up an online store for your food business, the Express template is the best option for you. As one of the free Shopify themes, Express is an easy-to-use, highly performative, and simple template that is ideal for restaurant businesses or food products.
Whether you're a hardware merchant or looking to set up your health and beauty store, Refresh provides a contemporary, minimalist, and modern design to capture your customers' attention.
Using bold headings and assertive layouts, the Shopify template aims to drive the focus towards the details of the products.
Voonex is part of the Apollo Themes of Shopify. The free Shopify template specifically targets individuals who trade in events and conferences.
Voonex includes a plethora of features, including Speaker Profiles, Event Information, Schedules, The Venue, Sponsors, and an Event Blog, making it easier for you to enlist everything about the event in complete detail. Moreover, the template is highly functional and makes site navigation quite easy.
The studio is one of the free Shopify themes with colourful, vibrant designs with an artsy feel. If you're an artist who wants to showcase your art or your photography portfolio visually, then Studio is an ideal option for you.
Studio is a highly customisable theme that enables users to adjust the layout and style of the website and curate their work with bold typography and bright colours.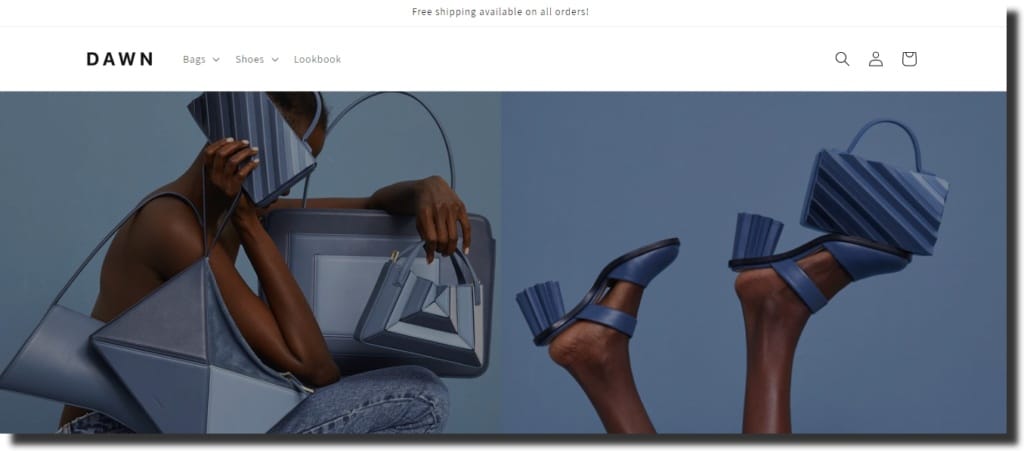 Shopify offers several minimalist templates, and Dawn is yet another one of them. If you want to showcase your health and beauty products or jewelry items effectively, then Dawn should be your choice.
With a clean and modern design, Dawn gives off chic vibes with its prominent imagery, clean fonts, and contemporary layout. Plus, you can customize the website to your preference without any codes.
Kardone is a free Shopify template for online stores for spare parts, audio systems, and other car accessories shops. Using high-quality photos of the products and an eye-catching banner to capture the customers' attention, the template aims to build a website that persuades visitors to make a purchase.
Although Kardone is a free template, it offers several intuitive features that are only available in premium templates, such as a sorting option, 6+ drag and drop sections, and a multi-currency option at the checkout.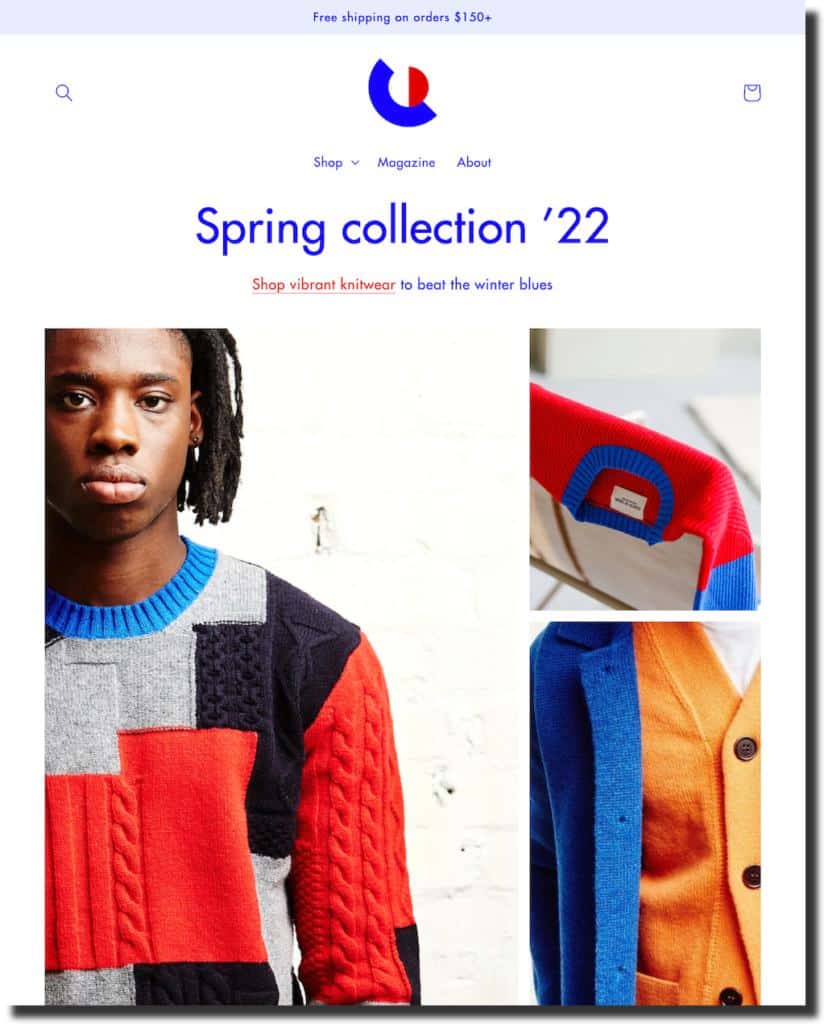 Colorblock is a free Shopify theme for fast fashion. With its eccentric design, typography, and accentuated colors, the template presents itself as an ideal option for showcasing large catalogs of jewelry, apparel, and other items.
Moreover, the theme enables users to highlight collections of any size and offers the users advanced filtering so that the visitors can find exactly what they are looking for.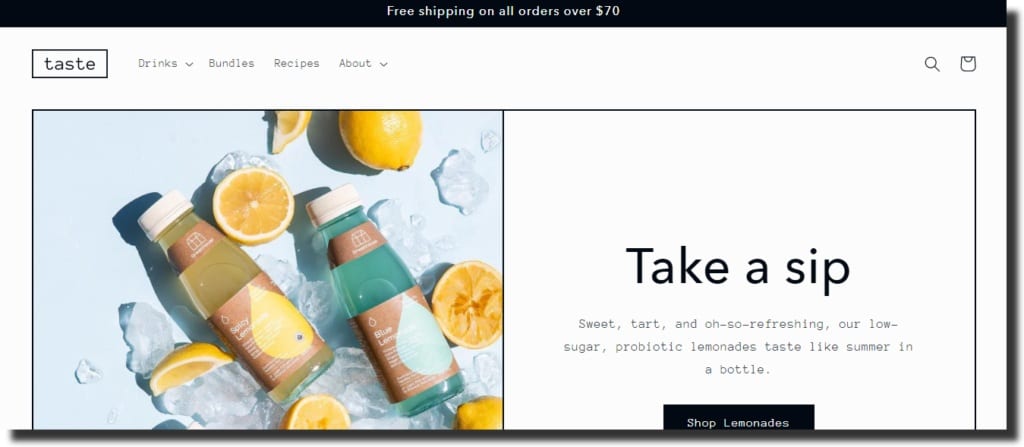 Want to build a stunning website with bold and industrial headlines for your beverage store? Taste is the perfect Shopify template to help you do that. With the help of several modern features offered by Taste, including specialty product highlights, larger product cards, and detailed FAQs, you can effectively showcase your products to the customers.
Taste is one of the free Shopify ecommerce themes that are easy to use and offers users several options to adjust the layout and customize their website.
Do you want to create a website that will persuade visitors to make a purchase? Then Crave is the one for you.
Crave is one of the free Shopify themes with professional design, bold colors, and an overall vibrant look. The template has a unique design that will captivate the visitors of your site.
Whether you are creating a fashion store or hoping to operate your food business online, Crave will make your website shine with its bright layout. The template is ideal for a website with high-quality professional pictures of a product.
Designed by aThemes, Thalia is a clean, professional, and minimalist template that is one of the best free Shopify themes for fashion and apparel stores. Thalia offers users a plethora of advanced features, including
a responsive slideshow
a slide-out (Ajax) cart
advanced filters, and swatches.
By using these features, you can create an appealing website for a business store. Moreover, the template enables users to customize the color and typography of the website fully. Furthermore, you can also customize and adjust the layout of the Contact, About Us, and FAQ page sections.
Simple, sleek with a dark background and assertive headings, yet still captivating the users' attention, is the dynamic theme used by Ride. Ride is one of the free Shopify themes 2022 that makes a statement out among a crowd of vibrant and playful designs.
With Ride, you can create a powerful sports website. If you want to create an authoritative look for your store, the Ride is one of the best free Shopify ecommerce themes.
With 12,000 downloads, SuitUp is one of the most popular Shopify templates by TemplateMonster. If you are looking to build a website with soft tones and a simple look to accentuate your product and drive the sale, then SuitUp is a good option for you to consider.
While SuitUp is targeted at the fashion and apparel industries, the versatility of the template makes it a good option for all kinds of niches and businesses.
Create an immaculate and neat website with Medical Equipment; one of the best free Shopify themes offered by TemplateMonster.
The template is created with the brightness and cleanliness of the medical equipment in mind. Plus, the well-structured design of the website makes it easy for the customers to navigate the product pages and search for the product.
Moreover, the template enables users to create and send newsletters to connect with the customers. Medical equipment offers several options such as multi-currency, Google fonts, Contact form, and advanced sorting capabilities.
Unlike other vibrant and playful fashion website designs, Styler is one of the free Shopify ecommerce themes with a dark palette and somber vibes. The template is simple, easy to use, and enables users to customize the website without any coding.
If you want to share high-quality photos of your products, then Styler is the theme to help you with that.
Classy, cozy, and welcoming are the three adjectives to define Classygifts; one of the free Shopify themes 2022. If you are looking to build a website for your gift store, there might be some requirements you already have in your mind.
With soft colors and a genuinely comfortable look, Classygifts build an eye-pleasing website that not only impresses the visitors but also persuades them to make the final purchase.
The theme can be easily customized and offers several features that are part of the Shopify plug-in, including accepting digital payments. Moreover, you have to option to share the product on social media, newsletter, and Sales and Catalog pages.
Beverage business has taken a spike nowadays. How about building an online store for your famous tea or coffee?
Coffeera is a perfect template for you to set the foundations of your eCommerce store. The template is specially tailored to help you market your beverage business well in the industry.
Coffeera offers all basic and advanced features, including multilingual and multi-currency. Whether you're thinking of starting a coffee shop or a website to advertise your desserts, Cofferra can surely help you with that.
Online grocery stores have become an absolute necessity in this age. You can order groceries on the tip of your fingers without even going outside. Plus, there are so many discounts, deals, and offers that one can barely resist.
Car audio is developed by experienced coders and web designers, Foodly is a beautiful, well-structured, and highly reliable theme that comes with several Shopify plugins and other built-in features, including HTML 5, CSS 3, and Sass.
Jewelry businesses have become quite popular nowadays. But, to stand among a crowd of so many successful jewelry businesses, you need to create a well-structured and alluring website.
Plus, jewelry buyers solely rely on high-quality product images on your website, so it's crucial that you present your product well. In that case, Shine & Sparke is an ideal choice for you.
You can create, design, and customize your website without any coding skills. Furthermore, the template adds an extra touch to the website by enabling users to add visual effects and graphics.
Another one of the free Shopify themes 2022 is Sweet Art, perfect for your desserts and pastries store. With its vibrant, playful colors and straightforward design, you can create a website that has high-quality mouthwatering, and scrumptious products.
The template offers SEO-friendly features, online chat support, and built-in customization tools to help you create an amazing website. 

Fashion businesses are all about product presentation and high-quality images. With Multifly, you can create a mesmerizing website with bold typography combined with notable banners and sliders.
The template is created by keeping all the web design trends in mind. This way, the template enables you to create a website that allows you to advertise your business effectively in the market.
There's an eCommerce business for everything nowadays, and a popular choice for an eCommerce store is selling auto parts and other auto accessories. But, having a website is not enough to sell your business.
You need to make a website that enlists your products in detail to ensure a positive response from the clientele. The Tools theme is eye-catching with banners and industrial typography. Using this template, you can create an excellent website for your business.
Another Shopify template with a clean, immaculate, minimal look is Craft. Craft is one of the well-crafted (pun intended!) that aims to build a highly responsive, well-structured, and functional website for you.
With elegant typography, these spacious templates give off a modern and refined look to your business. Offered by Shopify, this free theme comes with all the basic features of Shopify.
Key Takeaway
If you want your business to do well in the market, it's imperative to design a website that is visually appealing while staying true to your business's identity. In order to do that, there are several templates offered by Shopify and other third-party providers that you can use to craft a captivating website that is 100% to boost your business and enhance sales.