Want to know the secrets to improving your SaaS web design? – It's not as difficult as you may think.
If you're selling a service online or pitching it to other businesses, you'd need a captivating SaaS website design to capture your client's attention. This website should have all the necessary functions and features of a great SaaS website design to attract potential audiences and boost sales.
However, for a professional outlook and better engagement, you need to employ a Saas website design agency to streamline your basic SaaS website design requirements.
They'd help you identify and target key demographics and audiences looking for simple solutions to their complex software queries. For that purpose, it is essential to use a useful yet engaging SaaS web design template for your web audience.
The Importance Of SaaS Website Design Template
What makes a SaaS web design template different from other web templates is that it provides an active environment for you to build a great UI and UX interface. This enables you to provide the best possible experience to your web audience.
Your template has to be useful, functional, and enjoyable to use and navigate around. 78% of small and large businesses aim to expand into the SaaS market by developing multiple SaaS products and services.
For those who are venturing into the SaaS market, they need to build a quality first impression as SaaS providers.
The majority of the SaaS websites look similar when it comes to customer trust, usability, and speed. But what does it take to convert a potential lead? How can your SaaS web design template differ from other SaaS templates?
80% of SaaS websites use the standard approach, while between 50 to 79% stick to a conventional method and 49% or less try to confuse their web audience. A SaaS web design template is essential to establish your software brand voice and immediately showcase your differentiation to the audience.
Ensure that your web design agency has an insight into your target audience and their subsequent requirements. As software demands are getting peculiar by the day, it is essential to incorporate convenience into your SaaS web design.
Elements Of A Successful SaaS Web Design Template
Before you begin building a SaaS website, your web design template should reflect your crucial priority areas concerning your software product and target audience.
Consumer insights into SaaS templates reveal vital areas such as product headings, feature displays, brand logos, contact pages, etc. Whether you`re following a B2C or a B2B model, you need to keep and grow your customers.
To build a successful B2B SaaS website design, your template should have the following elements:
1. A Value Proposition
Your SaaS website needs a value proposition positioned right where your audience can read it. It can be a one-sentence selling point that covers your entire product.
The user will probably have a few seconds to understand your value proposition and move onto the product. Therefore, it has to be brief, crisp, and to the point explanation of whatever you offer.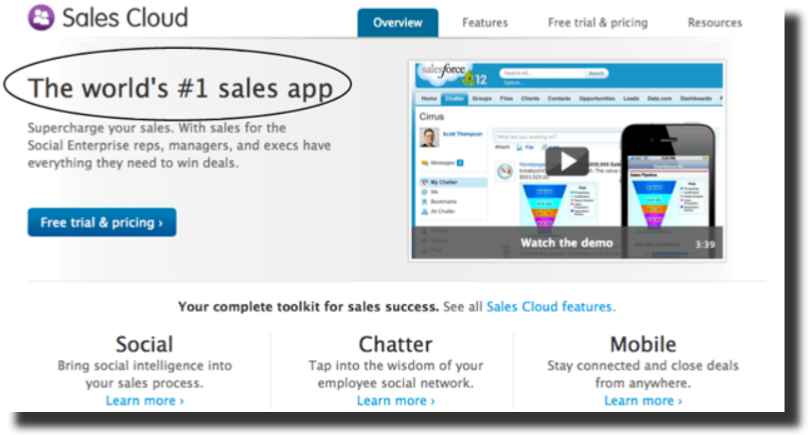 2. Call To Action
You need a CTA to engage the user. Either it can be a 'sign up' CTA or a demo button. In any case, it has to offer some kind of incentive. For instance, a sign up now button with a free newsletter or product discount.
You need to place your CTAs strategically, so they encourage the users to act instantly. Before incorporating a CTA button, you can perform A/B testing of CTA options. For instance, compare a 'Sign-up For Free' button with a 'Get Started' button and check out the results.
3. High Definition Product Images
You can't just stick with text everywhere on your landing page, contact form, and product pages. You need high definition product images. With that being said, in SaaS context, you need critical screenshots of:
Dashboards;
Email forms;
Task scheduling.
4. Video
Pictures alone won`t help the user regarding your SaaS product. Incorporate different videos such as demos, tutorials, and customer testimonials. A short 30-second video is enough to explain essential product features.
5. Contact Details
Your web design template needs a contact specific page with all essential contact details. You can't afford to have an inconvenient contact area. Make sure your web designer has access to relevant contact information.
Do know that majority of your customers, if unable to find your contact information, will just move on. Even having your phone number is appropriately placed on your SaaS website can increase your conversion rate by a substantial margin.
Place your contact information either at the top or button of your SaaS website or in a single column format as Shopify does.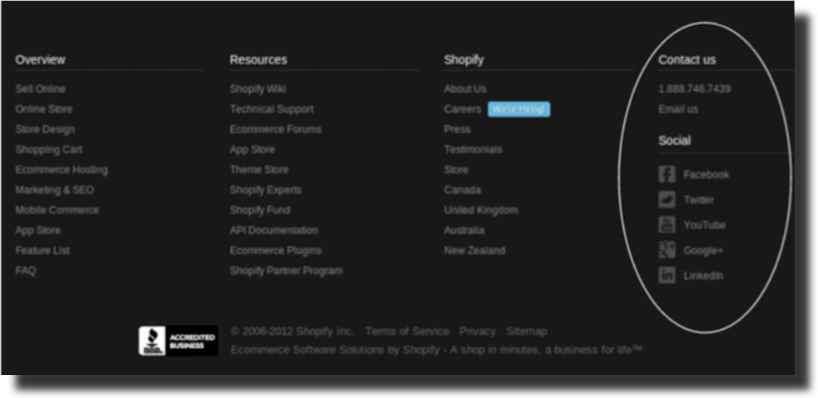 6. Demo
You need to have a demo CTA button so your target audience can experience your product without any hassle. Make sure that they go through your product demo without any technical procedures, else they can just leave without even watching the demo.
For users who are watching your product demo, your web design template can include a pop-up box or slider asking them to 'sign up' for free.
7. Free Trials
You simply can't sell a SaaS product without offering a free trial. It's because clients or people are more likely to develop a trust relation with you if they can see your work quality before committing to a long-term relationship.
That is why it is essential to include a free trial on your SaaS website. Most SaaS websites provide a 2 to 3 week trial period. However, it depends on your product offering.
But you need to strategically place your bright, bold, and prominent free trial button with a captivating call to action.
Best Software and Design Templates For SaaS Website
Here some of the most useful SaaS software and templates to create successful Saas Web Design Templates:
1. MailChimp
Mail Chimp is an excellent SaaS web design example to get your message across the consumer. It has a landing page with a direct call to action and no unnecessary text. Additionally, MailChimp has a clear and rather simple navigation menu with no fancy imagery.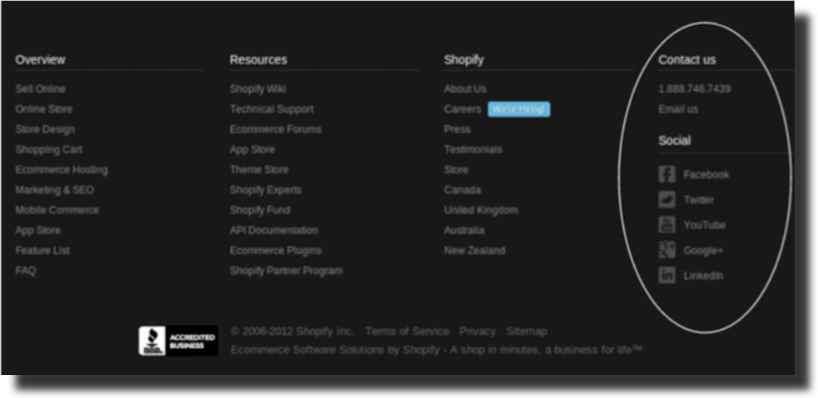 2. Evernote
Evernote is one of the best layouts for Saas website design inspiration. It is a note-taking app with a dynamic and straightforward layout, which directly asks the user to get on with it. Just like MailChimp, Evernote wastes no time in fancy imagery and lengthy videos.
You can see a value proposition with a short description as to why you need to use Evernote to schedule tasks.
3. Slack
Slack is one of the most popular teams messaging apps with equally effective web design. The website is easy to navigate with a direct call to action.
The home page video clearly distinguishes it from other messaging apps showing how to reach out to different team members at the same time.
Slack has a quality SaaS website design. It allows some great UX techniques to engage their audiences.
4. Kissmetrics
Kissmetrics is an analytical service provider. Like many other SaaS websites, it gets right to the point by offering a demo. And it does not clutter the page with any unnecessary information, infographics, or fancy imagery.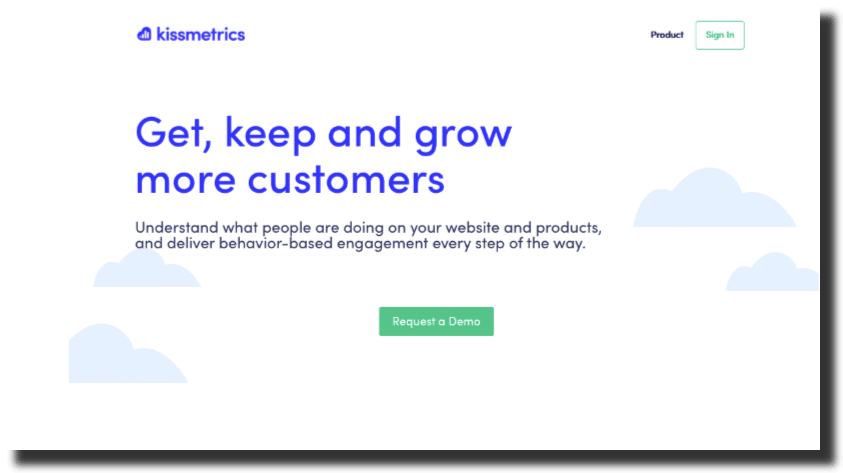 The layout offers a scroll-down option through its essential features, quality clientele, specialized solutions, comparison with competitors, including Google Analytics and others.
The web design follows a typical CTA approach of placing Sign-Up on the top right corner, which can also be placed beside the demo CTA. Kissmetrics is a great web design to build customer trust and simply quantify your achievements.
5. Dropbox
DropBox is one of the most popular digital service providers. It uses a clean and straightforward template to simply communicate their value proposition and ask the users to download the service right away.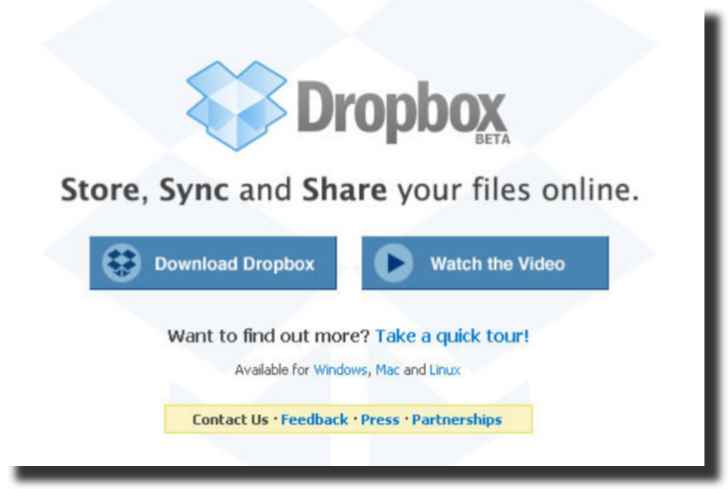 However, it is essential to understand that a DropBox is a widely popular tool in the SaaS market, which attracts immediate attention. Therefore they don`t have to.
6. UNCODE (WordPress Theme)
Uncode easily establishes a solid first impression with the user. It includes a simple page builder, a slider, WooCommerce, Content Block, and more than 70 layout variations. It is a user and beginner friendly template yet complex enough to accommodate powerful coders.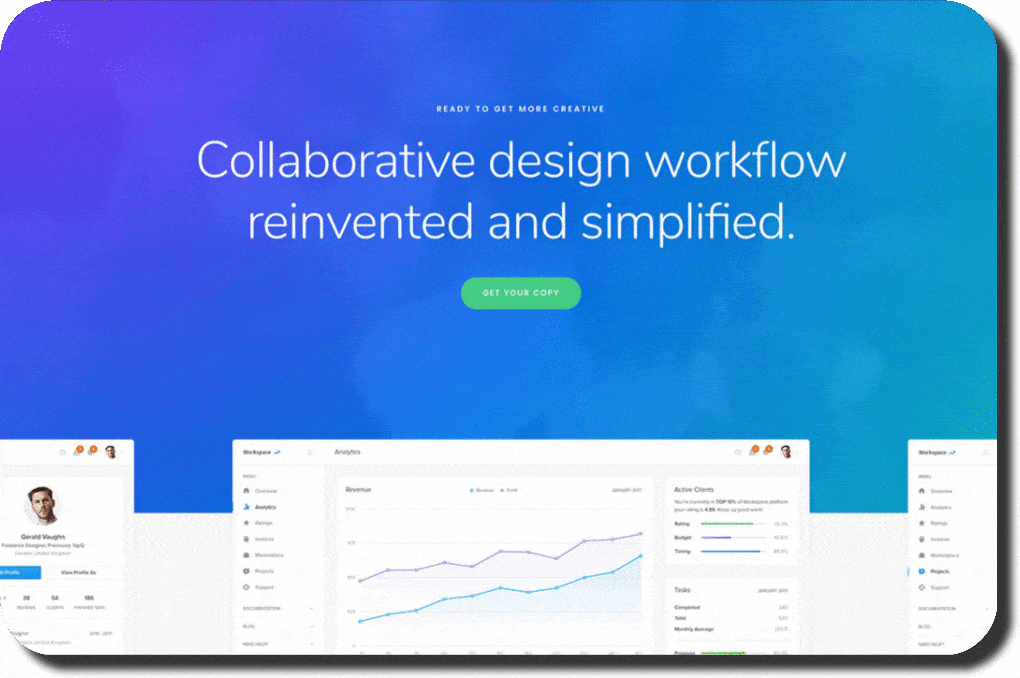 Uncode is one of those multipurpose web design templates, which enables SaaS providers to customize it as per their needs.
7. Jevelin (WordPress Theme)
SaaS web design templates need to have certain additional features such as mobile compatibility, cross-browser elements, and customizable options.
Therefore when you download Jevelin, you can utilize the demo option to check if the template fits your SaaS website needs. Additionally, you can further your web design to cater to your branding needs, if any, for instance, logo placement, etc.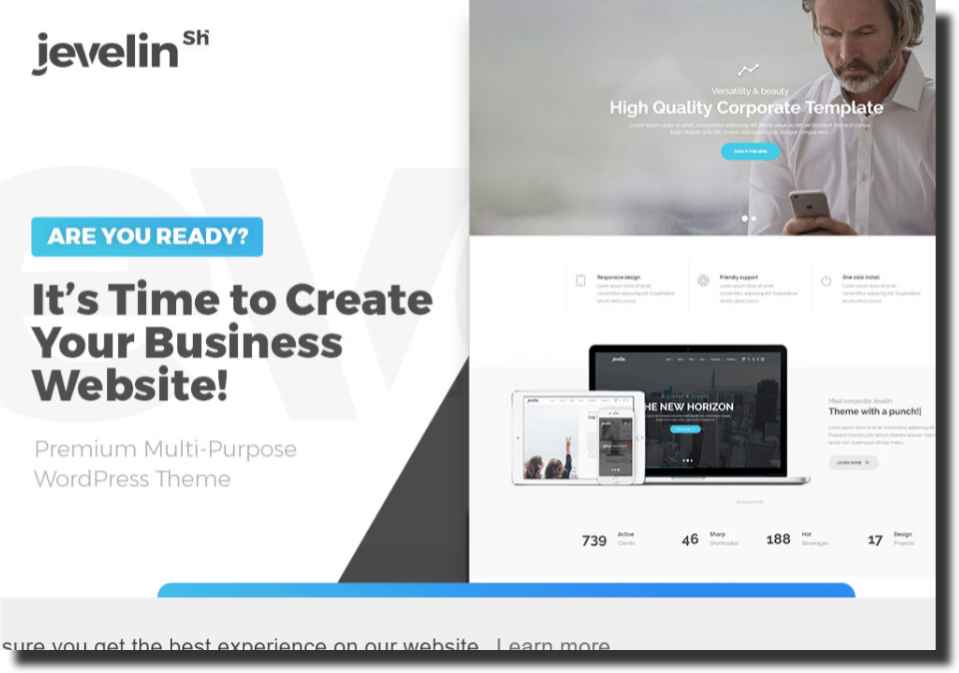 Jevelin comes in with a WPBakery page editor to ensure drag and drop page building techniques.
8. Typeform
Typeform is another example of one of the best designed Saas websites, It is a simple yet elegant SaaS web design template. This company is an online forms builder for your surveys, questionnaire, and research projects. It offers an array of customizable features, which it does.
The web design uses a lively graphical homepage and a rather smart value proposition. The landing page reminds you that creating online forms is not a nuisance and more along with two crucial CTA buttons.
9. Bench
Bench showcases it's human to expect through clever and catchy text. It tries to build customer trust right from the landing page, which is an effective way to penetrate your SaaS product into the consumer along with a 'Free Trial' CTA?
10. Kajabi
Kajabi applies the same technique as Bench in pitching their SaaS product to their web audience. The value proposition clearly states their product objective and how it can add value to their potential audience.
Key Takeaway
SaaS is the future for both B2B and B2C markets. And to be successful in this niche, you need to build the best SaaS website designs that cater to consumer expectations and help them expand their outreach.
Remember that some of the templates are designed specifically for a particular SaaS provider to cater to their specific product environments. Particularly in the B2B case where SaaS companies have a specific clientele.
But if you're new to the SaaS marketplace you need a dynamic web design template that pitches your product and its essential features to your target audience.