The quality of your logo is one of the biggest indicators of your company's success. Your logo is the most visible brand identifier, and it should always be unique. In fact, 60% of consumers avoid interacting with brands with a poor logo design.
Usually, most businesses go to logo design studios; however, this is a costly option, and if you're starting your business, you will spend a lot of money. If you find yourself in this situation, don't despair!
Several logo makers and logo generators online help you create innovative and eye-catching visual marketing at a fraction of the cost. Read through to find out 12 logo makers you can use to create a stunning logo.
Let's begin.
What Are Logo Makers?
Logo makers are easy-to-use logo designing platforms based on the web. Logo makers are often called logo generators and logo creators. These platforms help you create a stunning logo in minutes. There are several types of logo maker online. These include:
Logo makers for free
Logo makers for business
Logo maker with text
A logo maker custom and more
To create a logo using logo makers, some logo applications ask you to input the name of a business and then select a graphic from their stock image library. You can add colors to match the palette of your brand. However, some logo makers have a free-form design interface, and users can make their logos from scratch.
If you want to create a logo for personal use, you should use logo makers for free. The free logo generators will make it easy for you to develop creative logos at no cost.
If you are a freelancer or a small business owner, you should use logo makers for business. These applications have specific tools designed to create professional logo designs. If you want creative control over your logos, a logo maker with text and a logo maker custom will work best for you.
Criteria For Logo Makers
Before you browse through our list of logo makers, there is a set of criteria you should ensure you are choosing the best logo generator. These criteria will help you determine which logo makers best fit your needs.
Your perfect logo maker should be:
Easy to use: A good logo maker should have a user-friendly interface and provide tools for quick logo making.
Original: Does the logo maker provide ready-made templates, or can you start your design from scratch?
Customizable: any logo maker online should have customizable options for colors, size, layout, etc.
Cost friendly: the amount it takes to download and use your logo.
Extra tools: Do the logo makers allow you to create business cards, social media icons, banners, and more?
What Are The Benefits Of Logo Makers?
If you are unsure about using a logo maker online, here are some benefits of logo makers to help you decide your next steps.
Pros of using logo makers
Online logo makers are one of the least expensive ways to create your logo. You can easily find a logo maker free on the web, and even the logo generator that is pricier has a lower price range than design studios.
You can use a logo maker whenever you want, as these applications are available 24/7.
Online logo makers are quick, and you can have your perfect logo in less than an hour or more, depending on your logo design.
Many logo-making applications go through multiple updates to ensure your creative process is easy-to-use and seamless.
Top 12 Logo Makers Online
Now that you know what logo makers are and how they benefit you, here is a list of the top 12 logo makers online.
Vistaprint
Vistaprint is an easy-to-use logo designer software that comes under the category of logo makers free online. Vistaprint offers multiple logo-making tools and decent customizability to ensure your logo has an original design and looks aesthetically pleasing.
To use Vistaprint, you must add your business name and a secondary text. This text can be a slogan for your business or establishment date. Next, Vistaprint will ask you to describe your business so their AI can recommend color combinations and relevant icons.
Once you have approved the logo details, you will select the logo you think looks best. If you believe this is the final step, don't worry! Vistaprint allows you to customize your design even after you choose a logo.
Your logo is ready to download once you've completed the design process. You will need to create a Vistaprint account to download your logo, but no payment is involved.
Hatchful by Shopify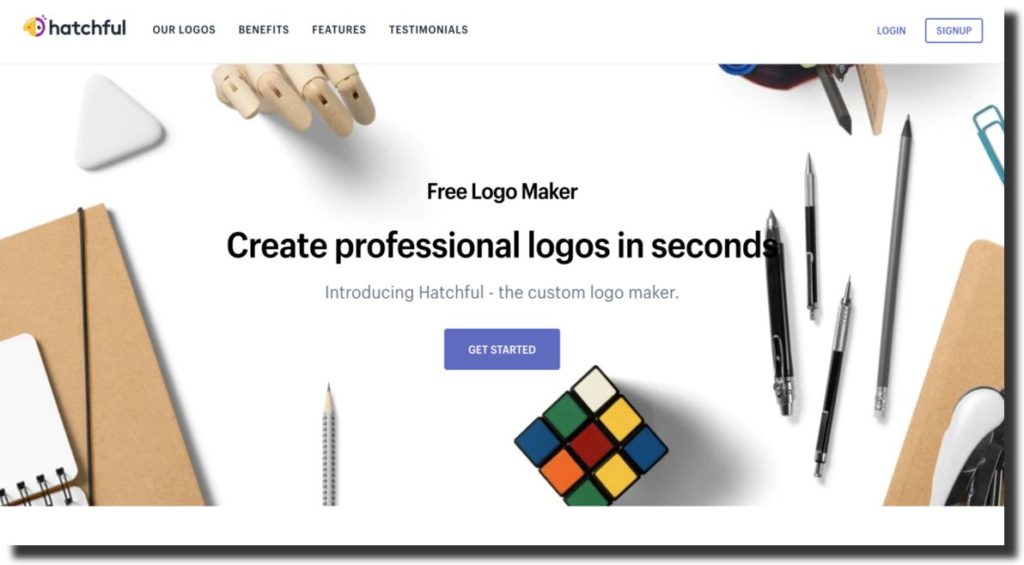 Hatchful is another user-friendly logo generator that fits the category – logo makers free online. Hatchful is available on iOS and Android, so you can access your logo makers whenever and wherever. If you want to create a logo on the go, Hatchul is the app for you.
You will give your business name and slogan first with most logo makers. However, Hatchful asks design-related questions first. This software asks you to list your aesthetics, values, and beliefs to help you create a unique logo design.
Once you've answered all the questions and entered your business name, you can choose between several logo options, and like Vistaprint, you can customize your final design.
Hatchful has an easy and user-friendly interface ideal for almost anyone. No matter what design aesthetic you choose, you will have a modern and minimalist design. Another great aspect of Hatchful is that you don't need a Shopify store to use this software.
Canva
Canva is one of the most popular logo-making platforms on the market. Before designing with Canva, you need to sign up for an account to save your designs. Next, you can browse through multiple templates based on industry categories.
Whether you want to create a food business logo or a wellness studio logo, Canva has you covered. You can use drag and drop elements such as icons, shapes, lines, and gradients to customize and add details to your logo.
Compared to other logo generators, there is limited customization in Canva. This limitation is frustrating for many designers and business owners. If you want to unlock all design features, you need to pay for a premium subscription.
However, if you want something simple and quick, Canva is a great option. If you face design issues, you can read through various support articles provided by Canva. Canva also offers multiple tools to create other business-related items, such as business cards and social media graphics.
Tailor Brands
Tailor Brands is a great logo maker if you want to create a unique design. You don't have to go through multiple templates to design your logo; instead, you can start your creative process from scratch.
To design your logo with Tailor Brands, you have to enter your business name, select your industry, and describe your business in an open-ended text box on the site. This space allows you to give as many details about your brand to ensure a distinctive design.
After you have described your business, you can choose to create a text-based, icon-based, or initials-based logo design. The next step is to select a sample design you want your logo to look like.
Finally, you will see various logos generated by Tailor Brand's AI. Once you select your favorite, you can edit the color, font size, and font type for further customization. Your finished logo will work on business cards, t-shirts, social media profiles, and other branded assets.
Tailor Brands is great if you have several customizable options; however, this software does not fit the logo maker-free category. To create JPG and PNG files, you will pay $3.99 per month. For EPS vector files, you will pay $9.99 per month.
Looka
Looka is an innovative logo maker that uses AI to create logo designs. AI asks you several questions to help you understand the goal of the business before presenting you with design options. To create a logo with Looka, you have to follow three simple steps.
After you provide information about your company, you will choose five or more logos as an inspiration. Looka will use these creative design inspirations to create a similar but unique logo. Then, pick your favorite color palette and logo symbols to get your perfect logo design.
There are around 20 to 25 designs, so you have a variety to choose from. Looka will give you 15 logo options at the end of the design process. If you didn't like any of the 15 choices, click the "generate more" button to look at more designs.
However, Looka is not a free logo maker app. If you choose the basic membership, you will only get access to a standard image file and limited edits.
Namecheap
Namecheap is an easy-to-use logo application, and you don't need any prior design experience to create your logo graphic. Namecheap offers several customizable tools that put it on par with other great logo makers despite the user-friendly interface.
Like previous logo makers, you need to input your company's name to start creating a logo. Next, choose your company's industry, favorite font styles, and three icons. Once you've made your selections, the app does the rest for you.
When you choose your favorite logo design, you can customize and edit it as much as possible. You can edit and download your logo designs without making an account or making payments.
Even though Namecheap's designs are not very innovative, their generated logos are beautifully composed and great for beginners. Another thing to consider is that some logo designs don't have commercial use rights, so check the image copyright before using your logo.
DesignHill
If you want to create premium logos, DesignHill is the logo maker for you. With DesignHill, you access over 100 high-quality logo options and multiple customizable tools. These logo makers ensure you have a no-frills design experience and a complete logo in minutes.
To start, you pick five sample logos of your choice, and then you select five icons to accompany your logo design. Before you get your finished results, you need to create an account. Once you have your account, you can choose your favorite logo and make a purchase.
The initial icons design is simple, but once DesignHill puts these icons with other design details, you are left with a stunning and innovative design. DesignHill pairs your icon with eye-catching typography and a visually-pleasing color palette to elevate a simple pattern.
DesignHill lets you create logos for multiple branding use. From freelancing and small business to premium and enterprise, DesignHill creates logos for every industry. The basic DesignHill package costs $20 and comes with a standard resolution logo and design tools.
Ucraft
Ucraft is a free logo maker that gives you professional logo graphics with a few clicks. Logo Maker is your application if you want a quick and hassle-free design process. This software is part of our logo maker free, and you don't need to pay extra to download and use your graphic.
Logo Maker lets you design your branding from scratch, and you can choose from a wide selection of fonts, icons, and shapes. Once finished with your logo, you can download a PNG file for free and start using it.
Brandmark
Brandmark is another great logo maker to create small business and enterprise designs. This logo maker is not free, and it costs $25 for PNG files and $65 for print and web files.
To create a design with Brandmark, you need to enter some keywords that you associate with your brand. Then, choose four simple color schemes and browse through a catalog of auto-generated logos.
Brandmark's design process is very simple, and you don't need graphic design expertise to create a professional logo. Since the AI generates sample logos based on your keywords, ensure all the words are relevant to your business. Otherwise, you might end up with a logo design that doesn't fit your brand.
GraphicSprings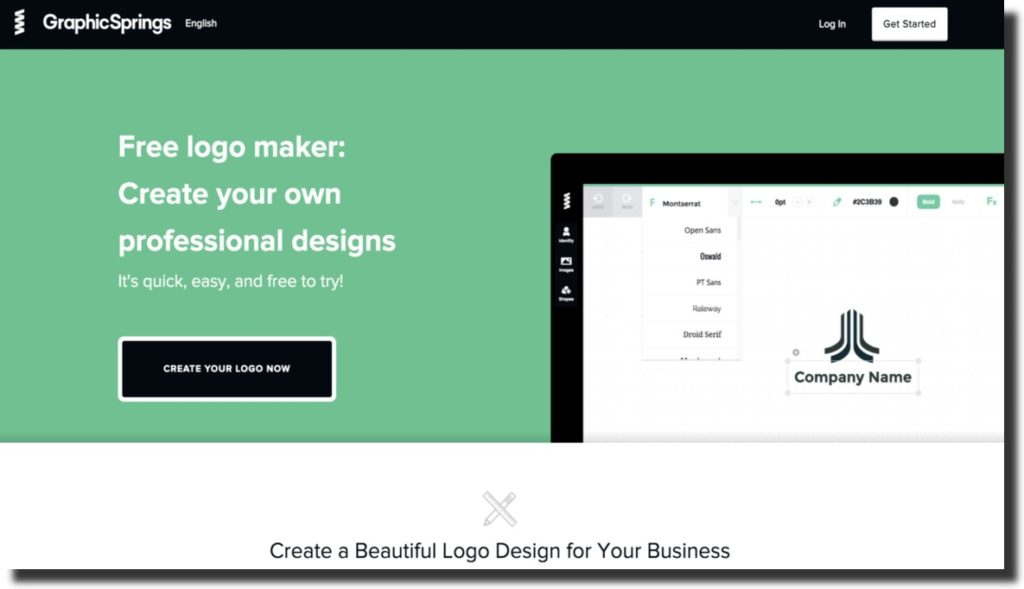 If you want a powerful DIY logo design platform, GraphicSprings is your best choice. You need to enter your business name and an optional tagline to use this software. Once you have filled out these details, you will get access to GraphicSpring's design interface.
GraphicSrings uses templates to create your logo, and you have multiple options to choose from. Choose any of these templates to customize the graphic according to your design needs.
GraphicSprings is free to use, but you must pay $19.99 to save your designs.
Wix Logo Maker
If you want to create a website and make your logo in one place, Wix logo maker is your software. Wix's logo makers are easy to use, and you can easily create unique and professional logos.
You need to follow three quick and easy steps to build your logo. Once you've selected your logo, you can make multiple edits and even visualize what your logo would look like on a website.
You don't need a Wix site to create a logo, but you will need to pay $12.99 for high-resolution logo files.
Logaster
Logaster is a great logo maker tool if you want to be specific about your color palette. This software allows you to choose between multiple shades to find the right color for your brand. All you need to start with Logaster is your company name and industry.
Logaster specializes in creating corporate logos, so you are guaranteed a professional and sleek design. If you want a minimalist and modern design aesthetic, Logaster is a good choice.
Once you finish your logo design, you see several high-quality brand asset mockups featuring your logo design. These mockups will inspire you to create other brand items. Logaster costs $19.99 for a basic branding kit and $64.99 for a premium branding kit.
Some Tips To Consider Before Using Logo Makers
Now that you've chosen your favorite logo maker, here are some helpful design tips to follow before creating your design.
Consider The Color Palette
If you want to create an attractive logo that pulls in your audience, stick with only one or two colors. 95% of top brands use only one or two colors. Using more colors will create a busy design, and people might not enjoy looking at your logo.
Avoid Complex Typography
Your typography matters. If you want to attract potential customers with your logo, you must choose simple and easily readable typography.
Think of any top brand and what type of typography they use. Most leading brands have a clear and simple variety, so you should follow a similar rule.
Think Of The Name
Before creating your logo, you must think of a company name. This step is important because it is crucial to your brand identity. Your business should reflect your company's core values, and it needs to be catchy.
Think Of The Long-term
A good logo endures the test of time. When designing your logo, remember that you will use this design for the next five to ten years. Therefore, your design should represent your company values 10 years down the road.
Be Versatile
If you want your brand design to stand the test of time, make sure your logo design is versatile. This versatility will make using your design on multiple brand assets easier.
Final Takeaway
By now, you must have a shortlist of your favorite logo makers to fit your brand's design needs. Think about your design aesthetic and your budget before choosing a logo maker. These logo makers will provide you with high-quality designs at a fraction of the price.