Having a modern manufacturing website design is essential to the online visibility of your company. A professional website should represent your brand to your customers. This means that anyone who visits your website should be aware of the products and services you sell.
A manufacturing website design should be easy to use. Your website users should find the answers to their questions faster. Make sure that the basic details about your company are easy to access.
Are you looking to develop or redesign your manufacturing website? Here are the different features to consider when designing your website, with examples of top industrial and manufacturing websites for inspiration.
Manufacturing Website Designer
If you need a website for your company, you can hire a freelancer or a manufacturing website designer. A designer will be keen to achieve your goals and advise you on the best way to achieve your desired website.
Also, you can choose to work with a manufacturing website design company. A company is much preferable as it may provide hosting services unlike working with a freelancer.
For instance, you're able to come up with a working budget, when working with a digital marketing and web design agency that offers managed WordPress hosting for free.
Some of the best manufacturing web design companies according to webdesignrankings are: UPQODE, Avenue 25, WebFX, Brolik, Small Planet Digital, and Monarch Digital.
Best Website Design for Manufacturing Company
There are different platforms to use when designing a website. It's not easy coming up with a website design for manufacturing companies. But, working with a web design agency makes it easier to achieve your website goals and needs.
To increase sales in your business, you need to have a website that attracts and captures the attention of your audience. This means that before you design your website, you need to have your users in mind.
Web Ascender is an example of a manufacturing website design company that will design for you a modern website with a strong digital presence.
To achieve the best website design for a manufacturing company, ensure you maintain the following features:
1. Mobile Friendliness
A manufacturing website design should be responsive. The website should function the same on all devices. If you're using the WordPress framework, make sure you purchase a responsive theme.
There are various tools to use, to check if a website is mobile-friendly. For instance, you can use Google Analytics on your website, to have an overview of the devices used to access your website.
A majority of the people use their mobile devices to access and request services. Therefore, having a manufacturing website design that is responsive increases your SEO and conversion.
2. User Experience
Is it possible to have a manufacturing website design that is attractive and easy to use? The answer is yes. A manufacturing website needs to be easy to navigate, faster to load, and easy to scroll.
To achieve user experience, you need to have your users and goals in mind. Therefore, your website users need to understand what your website is all about. It should also be easy to get what they are looking for.
3. eCommerce feature
Before a customer makes a physical appearance, they will check your website first. On the other hand, some customers prefer purchasing products online. Hence, you need to incorporate an eCommerce feature in your manufacturing website design.
There are different platforms to use when designing an eCommerce platform. For a WordPress web design, you can use the Woocommerce plugin. Another platform to use is Shopify.
4. Easy to use forms, CTA's and lead generation
Call-to-Action (CTA's) and lead generation are an alternative ways of converting customers and increasing sales in a company. They should be easy to use for anyone who desires to request your services and products.
Examples of lead generation to use in manufacturing website design are forms, messages, newsletters, cell contacts, and email addresses.
All these features can be placed on any page of your website. This is to attract and compel website users to take specific actions.
5. Quality Content
Quality content in manufacturing website design should offer value and help customers in making a decision. It's also an effective method to beat your competition.
Your website offers round-the-clock marketing unlike traditional marketing methods like brochures and newspapers. Therefore, you need to have high-quality content that is specific to your brand or company.
6. Search Engine Optimization (SEO)
SEO is very essential in ranking and attracting traffic to your website. There are three different ways to achieve SEO. These are On-page, Off-page, and technical SEO. Achieving SEO for your website will increase ranking on the first pages of search engines.
For example, in manufacturing website design, use Meta descriptions, links, header, and title tags that are rich in industrial keywords. Hiring a WordPress web design agency will give you an optimized website that will increase the online visibility of your website.
7. Security
A manufacturing website design should guarantee your clients' security. Before you purchase a hosting package from your domain provider, check whether the plan comes with a Secure Socket Layer certificate.
Website users will bounce off if your website does not guarantee security. To counter this, make sure that your website is secure. If your existing site has a 'not secure' message, you need to purchase an SSL certificate from your hosting provider.
8. Hero Messaging
What should your website users and visitors see when they first visit your website? Having an attractive and captivating hero message motivates your visitors to find out more about your company.
An example of a hero message on a website.
For a manufacturing website design, adding your hero message on the top section of your website can help build trust with your audience. For instance, you can decide your hero message to represent your company values and what you do.
9. Social Media Integration
There are clients who may require social proof of your company. Social media presence plays a big role in your online visibility and success. It also helps build trust and increase sales. Be sure to link your social media profiles from your manufacturing website design.
Manufacturing Website Design Inspiration
For manufacturing website design inspiration, let's look at 10 company websites to increase sales in 2020.
John Deere
John Deere is a popular manufacturing brand in the world. Their manufacturing website design is attractive with a modern design. To start with, they are keen to maintain the brand colors and a professional logo.
From the homepage, there is a visible eCommerce feature. Also, the images on the website are clear and of high quality that users can relate to. To accompany the images, the company has an effective content marketing strategy to inform and add value to their audience.
Lear Corporation
To start with, there is a professional logo and a strong hero message. Different background videos show that the company is a dealer in automotive seating and electrical systems.
Lear Corporation's website also has a video that shows users their current project. The main menu has different categories that are divided into subpages. From the bottom section, there is a map showing the different areas and locations they serve.
Tymetal
Tymetal is a security gate manufacturer with a professional website design. From the homepage section, it's easy to see areas they serve, the years of experience, and the products they offer.
From the top menu, it's easy for anyone to see their contact cells and from the footer section, their contact information has also been displayed. The website is easy to use, navigate and thus enhances user experience.
Hatch Manufacturing
Hatch is a manufacturing website that develops Android devices. The website has a simple and clean design that is easy to use and navigate. Upon scrolling down the website, there are three different sections that clients can click to and learn more about the company.
The website has different CTA's, professional logo, and testimonials. For new clients, testimonials act as proof that the company delivers. Instead of having long texts with explanations, the website has a video that users can watch and find out more about the products and services.
Lockheed Martin
To start with, Lockheed Martin's company website is very professional. From the homepage, it's easy to tell that the images are original and of high quality. The website design makes use of different CTAs that guide users in taking specific actions.
Besides this, the main menu has different sections with a drop-down menu. The website also has a news section that uses high-quality images and video to accompany the content.
Fairlawn Tool Inc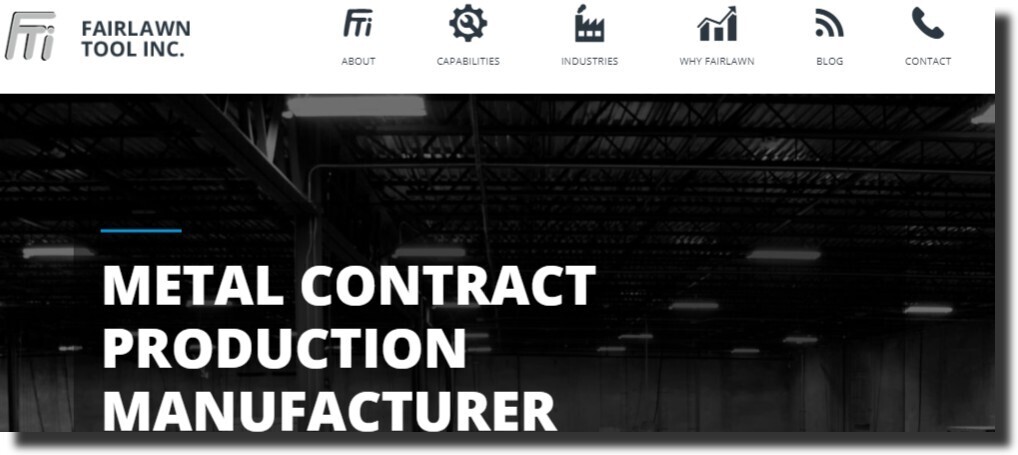 The website design for Fairlawn Tool Inc is simple and easy to navigate. The company is ISO Certified. Adding this certificate to their website helps build trust with their visitors.
On the homepage, there is a section with basic information about the company. There is a captivating hero message with more information on the areas they serve.
Marlin Steel
Marlin Steel is a leading manufacturing company in custom-engineered products from steel wire and sheet metal. The company website incorporates different features to create a modern website with an enhanced user experience. The website has an easy-to-use form and video that gives more information about the company.
FireRock
FireRock website has a modern, professional website design that is attractive and easy to navigate. From the top menu, there is a call-to-action with which users can use to reach out to the company.
The homepage has a video that users can watch and learn more about the products. The website also has an attractive hero message.
Sharretts Plating
Sharretts Plating provides a wide range of metal plating services, which include gold and silver plating. From the top section, it's clear that the company is ISO certified. There is also a call-to-action and a cell contact number.
The website has a high-quality video that provides more information about the company. From the homepage, it's easy for a website user to navigate and access most of the pages and sections.
Independent Machine Company
Independent Machine Company specializes in the design and manufacturing of web processing machinery. The company has a well-crafted logo using the company's initials. The website has a simple design that is easy to scroll.
The strong use of imagery in the text makes the website appealing and attractive to continue using. Also, the company has a video library, a PDF library, and a spool calculator to calculate spool lengths and sizes.
Best Manufacturing Website Design
With the current change in technology and the rise in competition, having a website for a manufacturing company is very important. To attract clients, you need to have a simple, modern, and attractive website.
You can work with a web design agency to have a high converting website. They will help you achieve the best manufacturing website design that will work for your company.
Industrial Manufacturing Website Design
An industrial manufacturing website design should represent your brand. It should have a professional design that has your brand colors, logo and content. Besides this, the website should have original photos and videos to help build trust with your clients, unlike the downloaded images.
In addition to this, a manufacturing website design should have contact information, location and the services or products that you offer.
Another important feature in industrial website design is the testimonial, certificate or award option. These help new clients in building trust with your business.
Final Verdict
As a manufacturing company, having a website is the first step to achieving online success. Coming up with a manufacturing website design may not be as easy, but with the above information in mind, it becomes easier.
You can choose to hire web services from a manufacturing website designer or developer. To increase sales in your business or company, your website needs to attract clients, engage and convert leads into repeat customers.
Therefore, if you need to increase sales, make sure that you design your website with your users and goals in mind.