Advertisements are everywhere you go.
However, traditional advertising is slowly dying due to various reasons such as one-way communication. Therefore, marketers have begun strategizing ways to send their messages to the consumers in a more creative and innovative way to grab their attention. Email marketing is one such way, which can be done using MailChimp templates.
Email marketing has become a staple in staying connected with the community to communicate efficiently with customers. Furthermore, this type of marketing allows an organization to create meaningful connections with customers.
Plus, this type of marketing is affordable for all types of businesses. If you're a small business that has been finding it hard to spend much on advertising, email marketing is your loyal companion. But,
How do I make the emails attractive?
We all receive a plethora of emails every single day, so while creating one for your organization's marketing you need to make sure that your email stands out among the crowd. This is a struggle that every marketer faces. Worry not, MailChimp templates are on your rescue.
What are MailChimp Templates?
Founded in 2001, MailChimp is one of the most popular email marketing software utilized by consumers around the world. The software has more than 20 million users.
With its flexibility, MailChimp aims to create aesthetically designed campaigns to help you become a better marketer and reach your audience. With its intuitive interface and dynamic data analysis, MailChimp enables you to create stunning visuals to gather the audience data along with the insights into your marketing stream so that you can reach your goals in a short period of time.
Pros of Using MailChimp Email Templates
There are many benefits of using MailChimp email templates. Some of them are:
MailChimp is an easy-to-use and reliable software that has a user-friendly interface, making it a beginner-friendly tool as well.
MailChimp is affordable, making it a perfect tool for small businesses. The freemium plan is ideal for companies that are just starting out and don't want to spend dollars on only a few subscribers. So if you have less than 2000 email subscribers, you can use MailChimp's freemium version to reach out to the audience.
MailChimp is perfect for personalizing advertising campaigns.
You can split your mailing list into particular groups so that you don't have to send the exact message to every single group. For instance, if some of your customers are less engaged than others, create a mailing list with their email addresses and customize an email that targets them only.
MailChimp also provides its customers with customizable signup forms that they can use to grow their mailing lists.
The software employs the tools to analyze the insights of the email that you have sent. For example, how many subscribers you have received so far, the unsubscribers and the insights into the performance of your campaigns.
MailChimp currently has a freemium and three paid plans.
| | |
| --- | --- |
| Version | Pricing |
| Free | 0/month |
| Essentials | $11/month |
| Standard | $17/month |
| Premium | $299/month |
Best MailChimp Templates Free
You can either pay for the templates or use free MailChimp template design from a pool of MailChimp email templates since not everyone – especially people who have just started the foundation of their businesses – can afford to buy templates. Some of them are:
With a neat and sophisticated look, Colorlib is a must-use MailChimp template free with a modern layout.
You can integrate several of your MailChimp template ideas into this all-in-one template that can be customized to fulfill an assortment of your needs.
Whether you want to send a weekly newsletter or update your customers regarding new events or special deals, this free template is the one for you.
The summer sun is shining brighter than ever, which makes it the perfect time to use this template to deliver your audience some seasonal news. It can be revealing a new summer collection or maybe a summer sale!
With its vitalizing and bright colors, this template is considered one of the best MailChimp templates free for its aesthetically pleasing.
Are you looking for a sleek, minimal, and black and white design for your newsletters?
If yes, Architect is the best option for you.
The Architect is an easy-to-use, free, dark-themed template that gives your newsletter an organized, systematic, and professional look.
It's hard to try and find an email template for every occasion. Not to mention, it's extremely time-consuming. This is where Mantra comes in.
Manta employs a bundle of MailChimp template ideas so you don't have to change the template every single time.
Whether it's a Welcome email, a discount, birthdays, etc, Mantra has it all. All you have to do is find the one that befitting the occasion, make a few changes and send it to your subscribers.
This free MailChimp template is perfect for anyone who does not have prior experience with designing newsletters.
Narrative is a fairly simple MailChimp template that you can use to improve your marketing campaigns and strategies.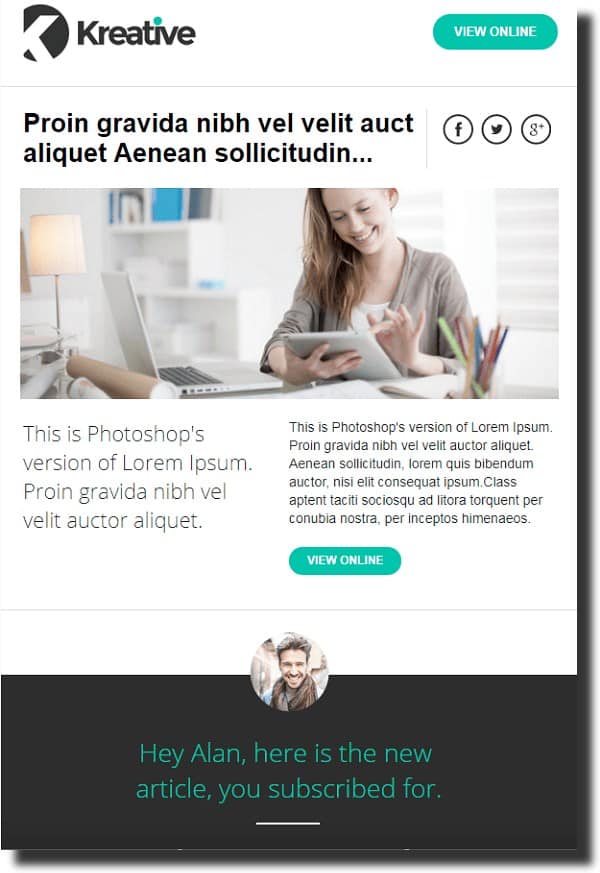 Kreative is an elegantly designed and flexible template that will catch the eyes of your subscribers and fool your subscribers into thinking that the design was professionally developed.
This template is created by ZippyPixsla and is free to download. You can use this to generate responses from your customers and boost your engagement.
Are you a photographer looking for the perfect visualizing newsletter that compliments your photography skills?
Look no further. Photographer is one of the best MailChimp templates, specially tailored for the people who are used to staying behind the camera. The template can be easily customized to adapt to your needs.
If you're looking for MailChimp template ideas with a refreshing and vogue design, Salted is regarded as one of the best choices for you.
Plus, if you don't mind tweaking the code then this is probably the best template for you that can be easily edited live on the browser.
Are you designing a newsletter for your travel agency?
Do you want to update your customers on new discounts and deals?
Smart travel is a travel-themed email template that is an excellent choice for you to connect with your subscribers and announce new promotional campaigns to your subscribers.
The template is equipped with cool eye-catching fonts and a professional look with a centre space reserved for an image that can grab the attention of your subscribers.
Specially tailored for fashion stores and boutiques, Fashion discount is an easy-to-use template that is rich in features.
Developed by the Beefreenteam, this template uses a drag and drop tool that enables you to easily add any element to your newsletter. Moreover, this newsletter is spacious enough for you to list all of your products along with their prices.
As a blogger, email marketing is the gold standard for you to engage your readers efficiently. This is why you should opt for this email template.
One of the coolest features of this newsletter template is that it allows you to add a video easily so you can give a visual context to your customers.
Additionally, the template has plenty of space for textual content and photos as well. You can also use the drag and drop editor to directly 'drop' the elements on the newsletter.
Are you tired of using different emails for every other occasion?
Then, go for One letter.
One letter is a MailChimp template that serves a multitude of purposes. Like Mantra, One letter includes a collection of MailChimp template ideas that you can use according to your situation.
With its clean and bold design, you can use this template to update your customers regarding a new product, send welcome messages, and so on.
To put it simply, you are directly provided with a code used for this template which you can open in the Codepen editor. After customizing your template, all you need to do is copy the HTML code and paste it into the MailChimp template editor. And you're done.
Some of the Best Paid MailChimp Templates
If you want to upgrade your design to the next level with top-notch visuals then you should pay for some of the most captivating premium MailChimp templates.
Switch is considered one of the best paid MailChimp template designs that enable you to tweak changes in the template. You can customize, add and replace various elements with the components of your choice.
Moreover, Switch integrates a compression tool that reduces the size of your image by 70%. Additionally, the tool is also compatible with a popular WordPress e-newsletter plugin, Mailster.
Repo's responsive design and flexible features make it one of the best paid MailChimp templates for promotional campaigns, product reveals, and newsletters
It also features several MailChimp layouts that can be used to boost your email marketing.
In addition to that, Repo includes a plethora of features such as its appealing layout icons, sleek design, compatibility, and direct export to your account on MailChimp.
Kappa is yet another paid responsive MailChimp newsletter template. The template has several features including Google fonts, a drag, and drop tool, a colour picker, custom background colour styles, and images and draggable modular blocks.
This MailChimp templates design has a collection of 12 pre-built templates that are fairly easy to use regardless of the tech knowledge.
Are you an owner of an online store?
Whether it's a clothing business or a candle store, Felician presents a great design to showcase your products to your customers.
Moreover, the template comes with around 11 content modules that be easily used to customise the designs according to your liking. Plus, its stunning layout makes Felicia an ideal choice for marketers across the online shopping niche.
If you're someone who is irked by flashing colours and crowded layouts then Madeline is the option for you.
This premium newsletter template presents a minimalist's dream with its simple yet captivating layout. This makes it the best option for bloggers and online shops and businesses.
Furthermore, you can add personal touches to the emails to connect with your audience more efficiently. Madeline has 9 modules that can be used to design customized emails.
Do you want to make your customer's day better and surprise them with a discount/deal?
Then choose this template. Greetings is a great choice for you if you want to send your customer a birthday wish. Plus, this way you can engage your customers on a personal level and build a relationship with them beyond the corporate level.
Greetings consist of a number of email templates that enables you to wish your audience. Moreover, you can include special offers and gift vouchers for your customers because who doesn't love a surprise gift? Plus, this is an excellent strategy to market your business well.
Fritz is a responsive email that serves multiple purposes to the users. With its creative and fashionable design, you can easily customise the template that consists of 20 sections. You can easily edit this email template with StampReady Builder. Besides MailChimp, this template also works well on Campaign Monitor.
As the name implies, Charity is an email newsletter template for non-profit organisations or different charities.
Compatible with MailChimp, this template employs a clean and serene design that intends to impact the emotions of the readers.
If you're a freelancer who wants to promote your services then Classy is the best choice for you.
The layout of this template is modern with eye-catching elements. Plus, Classy is equipped with numerous features that you can use to edit the layout according to your preference.
If you are not tech-savvy, you can also contact marketing agencies such as UPQODE to market your business well with your favourite MailChimp templates. UPQODE enables users to create uniquely creative content for their businesses.
Tips to Make Your MailChimp Email Templates More Creative
Many of the MailChimp templates offer you a multitude of features that you can use to make your newsletter more interesting. So, why should you opt for a boring design that is used by everyone when you can tailor it to your preference?
If you want to know how to make your templates captivating, here are a few tips to make a creative email newsletter for you:
Choose your fonts wisely
Fonts can make or break it for you. Do you want to make sure that your customers read the entire email clearly?
Then choose a creative font. You can bold or italicize accordingly. Plus, you can spice it up more by choosing different fonts for headings, subheadings and the subject. However, make sure that the fonts complement one another and look professional too.
Plus, if you're using a premium plan, you should advantage of the several fonts.
Limited colours
You don't want your email newsletter to look like a rainbow – unless that's your theme. So, rather than adding several colours, stick to only two that already make up your brand. If you're unsure, you can look up several colour palettes to get inspiration.
Moreover, keep away from dull and boring colours. Choose bright and fresh colours to attract your customers.
A curious subject line
You've worked really hard on the content of your newsletter. You picked the right colours, add beautiful graphics and textualized in a fancy font. All of your efforts will go down the drain unless your subscribers open the email.
How to make this happen?
Pose a question to entice your readers. You can also use a punchline or a funny title that piques the attention of the readers. Yes, this definitely requires you to be extremely creative. But, it always pays off well in the end for your marketing.
Organized layout
Imagine opening an email and finding it all cluttered. What would you do?
You would close it and unsubscribe from receiving more emails like this. Your junk is full of such emails. So, do you want your newsletter to be one of them? Doubtful.
This is why it's extremely important that you design a clear and immaculate email newsletter that will force your subscriber to pay attention to it.
Add photos
There's no hiding the fact that customers have short attention spans. Plus, as the saying goes,
A picture is worth a thousand words
So make use of the photo features and impress your readers with graphics rather than plain words. Plus, some templates enable you to upload videos as well so take advantage of the feature and add a short clip to make the email newsletter more engaging.
Key Takeaways
Email marketing is an excellent way to engage your audience and communicate directly with them. For this purpose, you can use a number of MailChimp templates to make your e-newsletters more intriguing. This article has enlisted some of the most popular templates.