Websites are in high competition to reach the first page of search engines. Website owners are applying different strategies to stay on top of their game in the highly competitive market and rank higher on search engine result pages (SERPs).
Keyword rank monitoring. With this, you'll get insights on the performance of specific search terms that reveals what's working and what's not. This way, it's never hard to choose better keywords with more visibility on search engines.
But again, monitoring keywords is no easy task. That's because it involves compiling and analyzing huge data, which can be overwhelming. In such instances, keyword rank checkers come in handy as your fastest and easiest way to monitor keyword ranking.
Next, let's discuss the top keyword rank checker tools to boost your site's SEO.
10 Best Keyword Rank Checker Tools
1. Sitechecker
Tracking the rating with Sitechecker is convenient: the service provides many options for controlling the site and generating responses. You can customize SEO tracking according to your marketing strategy needs and focus. This makes Rank Tracking a complete tool for increasing your presence and reaching your audience.
The rating tracking function makes it possible to control changes in the positions of your site – including timely learning about how the rating was affected by updates to Google search algorithms. You can also monitor and study different types of keywords to improve your SEO strategy.
Rank Tracking tracks search results across different types of devices, from desktop computers to mobile gadgets. This gives you a complete picture of how your site ranks on different devices. In addition, monitoring is available for various search engines and browsers.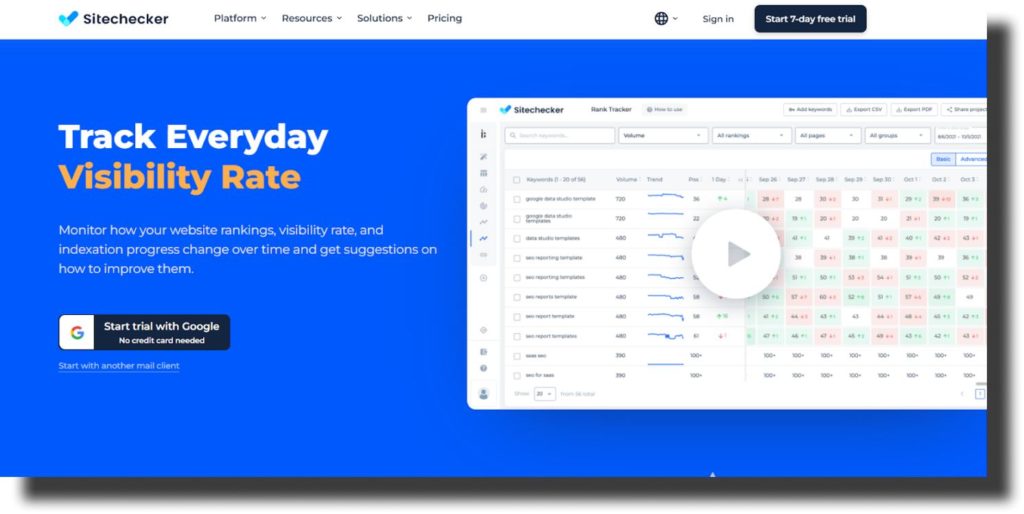 You can set up monitoring results by country, region, and city to get hyper-local information about the rating of your web resource. This may be needed by owners of local businesses or companies with branches in different geographical locations.
All the data you get with this tool is useful. But more is available. Sitechecker allows you to extract information and generate custom and white hat SEO reports. They can be generated automatically: daily and weekly. This is a valuable opportunity for marketing agencies that want to keep their clients up to date and give them access to up-to-date information. You can use the reports to evaluate your promotion strategy and improve it.
2. Ahrefs Rank Tracker
Ahrefs rank checker tool is integrated with several keyword monitoring functionalities you can use to take your site's SEO to the next level.
Whether you're tracking competitors' progress or gauging your site's performance, Ahrefs keyword rank checker provides real-time details about keywords.
And the best part is that you can narrow down the keyword analysis to specific countries. This is important since your site's ranking varies with countries such that your site's ranking in the U.S may be different in the UK or any other country.
With country-specific ranking details for particular keywords, you can boost your site's visibility locally or globally.
What's more, Ahrefs can help you track historical rankings for any keyword (as far back as 2015). You get the past rankings (for specific keywords) in the form of a graph.
That is to say, you can see clearly whether your performance on Search Engine Result Pages (SERPs) is improving or worsening over time. Even better, you can use the historical rankings to track your competitors' progress and help you adopt more effective SEO tactics.
And that's not all. Ahrefs gives you access to the following ranking reports that clarify ranking performance for specific keywords.
Traffic: The total organic visits to your site from all the keywords you've been monitoring.
Visibility: The percentage of all clicks to your site from the keywords you've tracked.
Positions: Your site's ranking performance (increases and decreases) across all the keywords you've been tracking.
Average Position: The average ranking position for all the keywords you've been monitoring.
More importantly, Ahrefs gives insights on keyword ranking positions for both mobile and desktop. This way, you can shape your keyword strategy to mostly fit mobile users, considering that search engines are shifting to mobile-first indexing.
Note: Ahrefs allows exporting this data to your desired location.
With such details, you can watch your competitors closely and ensure you maintain a high competency in search engine rankings.
3. Semrush
Semrush is the next keyword rank checker you can use to sharpen the SEO tactics on your website. Like Ahrefs and Moz, you can use it to monitor keyword ranking on your site and track your competitors closely.
Here are its features for better clarity.
Semrush allows tracking keyword rankings over country filters to give you location-specific data. That is to say, you can monitor your website's performance across different locations and get a search volume comparison (for different regions).

The best part is that the location search volume comparison is device-specific – desktop or smartphone.
While targeting different devices is a feature in the Semrush rank checker, things get better when you can compare desktop and mobile ranking statistics on the same graph. Also, you'll be able to export your ranking statistics and schedule when the statistics report can be sent to you.
Better than that, Semrush allows monitoring keyword rankings for your site or competitors by providing a distribution table for a side-by-side comparison. The visibility of different domains in the organic search results and the estimated traffic to each.
Even more, the ranking distribution table provides details on the top paid search results from Search engine ads. This way, you can streamline your search engine ad campaigns if you have invested in pay-per-click advertisements.
More interestingly, Semrush features a landing pages tab. Here, you can spotlight the top-performing landing page (yours or competitor's) for a certain domain and get an in-depth keyword analysis related to that page. The analysis is based on the following metrics:
Keyword count on the landing page (for a specific domain: yours or competitors)
Estimated traffic
Average position
Another feature in the Semrush keyword rank checker is the competitor discovery. As the name suggests, this feature helps identify domains competing with you for keywords and traffic.
You can track your competitors using a graph with circles whose sizes show the extent of competition from other domains.
In general, Semrush offers amazing features that enable you to unearth competitive advantages and aim for the top positions on search engine result pages.
4. Ubersuggest
Although Ubersuggest is primarily focused on keyword research and generation, it's still a better option as a keyword rank checker. Here's why.
This SEO tool has in-built features that can smoothen your keyword monitoring for more visibility and better rankings on Google and other search engines. Those features include:
Traffic Analyzer Overview
Top Pages
Keywords
Let's dig deeper into each for better understanding.
1). Traffic Analyzer Overview
Here, you can analyze your domain or get insights into your competitors' SEO efforts. Upon inputting the domain, the following are the metrics you'll access:
Organic Keywords – The number of all keywords a specified website ranks for in a particular search engine. This way, you can tap into the keywords your competitors are using and leverage them for decent SEO results.
Organic Monthly Traffic – Total monthly visits to the site you've specified. With this, you can gauge your site's keyword organic traffic and opt for better keyword strategies for more tangible results.
Domain Score – This shows the link authority of a domain (out of 100). If the score is high, the site has many high-quality backlinks pointing to it. Also, sites with high domain scores are difficult to compete with.
Suppose your domain score is 70 and that of your competitor is 90, and you're both competing to rank over the keyword "finance management.". In that case, it will be difficult, if not impossible, to outwit your competitor in that common keyword.
Backlinks – The total number of inbound links that a site has. With such details, you can see the average number of backlinks to add to your site for better rankings on SERPs. Even so, not all backlinks can boost SEO in your site (only high-quality backlinks work).
Traffic Trend Chart – Here, you'll see a site's organic traffic trend in the form of a chart. Is the traffic increasing or decreasing? Or is it dormant? As a result, you get a clear vision of your position and your competitors, which can be a wake-up call to improve your SEO tactics even further.
SEO keywords ranking – This shows the search engine result page in which your site ranks for a particular keyword.
2). Top Pages
Here, Ubersuggest reveals a list of pages that send the most traffic to a particular site. In return, you can take an inside look at what's working for your competitors on their top-performing pages -from keyword usage, content structure, and mobile compatibility.
Afterward, you can compare your web pages to spot flaws that hinder better performance on the search engine result pages. Eventually, you get a chance to improve your existing SEO strategies for higher rankings on search engines.
3). Keywords
Here, you get an instant view of keywords driving the most traffic to a particular site (whether yours or competitors). As a result, you get two benefits.
Firstly, you get to know the keywords to use in your content. Secondly, you'll know the seed word to create new keywords that will most likely drive more traffic to your website.
What's more, take a look at the keyword details you'll get by using the Keyword feature in Ubersuggest:
Search volume of the keywords
The site's position for a particular keyword
Estimated visits to the site resulting from a keyword
Note: The details are country-specific.
5. Google Keyword Planner
If you've been looking for an entirely free keyword rank checker, then Google keyword planner is what to go for. The tool is primarily meant for PPC advertisers. Therefore, it is the best Google keyword rank checker for optimized PPC campaigns on your site.
But what if you're purely interested in SEO and not ad campaigns? Simple, Google Keyword planner is still a great tool for keyword monitoring and improving SEO on your site. Even so, you'll need an ad account (but not necessarily an active ad campaign).
So, the choice is yours to make. Do you want to use this tool for PPC keyword tracking or general SEO in your site?
For the former, you can use all the features of this tool. For the latter, only two features will be helpful. And those are:
Discover new keywords– for finding new keyword suggestions with more potential to invite better ranks on search engines.
Get search volume and forecasts – finding out the search volume of keywords you've specified. Here, you'll also see the predictions for the keyword you've entered, including the potential clicks and impressions.
Generally, using the above two features leads you to a location-specific keyword result page that shows:
1). Keyword idea (based on the stem word you've entered)
2). Average monthly searches for the key term you specify
3). Level of competition for each keyword you specify
6. Wincher
Wincher is another keyword rank checker to consider when looking to monitor keywords and competition from other sites. Check out what's in for you by using this tool.
Firstly, you'll be able to track your keywords, which means you'll see how you rank on different key terms on the organic search results. In return, it's easier to develop actionable techniques that can boost your visibility on Google or other search engines.
While you can track your performance, you can also monitor your competitor's progress. For instance, you'll get alerts when your competitors' rankings change on the SERPs. Plus, you'll get personalized ranking reports.
What's more, the tool helps you discover new keywords by finding and focusing on suggested terms with high search volume. In general, you can count on Wincher to help you beat your competitors and stay ahead of the ranking game.
7. Microsite Master
Microsite Masters is another go-to rank checker. And if you're wondering why here are the reasons.
Firstly, it enables tracking your keyword rankings across different search engines and on specified locations. In return, it opens your eyes to the areas needing improvements for better SEO performance on your website.
Also, not only does it allow tracking your site's keyword ranking, but you'll be able to monitor your competitors' SEO performance. That is, their search engine ranks for the keyword you're tracking and any ranking changes on the SERPs.
After collecting the insights from your competitors, Microsite Masters avails the details in a Scoreboard as an overview report.
Therefore, a comparison of your site against the competitors becomes quick and easy. In return, spotting your strengths and weaknesses is instant, enhancing fast correction of SEO errors on your site.
8. SEO Profiler
Using this tool gives you access to daily rank checks for tracking your performance and that of competitors on Google or Bing.
Also, SEO Profiler provides device-based reports revealing your site's performance on desktop and mobile. Again, it sheds light on location-based ranking metrics, important in optimizing your site either locally or a specified location.
More importantly, it provides solid keyword suggestions that will most likely drive more traffic to your site and improve your rankings.
This can be a way to get a higher domain score, considering that keyword suggestions are terms that are steadily gaining popularity.
Apart from being a keyword rank checker, SEO profiler has the following features:
On-page optimization
Off-page optimization
Automated SEO audits
Mobile SEO
9. Woorank
Like many keyword rank checkers you've seen above, Woorank allows tracking the performance of specific keywords in your site and those of competitors. Afterward, you'll be able to compare your site's rank against competitors'.
This SEO tool features a website review functionality that reveals your SEO strengths and highlights weaknesses that need improvement.
The feature allows multiple site review and is a gateway to previous ranking reports, giving a clear view of your progress.
Furthermore, Woorank picks up terms you may have missed in your keyword strategy and offers suggestions with better chances to boost your rank on the SERPs. In a nutshell, here's what you'll get from Woorank:
Keyword research & tracking
Competitive Analysis
Website scores and Metrics
10. Dyno Mapper
With Dyno Mapper, you allow daily tracking of keywords and domains for in-depth details about ranking performance.
What's more, you'll see specific keyword ranking based on location across several search engines and for specific devices (mobile or desktop). Plus, you'll get the search volume for a particular keyword and potential traffic to each key term.
What's more, you'll get weekly notifications for keyword ranking reports. You'll also access unlimited PDF or CSV exports of keyword performance. Most importantly, ranking reports are in the form of graphs, a clear way to represent information for fast analysis.
Apart from the above features, you'll also get the following:
Visual sitemap generator
Content Inventory
Audit
Content planning
Website accessibility testing
How The Right Keyword Rank Checker Can Optimize Your Site's Visibility
You've invested a great deal of time and money in optimizing your site. And for that reason, you deserve a keyword rank checker that offers top-quality keyword monitoring.
You deserve a tool that gives actionable feedback to improve search engine optimization in your site for more visibility on search engines.