There are many different types of website design when it comes to creating one. Each has its own set of unique features and benefits that a company or individual can use to improve their online presence. Here are some examples of website designs to help you decide which is best for your company.
A visual design is not the way to go if you want to create a corporate identity for your company. While it is possible to add colours and images to create a corporate image, this is not the best solution.
If you want your product or service to stand out from the crowd, a text-based design will be the most effective way to make your presence known. Text on a web page also enables the user to easily read the information they require. It is also an excellent way to highlight a specific aspect of the website, such as contact information for the company's employees or the website address.
There are three types of web design: static, dynamic, or CMS, and eCommerce. The type of website design chosen is determined by the type of business and the needs of the entrepreneurs. Each of these sites will be designed and developed on a different platform.
UPQODE's Introduction:
UPQODE, founded in 2015 and headquartered in Nashville, Tennessee, is deeply committed to transparency, dependability, trust, and exceptional customer service. The team will not be satisfied with their work until you are. They take excellent care of your requirements. They understand your business goals and deliver them in accordance with your values. Moreover, the team accomplishes this by prioritising our people – talented world-class web design specialists who understand how to create your online success.
UPQODE is successful in developing innovative Web Design Solutions. The team completes projects on time and within budget. UPQODE also provides troubleshooting, suggestions, and ideas.
UPQODE renders bespoke website designs that are always focused on bringing results to your business. The team creates the ultimate solution for delivering results and growing your business, from one-page web designs to advanced e-Commerce solutions with an integrated CRM.
GoodFirms Considers UPQODE To Be The Best Web Design Company In Its List:
GoodFirms is a business-to-business online platform that assists service seekers in locating a reputable company to work with on their projects. When there are so many web development companies to choose from, and each one wants to be the market leader, it becomes difficult for service seekers to choose and for service providers to gain traction. As a result, GoodFirms evaluates businesses based on criteria such as competency, client reviews, and project quality. Companies are categorised after they have been evaluated. Thus, GoodFirms is a platform that connects service seekers and providers, resulting in a win-win situation for both.
UPQODE's web designers' team works on the look, layout, and, in some cases, content of a website. The team makes sure colours, font, and images are rightly used. The layout of information refers to how it is structured and classified. They make sure to deliver good web design that is simple to use, aesthetically pleasing, and appropriate for the website's user group and brand. They create websites that are designed with a focus on simplicity in mind, so that no unnecessary information or functionality that may distract or confuse users appears. The team believes that the keystone of a web designer's output is a site that wins and fosters the trust of the target audience, removing as many potential points of user frustration as possible is critical.
Thus, rendering such robust web designs solutions to clients in different geographies endows UPQODE as one of the top website design companies at GoodFirms.
The review obtained at GoodFirms confirms the robustness of the solutions rendered by UPQODE.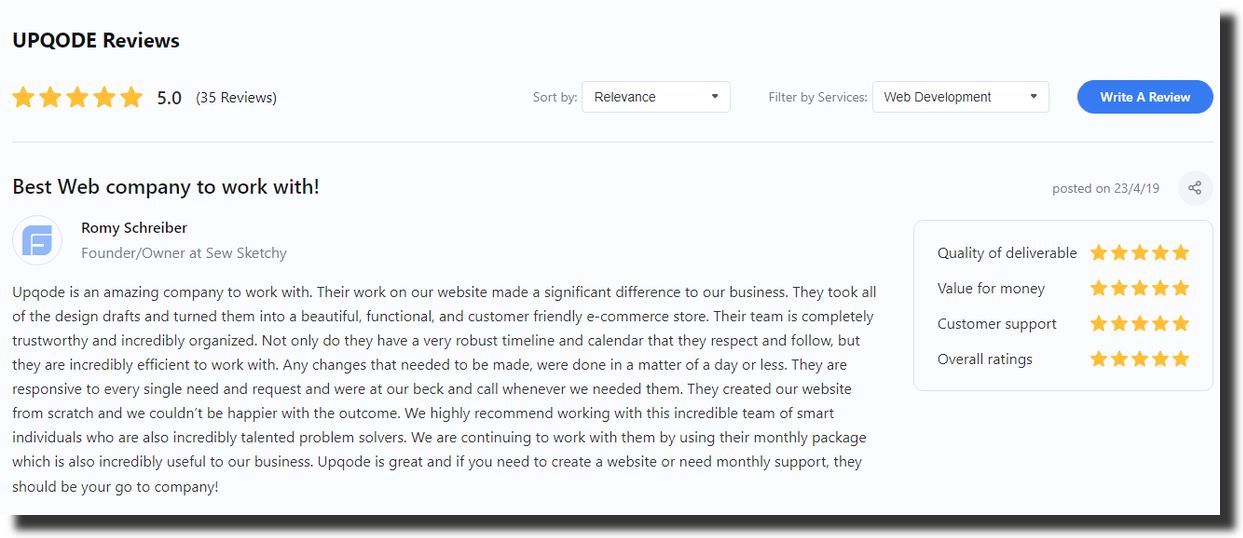 About the Author
Working as a Content Writer at GoodFirms, Anna Stark bridges the gap between service seekers and service providers. Anna's dominant role is to figure out company achievements and critical attributes and put them into words. She strongly believes in the charm of words and leverages new approaches that work, including new concepts that enhance the firm's identity.