Graphic design is one of the most popular digital marketing tools. It's a modern form of storytelling that can breathe life into the advertisements of any company.
Besides, 80% of small businesses acknowledge the importance of graphic design in business. But graphic design trends over the years are constantly evolving, and to ensure that your digital marketing strategy does not go in vain, you need to keep up with them too.
This article will explore some of the recent trends in graphic design, conclusion graphic design trends, and tell you which ones are here to stay for a long time.
Let's begin!
Importance of Keeping Up With Graphic Design Trends
Do you know that 40% of users respond better to visuals than text?
As a graphic designer, you must be up to date with the newest graphic design trends in 2022 if you want to stay trendy and compete with contemporary design experts.
Here are a few reasons why it's important for you to keep up with the graphic design trends:
Out of your comfort zone
One of the best things about graphic design is that it is limitless. You can create anything you want without bonding or restricting yourself to graphic design principles. 
You should step out of your comfort zone and open your creativity to new possibilities. Look up more graphic designs whose works differ from yours and get inspired to create something you have never done before. 
Interesting portfolio.
Imagine you're looking through the artwork of another graphic design. If every single one of their design is the same, you'd be able to predict the monotony. However, a fusion of different graphic design trends, illustrative methods, and visuals will keep you on edge. You'd be more appreciative of the designer's skills too.
Therefore, bring more colors and versatility in your portfolio by keeping up with impressive trends.
Graphic designers community
One way you can keep up and engage with all the graphic design trends is; by networking. Interact with the designers in your niche, and stay in touch with them. Several sites, such as Dribble, Behance, and DeviantArt, are excellent places to network with other designers while keeping your portfolio updated. Follow them on social media. You can also use Canva – one of the most popular graphic design sites. Plus, networking helps boost your traffic too. 
What Are the Current Trends in Graphic Design?
2D x 3D Mashup
Three-dimensional designs were introduced a few years ago to introduce new forms, shapes, and gradients to the market. Unlike other designs that have faded from existence, 3D design is still in trend today.
This is because of the ever-evolving nature of graphic design trends over the years that can be easily molded to any shape and form to keep up with the current trend. The 3D design has allowed creatives to experiment endlessly with the design by combining it with other graphic design trends.
In 2022, we have observed highly realistic 3D design mashups with 2D visuals and paper cutout elements to create something that is out of this world. Designers have combined the elements of 2D with the complexity of 3D to create outstanding graphics.
Creative Typography
Lettering is a form of art itself. But, creatives are now pushing lettering boundaries to experiment with new ideas and create extraordinary work. This has led to some of the most exciting letterings we have seen this decade.
There is an endless limit to what you can do with typography. It's breathtakingly beautiful yet utterly imperfect. Sharp lines, abstract art styles, mismatched fonts, and contrast between various shapes break the old stereotypes of typography to draw your attention to something particular.
90s Style
Retro and vintage have slowly made a defining comeback in the modern world. Several popular forms of media, such as Netflix's Stranger Things, reintroduced neon colors, Gothic serifs, and vaporwave landscapes to the graphic design world.
With recent adaptations like Netflix's Fear Street, designers are given an opportunity to turn to that era to get inspired, incorporate the various elements of the 90s and revive the carefree and comforting atmosphere with this retro style.
Candy Color
Thanks to the various advancement and new applications, everyone has become a graphic designer. This is why we are bombarded with a plethora of digital content from every corner of the internet.
It has become a challenge for creative minds to develop ideas that would make their artwork, websites, and other visuals stand out among the clutter of digital content.
What is it that would make the mindless scrolling stop for a few seconds?
This question has given rise to a new trend; a vibrant eye-candy color scheme to capture our attention. You might have observed candy-colored and fairy-floss scenes popping all over the internet, filling us with warm and fuzzy feelings.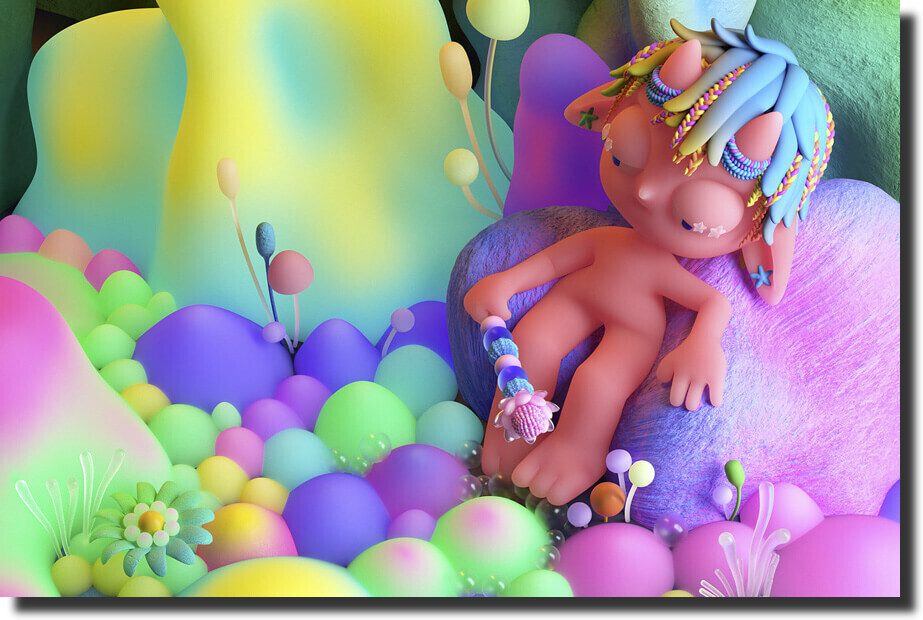 This immensely popular trend has slowly translated into various areas of graphic design, including,
Illustrations;
Animation;
3D;
Web design;
Vibrant typography.
Maximalism
While minimalism is all about keeping it simple, maximalism likes to embrace excess and puts everything on display.
Maximalism likes to go overboard and oversaturates a visual with bold layouts, complex color combinations, contrasting layouts, and multiple fonts and images on top of one another to create a clash of design and pattern.
It is a popular millennial graphic design trends that has sailed this year. Interestingly, this dramatic design with layers of images is not by accident. Every image, pattern, and visual element is carefully selected to become part of the visual design. Maximalism is chaotic and might not be everyone's cup of tea.
Nonetheless, the trend is an entertaining one with a lot of complexity.
Antidesign
Graphic designers like to stretch the boundaries of their designs to create something extraordinary and remarkable.
This is how antidesign was introduced; one of the millennial graphic design trends that shamelessly rejected all the rules and regulations of the traditional design world. This design is also called a cousin of maximalism because of their similarities.
For a long time, many designers have molded their designs and create interfaces that would strictly follow all the design principles of traditional methods. But now, the designers are thinking out of the box to break the monotony and dullness in the design world.
Asymmetrical layouts, clash of patterns, complex compositions, and unusual typography have created unconventional designs that are breaking the beauty standard of the design world. These designs are supposed to be ugly, yet they somehow work and blend together to create a jarring masterpiece.
What Are the Future Trends In Design?
Some future graphic design trends or trends that are here to stay for a long time are:
Animated Graphics
There are many graphics, infographics, artwork, and product designs. But, many of them fail to capture the customer's attention because they all seem to look the same. If you want to leave a mark, do something different by adding the element of animation to it. 
Animation brings life to the old, boring graphics and allows brands to playfully present their logos, products, designs, and ideas with animated shorts and GIFs. Animation is a versatile field integrated into various other graphic design trends, like 3D.
Interestingly, this trend might slowly seep into our everyday life. For instance, static packaging material might incorporate dynamism in their packaging designs that appear to move while looking through a different lens or screen.
Hand-Drawn Designs
Hand-drawn graphics have replaced the old AI designs. Today, hand-drawn illustrations and graphic designs can be found on the internet.
Don't believe us? Open Instagram, and you'll find many creatives who have used hand-drawn illustrations to breathe life into an everyday mundane routine, romanticizing something as normal as doing laundry with their beautifully drawn illustrations.
About 65% of companies use infographics for marketing strategies so, hand-drawn illustrations are used in professional spaces for presentation.
The best part is; this style is extremely diverse, as every graphic designer is different from one another. Moreover, this trend has allowed the emergence of small artists who are now making a living by selling hand-drawn illustrations, product designs, movie posters, and comics.
Minimalism
Minimalism is not going anywhere. It's only evolving to introduce new ideas and concepts in the simple visual trend.
One such trend is; Retro Minimalist.
Retro minimalist pays homage to the vintage 70s record covers and magazine layouts while borrowing the elements of warm tones, natural textures, old-school fonts, and soft shadows.
This versatile trend is sprouting all over the internet. You can find it in editorial features, product packages, and business logos. Similarly, many graphic design trends in minimalism will come and go, but minimalism itself is sure to stay long.
Some more future graphic design trends are
Surrealism;
Art deco;
Psychedelic.
Key Takeaways
Graphic design is an integral part of digital marketing. But, graphic design trends are always changing. To ensure that your digital marketing is effective, you must keep up with the trends. In this article, we have listed the most popular graphic design trends in 2022 and conclusion graphic design trends.