Advertising is essential for any business looking to grow and expand its customer base. However, traditional forms of advertising can be expensive, particularly for small or local businesses with limited marketing budgets. Fortunately, there are many effective ways to advertise for free your business and reach your target audience without breaking the bank. 
In this article, we will share free advertising tips that can help your small, large, or local business increase its visibility and attract new customers. Whether you are just starting out or looking to revamp your current marketing efforts, these tips will help you make the most of your advertising budget and drive business growth.
How to Advertise a Local Business
Google My Business Listing
Google My Business is a free tool provided by Google that allows local businesses to create and manage their online presence across Google, including Google Search and Google Maps. It allows businesses to list their name, address, phone number, website, hours of operation, and other relevant information.
By setting up a Google My Business listing, businesses can increase their visibility on Google Search and Maps, making it easier for potential customers to find them when searching for local businesses. It also provides an opportunity for businesses to engage with their customers by responding to reviews and answering questions.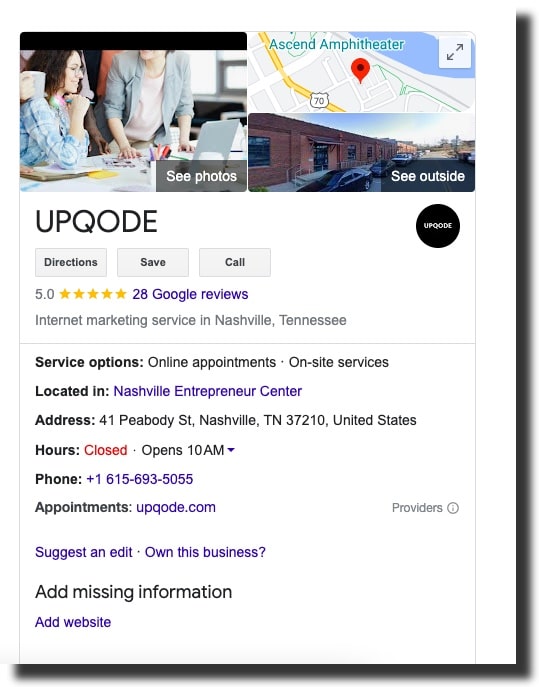 In addition to the basic information, businesses can also use Google My Business to share updates, post photos and videos, and even create special offers or events. This can help to attract more customers and build brand awareness.
Utilize Local Directories
Local directories can be a great way to advertise a local business for free. These directories are online databases that list businesses in a particular geographic area, and they are often used by people who are searching for local services or products.
Here are some tips for utilizing local directories to advertise your local business for free:
Research local directories
Start by doing some research to find local directories that are relevant to your business. Look for directories that are specific to your industry or location.
Claim your listing
Once you have found a directory that you want to be listed on, claim your business listing. This will allow you to update your business information and add details about your services or products.
Optimize your listing
When you claim your listing, make sure that you optimize it for search engines. Use relevant keywords in your business description and make sure that your contact information is up-to-date.
Add photos
People are more likely to engage with a business listing that includes photos. Add some high-quality photos of your business to your listing to make it more appealing.
Encourage reviews
Reviews can help to boost your business's credibility and visibility. Encourage your customers to leave reviews on your listing by offering incentives or simply asking them to leave a review.
Monitor your listing
Make sure that you monitor your listing regularly to ensure that your business information is accurate and up-to-date. Respond to any reviews or inquiries promptly to show that you are engaged with your customers.
Attend Local Events
Speaking at an association or local event can be a great way to advertise a local business for free. It provides an opportunity to connect with potential customers and establish yourself as an expert in your field. By sharing your knowledge and insights with a captive audience, you can build trust and credibility, which can lead to increased business and referrals.
Whether you're speaking at a trade show, a networking event, or a local club meeting, take the time to prepare your presentation carefully and make sure it's relevant to your audience. Use the opportunity to showcase your business and explain how you can help people solve their problems and meet their needs. Finally, make sure to promote the event to your network and follow up with attendees afterwards to continue the conversation and build relationships.
Use Brochures or Flyers
Another way to advertise your local business for free is by putting up brochures or flyers in strategic locations. This can be an effective way to reach potential customers who may not have heard of your business otherwise. To get started, determine your target audience and create materials that are informative and eye-catching. Be sure to include your business name, logo, and contact information, as well as any special offers or promotions you may be running.
Then, identify high-traffic areas where your target audience is likely to be and ask for permission to post your materials. This could include local coffee shops, community centers, or bulletin boards in public spaces. By taking the time to create and distribute brochures or flyers, you can increase awareness of your business and attract new customers without spending a lot of money on advertising.
Direct Mail Campaigns
Direct mail campaigns can be a powerful tool for promoting a local business. By reaching potential customers directly through their mailbox, you have the opportunity to grab their attention and create a lasting impression.
To make the most of a direct mail campaign, it's important to carefully plan and execute the campaign. This includes defining your target audience, designing an eye-catching mail piece, and creating a compelling message that encourages recipients to take action.
It's also important to track the results of your campaign and adjust your strategy as needed. By analyzing the response rates and ROI of your direct mail efforts, you can continually refine and improve your approach to maximize your marketing impact.
Top Free Advertising Tips
Utilize social media
Social media has revolutionized the way we communicate, interact, and do business. With billions of active users worldwide, social media platforms have become an invaluable tool for businesses to promote their products and services, and best of all, it's completely free.
Using social media as a part of your marketing strategy can help increase brand awareness, drive traffic to your website, and ultimately boost sales. Here are a few tips on how to utilize social media as a part of free advertising:
| | |
| --- | --- |
| Choose the right platform | Every social media platform has a unique audience, and it's essential to select the right one(s) for your business. For instance, if you have a visual product, Instagram and Pinterest may be more effective, whereas Twitter is great for sharing news and updates. |
| Create engaging content | Your content should be relevant, informative, and visually appealing. This includes photos, videos, graphics, and captions that grab the attention of your target audience. |
| Interact with your followers | Social media is all about building relationships. Creating a community around your brand can be achieved by actively engaging with your followers. You can do this by responding to comments, organizing Q&A sessions, and soliciting feedback. |
| Use hashtags | Hashtags are a powerful way to increase your reach and connect with potential customers. Research popular hashtags in your industry and use them in your posts. |
| Collaborate with influencers | Partnering with influencers in your niche can help expand your reach and gain credibility. Look for influencers who align with your brand values and have a significant following. |
| Monitor your metrics | Analyzing your social media metrics is crucial to understanding what's working and what's not. Use analytics tools to track your engagement, reach, and follower growth, and adjust your strategy accordingly. |
Start a Blog
Starting a blog can be a great way to advertise your business or personal brand for free. When it comes to content, it's essential to focus on creating high-quality and engaging posts that will appeal to your target audience. This could include sharing your experiences, writing product reviews, or offering advice on a particular topic.
In addition to creating great content, it's also important to promote your blog to attract new readers. This can be done by sharing your posts on social media platforms, guest posting on other blogs, and reaching out to influencers in your niche.
By consistently creating and promoting content on your blog, you can build a loyal following and increase your online visibility. Over time, this can translate into more website traffic, leads, and ultimately, sales.
Email Marketing
Email marketing can be a highly effective tool for free advertising. By building a targeted email list and creating engaging content, you can keep your subscribers interested in your brand and encourage them to share your content with others. Make sure your emails have a clear call-to-action and personalize your emails to create a connection with your subscribers. With the right strategy, email marketing can be a powerful way to reach potential customers and increase brand awareness.
Create Youtube Channel
Creating YouTube videos can be an effective way to promote your products or services, increase brand awareness, and engage with potential customers.
To create successful YouTube videos, it is essential to start with a clear concept and a well-defined target audience. Think about the message you want to convey and how you can make your video unique and interesting to your viewers. Consider the format of your video, whether it's a tutorial, a product demonstration, or an interview, and ensure that it aligns with your marketing goals.
YouTube can be a valuable tool for free advertising, but it takes time and effort to create high-quality videos that resonate with your audience. However, if you are willing to invest the time and resources, the benefits of using YouTube as a marketing tool can be substantial.
Host a Giveaway
Hosting a social media contest or giveaway can be an effective way to generate free advertising and increase your reach on social media. Whether you're a small business owner looking to increase visibility or a larger brand looking to engage with your audience, hosting a giveaway can be a valuable part of your free advertising strategy.
Contests and giveaways are popular on social media because they offer participants the chance to win something for free. This not only incentivizes engagement with your brand but can also help to build brand loyalty and encourage word-of-mouth marketing. By offering a prize that aligns with your brand, you can attract participants who are interested in what you have to offer and may be more likely to become customers in the future.
To host a successful social media contest or giveaway, you'll need to plan out the details carefully. Consider what you want to achieve with the contest and what type of prize you want to offer. You'll also need to decide on the rules of the contest, including how participants can enter, and how the winner will.
Ask Clients For Online Reviews
With the rise of social media and review websites, consumers now have access to an abundance of information about products and services before making a purchase decision. This has made online reviews a powerful tool for businesses to attract new customers and build trust with existing ones.
When customers leave positive reviews online, it can have a significant impact on a business's reputation. These reviews serve as social proof, which means that potential customers are more likely to trust the opinions of others when making a decision. Positive reviews can also help businesses rank higher in search engine results, making them more visible to potential customers.
Form Partnership
Leverage your partnerships to expand your service offerings. Collaborating with complementary businesses can allow you to provide additional services that you don't specialize in. For instance, by teaming up with a copywriting agency, a web design company can offer clients quality written content for their website pages.
This not only enhances customer experience, but it also presents excellent marketing prospects. As your partner's clients require your services, your partner can refer them to you, creating a win-win situation for both parties.
Email Signature
One effective way to maximize your email usage is by using your email signature to promote your website. Don't miss out on the opportunity to showcase your latest sale, contest, event, or blog post through this often overlooked advertising space. Additionally, don't forget to include a link to your business website on your social media profiles such as Facebook, Twitter, and Instagram.
Interviews
Interviews can be an effective way to generate free advertising for small business or brand. By being interviewed, a business or brand can increase its visibility and reach a wider audience.
Here are some ways that interviews can be used as a part of free advertising:
Online interviews: Online interviews can be conducted on social media platforms, podcasts, or blogs. By appearing on these platforms, businesses or brands can reach a wider audience and increase their visibility. It's important to choose platforms that align with the business's target audience.
Expert interviews: Businesses or brands can position themselves as experts in their field by participating in expert interviews. These interviews can be conducted by industry-specific publications or websites. By sharing their expertise, businesses or brands can establish themselves as thought leaders and increase their credibility.
Influencer interviews: Influencers are individuals with a large social media following. By being interviewed by an influencer, a business or brand can gain access to the influencer's audience. It's important to choose influencers that align with the business's target audience.
Press interviews: Press interviews can be a powerful way to generate free advertising. By appearing in a newspaper, magazine, or online publication, a business or brand can reach a wider audience and increase its visibility. It's important to have a newsworthy angle and to prepare for the interview in advance.
Apply For Business Awards
Applying for awards is a way to showcase your business's accomplishments and stand out in your industry. Not only can winning an award be a source of pride for you and your team, but it can also help attract new customers, partners, and investors.
Winning an award can also help establish your company as a leader in your industry. Awards are often judged by experts or other influential figures, and being recognized by these individuals can help build credibility and authority for your brand. This can be especially valuable in competitive industries where trust and reputation are key factors in winning new business.
Conclusion
In today's highly competitive business world, advertising is an essential tool for promoting your brand and reaching potential customers. In this article, we have outlined 15 free advertising ideas to promote your business in 2023.
By implementing these ideas, you can increase your brand's visibility and reach a wider audience without breaking the bank. However, it's important to note that free advertising is not a one-time fix. Consistency is key, and you need to continuously evaluate and adjust your free advertising strategies to ensure that they are effective.
In conclusion, with a little creativity and effort, you can effectively promote your business without spending a lot of money. By utilizing the ideas we've provided, you can increase your brand's exposure, generate leads, and ultimately drive more sales.