We all know how much marketing is important today and how it helps make sure that the Facebook ads campaigns we have created reach the right target audience. It has also become one of the primary goals of digital marketing as well.
While people are becoming marketers and learning about marketing, new applications and tools are being introduced to help out in the marketing process. Facebook has also played its part in helping out businesses and introduced different tools. Earlier, Facebook introduced Facebook Pixels, and to know the conversion rate, people use the Facebook pixel, even today. Some problems came with using it, and later Facebook introduced a new tool called Facebook pixel helper. These tools' users seem to be on the rise because of the countless benefits that it is offering.
Today, we learn what Facebook Pixel Helper actually is and how it helps Facebook Pixel's smooth running. We will also learn about the different errors that can be brought to light and the easiest way to deal with all these errors.
What is Facebook Pixel Helper?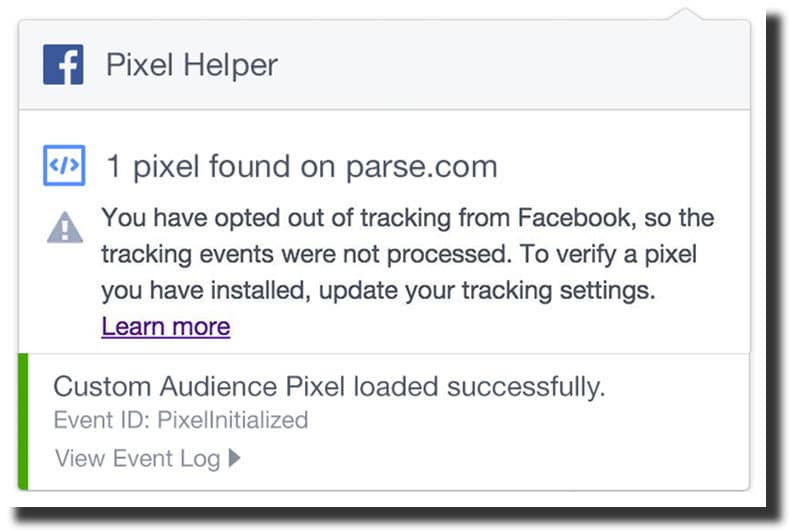 Source: Hootsuite Blog
Hopefully, you know what Facebook pixel is, right? Facebook pixel is a piece of coding that you find in the ads manager and add to your website's header to track some standard events conversions and customers coming to your site. After you have collected this information, you can easily send customized ads on Facebook to the potential customers that will buy your products and services. This is a beneficial element and greatly helps you if used properly and timely. 
You have done what was required, but how do you know if it is working or not and if anything needs to be changed or updated. It is then that you use Facebook Pixel Helper.
The Facebook Pixel Helper is basically a Google Chrome extension that helps to ensure that Facebook Pixel is embedded correctly on the website. It is a troubleshooting tool for the pixel that makes sure that it is working properly and tracking information is required.
It shows the number of pixels installed on the page and all the errors, warnings, and even the issues that might be faced during the pixel installation. After it shows the errors, you can edit the pixel and make sure that it works perfectly. You can keep a check on the pixel and run amazing Facebook ads campaigns. The Facebook pixel code is found by going through the ads manager.
Currently, a huge number of people are using the Facebook Pixel Helper. The helper is useful for businesses of all kinds, especially those that are not very tech-savvy. You can use it to see that the campaigns run smoothly and you have a successful ads campaign.
How to install Facebook Pixel Helper?
It is very easy to install the Facebook Pixel Helper on Chrome. Just remember that there are numerous type chrome extensions. So, follow the instructions mentioned below to avoid any confusions and know-how can you install one:
Step 1:
Open Chrome Browser
So the first step is pretty simple. You have to open the Google Chrome browser. In case you do not have Google Chrome, then the best thing to do is install the Google Chrome application on your laptop. This can be done by going on Google's website and downloading the Chrome package directly from the Chrome web store.
Step 2:
Find the Facebook Pixel helper to install it.
The next step is to find the Facebook Pixel helper to install it. Now there are two ways to do that. You can either search it on Google, and it will appear in the search results. The other way is that you click on the "Apps" tab in the Google Chrome browser. You will be able to find this tab on the left side of the browser.

Source: Web fx
After you click on the apps, you will see the web store icon 
After that, search for the Facebook Pixel Helper in the web store. The next steps include adding it to the chrome web and getting a helper for the pixel activated. v
Step 3
Installing the Facebook Pixel Helper
After you find the Facebook Pixel Helper, you will find a button that says, 'Add to Chrome' on the page.

Next, a pop-up will appear on the same page; remember to click on the "Add extension" option to add the extension to your browser right next to your address of the website.

After it is added, the pixel helper icon will appear on the right side of your browser window towards the end of the address bar, which means it is present next to your website address. The pixel helper icon has a "</>" symbol next to the address bar of your chrome.
After you enter the website in the address bar, the icon becomes colored, and a small notification appears at the bottom when the tool detects the pixels.
Step 4
Begin using Facebook pixel
Now that you are done with the pixel helper start using the pixel. After you click on the Pixel tracker, you can bring down the drop-down menu. The drop-down menu will show you all the information about the pixel and tell you about any present errors. You can go and find your pixel in the ads manager of Facebook.
Errors that Facebook Pixel Helper detects
After you have successfully installed the Facebook Pixel Helper, you can start by checking the website or a particular page for Facebook Pixel errors. Errors can be of different types, and it does not specifically mean that the pixel is malfunctioning only. The pixel might be working fine, but there might be a little setting change required to track the right information.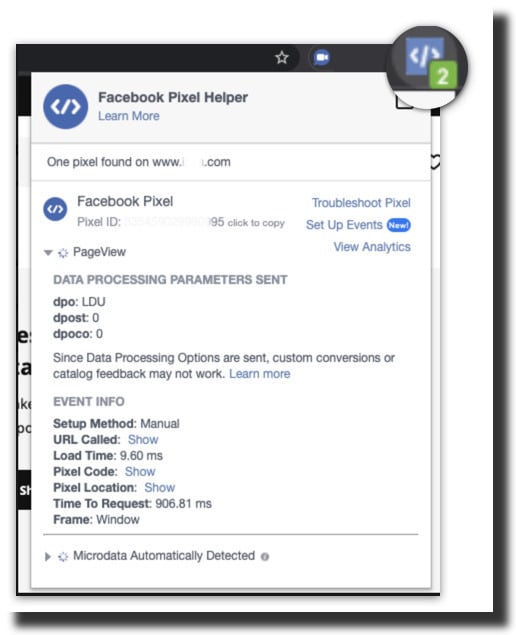 Have a look at some of the errors that you can detect with the Facebook Pixel Helper.
1. No pixel is found
This is one of the most common errors that you will find. If this error comes up, Facebook Pixel Helper could not find any code on the website that looked like a Facebook pixel. It is also possible that the pixel shared for a website did not match a known pixel.
It is important to fix the error, and the first thing to do is check the coding on your website. Make sure that you verify that the coding was embedded correctly on the website. If you have already done that, verify the Pixel ID is correct by going through the Facebook ads manager settings again.
2. Pixel is not loading
Another standard error to face is that the Facebook Pixel did not load at all for a website. If an error like this arises, then it clearly means that the Pixel Helper did find a code, but the HTTP was never made in the first place. Receiving this error means that the pixel coding is wrong on the site.
Solving is not that hard. If the event requires you to click a button, you can click on it to eliminate the error. Sometimes, clicking on the icon does not work. In a case like this, make sure you verify putting in the Pixel ID correctly.
3. Not standard events
While setting up a pixel, everyone chooses some standard events that they want to monitor. The standard event might include watching a specific video or even clicking on a particular button on a page. If sometimes you are more focused on conversion tracking and setting up a standard event, you will most surely get a 'not standard events' error.
This error leads you back to the Facebook settings page and not towards the Pixel itself. Look at the standard event carefully and mark the reason why an error like this happened in the first place. It may require you to readjust your settings in the standard events to make sure that Facebook can track them.
4. Multiple pixels found
When you are looking at your website, you can get an error message saying, "Duplicate Pixels found." Receiving this error means that there are various pixels on just one page. This also means that there are no the same pixels multiple times, but many pixels are on the same page.
To correct this error, adjust your Facebook placement pixels. It is always better to have just one Facebook pixel per page, and you can get that from the ads manager. This setting also helps to get the most precise data for your Facebook ads campaigns and helps you in the next ones you might be planning out.
5. The Pixel gets activated multiple times
At times, you face this error several times. The Facebook pixel gets activated multiple times. In this error, the pixel is sent numerous times to Facebook and has the same ID and even the event name.
Technically the pixel activation is only sent to facebook while the page is loading. This error occurs when you have the same pixel code listed more than once. Try avoiding this problem as much as possible and have the pixel code listed on your page only once.
6. The Pixel ID is invalid
Having a valid Pixel ID is extremely important. If you don't have a valid Pixel ID, you won't track the Facebook ads you are running properly. You do need that information from your audience to use it in the next ads campaign. Invalid ID means that you go and verify the ID number.
Open your Facebook account and check the ID by comparing the two codes that you see on the screen. There are sometimes copy-paste errors, but see that you double-check everything again, so you do not have to face any problem like that again. Also, gather all the parameters in a single-pixel event to further avoid issues like these.
7. The Facebook Pixel is taking too long to load
There are chances that you might get this error when the Helper might say that the pixel took very long to load. In a case like this, you re-input the code in your site header again. The code present before might have some problem, so you entering it again can surely solve it.
8.It is not able to find the product catalog
This error means that the Product Catalog ID passed in the field of product_catalog_id in the pixel fire is not located in the system. In simple words, the pixel is not paired with the product catalog. An easy way to solve this problem is finding the product catalog ID yourself in Business Manager and finding Product Catalogs in the settings.
Ensure that your product catalog is associated with the known pixel id.
9.You Opted Out of Tracking
If you get a "You have opted out of tracking," it means that you opted out of tracking from Facebook, and the pixel fires that were detected were not logged on the servers. This can potentially leave pixel problems undiagnosed.
Learn how you can try offsite tracking from your Facebook Ads Preferences, including how you can turn it back on your web page and use the data in your next ads campaign. Be careful when solving the pixel fires issue.
How to check if Facebook Pixel is working
Before anything, it is important to note that the Facebook pixel should be installed first to check if it is working properly. The Facebook ads must be optimized for conversion events. To see if it is still working, pixel helper is the one that helps to find the answer to that question.
After installing the Pixel Helper Chrome Extension, after following the steps mentioned in this article, open the chrome extension in the web browser in incognito mode and then click on the helper icon in the extensions bar. Using incognito mode is better because it helps avoid any types of misfires that might occur during testing on your website.
It will help you by telling you the total number of events that were found and the parameters that were sent to Facebook. If you happen to be running an e-commerce website, then ensure that some of the important events are set up properly, including:
View Content
Add to Cart
Initiate Checkout
Purchase
Product catalogs
These have their event code which is made of elements like event name, etc. The pixel might detect the event code but still not be activated for it. So, check this is not a problem.
Facebook Pixel Settings Options
You have a complete option of setting up as many events as possible on the page and use tracking from Facebook pixel to run very effective and successful marketing ad campaigns. Different events have their own event name was chosen, amongst which purchase event is vital and useful data parameters that will also help Facebook know that it is ending your user traffic. The same data based on different events can calculate different useful other values like return on investment and return on ad spend.
The above image shows an example of the events that are being tracked in the recent blog.
You can also record the button clicks and later use that data for various useful purposes as well. In the end, advanced matching is also turned on so all the data that is already gathered can be matched accurately to the visitors as well. Check if your pixel is selected in the backend of your events manager for advanced matching. If not, then you can go and change it in the events manager settings.
The Pixel Helper makes sure that everything is going smoothly and you are warned of any error that might occur. Be sure to keep checking the helper for any errors. At times conversion events are not even fired. There is a chance that you entered the wrong id for the pixel. In situations like these, the pixel helper comes to the rescue.
Facebook Pixel Advantages
Various other tools are used as well, like the Google tag manager. The tag manager allows you to update and even add your own multiple tags for a conversion event. The head tag also helps for site analytics, remarketing, and many other conversion events. You can surely use different tools to track conversions and get other useful insights.
It can also be used to keep an eye on your competitors. The Facebook Pixel Helper works not only on your site but can help you get insights from your competitor's site as well. It helps you to see the parameters being sent to Facebook and what triggers these events?
Competitive advantage offers a lot of benefits. It can allow you to keep an eye on the ad campaign that is being run by your competitors and how you can improve yours.
It can allow you to review the ad campaign that you might have planned for your business, and should you change the events you selected, or the ones you have selected are good? There are many tools, and Facebook Pixel advantages can be used to stay ahead of your competitors.
There are different versions of the Facebook Pixel Helper that you can find, and you need to install them on the web browser of windows and MAC OS. You can install the English version, but it can be found in different languages and versions to suit your web page.
There are many other Facebook tools present as well in the type chrome extensions, and you can easily install these extensions to get the most benefit from them.
Recommendations for using Facebook Pixel and Facebook Pixel Helper
Using the tools like Facebook Pixel Helper and the Facebook Pixel is not that hard.
After adding to the Facebook Pixel Helper next to your address in your extensions, see that it is working as you want it to and pointing out problems that you can fix, like the pixel fires issue.
It is, however, recommended to only use a single conversion pixel for all kinds of ads optimization or for conversion event to avoid any confusion and problems that you might be facing ahead.
Ensure that the pixel is working because without a working pixel code on the site or with an invalid pixel id, you will not track all the particular events you wanted to.
Key Takeaway
It looks like there are numerous tools present and looks up more in the chrome extension that you wish to use to track different events that you can later use in your ads campaigns. But if you choose pixel implementation and add the pixel code to get tracking from Facebook, you need to make sure that you do it right. So the results that you get can help you out.
More importantly, If you want to reap the Facebook pixel benefits, it is important to see that it functions actively on your website. Facebook Pixel Helper can only be used after that. You can use it to detect the pixel problems you face with your pixel and fix them. It is an effective way to use the Facebook pixel effectively. You can also use advanced matching to get more detailed insights that will provide you with an even better chance of getting more return on investments and ads.
The process of setting up and then tracking the pixel requires a lot of time and effort. Be sure to hire the best digital marketing services to help you with your pixel and run successful marketing ads campaigns. But once you start using it, you can get a lot of benefits from it, which can help you make your business more successful.