Gone are the days when Facebook was just a social media website – it is now one of the most advanced business and marketing tools in the world. However, to make the most of it, you must know how to navigate it effectively.
Today, we're going to zoom in on the Facebook Certification and look at all the ways it can enhance your Facebook experience as a business!
Curious? Well then, keep reading!
What is Facebook Certification?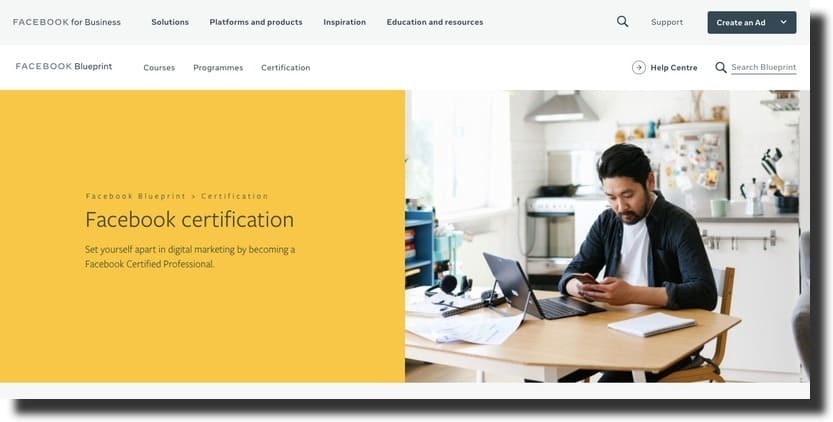 "If you need to stand out in the industry, get Facebook's new Blueprint Certification that helps you as a digital marketer or as an agency. You can quickly hire talented professionals or set a bar for existing staff and confidentially pitch various works as an agency. Your qualifications and skills can be objectively measured and verified to stand apart from the competition as a digital marketer." – Facebook
Facebook Certification is a worldwide training and certification program offered by Google that operates with the aim of helping businesses meet their long-term objectives in the most customized and effective methods possible.
Essentially, the goal of Facebook Certification is to support your business – it enables you to get the best results out of your digital marketing strategy and also helps you set yourself apart from the competitors in your niche. That isn't to say that advertisers and businesses without the Facebook Certification would not be able to build their presence on the platform. The certification merely provides certified advertisers with more credibility and registers itself as an extra perk in their digital marketing strategy.
All in all – it is better for you to get a Facebook Certification than not!
Facebook Certification – Benefits
But I don't expect you to take my word for it. Let's discuss a few aspects of why exactly Facebook Certification is such a great option for your business.
Helps To Grow Your Business
Firstly, it is the only certification offered by Facebook, and Facebook recognizes it as such. This is beneficial to your business and marketing strategies because it provides your business and marketing initiatives on Facebook with that much-needed authenticity. When your audience sees that you are equipped with the only certification provided by Facebook, they will automatically be moved to put their trust in you.
Improves Your Social Media Visibility
Facebook Certification also allows you to boost your visibility on social media! Facebook gives certified advertisers and businesses a badge that you can show on your Facebook/LinkedIn profile. In fact, you can how the badge anywhere – be it professional websites, online resumes, or email signatures. It serves to provide proof of your knowledge and expertise and reflects that you know what you are talking about! In short, the badge acts as a means of recognition for you.
Certification Badge Proofs Your Expertise
Also, since the certification is actually quite hard to get, possessing that blue badge is a pride. In fact, the Facebook Certification test is as serious as a school or college exam. It required an advanced-level competence in digital marketing, as well as extensive knowledge of advertising. It is only if you have these abilities that you will manage to become a certified advertiser or business on Facebook.
But that's not it! Not only does the Facebook Certification help you as a brand or business/marketing, but it is also a great asset when it comes to your career progression. It helps you acquire better employment chances. When employers see that you have the necessary skills to set you apart from others in the industry, they will obviously be way more willing to make a part of their ventures!
So – certified proficiency on the subject of Facebook marketing goes a long, long way! There is no better way to ensure that your efforts on Facebook get the attention, respect, and response that they deserve than to get yourself that wonderful blue badge.
The Facebook Certification Test
Now that you know why the certification is worthy, you might want to learn more about how you can pursue it.
This section will break down some important facts, rules, and regulations for the Facebook Certification. This will make it easier for you to make an informed choice and determine whether you want to commit to the certification.
Basic Information
The certification program is meant to cover the following skills:

Benefits-of-Facebook-Blueprint-Certification
Facebook Advertising
Buying and Planning on Facebook properties
Messenger Advertising
Instagram Advertising
Facebook Analytics and Reporting
The test program offers the following exams:
Digital Marketing Associate
Marketing Science Professional
Creative Strategy Professional
Media Planning Professional
Media Buying Professional
Marketing Developer
Advanced Marketing Developer
Advertising API Developer
Community Manager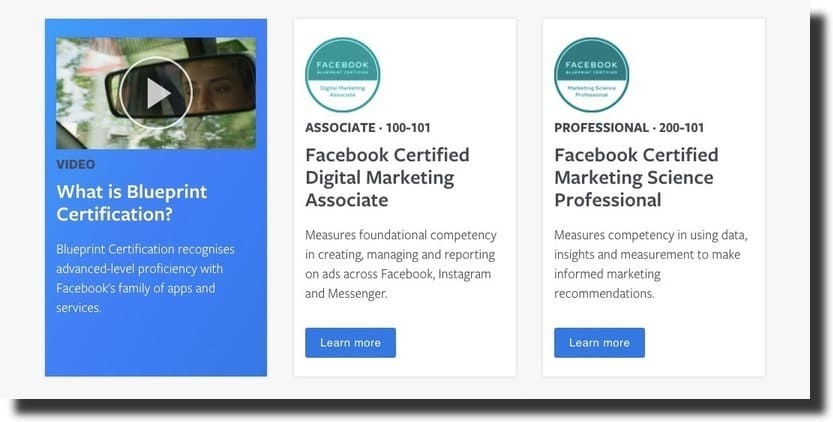 The core exams include Facebook Certified Digital Marketing Associate, Facebook Certified Marketing Science Professional, Facebook Certified Creative Strategy Professional, Facebook Certified Media Planning Professional, Facebook Certified Media Buying Professional, Facebook Certified Marketing Developer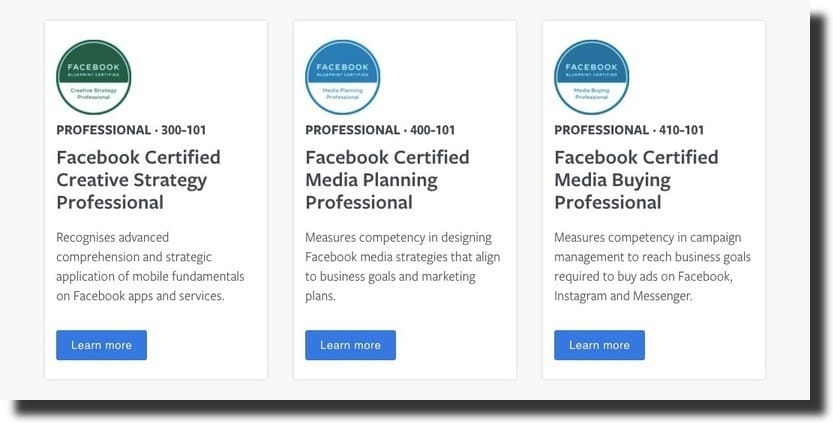 After you successfully passed Facebook Certified Marketing Developer you can get certification to Facebook Certified Advanced Marketing Developer and Facebook Certified Advertising API Developer.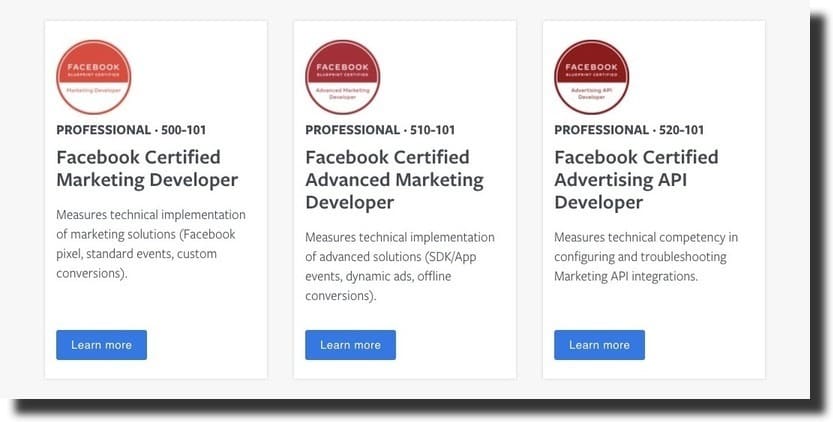 And the final exam that Facebook offers is the Facebook Certified Community Manager.
Learn more here.
Rules for the Exams
Facebook lists out the following as the rules for the exams:
Don't access your personal items like mobile phones, tablets, or other electronic devices, books, coats, or notes during the exam.
Don't use any writing material or paper while attending the exam.
Turn off mobile phones and electronic devices.
You are not supposed to take a break during the exam and if you do so, you will be disqualified.
You are not allowed to discuss the questions and answers before, during, or after taking the exam.
Before you start the exam, you must read and agree to the Candidate Non-disclosure Agreement.
Registering for the Facebook Certification
Step One: Picking the correct exam.
It is important for youtube to pick the correct exam because each Facebook Blueprint exam tests a different skill. The key to picking the right exam is to see which one aligns with your skills and career level the best. For more information, refer here.
Step Two: Navigate the Facebook Certification program courses.
We'll talk more about this in the exam preparation section, but this is pertinent to the registration process as well. Before you take the exam, you should go through the free online courses available that will help you have a better understanding of what you are supposed to do in the exams. The courses vary in terms of content and difficulty levels, so it will be better to have at least some knowledge before you get into it.
Step Three: Take the practice exam.
The best thing about the certification, in my opinion, is that you can take practice tests offered by Facebook before you do the actual Facebook Certification exam. So, before you officially sit for the exam, take Facebook's practice tests! Each of these tests has 30 questions. That will enable you to better gauge the scope, structure, and content for each exam. Only once you have aced the practice exam should you take the real one to ensure that you pass it!
Preparing for the Exams
As you can possibly tell, these tests aren't supposed to be easy or straightforward. They require you to demonstrate extensive knowledge and some very advanced skills. That means that in order for the entire thing to work out and for you to actually pass the exams, you will have to prepare yourself with vigor!
You can always take the help of the Facebook Blueprint eLearning center. It helps to refresh your Facebook ads knowledge before you take the exam. This portal has so many resources that will help you increase your understanding of how Facebook Ads work, which you can then flaunt in the exam and pass with no hassle whatsoever.
Another thing to remember is that the major chunk of the exams is based on analytical skills. So, even if you have all the knowledge in the world, you will still have to work on your analytical and critical thinking skills before you pursue the certification. Once you have that under the wing though, it will be a lot easier to master the rest of the exam.
Facebook Certification Costs
Is Facebook Certification free? Certainly not! Each exam costs $150 US and certifies you for one year.
The Bottom Line
Digital marketing is a significantly lucrative aspect of the online world. Any effort you make to expand your digital marketing skills can be seen as a wise investment. And what better way to do it than via the means of the world's most advanced business portal: Facebook?
The Facebook Certification is a great way of making your online presence stand out! As a business, it will provide your brand with the additional boost you need to prove your authenticity. As an individual, it will help you establish yourself as someone considerably knowledgeable and skillful. It allows you to flaunt your hard work across various platforms, and hence is a great value for money! So, what are you waiting for? Get your Facebook Certification today!