Email is one of the most effective channels in marketing. You have a 38% higher chance of getting a response by email than any other marketing channel. But how do you make your emails work for you?
When it comes to marketing, email is one of the most powerful tools on your tool belt. It's an easy way to keep in touch with customers and prospects and a great way to promote your brand and drive sales. But how do you ensure that your emails reach their intended audience? What should you include in every email? And how do you ensure that the recipients open your emails?
This guide will explain the key principles for designing emails for your personal or professional business message to reach the widest potential audience.
What Is Email Marketing?
Email marketing is a digital marketing strategy that uses email communications to promote products or services. Email marketing can build relationships with customers or customers-to-be and promote and sell products or services.
The heart of an email marketing campaign is the email itself. To create an effective email, businesses must consider various elements, such as the target audience, the message, and the call to action. They must also design an eye-catching email to encourage recipients to open and click through to the content.
When executed properly, email marketing can be a powerful tool for promoting your business. It can help you build relationships, drive sales, and grow your customer base.
What Is Email Design?
Email design is creating an email that is visually appealing and effective in conveying its message. There are many factors to consider when designing an email, such as the layout, color scheme, images, and typography. A well-designed email can differentiate between a successful marketing campaign and one that falls flat.
There are several factors to consider when designing emails, including the following:
Factors To Consider When Designing Emails
Layout
How will the email be laid out? Will it be a single column or multiple columns? What size will the text be?
Colors
What colors will be used in the email? Will there be a color scheme?
Fonts
What fonts will be used in the email? Will they be easy to read?
Images
What images will be used in the email? Will they be relevant to the content?
Email Design Principles:
There are many design principles, but some of the most important ones to keep in mind when designing an email are:
Balance
Balance is the distribution of elements on a page. In email design, balance refers to the distribution of text and images. Too much of either one can make an email look cluttered and unprofessional.
Contrast
Contrast is using different colors, sizes, or styles to create visual interest. In email design, you can use contrast to make important elements stand out. For example, using a dark color for the background of an email and light colors for the text can help make the text easier to read.
Hierarchy
Hierarchy is the arrangement of elements on a page according to importance. In email design, hierarchy helps recipients understand the most important information and where they should focus their attention. For example, large headlines and smaller subheadings can help create a clear hierarchy within an email.
Cohesion
Unity refers to using elements that work together to create a cohesive whole. In email design, you can achieve unity by using similar colors, fonts, or layouts throughout the email. This creates a sense of cohesion, making emails look more professional and polished.
Types of Emails
There are four types of email: transactional, marketing, announcement, and newsletter.
1. Transactional Email
Transactional emails are messages sent in response to your customer's actions. They can include order receipts, shipping notifications, and password resets. Because these emails are so important, they need to be well-designed and easy to read so your customers can quickly find the information they need.
2. Marketing Email
Marketing emails are a great way to stay in touch with your customers and promote your products or services. You can use them to send special offers, coupons, or announcements about new products or sales.
Like transactional emails, marketing emails should be well-designed and easy to read so that your customers will engage with them.
3. Announcement Email
Announcement emails are a great way to inform your customers about important news or events happening at your company. They could include a new store opening, a website redesign, or changes to your product line.
Ensure your announcement emails are clear and concise, so your customers don't miss any important information.
4. Newsletter Email
Newsletter emails are a great way to keep your customers up-to-date on all the latest happenings at your company. They can include articles, blog posts, or even just short updates on what's going on. Newsletters provide valuable content that keeps your customers coming back.
What Are the Steps In the Work Process For Email Design?
While email might not seem like a glamorous marketing tactic, it is still one of the most popular forms of marketing. Studies show that more than two-thirds of internet users have made a purchase online in the past year, and emails are responsible for over 70% of those purchases.
Here are the steps to follow while designing emails that sell!
Writing Effective Emails
To write an effective email, you need to understand the basics of good writing:
Templates and Tools
When it comes to email design, there are a few different approaches you can take. You can either design your emails from scratch, use a pre-designed template, or use a combination.
You'll need to use an HTML editor to create your email designs starting from scratch. There are a variety of HTML editors available, both free and paid. Once you've created your design, you'll need to code it in HTML and CSS.
Suppose you're short on time or budget. Many reputable sources for quality email templates, such as MailChimp, Campaign Monitor, and Constant Contact. These sites offer a wide variety of free and paid templates that you can easily customize to fit your needs.
Whichever route you choose, you'll need some essential tools to create high-quality email designs. In addition to an HTML editor (if designing from scratch), you'll need access to quality images, fonts, and icons. We recommend using an email testing tool like Litmus or Email on Acid before sending out your final design to ensure it looks great in all major email clients.
Email Content Planning
Email content planning is one of the most important aspects of email design. It can be the difference between an email that converts and one that doesn't.
A few things to remember when planning your email content:
Write for your audience. Who are you sending this email to? What do they care about? Please write your email in mind and ensure the content is relevant to them.
Make it visually appealing. People are more likely to engage with an email that looks good. Use images, videos, infographics, etc., to make your email more visually appealing.
Be personal. People like doing business with people, not businesses. Address your recipients by name and write in a friendly, personable tone.
Call to action! Make it easy for people to take the next step by including a clear call to action (CTA) in your email. Tell them what you want them to do, and make it easy to do it with a CTA button or link.
The Body of the Email
The body of the email is where you get to sell your message. This is where you can elaborate on your offer, product, or service details. You want to ensure that your email body is clear, concise, and easy to read.
A few things to remember when crafting the perfect email body:
Keep it short and sweet – No one wants to read a novel in their inbox. Get to the point quickly and be as concise as possible.
Use strong headlines and subheadings – Grab attention with strong headlines and use subheadings to break up your text and make it easier to scan.
Use images sparingly – A picture is worth a thousand words, but too many images can clutter your email and make it difficult to read. Use images thoughtfully and sparingly for the best results.
Use bullet points – Bullet points are a great way to highlight key information in your email body. They make it easy to scan and digest information quickly.
Link wisely – Don't go overboard with links in your email body. A few well-placed links will do the trick without overwhelming your readers.
The Call to Action
The call to action (CTA) is one of the most important elements in email marketing. It is the part of your email that encourages recipients to take a specific action, such as making a purchase, signing up for a newsletter, or registering for an event.
An effective CTA must be clear and concise, and it should be easy for recipients to understand what they need to do. It should also be relevant to the rest of your email content and aligned with your overall marketing goals.
Here are some tips for creating an effective CTA:
Keep it brief and to the point.
Use strong verbs that convey a sense of urgency. For example, "sign up now," "order today," or "learn more."
Be specific about what you want recipients to do. Tell them exactly what they need to do to take advantage of your offer or learn more about your product or service.
Use persuasive language that speaks to the benefits of taking action. For example, "get 50% off your first purchase" or "access exclusive content."
Make sure your CTA stands out from the rest of your email content by using visuals, such as buttons or graphics, and different fonts or colors.
Optimizing the Header and Footer
The header and footer of your email are two of the most important aspects of your email design.
Here are some tips on optimizing your header and footer for maximum impact:
Make sure your logo is prominently displayed in the header. This will help brand your email and make it more recognizable.
Use a clear and concise call to action in the header, such as "Subscribe Now" or "Sign Up Today".
Keep the header simple and uncluttered. Too much information in the header can be overwhelming for recipients.
Include social media icons in the footer so recipients can easily connect with you on their favourite platforms.
Use a consistent color scheme and font throughout your email design. This will create a cohesive look and feel for your email.
Putting It All Together
After reading this guide, you should have a strong understanding of how to design emails that are both effective and look great.
The following are some final thoughts to keep in mind when creating your email designs:
Pay attention to your email's overall layout and structure. Make sure it is easy to read and digest.
Use images sparingly, and only if they add value to your message.
Keep your text concise and to the point. Avoid long paragraphs or walls of text.
Use call-to-action buttons or links to help encourage recipients to take action.
Test your email design before sending it out to ensure everything looks as it should.
Building Your Brand's Email Address List
Every successful business has a strong email address list. It's one of the most effective ways to reach out to your target audience and keep them updated on your latest products, news, and promotions.
Building your email list is easier than it may seem. With a little effort and planning, you can quickly grow your list and start reaping the benefits of having a loyal group of followers who are interested in what you have to say.
Here are some tips for building your brand's email address list:
Make it easy for people to sign up. Include an obvious sign-up form on your website or blog so that people can opt-in to receive your emails. You can also add a sign-up link to your social media profiles or include a call-to-action in your email signature.
Offer something valuable in exchange for signing up. People are more likely to sign up for your email list if they know they'll be getting something valuable, such as exclusive discounts, helpful tips, or early access to new products or services.
Keep growing your list. Don't just stop adding new addresses when someone opts in – make sure you continue growing your list over time by regularly importing new leads from other sources, such as trade show attendees or customers who purchase from you offline.
Keep your list clean and up-to-date. Remove any bounced or invalid email addresses from your list regularly so that you don't risk having your messages marked as spam. Also, update any change in contact information, such as a person's name or job title.
Keep your messages relevant and engaging. The best way to keep people on your list is by sending them emails they want to read. This means creating content relevant to their interests and needs and using an engaging and personal tone in your writing.
Email Design Examples
The following are some of the best email design examples:
Apple AirPods
Apple's email ad for the AirPods Pro earphones stays true to their style and visual effects. The main image dominates the screen, which is simple and mostly monochrome with a large, high-quality picture of a product.
Dollar Shave Club:
The Dollar Shave Club's marketing campaign encourages people to add more items to their cart before purchasing. The advertising slogan is "Toss more in!"
Grammarly
Grammarly takes a personal approach to upselling. They know that seeing your yearly writing stats creates a feeling of familiarity and reliability in readers. Grammarly's newsletter goes out to users every year and sends their yearly writing statistics, so you know what you did well and where you could improve.
This email follows the same style this brand is known for—clean, white space and soft, pastel colors.
Blu Dot
Blu Dot, a home decor and furniture brand, sends visitors an email about the items they looked at in the store by reminding them of the items and their prices.
This design consists of a piece of furniture in a neutral color as a background, along with the simple text at the bottom stating the following: "Taking another look? We saved your items." It also has a CTA labeled "Complete my order" to guarantee that whenever someone scrolls past this banner on their phone, they'll tap it.
Moschino:
The fashion brand Moschino has a sophisticated and stylish image. This is clearly reflected in their cart abandonment recovery email campaign.
This photo features a black-and-white picture of a model with the words "You left something behind" and a "Return to checkout" link.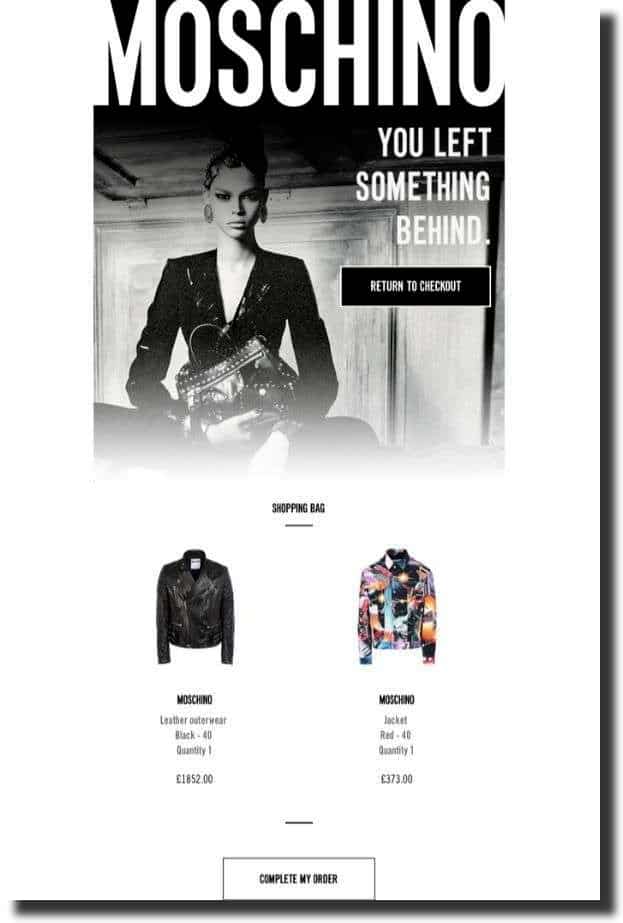 Below the central part is a list of items the user left in their shopping cart, with pricing info and a "Complete my order" button incentivizing them to return.
Key Takeaway
Mastering Email design can be challenging, but it doesn't have to be. With a little knowledge and tools, you can create beautiful, effective emails. And in collaboration with the quality email finder tool, you can engage subscribers and encourage them to take action. Get started today and see how easy it's to design stunning emails that get results.