Insightful data is the key to deeply understanding your audience and making informed business decisions.
With that in mind, you need solid digital analytics tools to provide accurate insights that optimize your marketing efforts.
However, picking the right digital analytics tools from dozens of options can be challenging, and choosing the wrong tool can be a costly mistake.
The good thing is that after reading this guide, you'll be able to choose a suitable analytics platform.
We'll look at the top twenty digital analytics tools, how they work, and their pros and cons so that you get the software that works best for you. But first, let's understand the term digital analytics.
What Is Digital Analytics?
It's how you analyze digital data from sources like mobile applications, social media, and websites to help you make informed business decisions.
Digital analytics reveals areas you need to improve for best results. For example, traffic by source (a form of digital analytics) tells you where your web visitors come from, helping you focus your efforts on platforms that work for you.
That said, let's look at the top twenty digital analytics tools you can leverage to take your business to the next level.
Top 20 Digital Analytics Tools Worth Using in 2022
Top 5 Web Analytics Tools
These tools help you track, measure, and give you reports about website activities like site traffic, user clicks, and traffic source.
In other words, web analytics tools tell you what's happening on your website, helping you optimize working strategies and abandon the ineffective ones. Below are our top 5 web analytics tools you can use.
1. Google Analytics
With over 28 million sites using Google Analytics, it's one of the best to include in your web analytics toolkit.
You can use it to analyze website traffic, bounce rates, users, real-time traffic count, and goal conversion.
The functionality of Google Analytics is primarily based on three core factors:
Acquisition: The tool gives you insights into the source of your web visitors.
Behavior: Google Analytics tells you what web visitors do after visiting your site.
Conversion: You'll know when your visitors perform the desired action on your website through sales and lead generation statistics.
The tool collects your site's stats and compiles them into visual reports you can use to optimize business strategies.
Even better, you can save multiple profiles for different websites, giving you access to a central place to access web analytics —you won't have to manage several accounts on various platforms.
Google Analytics has a paid and a free version. For small sized and even medium businesses, its free version provides enough insights to optimize their marketing efforts.
On the other hand, you'll need the premium version if you're a large company looking for more comprehensive web analytics reports and insights.
Google Analytics is powerful, but no single tool can measure everything you need to thrive in the industry.
For this reason, Google Analytics competitors (like the ones we'll discuss below) may be a good fit for your business.
Pros of Google Analytics
It uses machine learning to provide accurate insights instead of entirely relying on third-party cookies.
The tool provides user-centric insights like demographics, psychographics, behavior, and other personas of your potential customers for a more targeted campaign.
Google Analytics integrates with multiple platforms like Google Ads, Google AdSense, and Google Search Console, giving you a centralized source of insights.
Cons of Google Analytics
It has dozens of features and reports that may be overwhelming for beginners—it takes time to master how to use the tool and tailor it to your needs.
2. Adobe Analytics
Adobe Analytics is a multichannel and traffic data collection tool. It uses Artificial Intelligence (AI) and machine learning to provide solid insights into bounce rates, page views, and other customer-based metrics that help improve your bottom line.
Additionally, Adobe Analytics compiles data for various online channels like web, mobile apps, videos, and social media to better understand your audience and create a more targeted campaign.
It also packs predictive features powered by AI and machine learning thus simplifying your decision-making process.
These robust features make Adobe Analytics a great alternative to Google Analytics. Let's dig deep into the pros and cons so you can decide whether it's what you need for your business.
Pros of Adobe Analytics
It gives you full access to the conversion funnel—you can see all click activities and the number of impressions on your website at a glance. These insights are critical in optimizing your business activities.
Accessing predictive insights helps you use past information to make smart decisions for the business future.
Adobe Analytics integrates easily with other platforms like Adobe Target, Advertising Cloud, and Adobe Experience Manager so that you can access lots of insights from a central place.
Cons of Adobe Analytics
Requires a steep learning curve to efficiently sort through the reports, making the digital analytics tool difficult to use as a beginner.
The tool is expensive, which might be unsuitable for small businesses.
3. Hotjar
Hotjar is a cloud-based web analytics tool that helps you understand people's behavior, feelings, and needs on your site. It uses heat maps showing where your web visitors click, scroll, and move to your site.
As a result, you'll discover what on your site attracts attention, learn what people are ignoring, and analyze behavior before and after launching a new feature on your site.
Even better, Hotjar gives you user behavior reports for mobile, tablet, and desktop to help you optimize your site across all devices.
Additionally, it gives you real-time insights into how people use your website. You'll access recordings of each visit showing mouse movements, clicks, U-turns, and rage clicks so that you know exactly where you need to improve your site.
Hotjar also powers your site with real-time surveys and suggestion boxes so that users can express their experience on individual parts of your web pages. That way, you get direct feedback that helps you identify and fix mistakes instantly on your site.
Pros of Hotjar
It has powerful features that quickly flag user-experience issues on your site.
Solid user support that ensures a seamless experience.
It comes with a free version and trial so that you can test the tool before upgrading to a premium version.
Cons of Hotjar
It lacks predictive analysis useful in forecasting future performance based on historical and current data.
Limited integrations with other useful tools usually save time by centralizing your source of insights.
4. Clicky
More than one million websites rely on Clicky for user insights. You can use it to monitor, analyze, and respond to your web traffic in real-time.
It tracks events of individual web visitors and pageviews to give you in-depth details for optimizing your site.
Powered by heat maps, clicky reveals user navigation on your site in terms of clicking, scrolling, and pages they visit, which helps you boost engagement on your site.
If you've been worried about "fake" traffic to your site, this digital analytics tool detects and blocks traffic bots to ensure all your visitors are real.
The tool also monitors site uptime, ensuring you receive alerts immediately when your site goes offline. As a result, Clicky optimizes your availability to customers.
Pros of Clicky
Includes an intuitive user interface that lets you access reports easily.
Real-time site monitoring gives you instant insights that help you make important decisions fast.
Cons of Clicky
Some reports are only available for a limited time, meaning that you can't get a full web analytics report for a period like one year.
Limited integration with other powerful tools prevents accessing insights from various platforms in a central place.
5. Matomo
Previously called Piwik, this open-source web analytics tool is powering over a million websites in over 190 countries.
The Matomo tool is also accessible in over 50 languages. With this tool, you'll track the entire journey of web visitors and analyze their experience on your site.
For example, it's powered with heatmaps, session recordings, and A/B testing features to optimize conversions on your website. Even more, it has a Visitor Profiles feature that helps you understand your prospects and customers.
Each visitor profile entails actions of individual users compiled historically. That way, this tool reveals the lifetime journey of a return web visitor who never performs the actions you desire, allowing you to streamline your marketing strategy.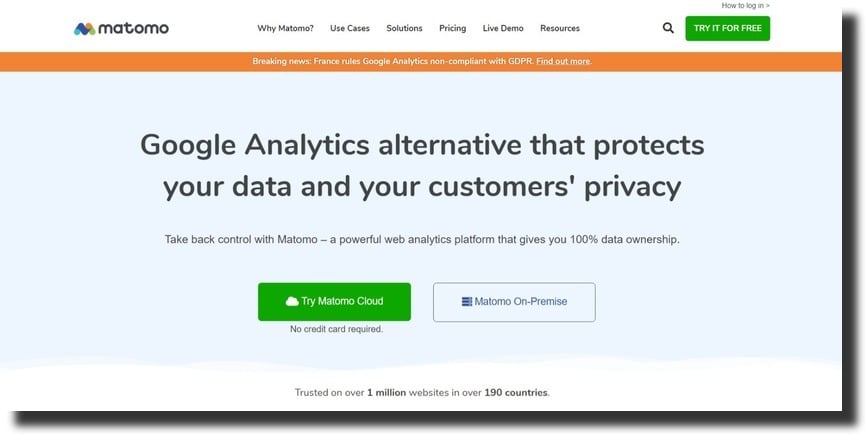 Matomo easily integrates with platforms like Content Management Systems, eCommerce stores, and forums, making it applicable in various ways.
Pros of Matomo
It's available in two options; you can install it on your business servers or use the cloud-hosted version.
It's highly customizable—it's equipped with powerful APIs that allow you to request analytics reports for one or various websites in a specific period and format.
It has a free version and trial, enabling you to test the features before upgrading to the premium version.
Cons of Matomo
You may experience recurring errors when updating or customizing the tool.
The web analytics reports are detailed but overwhelming, making it difficult to access some details as a beginner.
Top 5 Social Media Analytics tools
These digital analytics tools monitor the performance of social media campaigns. The tools collect crucial data like customer feedback on your social media posts to better understand your audience.
Most of them have features to analyze your competitors to make better choices on your campaigns. Let's look at our top five social media analytics.
6. Sprout Social
This tool is a crowd-pleaser because it has a lot to offer. Equipped with cross-channel analytic features, you can easily use Sprout Social to monitor performance on a single social platform or simultaneously compare marketing results in multiple channels.
For example, you can track twitter link clicks, monitor Facebook Page impressions, evaluate Instagram follower growth, and measure LinkedIn engagement from a central place. As a result, you save time because you won't jump from one tool to another. 
Pros of Sprout Social
You'll access downloadable reports to use them elsewhere easily.
It includes an easy to navigate intuitive user interface.
You can connect several social media channels and access notifications from a unified inbox.
You can schedule your posts for when your prospects are more likely to see them.
Cons of Sprout Social
It has a limited number of social channels you can unify. You can only connect Twitter, LinkedIn, Facebook, Instagram, YouTube, and Pinterest. Your social profile limit depends on the premium plan you choose.
They only have a free trial—no free version.
7. Hootsuite
Hootsuite packs powerful features that let you create solid social media posts and measure engagement to streamline your marketing campaign. You can create, schedule, and publish content across different social networks from a single place.
Featuring a content creation tool called Composer, you can edit your images or publish videos tailored to each network's specifications.
This digital analytics tool lets users manage and filter messages from different social channels without getting overwhelmed. That's because the tool has a feature that is efficient in assigning tasks to other team members.
Hootsuite integrates with listening tools like Talkwalker and Brandwatch that monitor brand mentions on social media.
The Hootsuite tool also tracks brand-related keywords and direct customer feedback through DMs and tags. Once the tool collects crucial insights, it compiles them into in-depth reports you can easily customize.
Pros of Hootsuite
This tool integrates with over twenty social media channels, making it easy to manage all your social platforms in one place.
It comes with a powerful plug-in called Hootlet, making it easy to share content.
It has teamwork features to manage social media tasks, streamlining customer service.
Cons of Hootsuite
The digital analytics tool requires improvement in reporting and content scheduling in specific social channels like Pinterest.
The user interface is a bit clunky, making it difficult to access insights fast.
8. Zoho Social
This digital analytics tool comes with all the necessary features you need to be successful on social media.
You can, for instance, schedule your posts using Zoho social for optimum times when the target audience is active to boost engagement—you get to create your publishing schedule or choose from Zoho's best-time predictions.
Equipped with multiple social listening features, Zoho ensures you don't miss out on relevant mentions across different channels. That way, you can respond in real-time to your customers and prospects to boost engagement.
It also has powerful analytics features that help you understand your followers on social media. You'll access pre-built reports or create your statistics to target your audience better.
Additionally, it comes with team collaboration features so that you can share your reports and campaigns for fast decision-making.
Pros of Zoho Social
Content scheduling reduces timing errors.
It combines various social media platforms you can manage on a single platform.
It has a free trial and free version, enabling you to test the features before opting for the premium version.
Cons of Zoho Social
It lacks the automatic image resizing feature. So, you'll have to adjust your images manually for different social channels.
Zoho's customer support team is pretty slow in guiding users in case of technical issues.
9. SocialPilot
SocialPilot has multiple scheduling options that accommodate different time zones. Equipped with the powerful Post Composer, you get to schedule your social posts for popular platforms like Facebook, Twitter, LinkedIn, Instagram, and Pinterest.
It has robust analytics features that measure content performance, audience insights, and the best time to publish your social posts.
Then, the tool compiles the data into downloadable reports so you can use the information anywhere you want.
Powered with collaboration features, SocialPilot enhances teamwork such that you can review and approve any content before publishing.
Pros of SocialPilot
User-friendly interface to easily navigate to different features.
You can access all your social posts on different platforms from a central place.
Integrations with other platforms like Canva makes SocialPilot convenient to many users.
Cons of SocialPilot
The software requires analytics improvements for specific platforms like Instagram.
It only comes with a free trial—no freemium version.
10. Sendible
This tool gives in-depth reports for social network platforms like Instagram, LinkedIn, Twitter, and Facebook. With dozens of filters to play within the software, Sendible enables you to create custom reports that suit your campaigns.
You'll also gain insights into factors like the optimal time to publish your posts, know your most engaged followers, and the top-performing campaigns, helping you create more targeted content.
Collaboration features help you enhance teamwork to boost productivity and improve your decision-making process.
You can also integrate this tool with Google Analytics to help you track how social campaigns affect web traffic, content popularity, and page views.
Pros of Sendible
Publishing on various social profiles is easy because of scheduling features.
You can manage several social network accounts from a single place.
Its free trial offer allows you to test its features first before subscribing to premium plans.
Cons of Sendible
There is no free version to let you test the features long enough before deciding to upgrade.
You can't choose a video thumbnail you like, limiting your options.
Top 5 Email Analytics Tools
Email marketing analytics tools help marketers create, send, test, and optimize their marketing campaigns.
Most email marketing analysis tools automate the process and help business owners deliver personalized messages that boost customer engagement. Below we take a look at our top five digital analytics tools for your email campaign.
11. MailChimp
MailChimp packs powerful email marketing features in one tool. You'll access professional email templates you can choose and kickstart your campaign immediately.
If you want a personalized email design, the drag and drop editor gives you the freedom to tailor the design to your liking.
You'll also access a mobile editor so that your emails can automatically fit in different screen sizes, which optimizes your emails for various devices.
Automation in MailChimp helps you segment your audience and create workflows like welcome emails for a more targeted campaign.
Pros of MailChimp
It integrates with multiple tools and platforms you can leverage to streamline your email marketing.
It is highly customizable so that you can tailor it to your needs.
Cons of MailChimp
It has a clunky user-interface
It comes with a free plan but with limited features. Businesses with a large contact list must upgrade to premium plans to achieve their goals.
12. HubSpot
This email marketing tool is powered by HubSpot's Customer Relationship Management (CRM) which helps you easily create personalized emails.
HubSpot features responsive email templates that allow you to choose a design that displays well across all devices. HubSpot also has a drag-and-drop editor that allows you to customize email layouts, call-to-action buttons, and branding.
With A/B tests, access to subscribers' lifecycle stage, and other contact records, you get to send highly targeted emails with relevant headlines, links, and CTAs.
You can also schedule your emails so that your emails pop up on the customer's inbox at the optimal time.
Pros of HubSpot
It has a free plan to allow you to test whether the tools suit your business before upgrading.
It's an all-in-one platform to help you access dozens of marketing insights from a single place.
Intuitive user interface.
Cons of HubSpot
It takes a lot of time to configure the tool to your business needs.
13. ActiveCampaign
This digital analytics tool helps you automate your emails to drop your message on customers' inboxes when engagement is high.
ActiveCampaign is also equipped with A/B testing capabilities that compare subject lines and email bodies, which helps you see what works and what doesn't.
You can segment your audience to create workflows that address customers' specific needs. For instance, you could send a welcome email to new subscribers to boost engagement.
Through automation, ActiveCampaign helps you monitor customer data in one place, eliminating cross-referencing that usually consumes a lot of time.
Pros of ActiveCampaign
Intuitive user interface for a seamless marketing process.
Affordable plans make ActiveCampaign suitable for both small and large businesses.
Machine learning and A/B testing make it a reliable email analytics tool.
Cons of ActiveCampaign
While it's easy to use, the reports are a bit crowded.
14. Omnisend
It's an omnichannel tool that combines email, SMS, WhatsApp, and segmentation marketing to boost customer engagement.
Omnisend also integrates with Facebook and Google ads, making it an all-in-one marketing solution.
Automated workflows reduce manual tasks, saving you the time you can use in other core business activities.
Audience tagging and segmentation enable you to create a more targeted email campaign.
Cons of Omnisend
Some crucial features are limited to specific premium plans, which require you to upgrade and pay more.
15. Sendinblue
This digital analytics tool is an email marketing tool perfect for small as well as medium-sized businesses. That's because you can use Sendinblue to automate your campaign even with a limited budget.
Similar to Omnisend, Sendinblue combines email, chat, and SMS marketing to help you reach customers in various ways.
Additionally, it allows you to segment your list to send relevant content to your target audience.
Pros of Sendinblue
You get to choose email designs from pre-built templates to save you time.
It has an easy-to-use interface, which makes it suitable for beginners in email marketing.
The tool comes with solid customer support that seamlessly helps you overcome technical issues.
Cons of Sendinblue
It lacks complete tech support.
Designing targeted workflows is challenging.
Top 5 SEO Analytics Tools
These tools collect and analyze raw data to help you optimize your search engine optimization efforts.
They help you prioritize tasks, optimize your campaign for search engines, and make informed decisions that boost visibility on the web. Below are our top five SEO analytics tools.
16. Ahrefs
This tool focuses on link building, competitor analysis, keyword research, website audits, and rank tracking.
Ahrefs tools provide data to improve your position on organic search engine results.
So, whether you're a small business, SEO agency, in-house marketer, or SEO consultant, Ahrefs has the features you need to achieve your SEO goal.
Pros of Ahrefs
It has a powerful backlink checker that helps you build authority on the internet.
It's available in different payment plans for every business to choose what suits them best.
Keyword suggestions in Ahrefs help you find content opportunities.
Cons of Ahrefs
Expensive payment plans.
The user interface is complicated—it has a learning curve.
17. SEMrush
SEMrush is an all-in-one SEO tool you can use to improve online visibility and dive deep into marketing insights.
You'll access solid features and reports related to keyword and competition research, rank tracking, campaign management, and search engine marketing.
While SEMrush and Ahrefs work the same, SEMrush is better if you're dealing with paid marketing.
Pros of SEMrush
The tool equips you with competitor intelligence to fine-tune your SEO strategy.
It has solid user support to ensure you're not left in the dark in case of a technical issue.
With its intuitive user interface you can navigate seamlessly to different features in the software.
Its wide variety of features let you optimize your website fast.
Cons of SEMrush
Some features are underdeveloped, preventing you from leveraging the tool.
Adding multiple profiles for an agency with many team members is expensive.
18. Moz Pro
You can use the Moz Pro digital analytics tool to track links, optimize web pages, analyze competitors, track your ranking, and audit your site.
These features help you implement SEO strategies that drive desired results.
It has powerful features that help you understand site visitors' behavior.
Its backlink checker enables you to identify opportunities for backlinks.
Website audit features help you find and fix SEO issues on your site.
Cons of Moz Pro
It has a lot of features to manage
It's an expensive SEO solution
19. BuzzStream
BuzzStream is a link-building and email outreach tool. It has powerful features that make finding backlink leads easy.
For instance, it has a browser extension that automatically scans sites for valid email addresses. That way, you can quickly reach out to people that can link to your site or mention you on different platforms.
Pros of BuzzStream
It automates outreach tasks like researching prospects and finding email addresses, making the process seamless.
You get to do all your outreach in one place.
It allows you to create email templates to eliminate copy-pasting outlines every time you want to reach out to an influencer or blogger, saving you time.
Cons of BuzzStream
You'll need time to understand some features
The user interface is a bit clunky.
20. Ubersuggest
It's an SEO tool you can use for keyword research, cost per click (CPC) campaigns, and analyzing your competitors.
You can also use Ubersuggest to improve your link profile through a link-building strategy. While it's not as powerful as Ahrefs and SEMrush, Ubersuggest is affordable.
What's more, ubersuggest will give you solid insights into boosting your online visibility.
Pros of Ubersuggest
It has a simple layout, making it easy to use.
It brings you all the necessary functions needed for SEO research at an affordable price.
You can monitor broken links to optimize your ranking on Google.
Cons of Ubersuggest
It lacks SEO scores for web pages to show how optimized a page is.
Take Your Marketing Efforts to the Next Level with Digital Analytics Tools
Digital analytics tools are a game-changer for your business. You can use them to flag and fix errors in your campaigns and understand customers' journeys on your digital platforms to help you make research-based decisions.
However, be careful as you choose a tool for your marketing campaign to avoid spending on software that doesn't deliver solid insights.