CPM Marketing is an essential part of digital marketing. It is a term often used in traditional advertising media selection. It allows advertisers to calculate the effectiveness of their advertisements. For any business trying to reach a sizable audience, CPM digital marketing can prove to be a potent weapon. If used properly, it can help you reach millions of potential customers.
Now, without splurging too much, how do you measure the effectiveness of your digital marketing or CPM campaigns or to find out how many of your impressions turned into conversions? CPM, along with a few others, are the methods that are used to find just that.
Cost Per Click (CPC)
Cost Per Click or CPC is a model in which an advertiser pays for every click of a visitor on their ad. You are only going to be paying if potential customers click on your ad or banner. It can be targeted on the basis of interests, activity, location, demographics, and other variables.
For example, if the cost per click is $1 and you receive about 500 clicks in one day, you'll have to pay $500. You can, however, set a budget on your CPC campaigns so that after a desired number of clicks is achieved, the ad ceases to be displayed.
Cost Per Action (CPA)
CPA stands for Cost Per Action. In this model, the advertiser or site owner only pays once a visitor views the ad, clicks on it, and then performs an action on the web page. This action could be a purchase decision made on the website but it isn't just restricted to that.
Whether it's signing up for a newsletter or making an account on the website, or even filling up an information form – all of these constitute as actions. It could be a number of them.
This model is less risky for advertisers, in comparison with the others, because of the fact that they are only paying after getting a lead or sale. An impression is not the only thing that is taken into consideration.
Cost Per Mille or Cost Per Thousand (CPM)
What Is CPM Marketing?
CPM stands for cost per thousand advertisement impressions. It is a marketing term that refers to the total amount that advertisers pay for 1,000 impressions on their ads. It is one of the most common pricing models used for online advertisements.
A CPM campaign is often opted by advertisers who run ads in bulk and prefer to use them in different combinations to generate as many impressions as possible.
It is referred as viewable CPM or vCPM by Google and at least 50% of your ad needs to be seen on screen for at least one second or more. That is what Google counts as an impression.
How Do You Calculate CPM in Marketing?
Calculating CPM marketing online depends on the channel being used as well. So, in order to get an accurate representation of these calculations, let's look at the following details:
Calculating CPM for Facebook Ad Campaigns
Facebook is an extremely vital component of any digital marketing campaign these days. It has more than 7 million active advertisers which says a lot about its effectiveness as every online marketing strategy includes it these days.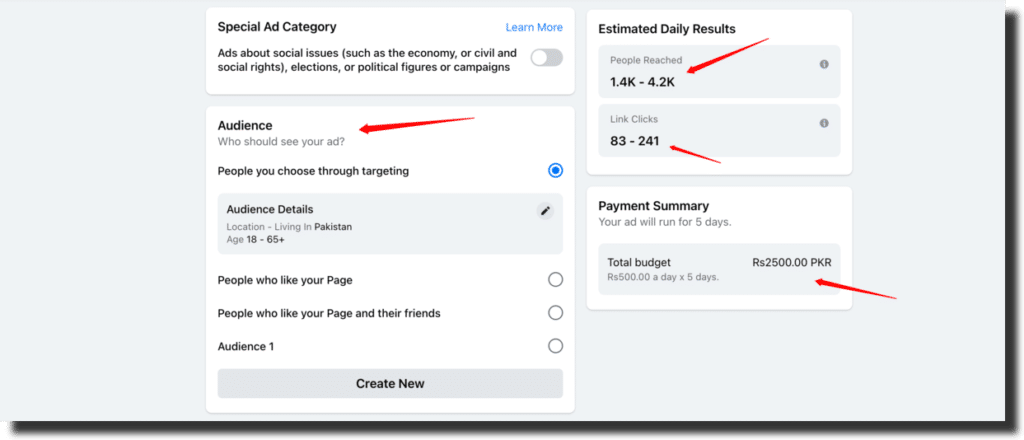 Online Advertising On Facebook
Social media marketing is a great tool for online advertising for your product or service and marketers/ advertisers pay a lot of money to generate brand awareness through it. The ad, for example, could be for a niche market that might not even generate a lot of impressions initially but there's a lot that marketers can do with an advertising campaign like that to boost it.
That's the beauty of social media.
Cost Per Thousand Impressions On Facebook
Interestingly enough, calculating the cost per thousand impressions for your Facebook ad campaign goals is quite simple and straightforward as you can see the estimated reach of your audience even before you officially launch your campaign.

For example, if your budget is $100 and the impressions you receive on your campaign are $20,000, your cost per mille or cost per thousand will be $5. You could also calculate it per impression as well.
Calculating CPM for Adwords Campaigns
Strategies employed for calculating the CPM, cost per mille, for your Adwords campaign is just the same as Facebook. You divide your total ad spend by the number of impressions they receive and then multiply that result by 1000. Simple and straightforward.
Some advertisers or businesses choose strategies to target one or two keywords for their Google ad/web ads campaigns. But if you've got the budget and you want to target quite a few of them, you could do that too.
In that case, you could calculate the CPM, cost per thousand individually, per keyword, or calculate a total for all of them, and then come up with their average cost.
Calculating CPM for Email Marketing Campaigns
Facebook and Google are pretty easy to comprehend with their CPM campaign calculation but with email marketing, it's not as simple. It is measured per 1000 readers on your list.
Let's suppose you have a campaign for around 20,000 subscribers on your list and it cost you around $500 to create. What will be the CPM? $25. But if you choose to send the very same campaign to, let's suppose 200,000 people, your CPM or cost per thousand will automatically fall to $2.5.
Importance of Email Marketing
CPM email marketing can also be a great resource for you to have in your digital marketing and SEO arsenal. You have a direct link to your customers' inboxes. You could build your whole marketing campaign around that. Something that not even website publishers can give you.
Whether it's news about your new product or any other update — you can send it straight to your clients' inbox.
What Is a Good CPM in Advertising?
Businesses have budgets and therefore, limitations on price as the advertising cost per platform can be steep. Therefore, one always aims to get the best bang for the buck when advertising their product or service. Display advertising is a great tool but one that has many components that need to be understood, i.e. pricing.
Trial-and-error
You could go for the trial-and-error method through which you can get a lower CPM through an or two.
That, however, will not be the best result-yielding method, though. Precisely because of the fact that your ads might not be able to target your segment of choice – people who'll buy your products.
This means that you'll probably be wasting a huge amount of your money.
You need to choose a proper pricing model that can have a good CPI or cost per impression. Good strategies can be incorporated in such scenarios to help you achieve that.
Monitoring your ROI
A good cost per thousand CPM is one that gives you and your business the best results. It could vary from business to business and industry to industry. A great way to figure out what CPM works best for you is to closely monitor the ROI on your ads on multiple platforms. Tweak them as you go along, fix discrepancies, and routinely adjust the price.
Final Thoughts,
All these features will allow you to figure out a good CPM for your business, one that works best for you. If need be, you can also enlist the services of a CPM marketing company or firm to help you with digital marketing for your business.