If you are a car dealer, you would probably know how dealerships are experiencing low footfall. But do you know the reason behind that? It's because modern-day car buyers prefer to go through a dealership`s website first. You need a useful car dealer website design to drive traffic and engage with your potential customers.
That being said, you can't develop a website on your own. You will need professional expertise through a web development agency. With expert knowledge, you can gauge what your potential audience requires. Your car dealer website design should resonate with your business theme. For instance, if you deal in luxury cars, vintage cars, or an exclusive dealership of a particular car manufacturer.
The Importance Of A Responsive Car Dealer Website Design
As the digital advertising landscape is rampantly increasing, so are consumer patterns for car dealerships.
Here are some of the statistics to show why the car dealership requires a useful website and, subsequently, an engaging website design.
Only one in three potential car buyers know the exact vehicle that they want to purchase.
95% of vehicle buyers use digital tools as a source of information.
Two times as many automotive consumers start their research online versus at a dealer
76% of new and used vehicle shoppers run a Google search before buying.
Automobile consumers visit an average of 4.2 websites in their purchasing process.
The average automotive shopper spends 33% of their research time on a mobile device.
Car buyers spend an average of approximately 14 hours online during their search.
With these statistics, you can easily comprehend the significance of having a car dealership website. It's because no matter how great your cars are, without a digital presence, you won't be able to get the word out.
Responsiveness is a Key Feature
Today, 60% of car buyers access dealership websites from their mobile phones, similar to most eCommerce websites. That is why, to impress your customers, you need to create a seamless mobile navigation experience for them.
When a potential customer visits a dealership website, they want to get the maximum information possible for whatever they are looking for. You need a simple and rather elegant website to facilitate potential customers so:
Customers can quickly scan through your website, which drives more traffic. Because customers looking for a car won`t have the time to go through the website in detail.
You can provide a better user experience, with a well-segmented and more comfortable-to-read home page. Customers expect an aesthetically pleasing theme along with formatted visual content.
Customers can look at the CTA buttons clearly, especially if it's for a used car dealer website design which generates more leads and conversions.
A car dealership can't afford to lose customers due to a slow website or cluttered content. Therefore it is essential to pursue a digital marketing strategy with the help of an agency to increase customer retention, website traffic, and, most importantly, conversions.
How To Build The Best Car Dealer Website Design?
Now that you know that a website is essential, what's next? As a car dealership, it is you who has to impress the customer and provide them with a one-stop solution for their automobile needs. How can you do that? By building a successful car dealer website.
Here are essential features of a successful car dealer website:
1. Responsive Web Design
We already know that most potential customers use their mobile phones to browse through different car dealership websites, so your website must be able to function correctly across all mediums, including smartphones, tablets, PC or any other equivalent device.
If your website is not user responsive, it is less likely to appear on Google's search engine results. It's because now more than 60% of automobile searches initiate from Google, and so the search engine favors the site that is more responsive.
Look out for web designing agencies that specialize in e-commerce and online market places.
2. Add All The Relevant Information
You have to ensure that your website features all of your dealership's relevant and available information. When someone is browsing through your site, they should have access to your contact details, so they know how to get to you instantly.
Without relevant information, they might move to your competitor's website. Your relevant information entails:
Contact Number
It is preferable to have your contact number at the bottom of your website, which makes it visible on every page. Consumers expect the contact number on every page because they don't go back to a particular web page just to check your number.
Location and Address
You want to ensure that your potential customers can easily track your dealership. If they check out some cars that they like on your website and want to drop by and take one of them for a test drive, then that will be much easier if they know your exact location.
You should also display a map with syncing your location with Google maps.
Opening Hours
Another essential information to include on your dealership's website is your opening hours.
You have to make it convenient for others to visit your dealership if need be. Your customers probably won't bother asking for hours. They can just drop by. Therefore they should know your opening hours. Finding a close dealership might put them away.
Email Address Or A Contact Form
Suppose someone is on your site and needs to get in touch for some reason. It's always a good idea to include a contact form or an email address listed somewhere on the website, usually along with other contact details.
Putting your contact number may be enough for some people, but others might want to contact you via email. With the assistance of a professional car dealer website design company, you can strategically place relevant information.
3. SEO (Search Engine Optimization)
If there is one thing essential to drive website traffic, it is SEO. Your site can be properly optimized with the help of all the relevant information, colors, font, and aesthetic appeal. You have to boost your dealership rankings in local search pages results. You can even get yourself listed in local car dealership listings.
A positive SEO impact is the first step to get more leads and subsequent conversions. For instance, if you are selling an Aston Martin, you have to include the name of the manufacturer in your search listings. People looking for an Aston Martin should see your dealership listing.
4. Landing Page Optimization
Many car dealerships have the correct landing pages, but they lack some significant aspects to get website traffic. For instance, wrong meta tags and titles. For example, if a dealership is selling used Ford cars, the meta title cannot be Ford alone.
It should include 'Used Fords' and if you are selling in a particular vicinity. You should also mention the location such as 'Used Fords in New York.' You can further optimize your landing pages by appropriately dissecting them into different categories.
For instance, 'used cars,' 'old cars,' 'vintage cars,' and new cars. These categories should include their relevant CTA buttons, prominent enough to attract the customers' attention.
5. Vehicle Inquiry Forms
It's crucial to have online vehicle inquiry forms on your website. if someone likes a particular car, it should be easy for them to contact a specialized salesperson. However, customers can call up a service representative.
But it is always easier to fill an inquiry form and get all the possible details of the car itself. An inquiry form can also be a preemptive approach, so customers can save time while visiting a showroom.
6. Add Plenty Of Images
When browsing cars online, consumers want to see pictures. They want to know the ins and outs of a vehicle from their mobile or laptop screen.
Therefore you can't just upload a single image. You have to take pictures from every possible angle in high definition and then post them so consumers can make a better judgment.
Examples For Car Dealer Website Design Inspiration
If you're looking for an inspirational website design for your own company, worry not. We're picked out the best designs that are also endorsed by many car dealer website designers.
1. Toyota
Toyota has to impress its audience with such a huge brand name. The website is pretty accurate with all the essential features, CTA buttons, images, and brand-specific color contrast of red and white.
A visitor can search through your site, access different types of vehicles through the dropdown menu; local checkout specials, search inventory, ask for a quote, view brochures, and explore so much more throughout the website.
2. Chevrolet
Chevrolet has a simple and straightforward design that can inspire car dealers to craft such an engaging website. It showcases multiple images or web copies on the hero header using a slider.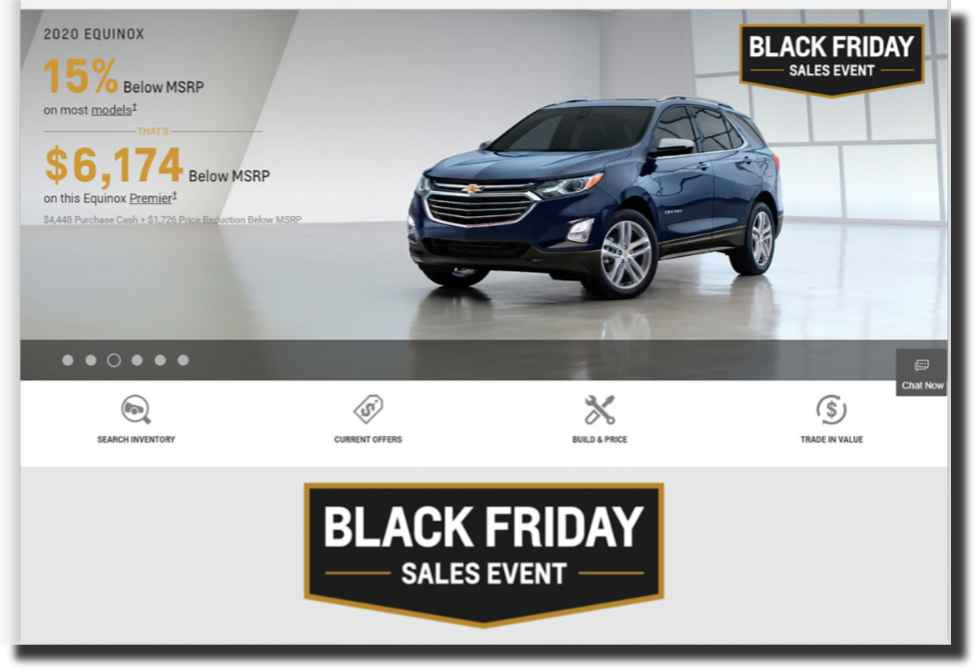 The site uses monochrome icons for linking to search inventory, current offers, build & price, and trade-in value. Additionally, it displays different awards on the website to enhance credibility.
3. Tesla
Tesla has a comprehensive yet straightforward and elegant homepage layout. An aesthetically pleasing logo, descriptive CTAs, off-canvas menu, and full-width, high-quality images.
Tesla`s website deserves to be in the list of stunning car dealer websites out there. The site is fresh with an innovative transition effect that makes it more interesting for the customers.
4. Rolls Royce
Rolls-Royce Motorcars applies a video background to the website homepage, particularly in the hero header. One of the coolest features of Rolls-Royce`s website is the out-of-the-box cursor effect.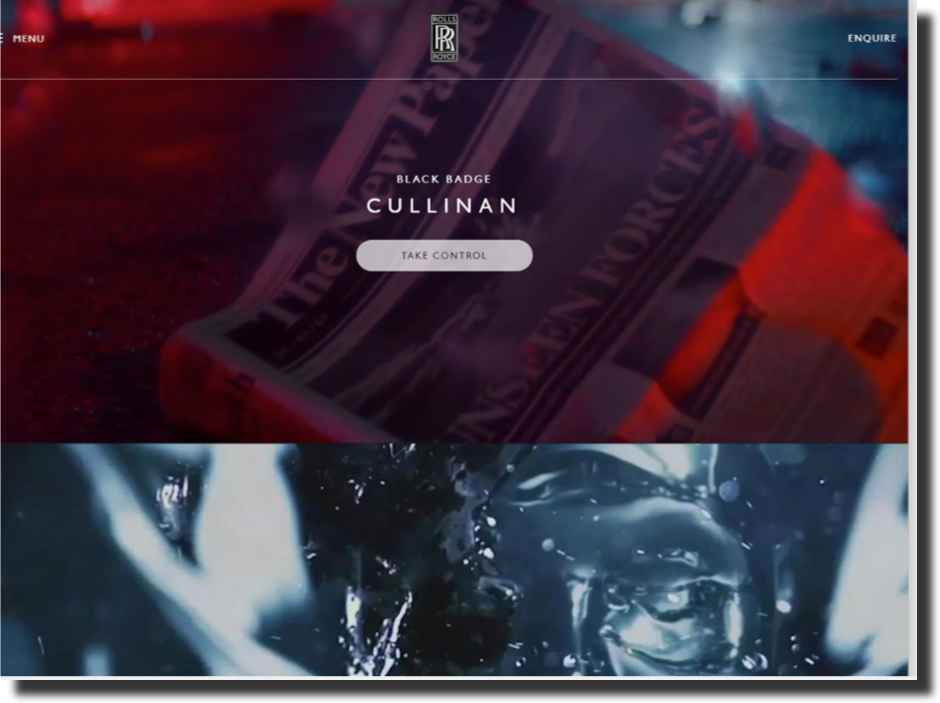 The box style layout adds to the grandeur look and feels of the website appropriate to the brand Rolls-Royce. Since navigation is an essential element of a website.
Rolls-Royce implements a sticky menu where a visitor can access the off-canvas menu, logo, and inquiry button altogether. Meanwhile, some of the pages look great with split-screen layout, video integration, and hover effects for the images, buttons, and promotional offers.
5. Volvo Cars Manhattan
The website hero header has an appropriate image, CTA, and an advanced search feature. The website has a specific display of contact numbers on the header for the customer to connect with the business if need be natural.
The chat and text features are also added to the website. Volvo Cars Manhattan has a sticky menu where users can access essential pages of the site easily. This website presents featured cars cleanly and distinctly using an attractive slider.
6. Lexus of Las Vegas
If you do need the inspiration to build a car dealer website, you have to check out Lexus of Las Vegas.
Customers who wish to acquire the product information quickly should check out this website. It integrates a search functionality with an image background on the hero header.
For quick and seamless navigation, the website embraces the sticky menu along with the essential contact details on the header. In this manner, potential customers can easily connect with the business.
Other amazing features include slider, social media, accessibility, dropdown menu, and more.
7. Dodge
Dodge is another excellent car dealership website that you should check out. It has an asymmetrical design that makes it look unique and creative. Notably, the hero header impresses visitors with a cool slider combined with the striking CTA buttons, attractive images, and engaging promotions such as automobile challenges.
The website showcases different types of vehicles that link to each relevant details. This website provides a great display of the car's exterior, interior, packages, power train, and summary. Additionally, it also comes with useful tools such as pricing and finance calculator.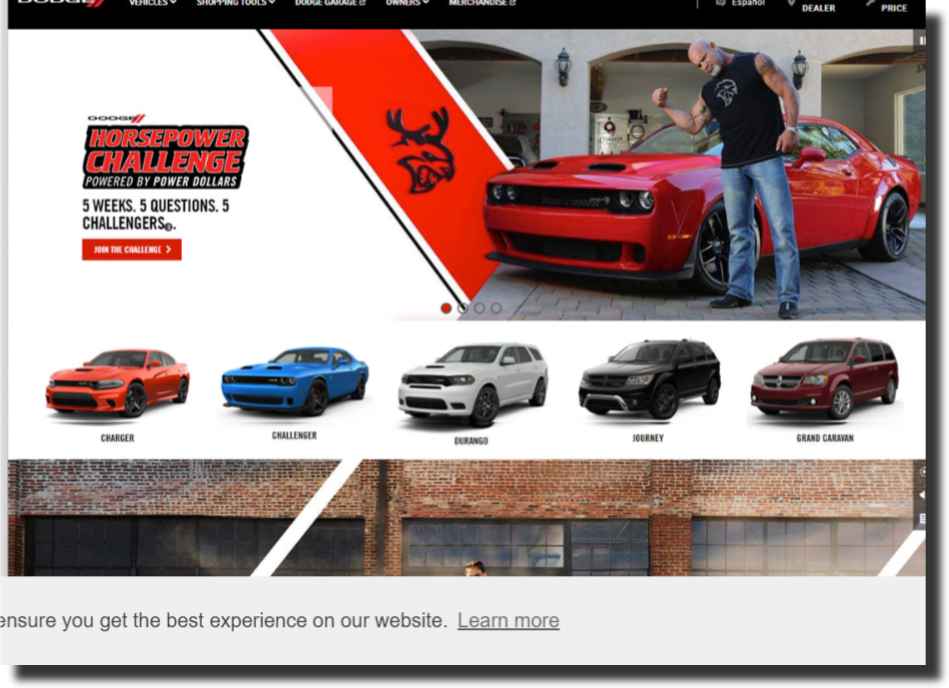 Key Takeaway
It is perhaps impossible to survive as a car dealership without a digital footprint. Therefore you need a useful website to keep your competitors at bay and build an active communication channel with your existing and potential customers.
Through your website, you can be an authority over the overall automotive industry, and that will help you to garner the trust of the customers. With immense competition in the dealership industry, you can be a leader in innovative solutions, if you`re able to build a state of the art website for your dealership.
The future outlook of car dealerships is entirely digital, and the more you invest in your website right now, the more it will bear fruit, five years down the line because the only way to outperform your competitors is a useful dealership website, which has the trust of the customers.