As a marketer, you want your website to rank on the top pages of Google and other search engines. But, how do you stay on top and ensure that your SEO efforts yield the expected results? Have you thought about using a website grader before?
As marketers, we need to make sure that Google and other search engines rank our content and display it to the users based on the search query.
However, you will not always have it smooth when trying to identify the issues within a website. So, how do you rank the performance of a website? Now, here is where a website grader comes in.
The purpose of this guide is to give you the comprehensive knowledge that you need to analyze and improve the performance of your website.
By the end of this guide, you will- understand how a website grader works, and second, choose the best free grader tool to use for website audit and improve SEO.
Let's get started!
What Is A Website Grader
A website grader is a tool or software that helps measure the effectiveness and performance of a website. It gives a score on a scale of 0-100 in terms of SEO.
In addition, the website grader highlights the issues within your site and provides actionable tips to improve ranking. As a marketer, using a website grader helps you improve your SEO.
If you're working with a tight budget that does accommodate a premium website audit tool, a website grader alternative is an effective solution.
What Is A Website Audit
Search engine optimization is crucial to improve site visibility and ranking on SERPs. Besides, it increases organic traffic to your website and blog.
A website audit is an extensive examination before a website redesign or optimization. It helps to check issues in a site before creating a plan to resolve each highlighted problem.
Not only does the website audit help with redesigning but also SEO. That is, it helps an SEO expert identify issues that affect website ranking.
On the other hand, an SEO audit helps identify issues that affect the ranking and visibility of a blog or website. SEO audit enhances the website performance on search engines.
Why Is A Website Grader Important For Marketers?
The definitions above give you a glimpse of how to increase your website SEO. A website grader checks your SEO, traffic, site structure, page speed, relevant backlinks, content, and other factors.
It highlights the issues and provides a solution to the problems. There are free website grader tools to help you get started with measuring your site's score.
If you're looking for a free tool to audit your site, consider using a website grader. It helps to increase search engine ranking, visibility and improve the user experience of your website.
So, let's look at the free website graders.
Best Website Grader Tools
As most organizations and businesses adapt to using online platforms, you want to be sure that you are in the top position on search engines. But, how is it possible?
A website grader makes it easy for you. Without further ado, let's look at the tools to help you perform an audit and increase your SEO.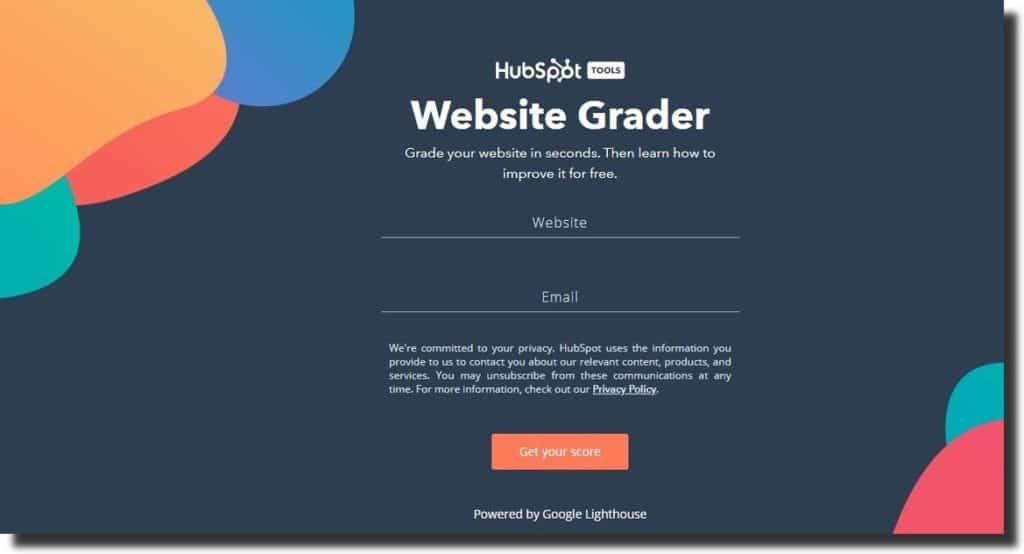 The Hubspot platform helps you attract, engage and convert leads. It is a popular platform, especially for marketers who want to scale their inbound marketing and sales.
The website grader tool from Hubspot was launched in February 2007. It is ideal for marketers, small and medium businesses. To use the tool, add the URL of your website as well as your email.
The tool gives you results based on performance, SEO, website security, and mobile responsiveness. The four result categories have a score out of 30, except for security that is out of 10.
In addition, the tool gives you an overall score out of 100. For each of the above categories, the grader highlights the issues, strengths, and possible improvements.
The bottom section highlights other issues and how to improve them. The website grader from Hubspot is a tool for marketers who need to work on the crucial areas of the website.
It is simple to use for anyone. If you're looking for a free tool to check the performance of your website, you can check out the grader tool from Hubspot.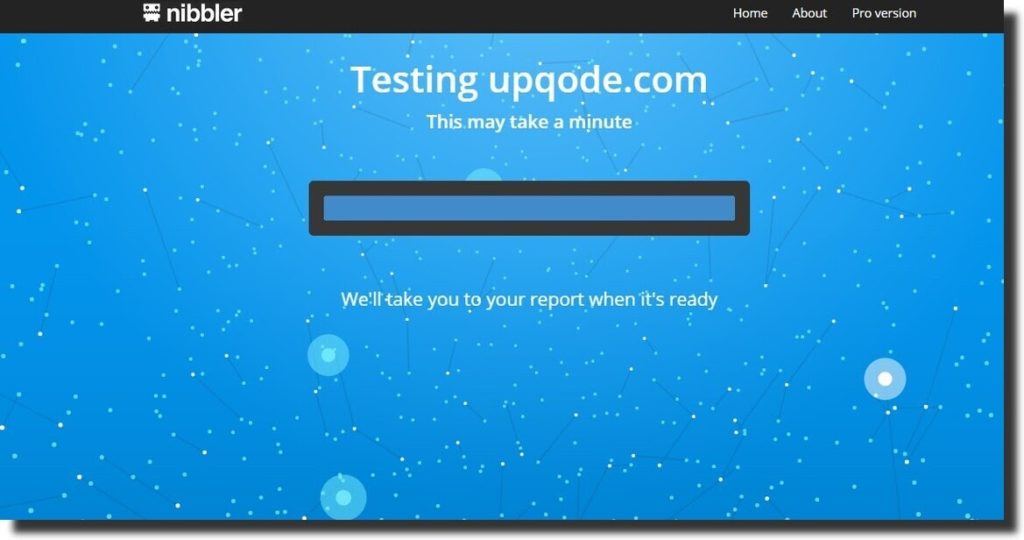 The website grader gives you the detailed performance of your website. In addition to the overall score, it breaks down the score of your website into accessibility, marketing, experience, and technology.
Besides each score, you can click on the dropdown arrow to identify the contributing factors to the score. The tool also offers users the top priority tips to improve the performance of a website.
The benefit of using Nibbler is that it is free to use. It tests each page on your website. The score contributors that the tool checks are meta tags, lead analytics, page titles, URL format, and mobile responsiveness.
The pro version of the Nibbler tool allows you to access advanced features and a branded report about your website.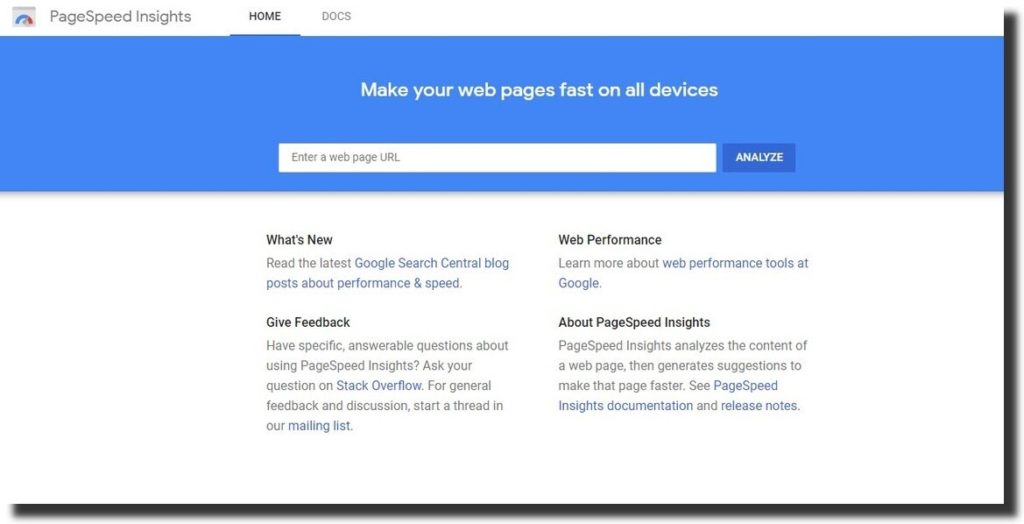 A slow website increases the bounce rate. That is, users leave a website if it takes too long to display. Various factors can result in a slow website.
Some of the most common ones are unused codes and heavy images. Pagespeed insights is a website grader google uses to test the speed of your website on desktop and mobile devices.
The google website grader offers you diagnostics to resolve the issues. The performance scores are split into three main categories, each with a unique color code.
Page speed improves your website SEO. If you need help with your website speed, you can ask for SEO services from marketing experts.
Website graders are not limited to large-scale websites only. Clarity grader analyzes a webpage URL and content before it delivers a score. Marketers, small to medium businesses, and corporate and government can use the tool.
As a blogger, for instance, you can paste your content to check the text performance. It highlights the number of words, readability score, grade level, passive voice, sentence length, and overall score.
Content is a top-ranking factor in on-page SEO. Having content that resonates with the readers and is easy to understand improves your website SEO.
Clarity grader helps optimize content to make it easy for the readers to read and skim through.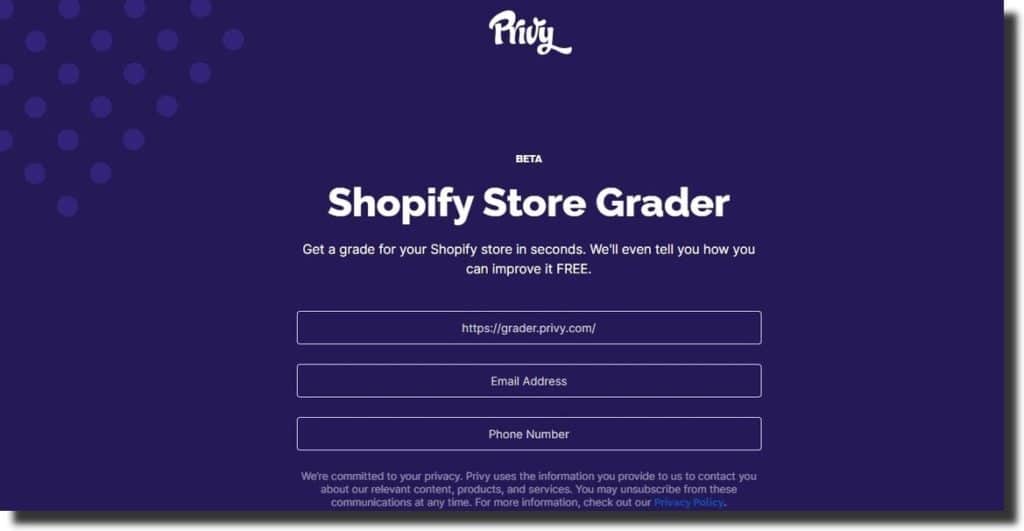 Shopify is an eCommerce platform that helps in setting up an online store. The website grader by Privy allows you to add the website URL, email address, and phone number.
Privy crawler analyzes your website within 10 to 15 seconds before displaying a grade for your site score. The tool checks the conversion, site speed, technical issues, SEO, and store usability.
Ways you can increase conversion in an eCommerce store is by optimizing the product and checkout pages. The Shopify grader evaluates the alt tags on the images, social media profiles, and free shipping offers, among other attributes.
The free SEO checker audits on-page, off-page, and technical SEO within 60 seconds. After a successful test, the tool generates a personalized report of your SEO score, possible issues, and signal strength.
In addition, it alerts you of the priority to fix an SEO issue. If your budget cannot accommodate an SEO tool, the SEO checker does not require a budget. It is free to use.
The SEO report contains detailed information about the site speed, SEO score, meta tag assessment, mobile-friendly test, site security, and URL optimization.
As part of the results, the SEO checker identifies the external links to your website and valuable information about the linking websites.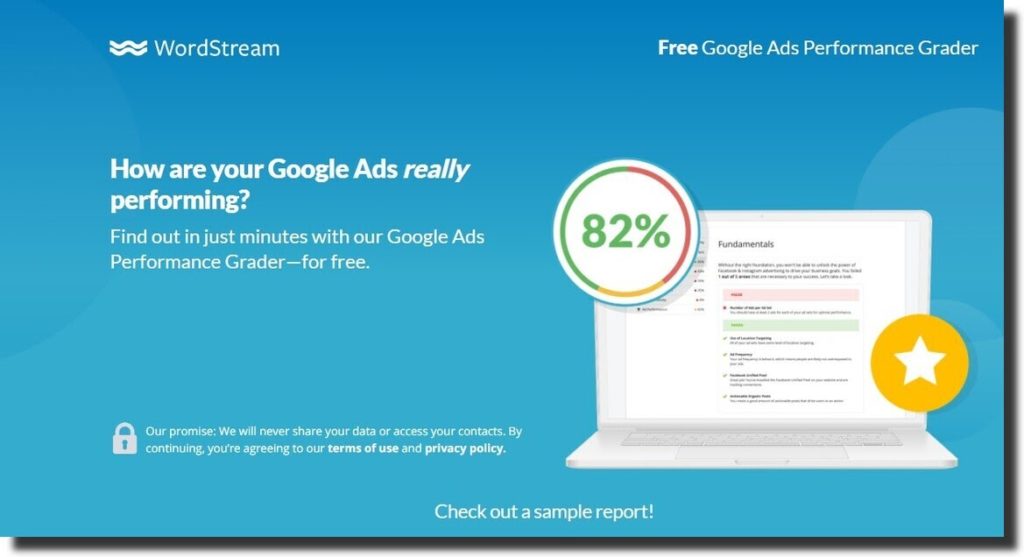 As a marketer, paid advertising helps to reach a more targeted audience. Google ads are among the most commonly used ads by social media marketers. But, how do you rate the effectiveness of your Google ad?
The WordStream Google ads performance grader generates a comprehensive review of your ads. It checks the – wasted spend, click-through rate, quality score, shopping ads, mobile advertising, and impression share.
As a marketer, you can share the results with your clients or team members through the supported social media profiles on WordStream.
Google ads are either Google display ads or search ads. The tool generates the performance score for both ad types. The metrics contributing to the SEO score are conversions, impressions, clicks, CPA, and spend.
Enleaf analyzes your website and identifies opportunities that can help to stay on top of your competition. It carries out a detailed review of your site and provides the performance of your website.
It also tracks the progress of your site in real-time. To get started, add your website URL, then click on the review button.
It generates a score of your site speed on desktop and mobile devices, domain authority, Moz rank, and bounce rate.
Enleaf website grader checks the keyword consistency, page size, sitemap, Robots, meta tags, broken links, security, and more. You can also monitor your website traffic through unique visits, page views, and income.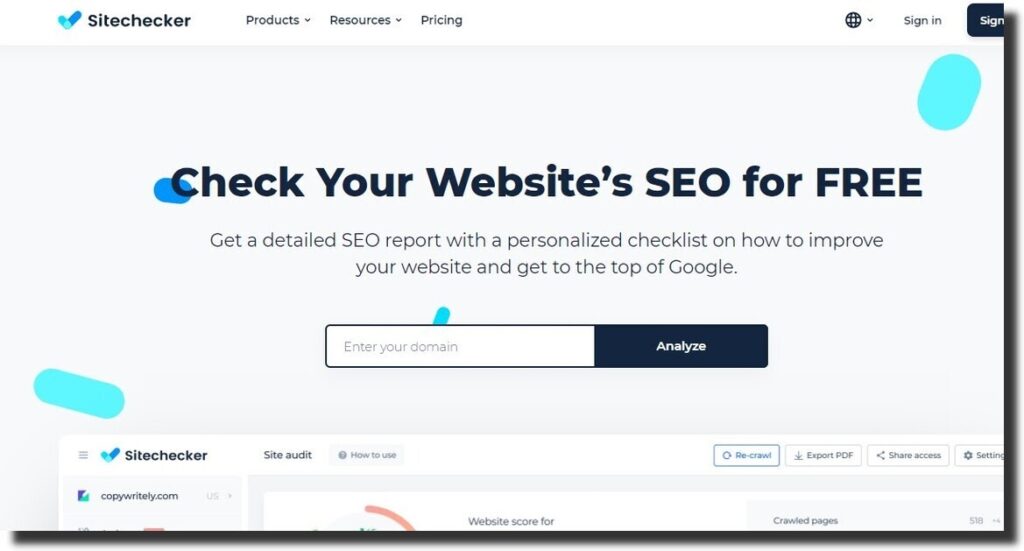 Sitechecker is an all-in-one tool for marketers who want to track the website health, backlinks, monitor keywords, and improve website SEO.
It is an easy-to-use tool for marketers, agencies, and business owners. SiteChecker saves time when optimizing websites for SEO. Running a technical and on-page SEO helps identify issues within a website.
In addition, the tool provides you with suggestions on how to improve your site performance. Keywords are essential to SEO as they improve website ranking on search engines.
The site checker tracks the ranking keywords on your page. It also monitors and controls backlinks on your webpage.
Benefits of An SEO Audit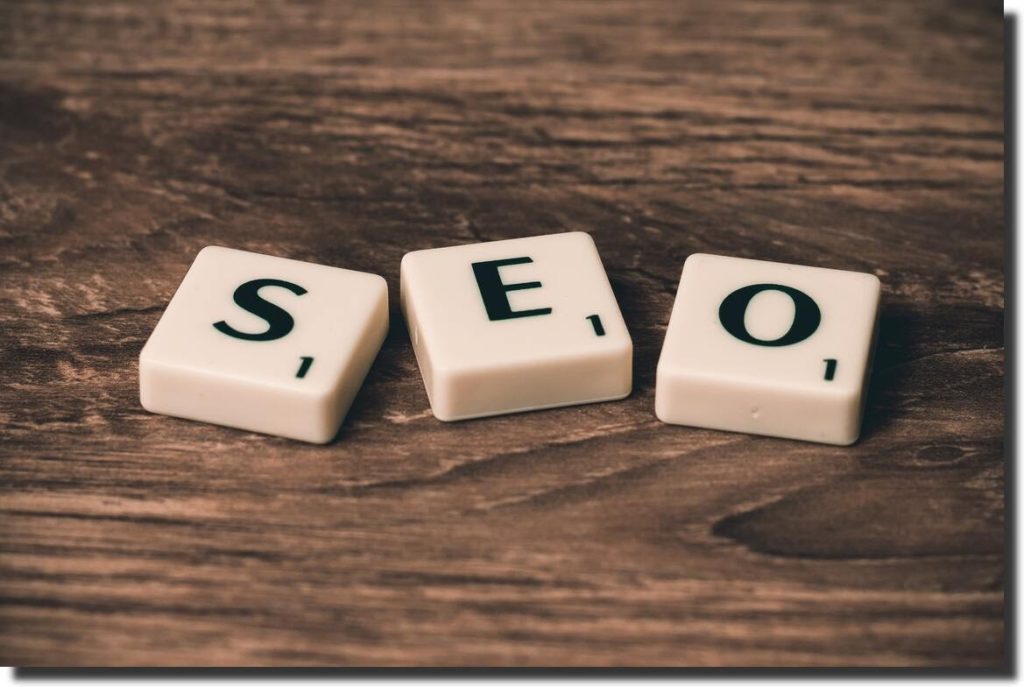 As a marketer, it is very important to audit your website. Failure to audit hurts your SEO which in turn affects your visibility and ranking on search engines.
If you're wondering why an audit is so important, consider looking at the benefits.
An SEO audit increases the user experience. It identifies issues like website speed and improves the accessibility of a website on mobile devices.
It enhances the performance of a website. Using a website grader identifies website issues and provides actionable solutions.
SEO audit helps in creating and publishing quality content that resonates with the users. The Clarity website grader, for instance, identifies issues or strengths in your content. Besides, it also offers tips on how to improve the readability of the content.
It helps to create a new strategy. For example, you can change the keywords that you're ranking for to other competitive keywords. Besides, you can choose to repurpose and update old blogs.
An SEO audit improves the organic search traffic of a website. The more Google displays your site to users, the more it attracts clicks. As a result, it increases the visibility and number of clicks to your web pages.
Using a website grader helps a marketer create quality google ads that drive conversion. It also identifies your wasted budget and provides tips on how to create quality ads.
An SEO audit helps you stand out against the competition. It identifies your competitor and offers strategies that help you scale your marketing efforts.
An audit helps to monitor backlinks and the websites that are linking back to your website. In addition, it highlights broken links that can hurt your website ranking on search engines.
An SEO audit increases conversion and reduces bounce rate.
Final Verdict
A top priority as a marketer should be to improve your SEO. SEO is essential for website users and search engines. Using a tool like a website grader makes it easy to identify issues that affect your SEO.
A website grader improves the user experience and increases your site ranking. It checks whether your site is mobile responsive, loads fast, analyses content, ads quality, keyword ranking, and backlinks.
An audit helps resolve issues and improves your visibility on search engines. If you need help auditing your website, you can consider asking for services from a digital marketing agency.