Designing worthwhile sites for web restaurants involves more than the use of pictures of food and vibrant colors. As such, if a restaurant website is designed effectively, it is aesthetically pleasing, and your customers can navigate it with ease. Also, it will have key details like the menu, your location, hours, etc.
Each segment of your web restaurant site should communicate your brand and the dining experience you offer. Again, an attractive website design that uses excellent imagery can help attract more customers to your business. Also, website usability is crucial. However, it's the use of mouth-watering visuals that help make your restaurant websites great.
Even then, the visual presentation shouldn't distract visitors from gaining key information. Also, your menu items, locations, and opening hours must be readily accessible. Besides, bright colors will work well for a juice bar and dark colors would be the best look for a steakhouse.
Let's briefly look at some of our best web restaurants that you can use for web design inspiration in 2021.
60 Best Restaurant Websites For Inspiration 2021
1. Temporis
Temporis uses its site to define what dining is about for the restaurant. This website uses dramatic yet unique photos against a simplistic background.
This hints at the unique, yet simple experience that restaurant-goers will enjoy at Temporis.
2. Sono Web Restaurant
Sono Australia uses a stylish single-page website design that includes relevant images with call-to-actions for each section. The web restaurant menu placed on the top of the site offers you easy access to different sections of the page.
They include accurate information about their trading hours, parking facilities, and address. It also includes an inquiry form should you have any questions. On the whole, the website is user-friendly and well-designed.
3. Nannina Web Restaurant
Nannina is devoted to Italian cuisine and highlights its fresh and ambitious menu with an elegant website. This web restaurant utilizes sidebar navigation to give you access to different sections. Also, this website uses a gray and white color scheme.
The Nannina homepage is pretty simple but shares the brand clearly. Also, most areas of this site use the sleek and modern slider. This helps highlight the restaurant's best features quickly and easily. What's more, the testimonials added to it help boost this brand's credibility. Plus, the reservation button looks enticing since it uses a subtle animation.
4. Covina Restaurant Web Design
Covina's website displays the restaurant's select drinks and food to provide a glimpse of the restaurant's distinguished and down-to-earth menu that this establishment serves its customers.
5. Protein Bar
Protein Bar and Kitchen uses a colorful and vibrant web restaurant. This web restaurant accepts online orders through its navigation bar. Its homepage uses some parallax effects and a carousel of images. This site uses visuals that follow a well-chosen color palette throughout site.
6. The Ivy Asia Web Restaurant
Ivy Asia's web restaurant uses an opening video that exhibits the restaurant's upscale dining experience and its fun social environment – with a mixture of drinks, food, and fun.
7. Easy Bistro and Bar
Easy Bistro homepage uses a slideshow of different images. At the bottom, they display the address, opening hours, and contact information. There's also a Reservation button at the top left with a menu button at the top right of the page.
Through the menu button, customers can access full-page navigation to check the restaurant's food menu, learn more about a chef, private dining options, and access links to the Bistro's social media accounts.
8. Penny Red's Web Restaurant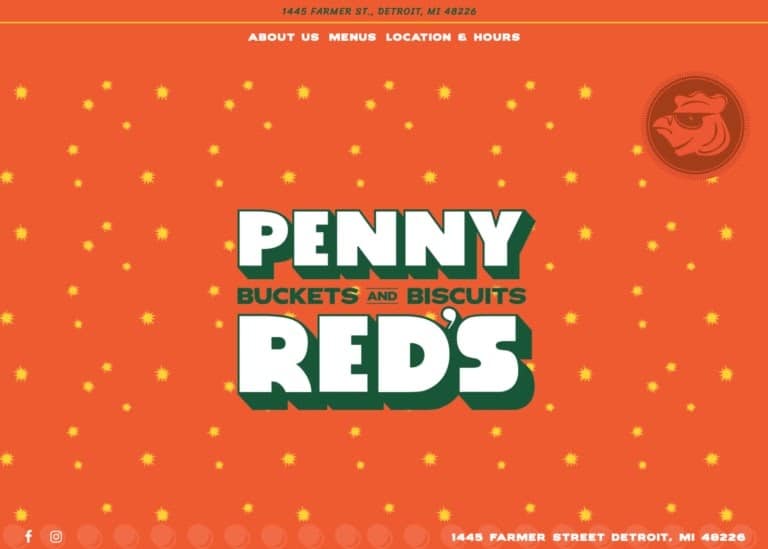 Penny Red's site uses simple, yet bold colors, retro-looking patterns with fonts to grab customers' attention. This restaurant website shows consumers what they'll get both in aesthetic and taste from this fried chicken joint.
9. Ilili Web Restaurant
Although llili uses a standard restaurant website design, its homepage utilizes inviting images to display both its interior and food. Also, its navigation gives you quick access to the restaurant menu, its location, catering options, etc. What's more, you can even reserve seats or order online from there.
10. Happy Camper
Happy Camper uses a website that helps show the restaurant's fun environment where you can eat good food and drinks while having a good time. Their homepage also displays a tagline that says, "Don't worry, eat happy."
11. Miss Lily's Web Restaurant
Miss Lily's restaurant will not only offer you food with genuine Caribbean spices or follow traditional recipes.
However, their restaurant website accentuates this Caribbean vibe by the use of quirky artwork and bright colors.
12. The Spaniard Web Restaurant
The Spaniard uses a secretive-looking and dark coloring artwork on their website. Also, this brand uses its website to give restaurant goers a virtual look at what you can expect from this restaurant.
13. Gooz Catering
The Gooz Catering uses each area of their website to share their services — from their food, their chefs, and the restaurant's interior while showing top-level professionalism.
Also, their navigation bar gives you easy access to different things. For example, you can access their contact info, menu, and even social media accounts. As such, this restaurant website design helps customers easily decide to hire them.
14. Maple & Ash
This trendy and modern steakhouse adopts a new approach to the traditional steakhouse. The Maple and Ash utilize their website to keep the tradition and class of their fancy steakhouse. They achieve this by use of its choice of decor and class.
They also have taken on a trendy approach to their website structure, logo, and fonts.
15. Pastaria Web Restaurant
Pastaria offers a friendly, yet casual Italian dining experience that they also bring to their website. Pastaria's homepage display a smiling chef.
Also offers calls-to-action for customers to order online, check out their menu, buy gift cards, confirm their hours, or look for employment. All areas of this brand's website offer what the target market would be seeking with one click.
16. Karmel Czekolada Restaurant Web Design
Karmel Czekolada share's some of its sweet treats by displaying cookies, cakes, and ice cream. A good restaurant shares its guiding principles and its cuisine specialties. Karmel Czekolada website beautifully portrays the love that they incorporate in their creations.
With a short scroll below the pink confection that's their hero image, the brand details their focus on their specialty; the petit gateau cookies. Here they describe the cookies as an inviting combo of fruit and chocolate.
This brand's one-page web design makes it easy for you to understand their delightful desserts from a simple scroll.
17. Kostali by NAHA
Kostali by NAHA is a casual, yet vibrant and elegant restaurant that offers a dining experience inspired by the Mediterranean.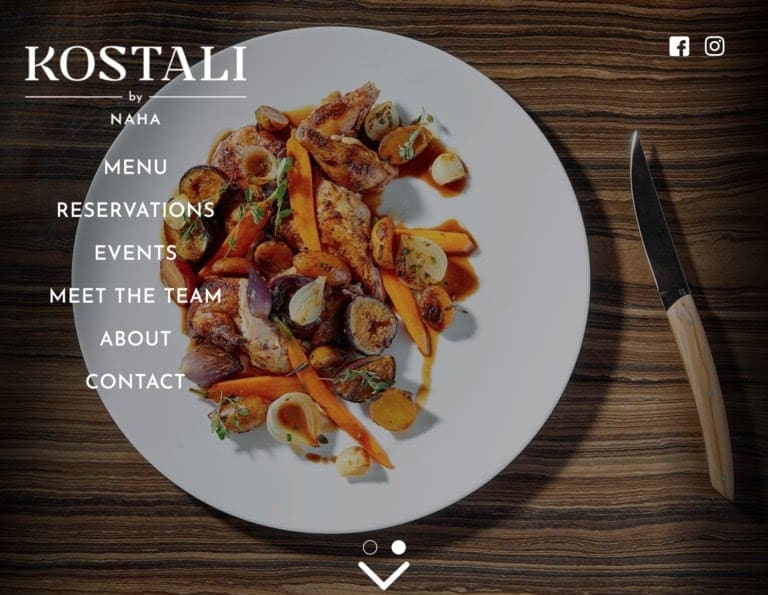 As with their website, this restaurant features the famous blue Mediterranean color throughout their decor and interior. Offering the coastal Mediterranean ambiance, the website pays tribute to the restaurant's brand.
18. 4 Rivers Smokehouse
4 Rivers homepage uses video to catch their viewer's attention. Their website makes use of several full-width images that help break the page into sections with fitting call-to-action buttons.
19. Ciccio Mio Web Restaurant
Ciccio Mio uses a straightforward approach to display what it represents: "A nice Italian restaurant." This restaurant uses a simplistic and upscale website to exhibit this vibe by the use of numerous vintage-looking photographs.
This also helps give consumers a look at what they can expect when dining at this affordable, yet fancy restaurant.
20. Restaurant Bonaparte
This restaurant uses its website to show what the establishment is about. First, when you visit their website the historic Restaurant Bonaparte slides horizontally to take its place.
From this action, more text is revealed with a huge block of red moving from the right to the left. Next, you'll see images of a fish and some red meat followed by a sprig of herbs on the left. Both these actions grab customers' attention while economizing on-screen space. This is among the few interactions you'll come across that help bring some movement onto the whole page.
This layout has a lot of elements that work well visually, plus this is balanced by great writing. Also, the website has a whole section that's dedicated to sharing the restaurant's story with an insightful profile of their head chef. That makes this website design have a unique approach to showcasing your brand to your target market.
21. Resident Web Design
The Resident's website design is minimalistic and brings out a return to the arts of hospitality — that's magical and ethereal. The Resident's website includes a page that's dedicated to the restaurant's group of chefs. Here, restaurant-goers can read more about them. Also, visitors can easily access the establishment's "reservations" page that includes its upcoming dinners.
22. Herr Nilsson Web Restaurant
Herr Nilsson restaurant stands out since they offer consumers plenty of vegetarian options together with their meat-based dishes. Like with any restaurant that seeks to bring in the foodie types, Herr Nilsson uses photos to display their featured dishes and fresh ingredients.
As such, they use a one-page restaurant website design that contains just the right amount of details. These include their chefs' background information and even give you a quick look at the individuals behind their gastronomic masterpieces.
23. El Burro Web Restaurant
The El Burro establishment in Oslo, Norway is a bona fide Mexican restaurant that offers food that will give you a true experience of Mexico. Also, they've used vibrant colors both on their website and in the restaurant to share the light-hearted and fun atmosphere that El Burro offers restaurant-goers.
24. Bar Crenn
The Bar Crenn establishment employs the influence of upscale and old-style dining in France. This is further accentuated on their website theme with the use of its dark, elegant, mysterious, structured, and sexy photography.
25. Peony Lounge
The Peony Lounge has a modern-looking space and serves both Vietnamese and Thai food to restaurant-goers. This establishment gets its name from the peony flower which is the Japanese symbol linked to longevity, feminine beauty, and prosperity.
Also, the peony is used as their background image while showcasing the restaurant's appreciation for the Asian cultures.
26. Moxhe Restaurant Web Restaurant
Moxhe Restaurant's website has been used to draw in consumers. This is achieved by displaying a clean atmosphere, even showcasing their incredibly fresh food, and also sharing the establishment's story.
This website design shares the restaurant's sustainability plans followed by their menu summaries, wine list, and the owners' stories.
27. Reign Web Restaurant
Reign uses its website to showcase its royal influence through its choice of color; gold and green that are used on each page. This establishment offers consumers high quality and upscale dining experience to make them feel like royalty.
28. Au Cheval
Au Cheval's restaurant website utilized lots of visuals and uses stunning full-screen images. When you scroll through the images you'll be curious enough to want to give their dishes a try.
Au Cheval's website design gives restaurant-goers quick access to important information through a menu icon at the top-right of the page. As you consider building a restaurant website that focuses only on images, then Au Cheval is a good example for inspiration.
29. Paradise Park
Paradise Park is a casual pizza restaurant situated in Chicago. This restaurant uses its website design to give restaurant goers an experience of paradise through its music, exquisite patio, and decor.
Paradise Park's website also displays all its defining qualities in a fun and simple manner.
30. Proxi Web Restaurant
The Proxi restaurant offers diverse cuisine and you'll find different inspirations from across the globe. From fine dining cuisine to street food, Proxi transforms typical dishes by adding a fun twist to them.
As such, their website helps explain their story through the use of different storytelling methods and imageries.
31. Cafe Rosa
The Cafe Rosa website uses elements like foam-topped espressos to their fresh-baked bread to make the site inviting. This website helps project a sense of warmth and hominess making this an effective strategy for any business to draw in more consumers.
Its one-page web design contains lots of action with animated transitions which help separate each section. And to add some nice balance, this website uses photos of rustic food complimented with writing which is tempting to your taste buds.
32. Michi Ramen Restaurant Web Design
The Michi Ramen restaurant gives consumers a real ramen experience. Their restaurant website design centers on the food and uses a basic wooden background which helps their food photographs stand out more.
33. Quince
Quince's restaurant website design is colorful yet simple. Quince uses its website to display its modern take on Californian cuisine.
It also has nightly menu changes thus offering restaurant-goers new exciting dishes made using farm-fresh ingredients.
34. El Pez
El Pez provides restaurant goers with a fusion of Mexican and Japanese food. The El Pez restaurant offers cuisines that harmonize two cultures which are also reflected in their restaurant web design thus giving a similar sense of unity.
Again, its website design is created as a mashup that works perfectly from a visual sense.
35. Bresca Web Restaurant
The Bresca restaurant prepares every meal using fresh ingredients. Also, this establishment displays this natural and earthy focus by featuring green-filled walls in the establishment.
As such, their website complements this by use of both their appreciation for nature and fresh food.
36. Porto
Porto restaurant is inspired by the Spanish/Portuguese and strives to offer restaurant goers a unique dining experience in Chicago.
To achieve this, this website also showcases its authenticity through the use of photos of both Spanish and Portuguese cuisine. These are also complemented by local videos and photographs from those countries.
37. Geoli Restaurant
The Geoli's restaurant homepage features a mouth-watering dish of teriyaki chicken donburi. Also, the website uses an arrow to invite visitors to further explore their menu that includes Korean street food.
Geoli's restaurant website design also does not hesitate to use big, bold, bright colors and text. Also, most of the negative space helps ensure that its layout doesn't become too cramped. Additionally, it provides room for bold text so it grabs visitors' attention.
Again, this web design focuses on consistency. This is evident from the colors to the photo's lighting as well as the typography employed in the body and even the headers. On the whole, everything works perfectly together to provide a hassle-free user experience.
38. Maialino Web Restaurant
This restaurant injects a twist into the Italian culture. The Maialino restaurant is unique. That's since it fuses the customs of Rome with those of New York to give restaurant-goers unique cuisines.
The restaurant uses its website to display the traditional, yet contemporary ambiance that the establishment offers.
39. The Dunlavy
The Dunlavy establishment offers consumers the crucial intimate dining experience. This restaurant allows consumers to enjoy an upscale and quiet meal in a classy and bright environment.
The Dunlavy uses their homepage to offer visitors imagery of their food and the venue itself, thus they show restaurant-goers what they'll get both in taste as well as experience.
40. 211 Cafe
The 211 cafe uses each sector of its restaurant web design to showcase their dedication to what they do. As you scroll down their homepage, you'll learn more about the establishment's founder, Mauricio.
Here you'll also read about his love for Guatemalan coffee, as well as the brewing methods used in the cafe to ensure you get that perfect cup. This website also shares the story of this coffee shop that's on a mission to bring people together.
41. Surcheros Web Restaurant
The Surcheros is a chain of Mexican restaurants located throughout Georgia. It is a casual establishment for friends and family to get together to enjoy tasty Mexican meals and shareables. Also, their website has a homepage that uses videos that shows friends sharing Surcheros' food.
42. Fox in the Snow
Fox, a bakery & coffee show employs a rustic feel to achieve its ambiance in all its locations.
This restaurant website also makes use of the rustic ambiance to provide consumers a glimpse into the kind of bakery Fox is.
43. La Barraca Restaurant Web Design
La Barraca is a tapas restaurant in the Netherlands that uses stunning visuals on its restaurant website. Note that photos used in any website need to be of high quality, this is particularly true when building a restaurant website.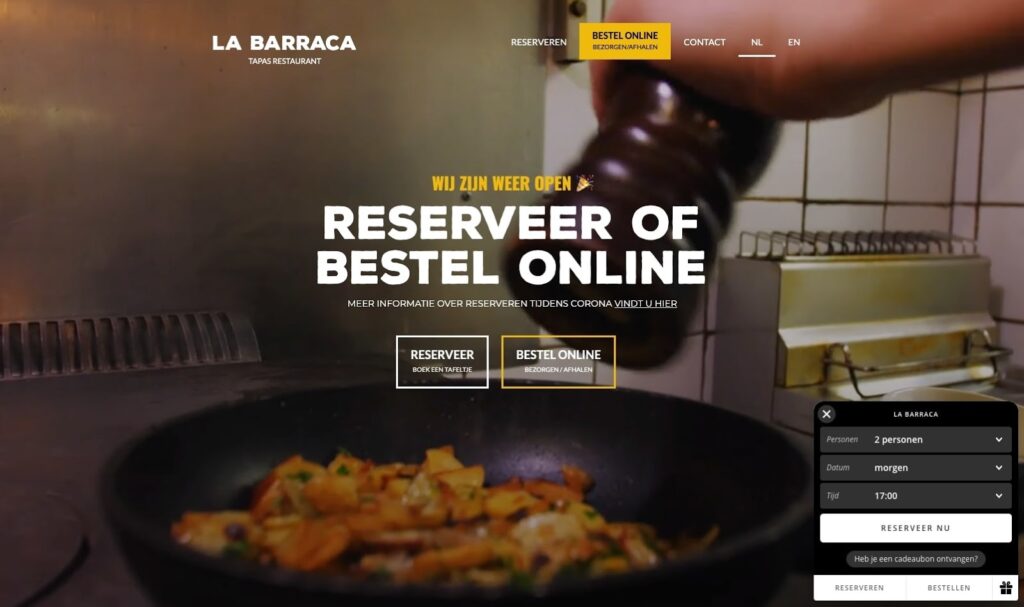 As such, La Barraca utilizes images to showcase their mouth-watering tapas and sociable atmosphere. They've used beautiful photos to give you a good idea of what you can expect to experience should you decide to dine with them.
44. Lupa
Lupa's website helps exhibit the restaurant's aura via its classy and humble color palette. It also shares transparency into Lupa restaurant's sustainability practices and its team members.
45. Bevri Web Restaurant
While San Francisco has many spots with good food, Bevri restaurant prides itself as the only establishment in the area that serves Georgian food. This restaurant's web design includes a call-to-action button beckoning visitors to reserve a table — which is a great idea for any restaurant website.
Also, the same button can be used all through the site to affect other call-to-actions. For instance, buying gift cards or ordering online. Again, consistency ensures site visitors have an easier time navigating the website and even taking action.
Again scroll-triggered animations help float texts and layer elements in place. The website menu then splits further into lunch and dinner plus they're easy and clear to navigate. Additionally, a separate wine & drinks menu ensures that other menus don't get busy and overwhelming.
For people who aren't familiar with Georgian cuisine and wine, the Bevri website is a huge introduction and invites you to indulge.
46. Da Francesco Web Restaurant
The Da Francesco establishment uses its homepage to invite visitors using a revolving carousel of pictures of friendly faces and food. The establishment's connection with visitors helps instill confidence in a great customer experience.
This website includes a neat row of grey buttons that share key information such as their phone number, location, menu, and how you can make a reservation. This helps make it easy for visitors to find what they're searching for with ease.
47. Block 16
When you visit the Block 16 website, the homepage shares a video of hands taking hold of delicious-looking comfort food under the tagline, "Farm to table street food" at the front and center.
When you look at Block 16's homepage for a few seconds, you can tell the exact type of food as well as the experience the establishment has. Besides, Block 16 offers you yummy comfort food that you can share with your family and friends.
48. Dédé licieux
This restaurant located in Quebec, Canada is dedicated to Dédé Fortin who was a charismatic frontman of a 90s band called Les Colocs. The Dédé licieux restaurant was established in his memory. Also, Google helps translate the website's French to English.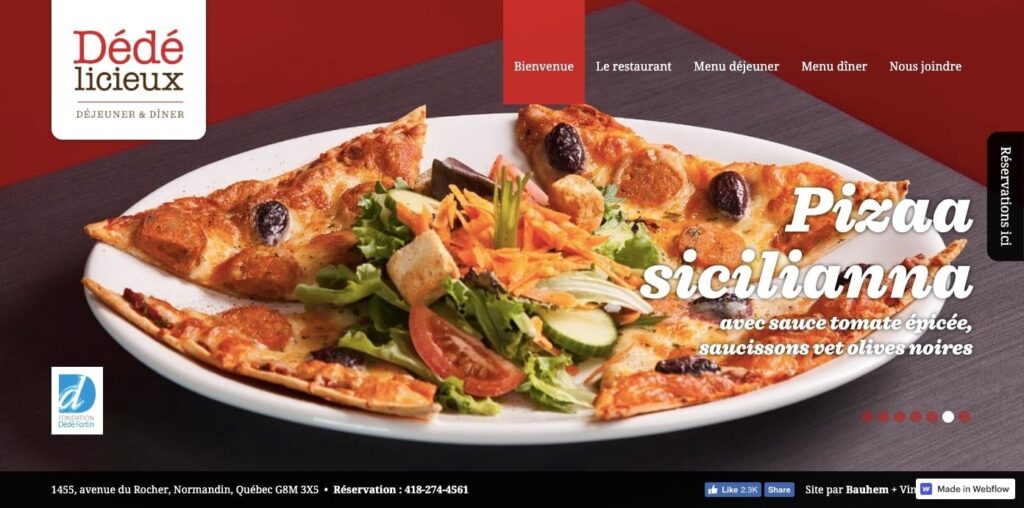 Even then, there aren't as many restaurants that are dedicated to musicians. However, Dédé licieux seems to perfect this theme easily without it overpowering everything that they offer.
At the top part of the landing page, the site uses photos of Dédé with musical note icons that you can click on to enjoy some music by Les Colocs. Their unusually interactive menu alongside the novelty works brilliantly to celebrate this Quebec musician.
49. Quay Web Restaurant
Quay restaurant is among the most celebrated establishments in Australia. Its organic space reflects Peter Gilmore's cuisines that have been inspired by nature. This website displays a full-width, high-quality image that's attractive and includes its logo.
Additionally, the Quay website utilizes a sticky header that bears the logo, an off-canvas menu, and a reservation button. Its next sections use a similar split-screen layout which is a mix of a short description and great imagery. Additionally, other useful elements are displayed in grids an approach that makes them appear more interesting.
50. Mamuka Web Restaurant
Mamuka restaurant's homepage looks attractive and uses hot pink as its main color with sleek and nice sliders on its website. On the side of the page, this website utilizes a sticky menu to give you quick access to different segments and even the restaurant's social media pages.
Also, it incorporates video content for introducing their business more clearly. What's more, this website includes a neat menu that lets customers easily navigate the website.
51. The American Restaurant
The American restaurant website is in itself an art piece. This restaurant website design shows its grand architecture on its homepage through the use of a slideshow packed with artistic photography of this venue.
Also, it shows restaurant-goers the dining experience and ambiance they'll enjoy at The American restaurant.
52. Voellerei Web Restaurant
Voellerei establishment uses an awe-inspiring web restaurant design that portrays the business in a great way. The Voellerei website design utilizes a beautiful off-canvas menu complimented by a smooth slider which helps expose the next page on the website – the restaurant and bar, homepage, and contacts.
Each of its pages incorporates video content to introduce the Voellerei brand beautifully. What's more, this web design adds subtle animations to help make the website elements more stunning.
53. Hasia Web Restaurant
Nearly all photos of the Hasia contain sparkling wine glasses of this sushi bar and Vietnamese restaurant situated in Denmark. This restaurant certainly wants you to enjoy some wine as you eat.
Also, their high-quality photos display the establishment's fancy interior and great food. The Hasia is a place worth noting if you want to impress someone. Its web content is easy to follow and well-organized — with centered blocks that help break up its layout while creating a nice flow.
54. Koox V
Koox restaurant website uses the most creative web restaurant designs which will readily motivate other restaurateurs. On the whole, its homepage design is very impressive and uses innovative, yet subtle and cool animations.
Since the site uses green as its primary color which makes the website appear lovely, fresh, and invigorating. To help give consumers user-friendly navigation, this site also utilizes a sticky logo and a sticky header, social icons, and an off-canvas menu.
55. Inavoue
Inavoue is located in Paris. This secret and romantic place offers restaurant-goers seasonal cuisines and products. Inavoue uses a creative, yet unique web design on its homepage which includes useful features necessary for restaurant website designs.
Also, it utilizes a simple video background accompanied by its reservation button, logo, and off-canvas menu. What's more, the design looks grandeur since it displays animation when you start scrolling.
In addition, the restaurant's social media icons included on the site's off-canvas menu do a great job in marketing this brand across all the social networks.
Top 5 Free WordPress Restaurant Themes
While the WordPress premium themes are fully customizable, they are also professionally designed. However, if you're on a tight budget, then you can still get a suitable restaurant web design template that will work well for your website. Below are some examples of free website templates from WordPress for restaurants.
This is a free restaurant template from WordPress which uses an elegant, yet sophisticated web design. Restaurant Zone is easily customizable and can be optimized for SEO. You could use it for any type whether it's a food business or a restaurant.
Ours Restaurant free restaurant template uses a simple and elegant design. This WordPress theme can be customized easily and you won't have to use any coding language. It works well for all types of food businesses.
The Restaurant Recipe free WordPress theme was designed for the hospitality and restaurant industry. This WordPress template includes custom sidebar areas, WP Live customizer, layout control, Page Builder, and more.
This free restaurant theme makes a great starting point for your first restaurant site. Besides this free theme is a sales-oriented design. As such, it utilizes the GloriaFood plugin which enables restaurants to accept table reservations and online orders free of charge.
Di Restaurant free WordPress restaurant theme is highly responsive and customizable. Also, it supports WooCommerce which lets you sell services and products.
Is a Restaurant Website Right For You?
As you search for the best restaurant website designs listed, you may be tempted to think that it's hard to stand out among thousands of restaurant websites on the web. However, you don't have to be that different from each of them.
Here, what counts the most is that your website can attract consumers, through its beautiful visuals. Plus it should provide visitors excellent user experience. On the whole, these two qualities will help set your website quality apart from the rest.