Whether you're a marketer for a big or a small company, designing visuals for social media posts, product launches, posters or brochures always makes you go blank.
Where should you get started?
Which colour scheme should you use to make it look more appealing?
Which font compliments the poster more?
These challenging questions frustrate you more than anything. This is where Canva presents the perfect solution to all your design problems, to make designing easier for you.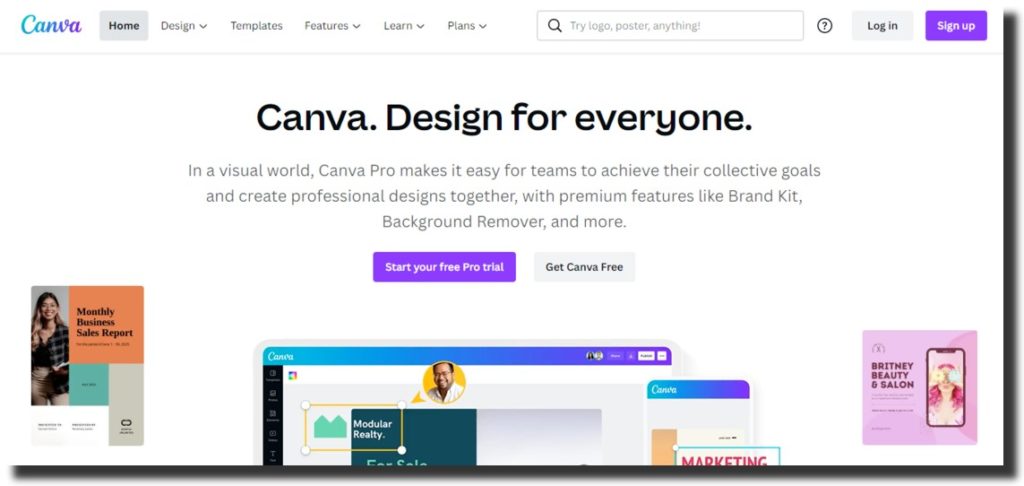 Chances are; you already know what Canva is. But, if you don't,
Canva is an easy-to-use free graphic design tool that allows you to create stunning visuals for your social media posts, presentations and more with thousands of templates that are available for free!
Canva is a powerful software that takes visual learning to a whole new level. Unlike other graphic design software, Canva is accessible to every individual regardless of their profession. Canva is used by 30 million people per month.
Additionally, its user-friendly interface does not require an individual to be tech-savvy. Plus, the application is available on desktops as well as cell phones so you can easily use it wherever you want and make your designs on the go.
Types of Canva templates
There is a reason why Canva has quickly reached the peak of popularity in only a few years.
Canva offers a stream of options for individuals to share their stories through highly stunning visuals and aesthetically pleasing designs so that they stay in the mind of the audience for a long time.
Here are some of the types of templates offered by Canva.
Brochures
Logos
A4 documents and letterheads
Posters
Social media posts including Instagram, Twitter, and Facebook posts
Flyers
Cards and invitations
Presentations
Menus
Best Canva templates
| | |
| --- | --- |
| Templates | Pricing |
| Colorful 3D digital marketing business Instagram post | Pro |
| Twitter quote for Instagram template | Pro |
| Food menu template for Instagram | Free |
| Client reviews with a brown and minimalist Facebook post | Pro |
| Cream modern promotional program for Facebook | Pro |
| Koepie | Pro |
| Ivory brown minimalist fashion e-newsletters | Free |
| Business SWOT analysis infographic | Free |
| We're hiring template for stories | Pro |
| Linkedin video ad with violent gradient technology | Free |
| Green and blue thin geometric lines for your finance report | Free |
| Photography portfolio presentation with green-black minimal UI photography | Pro |
| Step by step Instagram template | Pro |
The best thing about Canva is: that it's available for free!
Yes, there are some Canva templates for sale. But, if you have a business that is still in its early stages then you should opt for the free templates since every penny counts for you.
However, with so many templates, it can get somewhat confusing to choose one that fits your situation perfectly. This is why we have made a list of the best Canva templates for business.
Let's say, you have tried everything in the book to boost your digital marketing business. You have created engaging campaigns, contacted the right people and followed all the rules to a successful digital marketing agency. However, your business lacks in receiving responses from clients.
This is when you know it's time to amp up your Instagram marketing strategy and add a touch of colourful 3D to it.
As one of the Canva templates for sale, Colorful 3D digital marketing posts enable you to capture the attention of your clients with its highly stunning.
You have probably observed many businesses and bloggers post-one-liners that seem like Twitter posts on their socials rather than images with paragraphs. This is an excellent marketing strategy.
This is because users have short attention spans and a creative one-liner is praised more than posts with long captions.
For this purpose, you can use Twitter quotes for the Instagram template. These quotes can be motivational in nature, a punchline or maybe something relatable to your customers that attracts them to your business.
Do you want to share a new product on your menu with your followers?
This is one of Canva templates free and provides clean, minimalistic and to the point visuals that you can use to divert the attention of your customers towards your mouth-watering dishes. Plus, this way you can boost engagement and reach out to potential customers.
Do you want to share the client reviews and boost your business?
Whether you're a freelancer or a startup, you need to build and share positive client reviews to increase your credibility among the audience. And the best way to do it is to use Canva's brown minimalist template that allows you multiple functionalities to help you build a loyal clientele.
Are you thinking of launching a new campaign? Or maybe you want to boost your engagement with an appealing ad?
With this Canva template, you can announce all kinds of promotions to your target audience. Plus, the photos of human beings on this template can add a personalized and humane touch to the campaign.
There are times when words can't convey a message that an animated video can. If you want to impact your audience on a uniquely personal level then craft creative videos and share them with your followers.
With subtle and minimalist tones, Melancholia is another one of Canva templates for sale that gives your stories a contemporary yet melancholic look and conveys the message to your audience in a memorable way.
Do you want to present a new product idea to the company?
Making presentations is a part of almost every individual's job. You might want to pitch a new idea and maybe present the annual report to the directors of the company. Whatever it is, it's imperative for you to have captivating slides to make sure that you capture the attention of the viewers.
With Koepie's sleek and modern design, you can seize the attention of your clients. Koepie is one of the best Canva templates for business presentations, business marketing, proposal ideas and so on that allows you to showcase your creativity with its 32 slides.
Do you want to announce a big sale on the bestselling clothes to your customers?
Or maybe alert them about the launch of a new fashion line?
If you're looking for Canva templates ideas to captivate the attention of fashion lovers, then use this one.
Ivory brown is one of the Canva templates free available to the users to ensure that your email newsletters are well-received among the target audience rather than becoming a part of junk mail.
Conducting a SWOT analysis is a crucial part of every business. Another important part of the job is to make sure that the team is on the same page as you.
Rather than sending a document listing the strengths, weaknesses, opportunities and threats, why not opt for captivating infographics that force them to pay attention to the SWOT analysis.
It's better to create a clean infographic using this template to save everyone some time than conducting an hour-long presentation on it and handing out the documents to every teammate, Plus, this is another one of Canva templates for business that can be used for free.
Long gone is the time when businesses needed to book a slot in newspapers to hire new employees. Now, you can use this fairly simple and easy-to-use template to let your followers know that they can also become a part of your team.
Who knows maybe there's a potential employee amongst your followers?
Linkedin is the perfect place to grow your business and connect with more people. You can even find potential clients there. But, the problem is; how to stand out among a crowd of talented individuals?
Do something different.
With this template, you can craft a video, and boost your engagement and connections with more clients. The video can be an introduction to your business while highlighting all of its strengths as well.
The good news is; that this is one of the Canva templates free.
Now that you have gathered the data for your weekly (or quarterly/annual) reporting, it's time to begin the tedious task of finding the appropriate template to present the data in front of the company.
Enter, green and blue geometric lines template to ease your burden. With its sleep, minimalist and modern design, you can make your financial reports more interesting.
The bundle consists of 15 slides all equipped with revenue, budgets, balance, and income. All you need to do is tweak it a little and modify the template according to your preference.
Plus, you can avail this template for free.
A photography portfolio is a must-have for a photographer. But, why not make it more creative?
With its six elegantly designed slides, this template presents itself as one of the best Canva templates ideas for business for people in the photography niche.
Whether you're a big brand or someone who has just started perusing their passion for photography, use this template to artistically showcase your photos to prospective clients.
One strategy that always attracts the eyes of social media users is when a blogger or business posts a list of tips, tricks or step by step tutorials.
Whether you're a fashion blogger or a budding online fashion store, if you want to engage your audience and reach out to more people, post a step by step fashion tutorial on your Instagram account using this template.
Using the 12 templates, you can post a carousel of outfit ideas and share advice with your followers to skyrocket your engagement.
How to use Canva templates
If you have never used Canvas before, this article might have been a little confusing for you. But, don't worry. In this section, I will tell you step-by-step how to use Canva templates ideas for your business.
You can either search for a specific template in the search bar or use the template slider to locate the template of your preference.
Once you have found the template that you like all you have to do is click on it to open the design screen.
The next step is; customization.
On the left side of the screen, you can see several tools that you can use to modify the templates. For instance, you'll find an icon labelled with Templates. You can click on it to choose from a selection of templates.
The same toolbar allows you to add text, change fonts, animate the photo, add background photo or even add different elements and pictures to it.
Once you are happy with the end product, you can save it in whichever format you want.
Plus, you can share the link of the Canva project to invite collaborators to make any changes or amendments to it.
Key Takeaways
Creating visually appealing designs is one of the most important parts of a marketer's job. Whether you're a blogger, freelancer or affiliated with an organization, it's crucial for you to know the basics of Canva templates if you want to market your products and services well in society.
Moreover, creating such captivating designs can help you boost your engagement and attract potential customers. This article enlists several Canva templates that are trendy in 2022 so you don't have to scroll through thousands of templates on Canva. Plus, this article also tells you how to use Canva templates appropriately.