The Internet has made it easy for businesses to engage with one another and communicate their product information.
With online B2B marketplaces, you can easily collaborate, communicate and trade with businesses online. Online B2B marketplaces make it easy for buyers to browse through several products while simultaneously enabling sellers to boost their operations in a larger market.
This article will discuss B2B best websites 2022 and their benefits to your business.
Let's begin!
What Is a B2B Website?
Business to business or B2B is an online business model that allows businesses to make transactions, trade, and strike contracts with one another. For example, a business might supply raw materials or machinery goods for the production of another business.
Benefits of B2B Best Websites
There are several benefits of B2B e-commerce websites, such as
Global networking
B2B marketplace allows buyers to engage with sellers, merchants, and wholesalers worldwide.
Cost-effective
Several businesses find it hard to create, maintain and market a website. This is where the b2b marketplace comes in. You only have to register as a seller; all the other features, such as newsletters, social media, and SEO, will be conducted by the e-commerce platform.
Gain incel on the market and competition
B2B website creators to several sellers in the same category. This presence of perfect opportunity for you to conduct competitive intelligence research and analyze the competition to improve your brand.
Find what you're looking for
Most b2b websites are well-equipped with a plethora of advanced features that allow buyers to search, browse and find the exact product.
You can even be specific in your searches. For instance, a specific color, material, or size. This way, you can filter out other products and land on the best options for you.
The best price
B2B sites allow you to browse among several sellers offering the same products. This allows you to compare the prices, packaging, delivery times, and reviews to find the one that fits your criteria the best.
How to Create a B2B Best Website?
Here are the steps you need to take to create a brilliant B2B website:
Identify your goals, and conduct thorough research on buyer persona.
Add a clear and concise value to the brand to build trust between you and the b2b buyer.
Choose the best website builder to create your B2b store. We have mentioned plenty of options for you to choose from.
Optimize your website using SEO metrics, including meta titles, meta descriptions, internal linking, alt tags, and keyword phrases.
Don't forget to use third-party integrations to make the user journey a seamless experience.
Soft launch your website and look out for errors or improvements.
Regularly update your website to ensure the best user experience.
What Makes a Good B2B Website?
You must keep various factors in mind while creating a b2b store for your business, e.g., design, optimization, content layout, etc. Here are the few ways you can amp up your b2b website:
Get to the point. Don't write stories or use jargon. Be specific, precise, and clear when writing the content of your products.
Make sure you have quality content to back your products, such as blogs, customer reviews, case studies, etc.
Start a blog of your b2b website to boost the SEO optimization of your business.
Make sure your website is visually-appealing and user-friendly.
Take advantage of analytics tools to track website traffic.
Many b2b buyers prefer a highly responsive website, so make sure your website is easy to navigate on mobile phones.
Create landing pages and forms to engage the buyers.
Top 38 B2B Best Websites In 2022
Established in 2017, Travelocity is an all-in-one platform offering business travel booking and management services. With detailed guides and blogs, the online marketplace is funded by several investors such as Spark Capital and investors from Twitter, Trello, and Slack.
Envato is a global marketplace especially targeted at people with a knack for web design. It provides access to over 7 million creative assets, such as WordPress theme templates, stock photos, etc., on a low-cost monthly subscription.
Based in China, AliExpress is one of the most popular online marketplaces and best b2b ecommerce websites, constituting several small businesses in China, Singapore, and other locations. The website is owned by Alibaba Group, connecting exporters with companies in more than 190 countries.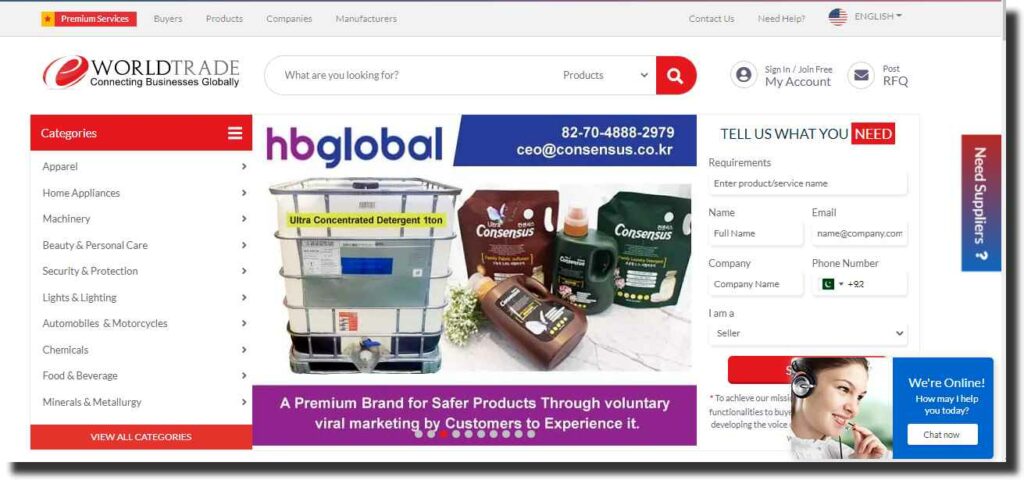 Although WorldTrade is a fairly new business in the B2B industry, it has quickly climbed the ladder to success because of its various features, including export compliance, product sourcing, custom brokers, warehousing, and distribution services.
With more than 300 million active user accounts and 1.9+ million selling partners globally,  Amazon is one of the most renowned global online marketplaces. Owned by Jezz Bezos, the company began as an online bookstore in 1994. Now, it houses several retail stores, including apparel, home appliances, and consumer electronics video games. Furthermore, Amazon's fintech services attract customers and increase sales, pitting them against banks offering similar options.
Established in 2000, Direct Industry is a part of the Virtual Expo Group. Although the subscription fees of the Direct Industry are heavy on the pockets, it's one of the largest internet resellers of electronics and part of the best b2b ecommerce websites. It is favored by several leading companies of machinery and industrial goods.
Founded in 1982, Europages is perhaps the oldest B2B site on this list that is still leading the industry with more than 2M listed sellers and 6M searches daily. Due to its immense popularity, Europages is available in 26 languages.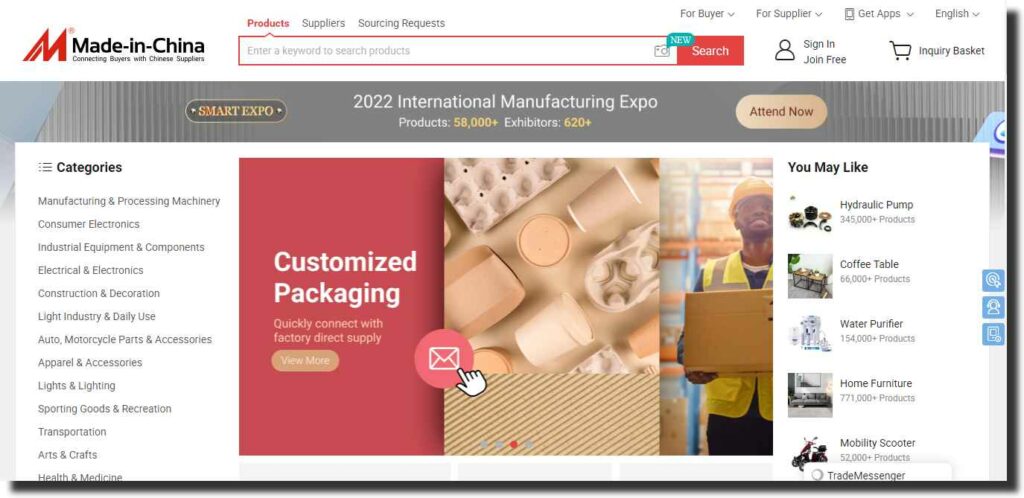 As the name suggests, this leading B2B e-commerce company comprises manufacturers and suppliers based in China. Made-in-China is swiftly climbing the top in the B2B market because of its impeccable customer service and brand experience.
Like Amazon, Fastenal also began as a hardware business in a small town in America. It has now become a leading supplier of construction, OEM, MRO, industrial and safety products. With more than 2500 branches in different geographical locations, the company has become the top choice for top-notch quality products for several industrial tycoons of the USA.
McMaster-Carr is an American company sourcing over 700,000 products, including hardware, raw materials, industrial materials and tools, and maintenance equipment. The B2B website is popular among customers for its advanced features that make the shopping experience user-friendly.
Do you know that eBay generated more than $10.42 billion in profit in 2021?
Starting as a C2C platform, eBay is one of b2b best websites and platforms for global sellers and companies and has over 1.5 million listings. With a user-friendly interface and eBay's quick deliveries, it has become a major choice of online platform for businesses across the world.
SeeBiz is another promising B2B wholesale and business platform. Sourcing more than 600,000 products across several categories of food, beauty, apparel, etc., the website allows you to interact directly with businesses before making a purchase.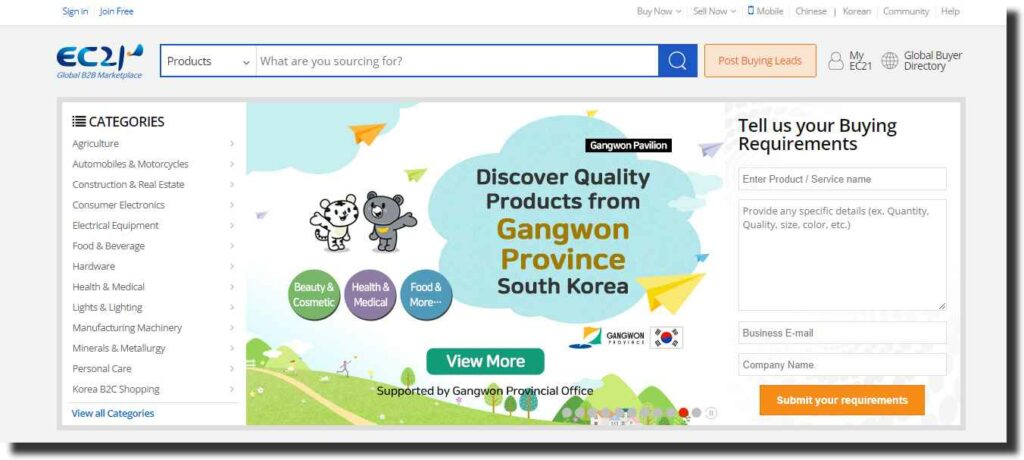 Based in South Korea, EC21 is another leading B2B marketplace and online marketing services, provider. The platform connects millions of suppliers and buyers across the globe with its advanced Buyer Central feature.
Founded in Hong Kong, Global Sources B2B e-marketplace connects wholesalers and manufacturers with sellers worldwide. With more than three decades of experience, the company has remarkable customer service and sells products across 500 categories!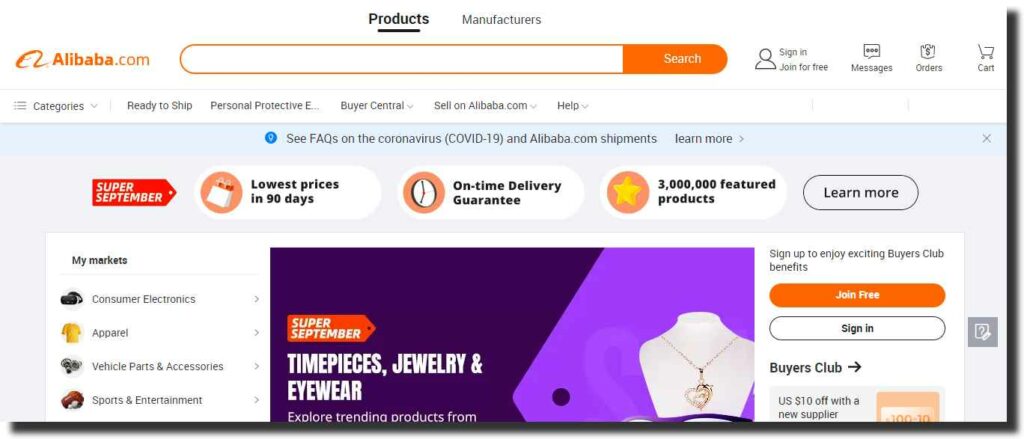 Alibaba is one of the world's largest e-marketplaces operating in more than 240 countries and with 109.5 billion dollars in revenue in 2021. Alibaba has several subsidiaries, including AliExpress, Taobao, etc. It is the perfect platform for small to mid-sized businesses to sell their products worldwide.
Founded by Dinesh Agarwal, IndiaMart is the best online marketplace based in India. The website hosts more than 3M suppliers on its website. The company provides C2C and B2B services on its website.
DHgate is another B2B and business-to-consumer wholesale e-commerce platform in China. The online marketplace connects small and midsized wholesalers and manufacturers' businesses directly to sellers.
Founded in 1996, TradeIndia is another one of the b2b best websites offering products manufactured in India. The website operates globally and is specifically targeted at small businesses.
With more than 1M users and 75,000 sellers, iOffer has become one of the best b2b websites. iOffer stocks products from various categories and is popular for only charging you a compensation fee when your products are sold.
With more than 1,000,000 members, ECPlaza is one of the b2b best websites offering products in multiple categories. You can easily connect with wholesalers, resellers, manufacturers, and exporters through its portal.
TaiwanTrade is one of Taiwan's largest online b2b marketplaces serving millions of buyers, suppliers, and manufacturers across the globe. You can find several products such as food, electronics, hardware, automobiles, etc.
ECVV is yet another Chinese b2b platform that has become prominent in the B2B sales market. The website has over 2,000,000 users and 800,000 buyers from more than 200 countries. It offers global wars accurate information regarding supplies, packages, and products.
Forethought is the one for you if you want to take inspiration for a creatively designed b2b website. The engaging design of the website draws you in and helps b2b clients improve their brands and communication. This has made Forethought part of the best b2b business websites.
Another visually-appealing b2b website is Emergence. The beautiful design has made the website easy to navigate and enhanced its value in the eyes of the consumer.
BigCommerce is one of the leading b2b and Open SaaS online retail platforms trusted by big, small, or mid-size companies to create, operate, and manage your online store, especially if you're someone who lacks technical knowledge.
United Capital Markets (UCM) is designed to facilitate mortgage brokers and specializes in portfolio management, financial planning, investment planning, advisory, and trading services.
You might already be familiar with Shopify. Shopify Plus is the B2B website of the B2C company; Shopify. With 25,197 live stores, Shopify is rapidly growing as one of the b2b best websites for businesses across the globe. The website has several features, including custom customer profiles, custom prices, etc., that have made it a favorite among customers.
WooCommerce is a popular WordPress ecommerce plug-in used by 29% of retail websites. It's open-source, highly responsive, and offers payments in multiple forms.
Adobe Commerce is an open-source website offering various products, goods, and services, including online store support and inventory management. More than 270,000 websites operate because of Adobe Commerce, making it one of the b2b best websites.
Owned by Weblink. In Pv,t LtdExportersIndia is one of the b2b best websites to connect manufacturers, suppliers, importers, and exporters. It's a public company that specializes in consumer goods and services.
Fibre2Fashion is a leading b2b website specializing in the textile and fashion industry. Browse 800 products, categorized by material, fabric, age, etc., to find the one you want for your business. If you're looking to sell or buy fashion products, Fibre2Fashion is a good option for you.
Kompass is a renowned b2b platform with over 59M companies from 70 countries. Find products from categories such as minerals, paper, transport, textile, etc. You can also register to become a seller.
Founded in 1996 in the USA, GlobalSpec is one of the best b2b business websites sourcing 12M products from industrial goods and machinery categories. Moreover, you'll find guides and webinars to help you out.
Tradekey is one of the emerging best b2b websites in 2022 with 9 million registered exporters, sellers, merchants, and importers. Based in Pakistan, the website connects buyers and sellers across 240 countries. Tradekey not only allows you to sell or buy, but you can also take advantage of the website to advertise your product.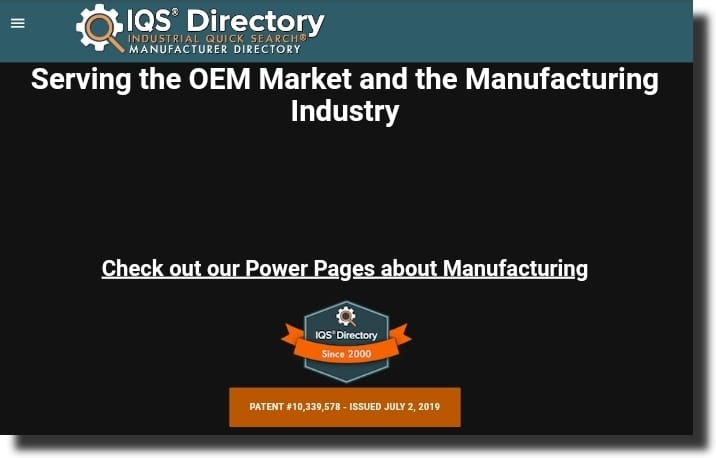 Based in America, IQS Directory is a b2b online platform that connects industry buyers with OEM manufacturing companies, distributors, and suppliers. The website has been actively operating in the B2B market since 2001 and is favored by several industry-leading companies.
Industry Stock is another leading B2B best website that enables you to browse and find products, buyers, and business partners in over 17 languages. With over 4.766.665 products, you'll find a large inventory stocking goods from various categories.
With Industry Stock, you can easily trade leads and buy industrial goods, machines, traders, service providers, manufacturers, dealers, and business contacts
DIYTrade is one of the biggest product directories in China and a B2B platform serving manufacturers, sellers, buyers, and traders. You'll find a wide range of products from Consumer Electronics, Home Supplies, Industrial Supplies Metallurgy, etc.
Honorable Mentions
Key Takeaway
B2B websites have simplified the herculean task of connecting and engaging with businesses worldwide.
You can easily conduct business with companies from all over the world. Several B2B online marketplaces offer several products across numerous categories.
We hope this article helped you find the right inspiration for the best B2B websites!