Do you need an accounting website design that really represents your firm and looks professional to your client's eyes? — On this post, I'll show you how to do just that.
As far as accounting website design is concerned, first impressions are crucial. What's more, no one will be eager to entrust their money to you if you don't prove to them from the get-go that you can handle the job.
Again, your website should have a pleasing user experience and yet look professional. Plus, it needs to have your current contact details and credible references. In addition to winning the trust of potential customers, your accountant website needs to act as an excellent marketing tool.
Likewise, having a poorly done website means you are not reaping the many benefits that social media can offer your accounting company. Since an accounting website is a business website, it plays a huge role in any accounting firm.
First, it provides information about the company and its unique services. Also, it can provide information about accounting-related news, and services or a tax calculator.
With that in mind, are you planning to build your website and need some inspirational ideas? Or do you prefer working with website designers for accountants? To get you started, this article brings you some accountant website design inspirations.
9 Tips to Building Your Accounting Website Design [+Templates]
Next, let's look at some examples of the best designed accounting websites in 2020:
#1. Make Sure That Your Firm's Message Is Credible
When an organization or an individual is choosing an accountant, their specialized knowledge, CPAs experience, trust and referrals can help put existing and potential clients at ease. This differs from an attorney's site that focuses more on their history and track record of successful outcomes plus their fee structure.
Also, consider things that play a role in a client's decision-making process. These include things like the firm's fee structure, the different personalities in the accounting firm and their biographies. Not forgetting the involvement of associates as well.
Again, a firm might want to portray that their practice "does things differently" or "it takes a new approach". Although such concepts are a clever way you can use in setting your accounting firm apart from your competitors, they can also raise the issue of credibility.
Therefore, be sure to test your messaging on your existing and even potential clients. Doing so will ensure it addresses their primary concerns. Here, your web designer can help you by creating a design that helps improve your firm's credibility. Below are some templates for some inspiration.
Bench
This seamless web design will help give your site incredible first impressions. It can convey your firm across the web plus it has a professional-looking design suitable for an accountant's web presence.
Bench design has an organized and clean layout that includes the necessary features and elements that will help make your brand shine. In particular, it comes with an engaging homepage that has lots of consistency, white space, visual hierarchy, and other crucial features.
In addition, it has clear CTAs that can help persuade your audience into taking action. What's more, it also has a nice yet attractive slider where you can include your client's testimonials.
RHN Chartered Professional Accountants
Having a good quality website to present the accounting services offered can help generate more leads for a CPA or accounting firm. RHN has a professionally-designed site that includes useful features that can help improve a firm's credibility.
RHN welcomes visitors with a slider that conveys a firm's capabilities paired with headlines, CTAs and images. Likewise, it uses a stylish floating effect for the buttons.
Since the honest words from your clients can help increase trust in your business, this website offers a clear presentation of a testimonials section using an additional sleek slider. What's more, RHN includes a clean minimalist menu that contributes to the concept of great user experience.
#2. Keep Your Site Alive
For a website to be effective it needs to be fresh, engaging, and relevant to the targeted audience. As such, your accounting firm's website can have all these things without being expensive.
The good thing is that there are many resources that you can use for inspiration, from forums to design ideas from other companies with established websites. But, avoid copying someone else, rather learn from them.
Having an amazing website design will soon boost your firm's site growth as your firm does. This can make a great addition to a firm's marketing efforts. Plus it will be working in the background to create more business for you. Let's look at an inspirational template.
Banyan Accounting
While there are many accountants' website themes and templates, having some inspiration can help you build an online presence. Banyan Accounting can help kindle the interest of many accountant firms across the world.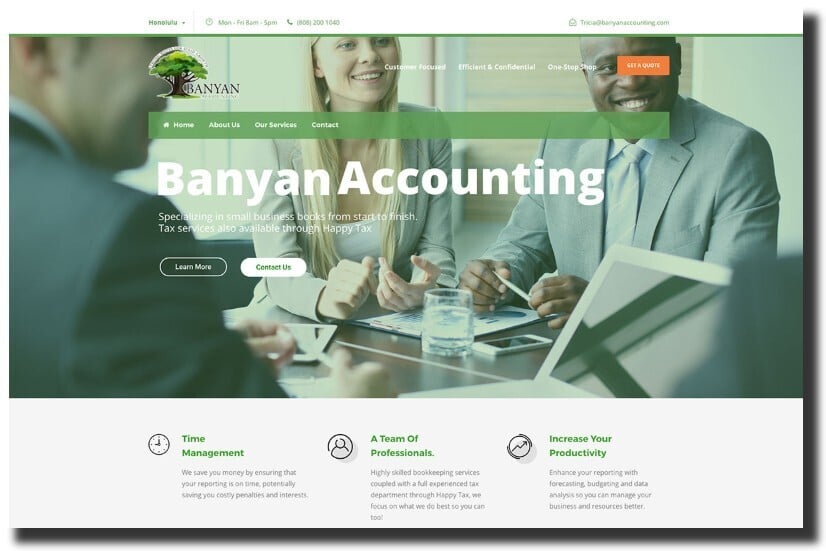 It includes a great design for the homepage and has a clean and minimalist layout. Banyan combines a hero header with a background image, headlines, CTAs, and menu. Furthermore, it uses a professional presentation for the firm's services using boxes. Other great features include the slider, sticky menu, parallax effect, and more.
#3. Have a Plan for Inbound Marketing and SEO
An effective plan for SEO needs to include Key Performance Indicators (KPIs) and incorporate analysis for popular keyword search trends occurring for your area of specialization.
First, it's important that you take advantage of listings and make sure that all forms are complete and contain accurate information. Also, come up with a list of the popular phrases and keywords then integrate these terms into your blog and site content.
For basic SEO, strategically place keywords in page content, Page Titles, Meta Descriptions, and alt tags. Also, avoid keyword stuffing or any other "Black Hat" approaches because they can have severe penalties from search engines.
Ensure that your website content is benefit-oriented. For this, blog content can be the most effective when it's used to offer solutions and helps answer questions.
Also, accounting firms need to make the most of YouTube videos to help boost their search ranking. Plus they help make a site more "sticky". As people spend time watching a video, there is a higher chance that they'll look at other parts of the site hence they'll engage more.
Existing and even potential clients use online searches to locate helpful content. Therefore, strive to have your accounting firm rank highly for popular search phrases and keywords and phrases that your ideal clients are using. Also, have defined goals and keep measuring your progress frequently.
Since most of the accounting advice can be compartmentalized, you can get more opportunities by applying inbound marketing approach. Also, CPAs can include specialized landing pages, calls-to-action, and forms related to content offers on your website.
These techniques can help direct more traffic to your site and encourage engagement with leads and prospects. Also, consider using automated follow-ups, email campaigns and tracking throughout a sales funnel as part of your inbound marketing.
AccountSavvy CPAs
This is a stunning CPAs website design that has an impressive hero header. Plus this design uses a video background which embraces the excellent video transitions. In the services section, a square box is used to represent each service and includes simple animation effects.
To ensure navigation is smooth and fast, this website design has a sticky menu which allows users to access the contact, services, about us, and blog. Furthermore, this website design also implements an off-canvas menu for displaying extra content.
#4. Understand and Articulate Your Greatest Strength.
Many accounting firms are generalists and can handle everything from business planning to setting up and even teaching Quickbooks or doing returns. However, other CPA's might have a specialty meaning they offer boutique-type services that can target estate planning or elder care.
Therefore, rather than try to be all things, consider using the process of building "buyer personas" to help you understand and be clear about the right content for your website.
A buyer persona is a psychographic profile that's enhanced with demographic information. Buyer personas can help you recognize your client's needs, pain points, and challenges. Also, persona development will help you focus your messaging as well.
Your blog should be aimed at providing useful information as well as generate interest. Plus it should help the website rank better on the search engine. To achieve this, use well-calibrated SEO. Some useful accounting website design ideas include:
The Outsourced Accountant
The role of Accountants in business operations is beyond measure. Plus they help keep track of a business' financial transactions. That said the Outsourced Accountant comes with a comprehensive and clean approach to accountants' website design.
Loaded with key elements, this website design helps showcase their different services in a clear and innovative way. This site design employs the essence of visual hierarchy throughout its overall design.
Furthermore, it incorporates a descriptive CTAs to help boost conversions, introduction videos, fixed social media icons, and colour consistency. In addition, other important pages of this website look seamless and follow a logically designed layout.
Accounting Center "Tsifir"
This quality website design can help make a firm's accounting services prominent and works well in representing your brand worldwide. It is a great inspiration for an accountant's website design since it's a modern and creative design.
Accounting Center "Tsifir" embraces the innovative and powerful GSAP animation in its design. It has a simple homepage design but still includes some useful elements. "Tsifir" also uses a cool effect as it transitions to the other pages on the website.
What's more, it offers plenty of options for showcasing your quality services. Plus, a user has the option of accessing an off-canvas menu, all services button or slide transition with ease.
#5. Hire a Web Design Agency
Hiring a web design agency gives you peace of mind knowing that your accounting website is in the best of hands. A web design agency knows the finer points of website design, which includes what makes a website effective and what will encourage users to buy.
The best part is that a web design agency has access to tons of resources which allow them to build excellent websites for their clients.
Not only that, but they also have access to different training programs which teach them new and different web design techniques. This is crucial as this keeps them ahead of industry standards. Also, this means working with such an agency will get you steps ahead of competitor websites.
What's more, an agency features a team of web designers who they can bounce different ideas off of, brainstorm with and even get advice from as concerns their designs. That means, when you decide to hire a web design agency, you will have an entire team behind your accounting website.
#6. Continually Update and Add Content
Search engines will regularly index content to ensure it delivers people what they need and want. Therefore, strategically adding and updating branded content can boost the likelihood of being found by your target clients via online searches.
For a firm that believes that "they are too busy" or "don't have time" should consider that competitor firms are striving to make the time and are thus seeing results.
For instance, if you're publishing longer articles, you could consider breaking them up. Also, you can expand sub-sections which help simplify publishing content online regularly.
Typically, successful accountants are busy, and the idea of taking time to create content rather than work on projects isn't practical. Therefore, to address this, CPA accountants can consider several methods.
For instance, they can add an in-house staff, hire a professional inbound-marketing consultant, outsource the writing (to freelance writers with accounting knowledge), or make this a regular responsibility for the firm's new associates.
Skoda Minotti
In general, brands need to strive towards building their credibility. Today, the presence of digital marketing has made web presence a requirement for nearly all brands.
That said Skoda Minotti's design is aimed at providing more than accounting services, help client's businesses grow and helping them achieve more success. This website design is creative and innovative and worth looking into.
Also, it uses an amazing hero scene that is combined with a video background, tagline, clear CTAs, and lists of services offered. Its homepage has an organized and seamless display of significant articles using a card design.
Skoda Minotti also employs an amazing parallax effect on a few sections. Plus other pages have a similar organized layout which gives them an excellent look.
#7. Simplify Your Navigation
A navigation bar is probably among the most significant elements on your accounting website.
The navigation menu is where links to the different pages on your site are displayed. As such it is where visitors to your website start their journey. Also, this is where they decide on the page they want to navigate to next.
That's why having a clear as well as intuitive navigation menu can make the difference between visitors landing on a page and staying there or simply landing then leaving immediately because it was unclear for them.
Also, Google uses data on how long visitors stay on your site as part of the ranking process. It is called the dwell time. When your site has a higher dwell time then the bounce rate will be lower. This also measures the number of people who immediately click off your site, and contributes to your website ranks.
What makes a successful navigation menu?
While the choice of the pages to add to your navigation menu will depend on your overall website and business requirements, I, however, recommend you add the following sections from the get-go:
Homepage
About Us
Blog
Contact Us
Let's look at an inspiration template.
Chartered Accountants New Zealand
This is a great and potential website inspiration you can look at. The Chartered Accounts New Zealand comes with a clean and super neat homepage and includes interesting features.
It is a website design for chartered accountants that integrate clear videos on its hero scene and has a clear presentation for its menu. Although it has a well-organized layout, upon scrolling, the animation also adds style and sophistication to its overall design.
What's more, the homepage will easily impress potential clients since it offers more emphasis on the elements by using white space. To navigate, this design uses a clear dropdown menu. Thus, visitors will easily access all the important pages of your website.
#8.Add value for your visitors
After a while from the launch date of the website, consider adding new features as a way of offering more value. Note that different clients will be interested in different types of content. Therefore, carefully consider what your existing and prospective clients might want. This can include:
Newsletters
Email is still among the most effective marketing tool. Hence, consider offering your clients your newsletter. First, create interesting content you know your clients will be interested in, and ask them to sign up for them to receive access to the newsletters. Even then avoid spamming them, for instance, you can send out emails once every few weeks.
Calculators
These make a great and a quick way for comparing loans, calculate tax refunds and salaries or check debt consolidation rate. While they're complex to create by yourself, a quick web search will give you lists of companies that can supply calculators to your site.
Industry analysis
you might have someone in your firm who is an industry expert. This makes this resource useful and with regular blog posts, webinar or links to news items can all help grow your firm's reputation.
Social media integration
you can take advantage of social media by linking them to your site. Also, include other business-related social media content since it can also add value.
Bromhead
This accountant site design works well for experienced and professional accountants who want to build their website to open up more career opportunities. You can use these accountants website design to plan your web presence.
Bromhead includes a simple homepage design with other features you can use to impress prospective clients. It uses a hero header with a simple background image with a headline, CTA, and video integration. These features can be used to ensure that your site shows up in online searches.
It also provides your clients easy and fast access to other essential pages of your site by using a sticky header with a visible brand name, menu, and contact. Also, this accounting website design integrates newsletter subscription, Twitter and LinkedIn social media icons.
#9.Evaluate Your Efforts on an On-Going Basis
After you have launched your accounting website, you must keep monitoring the effects of your efforts using an analytics tool. Webmaster Tools and Google Analytics can offer you insights about the page visits, site traffic, search queries, bounce rates and more.
This might take more than several weeks before you start seeing trends and opportunities. Thus, it allows you to spot problem areas early for instance duplicate page titles, broken links and Meta descriptions. You can also contract your design firm to do the monitoring and analysis for you.
Remember that if you aim to rank higher, based on your search terms, this process might take several months with the frequent addition of new content before you see results.
Consider getting specialized online marketing tools to help you manage your content distribution. This also helps give you more details on the website visits, leads, prospects, and customers when measuring your efforts.
Which is the Best Accounting Website Design for You?
Before you start building your accounting website, you must consider why you want the website – or reasons why you wish to improve the existing one. Also, think about the sections, information and content you want to include and who will be maintaining it.
Remember that your accounting website needs to reflect your firm's identity. Thus, it will be more effective if it works as an extension of your brand in the real world.
Therefore take time to inject some personality to your accounting site. Also, think about how your firm operates, then look to bring that to your website.
Again, an engaging site that is updated regularly gives prospective and current clients a great first impression. Also, it shows that your firm is up-to-date and engaging.
Remember, depending on the amount of effort and time you put into it, the best accounting website design can be a great source of new referrals and new business for your firm.